2023 New Ja Rule Funko Pop! Bringing Hip-Hop Home!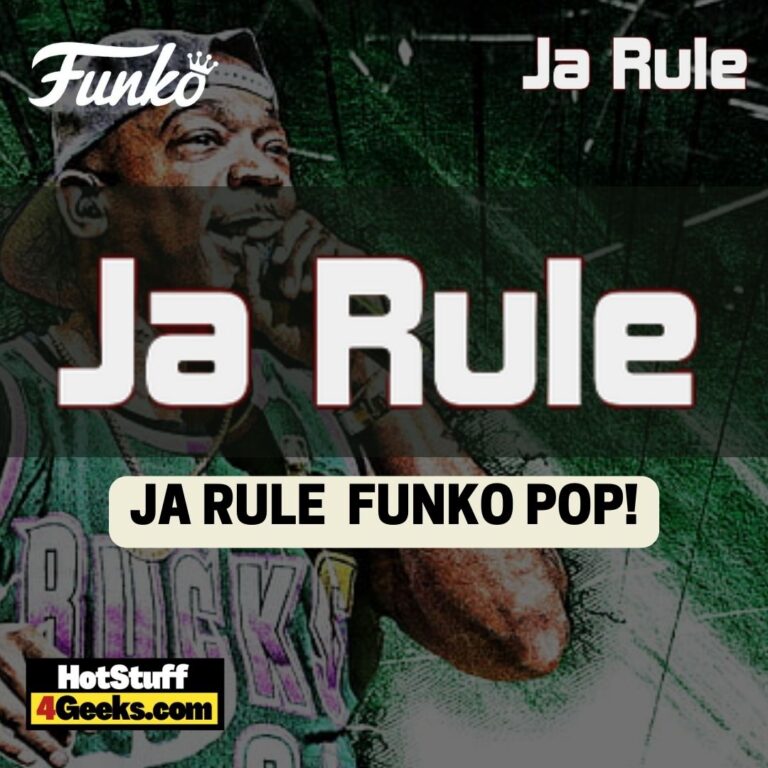 Sprung straight from the hip-hop history books, the new Funko Pop! Rocks: Ja Rule Funko Pop! Vinyl Figure is nothing short of a vibrant tribute to one of rap's most distinctive voices. It is a playful and audacious homage to the dynamism and flair of Ja Rule, the rebel artist who left an indelible mark on the music world.
The pop figure can be found at the links below at its release – click to jump or scroll to continue reading!
Featuring Ja Rule's signature rugged charm, the vinyl figure is decked out in his iconic attire – a casual yet crisp ensemble that echoes the essence of his music: raw, real, and relatable.
The figure's design captures his relaxed swagger and that irresistible, ever-confident look, making it a treat for every fan.
What makes this figure special, however, goes beyond its visual appeal. It's not just about celebrating an artist but the spirit of defiance and resilience that Ja Rule embodies.
This vinyl figure isn't merely a collector's item but a celebration of an era, a symbol of musical evolution, and a salute to an artist who dared to disrupt norms and redefine hip-hop. It's a small reminder of a larger-than-life persona.
The Funko Pop! Rocks: Ja Rule vinyl figure is truly a conversation piece, a splash of musical history for your bookshelf or desk.
Ja Rule Funko Pop! is coming soon. There's no release date yet, but stay tuned because I'll update more information in the long run.

In the vibrant tapestry of hip-hop history, few figures have woven quite as intricate a pattern as Ja Rule.
Born Jeffery Atkins in 1976, this trailblazer transformed from a young dreamer from Hollis, Queens, into an international superstar, adding vibrancy to the music world's sonic landscape.
As a kid growing up in a strict Jehovah's Witness household, Ja Rule's yearning for rhythm and rhyme was more of an act of defiance than a simple hobby.
He found solace in the pulsating beats of early rap music, which resonated with his rebel spirit and ultimately shaped his future.
In 1993, with a handful of hopes and a suitcase full of talent, a teenage Ja Rule began his foray into the music industry with the group Cash Money Click.
Despite their promising start, the group met with an untimely end. Undeterred, Ja Rule pivoted to a solo career, going on to sign a record deal with Def Jam Records.
Ja Rule's initial success was almost meteoric.
His debut album, Venni Vetti Vecci, resonated with millions of listeners, skyrocketing to No. 3 on the Billboard 200 chart and earning a platinum certification.
This marked the beginning of an illustrious career that gave us hits like "Holla Holla," "I'm Real," and "Wonderful."
His journey, however, wasn't without turbulence. From high-profile feuds with other rappers to legal issues, Ja Rule's ride was as electrifying as the man himself.
Yet, his resilience and tenacity saw him through, continually creating music and inspiring generations.
Ja Rule isn't just a rapper or an actor. He's an enduring symbol of perseverance and a testament to the transformative power of music.
Even though he's had his fair share of ups and downs, his legacy continues to pulse through the veins of the music industry.
In essence, he's a remarkable man, a relentless artist, and truly, an unforgettable Rule.
Starting now, you can receive 10% off in-stock items with my special link at Entertainment Earth!
 Enjoy!
As an Amazon Associate I earn from qualifying purchases
Want more stuff like this?
Get the best viral stories straight into your inbox!
Don't worry, we don't spam