2023 NEW Jasmine Diamond Funko Pop! & Palace Backpack Bundle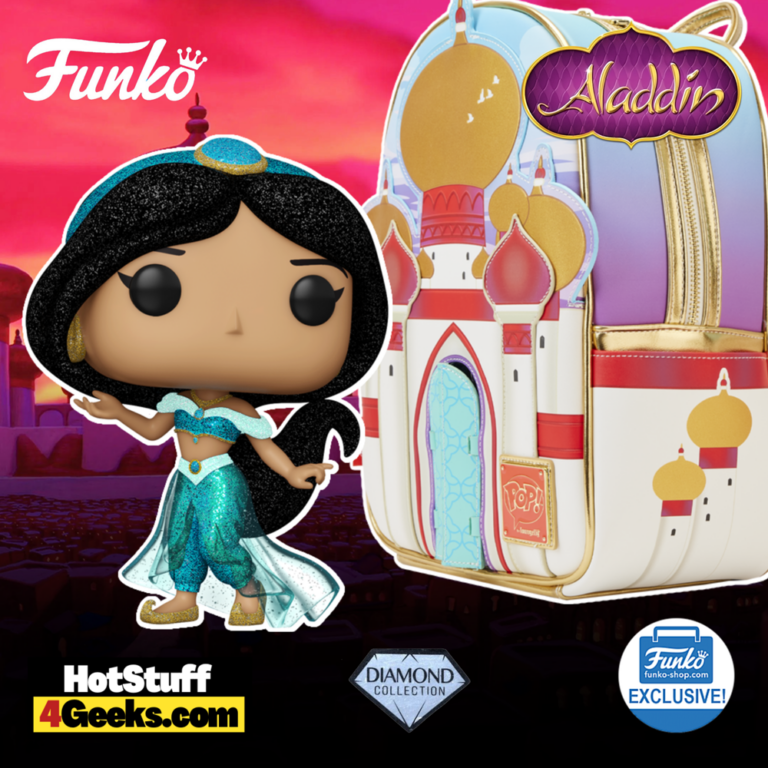 Get ready to embark on a magical carpet ride as we celebrate the 30th anniversary of Disney's Aladdin! To commemorate this enchanting milestone, Funko Shop has conjured up an exclusive, one-of-a-kind bundle that will dazzle fans of all ages—introducing the Funko Pop! Aladdin 30th Anniversary: Jasmine Diamond Glitter Funko Pop! and Aladdin Palace Mini Backpack Bundle – Funko Shop Exclusive – a sparkling treasure trove of nostalgia, style, and whimsy.
The Pop! & Bag can be purchased at the links below – Click to jump! or keep reading as I unveil this limited-edition, must-have collector's item mystique. Hurry, though, as supplies are as elusive as the Genie himself!
This spellbinding bundle features two stunning pieces that pay homage to the beloved classic Aladdin.
First, say hello to the star of the show: the Jasmine Diamond Glitter Funko Pop! This exclusive collectible captures the essence of Princess Jasmine in a striking diamond glitter finish, adding a touch of enchantment to any Funko Pop! collection.
Accompanying Jasmine on this journey is the Aladdin Palace Mini Backpack by Loungefly, a fashion-forward accessory that brings the Sultan's Palace to life.
With gold foil and debossed details, side pockets adorned with palace-inspired spires, and a "popified" print of Jasmine and Raja on the back, this vegan leather mini backpack is a dream come true for Disney and Funko fans alike.
But wait, there's more! The Aladdin Palace Mini Backpack offers a captivating unboxing experience that'll leave you feeling like royalty.
Thanks to a magnetic snap, the ornate front door of the palace swings open to reveal the dazzling Jasmine Diamond Glitter Funko Pop! nestled inside.
Just imagine the delight of discovering this hidden treasure!
Whether you're exploring the streets of Agrabah or running errands in your hometown, this Aladdin Palace Mini Backpack is the ideal companion for all your escapades.
With adjustable straps, shiny gold-colored metal hardware, and convenient side pockets, you can carry your essentials in style while paying tribute to the magic of Disney's Aladdin.
The Pop! & Bag can be purchased at the links below – Click to jump!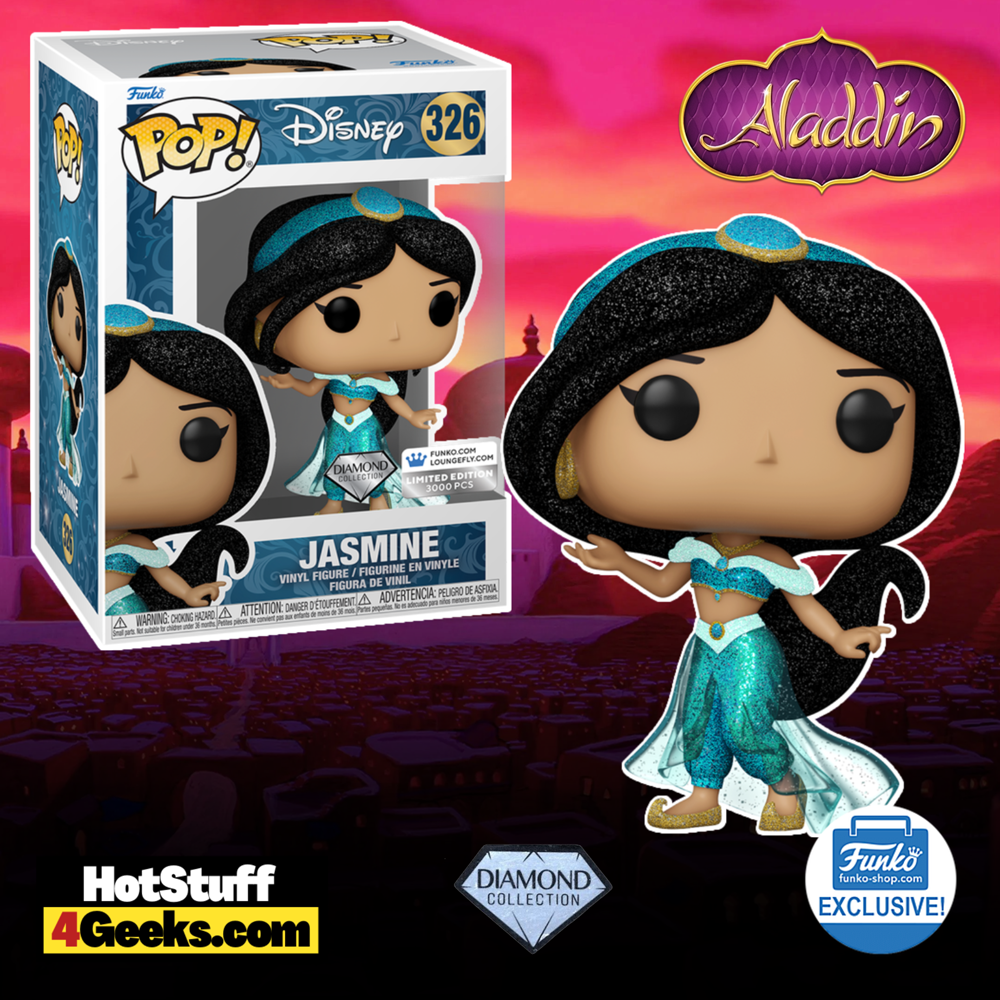 Jasmine, the spirited princess from Disney's classic Aladdin, has captured the hearts of audiences for three decades.
A shining symbol of independence and wit, she broke the mold and redefined what it means to be a Disney Princess.
Today, we're taking a magic carpet ride to uncover the unique appeal of this fascinating character and how she continues to enchant and inspire. So, buckle up and get ready to explore a whole new world!
When Aladdin first hit the silver screen in 1992, it introduced a princess who was unlike any other: Jasmine.
She wasn't content to sit idly by and wait for Prince Charming. Instead, Jasmine had dreams of her own, stepping out of the palace walls to experience the world for herself.
Through her feisty demeanor and determination, she shattered the glass ceiling for Disney princesses and forged a new path for generations to follow.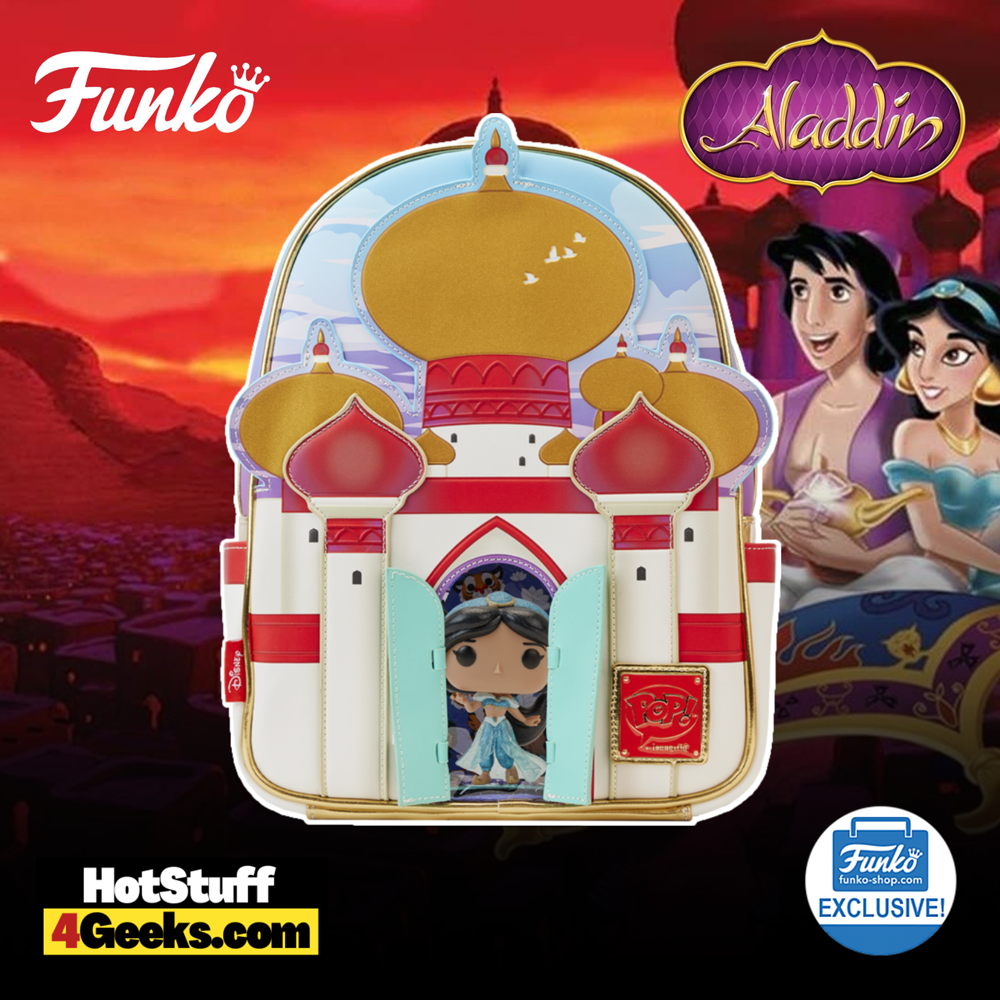 Jasmine's unwavering spirit and fierce independence set her apart from her royal counterparts.
With her signature catchphrase, "I am not a prize to be won," she made it clear that she wouldn't settle for anything less than genuine love and respect.
Through her daring escapades and quick thinking, she proved that princesses are not just demure damsels in distress but resourceful and courageous heroes in their own right.
Jasmine's undeniable intelligence and quick wit are part of her timeless charm.
Whether she's outsmarting Aladdin in a battle of wits or cleverly manipulating the sinister Jafar, Jasmine always has a trick up her sleeve.
Her sharp mind and keen instincts make her a formidable match for anyone, and her ability to navigate the twists and turns of palace life with a sly grin is nothing short of enchanting.
Jasmine's unwavering commitment to finding true love serves as an inspiration to romantics everywhere.
Her heartwarming love story with Aladdin proves that love can conquer all, regardless of social standing or the odds stacked against them.
This tale of two souls finding each other amidst the chaos of life is a testament to the enduring magic of true love.
As we reminisce about the captivating charm of Princess Jasmine, it's only fitting to celebrate her 30th anniversary in true Disney fashion. Behold, the Funko Pop! Aladdin 30th Anniversary: Jasmine Diamond Glitter Funko Pop! and Aladdin Palace Mini Backpack Bundle that's as dazzling as the princess herself.
This Funko Shop Exclusive is the ultimate addition to any Disney, Funko Pop!, or Loungefly collection.
With its limited availability, don't miss the chance to get your hands on this enchanting Pop! Mini Backpack Bundle.
It's a whole new world of collectibles, and you won't want to be left behind!
Funko Pop! Aladdin 30th Anniversary: Jasmine Diamond Glitter Funko Pop! and Aladdin Palace Mini Backpack Bundle – Funko Shop Exclusive
Available at:
Starting now, you can receive 10% off in-stock items with my special link at Entertainment Earth!
 Enjoy!
As an Amazon Associate I earn from qualifying purchases
Want more stuff like this?
Get the best viral stories straight into your inbox!
Don't worry, we don't spam