2023 NEW Jurassic Park 30 Years: T-Rex (Ambar) Funko Pop!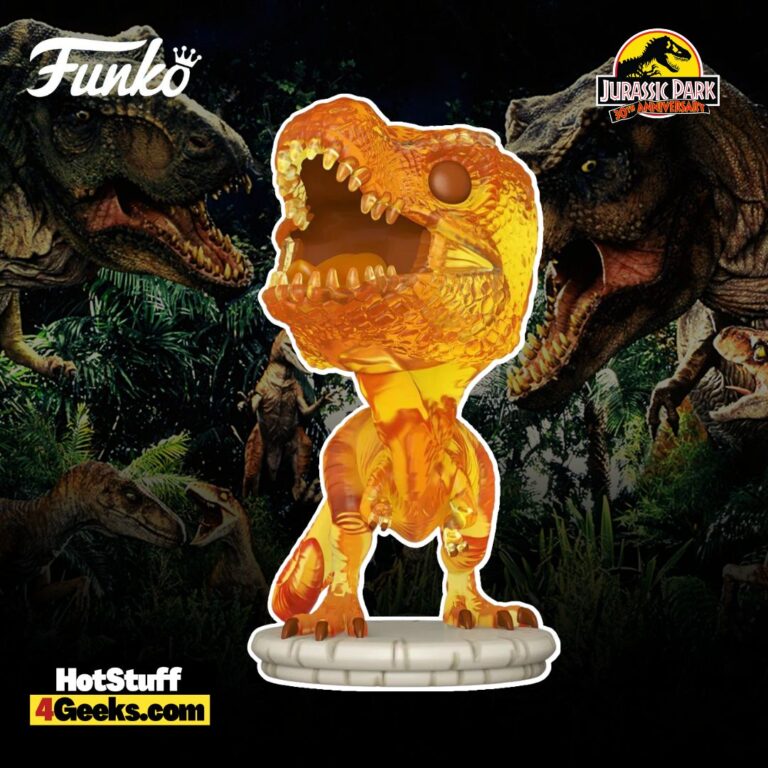 Celebrate the monumental 30th anniversary of Jurassic Park with a special tribute to its real star – the fearsome yet fascinating Tyrannosaurus Rex, lovingly known as Rexy. This exclusive, amber-toned Funko POP! Movies: Jurassic Park 30th Anniversary – Tyrannosaurus Rex (Ambar) Funko Pop! Vinyl Figure – Exclusive encapsulates the raw majesty of this prehistoric queen.
The pop figure is now available for pre-order at the links below – click to jump or scroll to continue reading!
The figure isn't just a collectible – it's a time capsule that transports us back to the edge-of-the-seat moments in the dark, misty Isla Nublar night when we first encountered Rexy.
It's an homage to the power, the dread, the awe we felt – emotions that remain fresh even after three decades.
Yet, Rexy is more than a symbol of fear.
In her resilience and spirit, she's become an enduring icon of survival.
This Funko Pop! figure captures this essence in a subtle yet tangible way.
The amber hue pays homage to her origins and her journey, immortalizing Rexy not merely as a figure of terror but as a timeless testament to nature's indomitable will.
The Exclusive T-Rex (Ambar) Funko Pop! is now available for pre-order at the links below (click to jump!)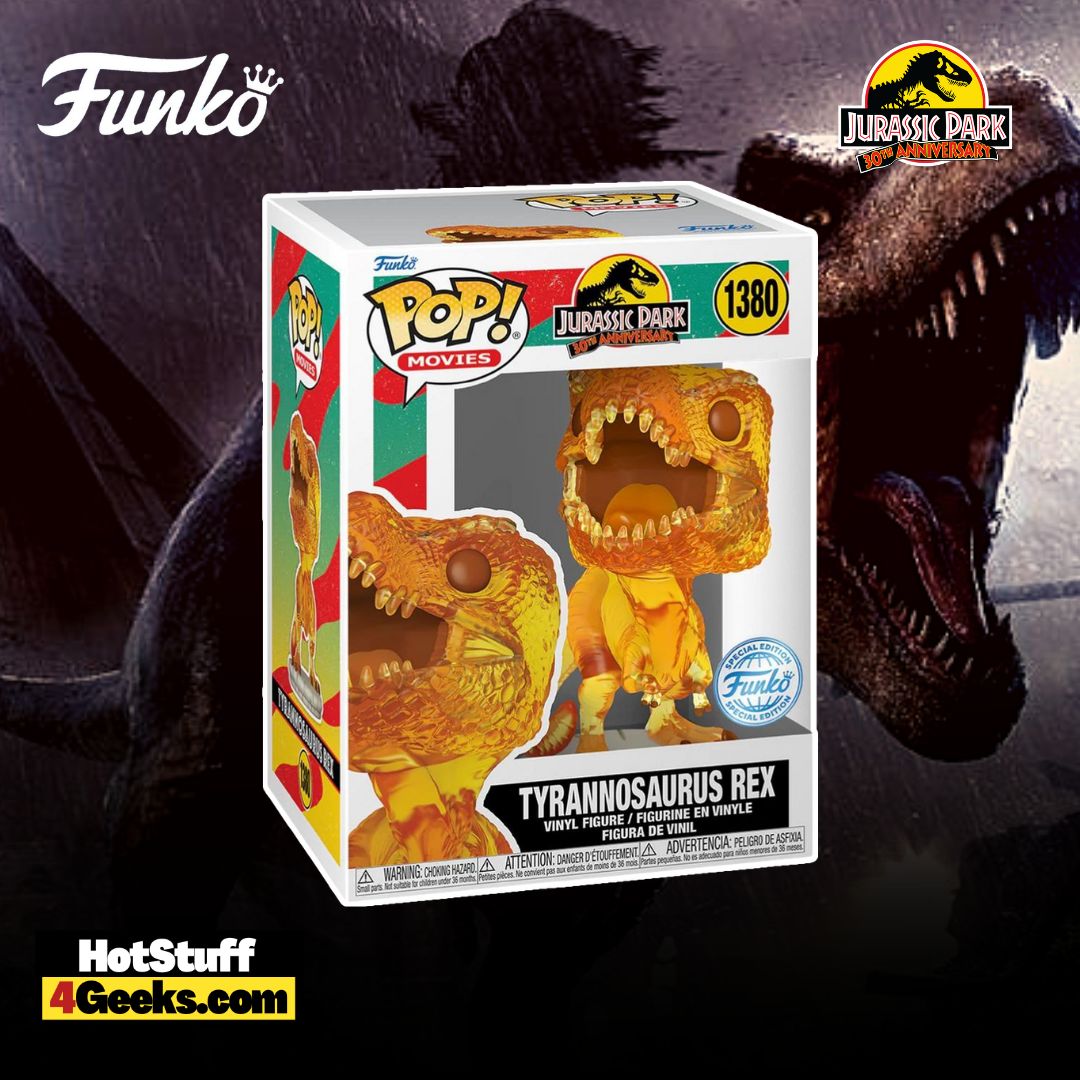 The heart-stopping sensation of Jurassic Park and its everlasting charm lie in our deep-rooted awe and terror for the formidable creatures that roamed the Earth millions of years ago.
The most captivating of them all? The Tyrannosaurus Rex, affectionately dubbed Rexy.
From her dramatic debut in 1993, Rexy didn't just seize our attention – she clutched it with her powerful jaws, gripping us in a spell that hasn't waned for nearly three decades.
This enormous, unlikely heroine ignited a tale about nature's unconquerable spirit and a primal instinct to survive that transcends time.
Emerging from the lab confines of Isla Sorna, Rexy was designed to be a spectacle for a doomed theme park.
Her home, the infamous Tyrannosaur Paddock, bore witness to some of the most riveting scenes in Jurassic Park.
Yet, a disastrous turn of events left her future shrouded in uncertainty.
Fast forward to the rejuvenated franchise, Jurassic World, where Rexy emerges again. Age has touched her, with her vibrant skin fading and a noticeable decrease in her once formidable physique.
Despite these signs of aging, Rexy's strength and primal power shine through, reminding us of her enduring spirit.
In an unexpected twist, she is no longer the villain but a triumphant hero, taking on the monstrous Indominus Rex in a battle that fans will remember for ages.
Rexy's powerful story has held us spellbound, continuously reminding us that survival isn't just about existence; it's about thriving in the face of adversity.
So here's to Rexy, the true queen of Jurassic Park.
May her reign in our hearts remain as resilient as her spirit.
Starting now, you can receive 10% off in-stock items with my special link at Entertainment Earth!
 Enjoy!
As an Amazon Associate I earn from qualifying purchases
Want more stuff like this?
Get the best viral stories straight into your inbox!
Don't worry, we don't spam