2023 NEW K-Pop! Blackpink Diamond Glitter Funko Pops!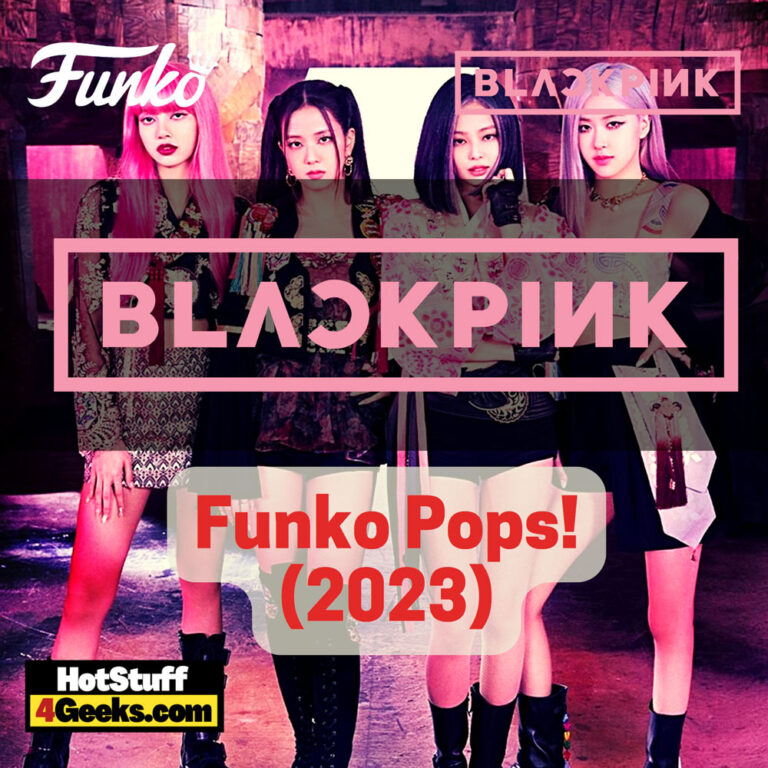 Not official until confirmed.
Attention, Blackpink fans! The moment you've been waiting for has finally arrived. After months of dreaming and anticipation, the Blackpink Funko Pops are here! Now the K-Pop group's adoring fans can own the adorable figures of all four members: Jennie, Jisoo, Lisa, and Rose.
Blackpink members are about to get the ultimate collectible upgrade!
Each member of Blackpink has their own unique style and personality, and these Funko Pops perfectly capture those traits.
Whether you're a fan of Jennie's edgy vibe, Jisoo's sweet demeanor, Lisa's fierce attitude, or Rose's angelic voice, you can now display your love for your favorite member.
It's like having mini versions of your favorite girl group in the tiny palm of your hand (but don't expect them to perform any choreography)
It certainly looks like Funko has outdone itself this time – those guys sure know how to add a dollop of funky fun into their product range!
Here's the breakdown of the new Blackpink Pops:
Blackpink: Jennie Funko Pop! Vinyl Figure
Blackpink: Jisoo Funko Pop! Vinyl Figure
Blackpink: Lisa Funko Pop! Vinyl Figure
Blackpink: Rosé Funko Pop! Vinyl Figure
Blackpink: 4-pack Diamond Glitter Funko Pop! Vinyl Figure
These Blackpink Funko Pops are a fun addition to any collection and a great way to support your favorite K-Pop group and show your appreciation for their music and its impact on the industry.
The Blackpink Funko Pop! Vinyl Figures is an unconfirmed release. It is only official when or if Funko announces it. I'll update more information in the long run.

Blackpink, the four-member South Korean girl group, has been a global sensation since its debut in 2016.
With their mixture of toughness and flirtiness, they quickly became fan favorites around the world.
Their name, Blackpink, contradicts the common perception of the color pink. It symbolizes that they are a group that encompasses beauty and great talent.
Blackpink's popularity lies in its undeniable stage presence, songs, and bilingual lyrics, which talk about independence and vulnerability.
They are known for their video styling or "concepts" for each song.
Blackpink will often have five or six completely different concepts, complete with varying hair colors and clothing, featured in their video.
It's no surprise that other K-pop groups and fans replicate their glam look and fun choreography.
Jisoo, Jennie, Rosé, and Lisa make up the members of Blackpink. Each member brings her unique talent and personality to the group.
Jisoo often called "adorable," is known for her steadiness and composure.
Jennie, the longest-serving trainee in the group, is fluent in English, Korean, and Japanese. She was the first member to release an individual track, "SOLO," in 2018.
Rosé, who was born in New Zealand and raised in Australia, is the group's main singer, and fans claim her distinct voice is easily recognizable.
Lisa, born and raised in Thailand, is known for her rap and dance skills.
Aside from their music career, Blackpink has also made a name for themselves in the fashion and beauty industry.
Jennie was named the new face of Hera, a Seoul-based beauty company, while Rosé became the global ambassador for luxury jewelry brand Tiffany & Co.
In 2023, Blackpink is rumored to be Coachella headliners, making them the first K-pop headlining act in history.
The anticipation for this performance is at an all-time high, and fans can't wait to see what the girls have in store.
With their unique blend of toughness and femininity, they have captured the hearts of fans around the globe.
Blackpink is not just a K-pop girl group.
They are a cultural phenomenon.
Funko Pop! Rocks: Blackpink Funko Pop! Vinyl Figures
Starting now, you can receive 10% off in-stock items with my special link at Entertainment Earth!
 Enjoy!
As an Amazon Associate I earn from qualifying purchases
Want more stuff like this?
Get the best viral stories straight into your inbox!
Don't worry, we don't spam