2023 NEW Kellogg's – Eggo with Syrup (Scented) Funko Pop!
by

PopCorn Princess

April 26, 2023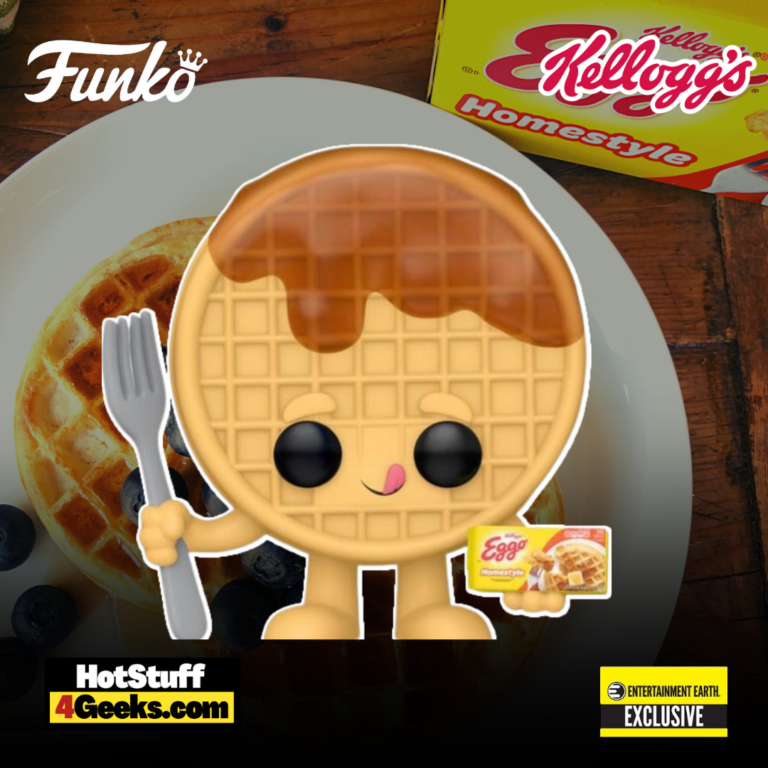 Introducing the delicious Funko Pop! Ad Icons: Kellogg's – Eggo with Syrup (Scented) Funko Pop! Vinyl Figure – Entertainment Earth Exclusive! This delectable collectible pays homage to one of the most iconic and beloved breakfast pairings of all time: the classic Eggo waffle, smothered in rich, syrupy goodness. A delightful fusion of pop culture and culinary delight, this Funko Pop is a must-have for food enthusiasts and nostalgia lovers alike.
The pop figure is now available for pre-order at the links below – click to jump or scroll to continue reading!
The enticing scent of syrup adds a layer of sensory pleasure to this charming Funko Pop, conjuring memories of leisurely mornings spent indulging in warm, golden waffles dripping with sweet maple decadence.
The collectible captures the essence of comfort and familiarity, reminiscent of the simple joys that can be found in life's everyday pleasures.
The Eggo with Syrup (Scented) Funko Pop serves as a whimsical reminder that, in the midst of life's complexities and challenges, there's always a hint of sweetness waiting to be savored.
So, go ahead and embrace the burst of nostalgia, and let this syrup-infused collectible transport you back to the cherished moments of pure delight that only a mouthwatering plate of waffles can evoke.
The Entertainment Earth Exclusive Eggo with Syrup (Scented) Funko Pop! is now available for pre-order at the links below (click to jump!)
Ah, Eggo waffles!
The mere mention of these golden, crispy treats is enough to transport us back to the simpler days of our childhood, when breakfast was a magical event, and these delectable delights ruled the frozen food aisle.
In today's world, where health-consciousness reigns supreme, one may wonder how the allure of Eggo waffles has managed to endure.
Yet, there's just something irresistible about them that keeps us coming back for more.
Eggo waffles have held a special place in our hearts for decades.
Still, their recent resurgence in popularity can be attributed to one unlikely source: Eleven, the enigmatic character from the hit Netflix series Stranger Things.
Throughout the show, this young girl with supernatural abilities develops an insatiable appetite for Eggo waffles, elevating the humble breakfast item into a symbol of comfort, nostalgia, and longing for everyday life.
From the moment Eleven escapes the confines of her mysterious laboratory, she embarks on a journey filled with both wonder and danger.
As she navigates the complexities of the real world and forms connections with the group of misfit kids who befriend her, Eleven discovers the simplest of joys in a frozen waffle. T
here's a sense of innocence and purity in her newfound love for Eggo waffles, which serves as a poignant reminder of the small pleasures we often take for granted.
In a world where Eleven is confronted with the harsh realities of her past and the sinister forces surrounding her, Eggo waffles become a beacon of hope and familiarity.
With each bite, she savors the perfect blend of crispiness and fluffiness, the subtle notes of vanilla and butter, and the unmistakable presence of eggs.
This seemingly ordinary treat transcends its status as a mere breakfast staple, symbolizing childhood simplicity and the warmth of human connection.
Check out more Kellogg's Funko Pops Here.
Funko Pop! Ad Icons: Kellogg's – Eggo with Syrup (Scented) Funko Pop! Vinyl Figure – Entertainment Earth Exclusive
Available at:
Starting now, you can receive 10% off in-stock items with my special link at Entertainment Earth!
 Enjoy!
As an Amazon Associate I earn from qualifying purchases
Want more stuff like this?
Get the best viral stories straight into your inbox!
Don't worry, we don't spam
PopCorn Princess
Hey there, I'm Princess. I'm an annual comic con attendee, Star Wars-loving, and collector freak. My mission is simple: To bring cool geeky news and content and share my passion with the rest of the world. (... I secretly wish to save the world as a superheroine...)