2023 NEW Killer Klowns: Baby Klown (Black Light) Funko Pop!
Embarking on a colorful journey through the unusual, the new Funko Pop! Movies: Killer Klowns from Outer Space – Baby Klown (Black Light) Funko Pop! Vinyl Figure – BAM Exclusive (2023 release) offers enthusiasts a unique piece resonating with vibrant eccentricity. Merging bizarre charm with impeccable detailing, this exclusive figure is poised to be a coveted addition for collectors, attracting those who have an eye for the extraordinary and a penchant for the world of sci-fi horror comedy.
UPDATE: Available now for pre-order! To get your hands on this Pop Vinyl Figure at its release, be sure to check out the links I've provided below – click to jump or scroll to continue reading!
The Dazzling Arrival: Baby Klown's Black Light Funko Pop!
2023 has brought us an electrifying surprise, one that'll be a treat for both the eyes and your Funko Pop! collection. Funko has unleashed its latest marvel, the "Killer Klowns from Outer Space – Baby Klown (Black Light) Funko Pop! Vinyl Figure."
Exclusive to BAM, this vibrant figurine does justice to Baby Klown's iconic presence from the movie. With the black light feature, every intricate detail of this unsettling yet charismatic character comes alive, making it an absolute standout among other Pops.
Its radiant colors and distinctive design capture the essence of Baby Klown, creating a mesmerizing dance of hues when under the black light. For admirers of the offbeat, this release becomes an irresistible lure.
Set to become a favorite, Baby Klown's Funko Pop! figure perfectly marries the world of eccentric movie moments with top-notch collectible design. Dive into this kaleidoscope of colors and take home a piece of movie magic!
The BAM Exclusive Baby Klown (Black Light) Funko Pop! can be found for pre-order at the links below (click to jump!)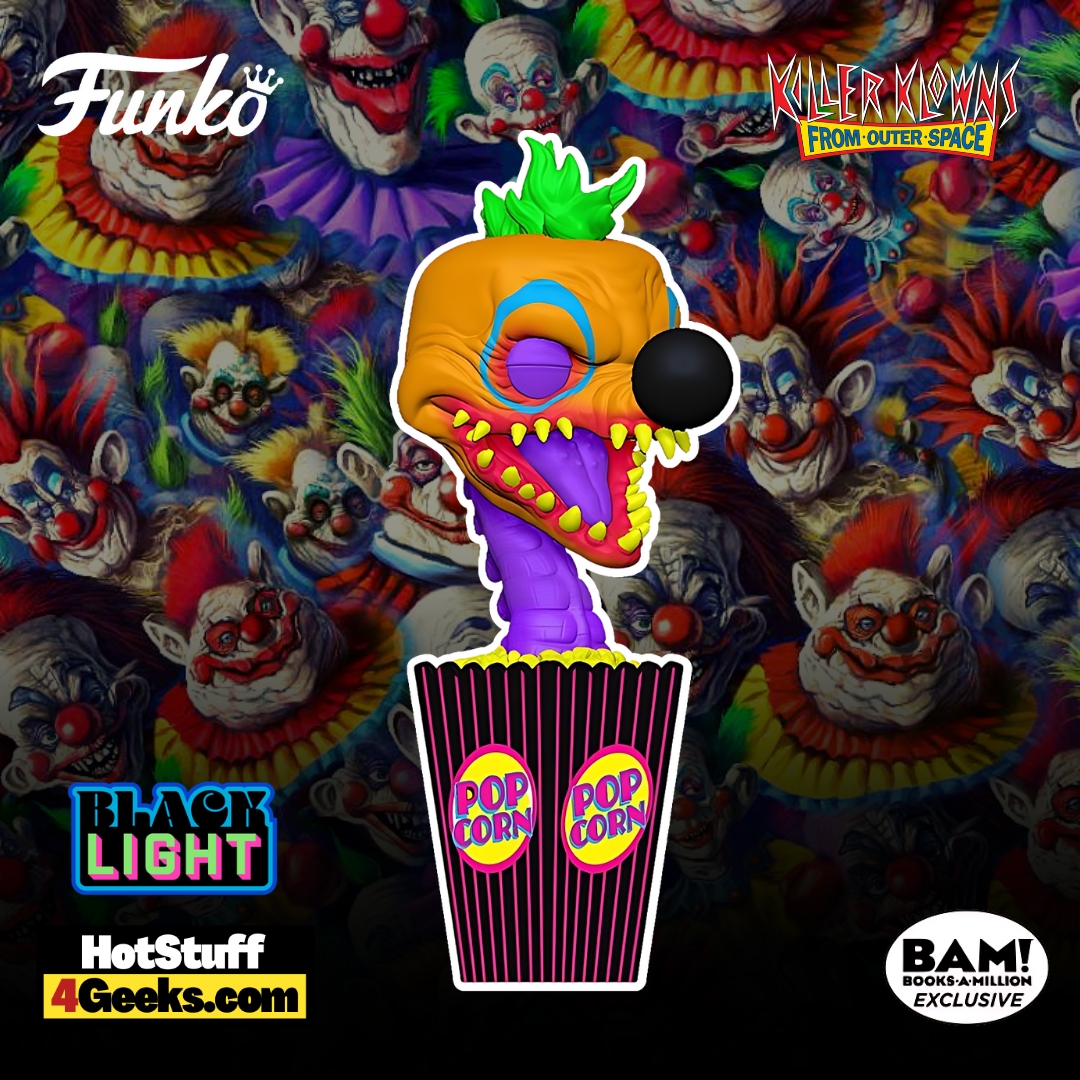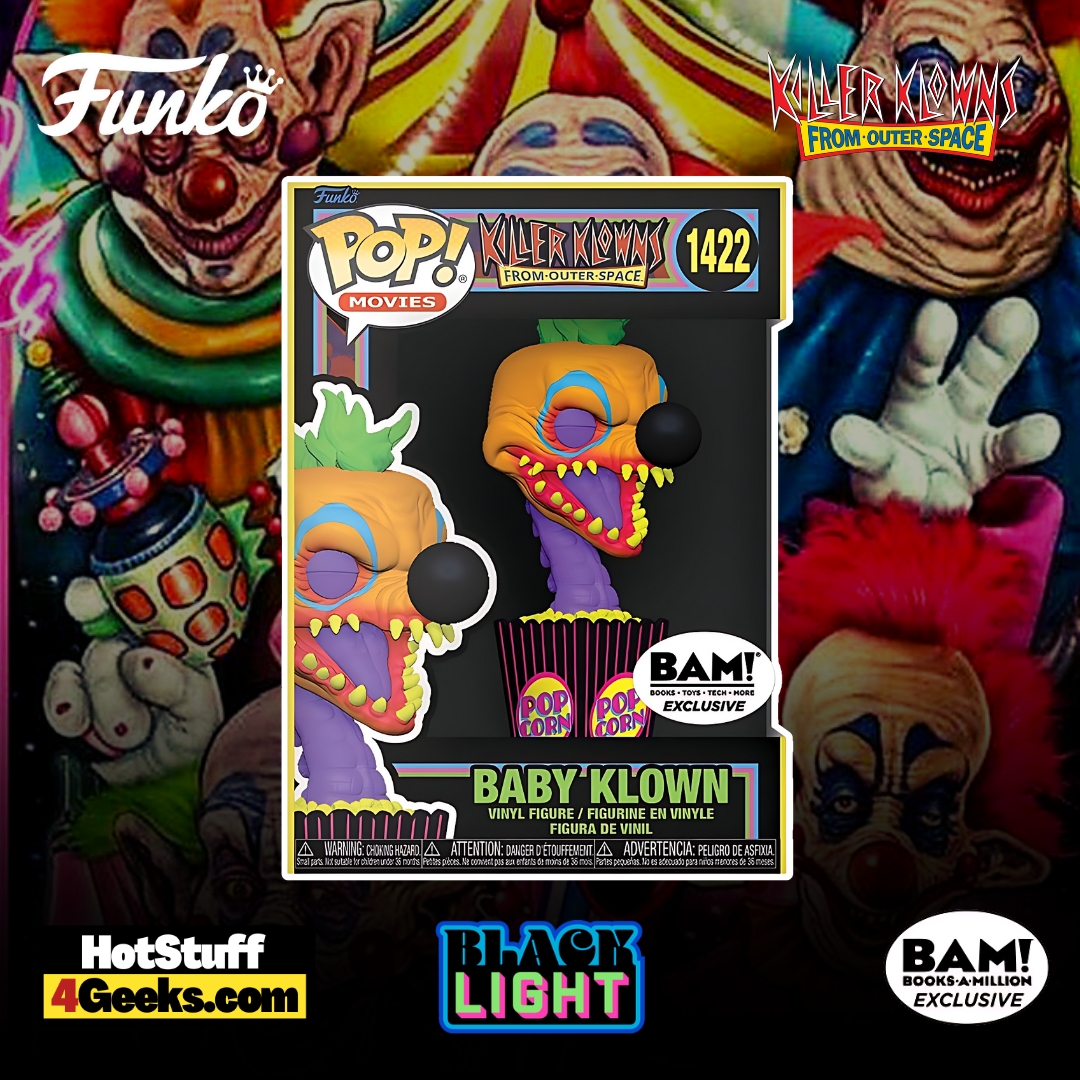 Popcorn Birthed Monsters: The Mystery of Baby Klown Explained
If you've delved into the eccentric realm of horror/comedy, there's a good chance you've come across "Killer Klowns from Outer Space."
The cinematic tapestry is filled with grotesque alien clowns, popcorn ray guns, and a tantalizingly chaotic vibe. Among these bizarre entities, one particular creature stands out – the Baby Klown.
Originating from seemingly mundane popcorn, these offspring of the Killer Klowns give a whole new meaning to 'movie snacks gone rogue.'
They mysteriously sprout in locations as varied as a dumpster to the confines of Debbie's bathroom, showcasing a macabre twist on growth and birth.
Just as an unsuspecting burger restaurant employee learned, the innocent noise from a dumpster might hide something far more sinister beneath its metallic facade.
The shrieking terror that follows is nothing short of blood-curdling.
The story of Debbie's encounter with Killer Klown Offspring encapsulates the perfect blend of horror and slapstick comedy that the movie is lauded for.
Fresh out of a shower, the last thing one expects is to fend off vulture-resembling creatures with a towel and a shower handle. But in the world of "Killer Klowns," expect the unexpected.
These encounters are unsettling yet ludicrous, exuding an air of absurdity that sticks in one's mind long after the credits roll.
The aforementioned Slim showcases a distinctive method of baby klown production.
Using a Tyrannosaurus shadow puppet (and who could forget that iconic sequence?), he shrinks people, placing them inside a bag with baby klowns in their popcorn phase.
In this outlandish universe, everything, even shadows, has the potential to be weaponized.
What's perhaps most intriguing about these offspring is their unknown fate
. If they're left unchecked, the once comical popcorn could grow into formidable foes, evolving in places like Debbie's bathroom.
One shudder to think about the aftermath of such a transformation. Would law enforcement step in, or would the citizens of Crescent Cove have another invasion on their hands?
The legacy of "Killer Klowns from Outer Space" endures, and the Baby Klowns are a testament to the movie's ability to combine horror and comedy seamlessly.
Their bizarre origin, curious antics, and uncertain future make them a captivating aspect of an already unforgettable film.
As enthusiasts revisit this cult classic, the debate will undoubtedly continue about these eerie offspring's true nature and what they might herald for the unsuspecting town of Crescent Cove.
In conclusion, the Baby Klowns serve as a haunting reminder of the uncanny genius behind "Killer Klowns from Outer Space."
Their peculiar existence blurs the lines between laughter and fear, creating a cinematic experience like no other.
For anyone venturing into this kaleidoscope of clowns and chaos, be prepared: you're in for a wild ride, especially when popcorn's involved.
As an Amazon Associate I earn from qualifying purchases
Want more stuff like this?
Get the best viral stories straight into your inbox!
Don't worry, we don't spam