2023 NEW Killer Klowns: Bibbo Funko Pop! Funko Shop Excl.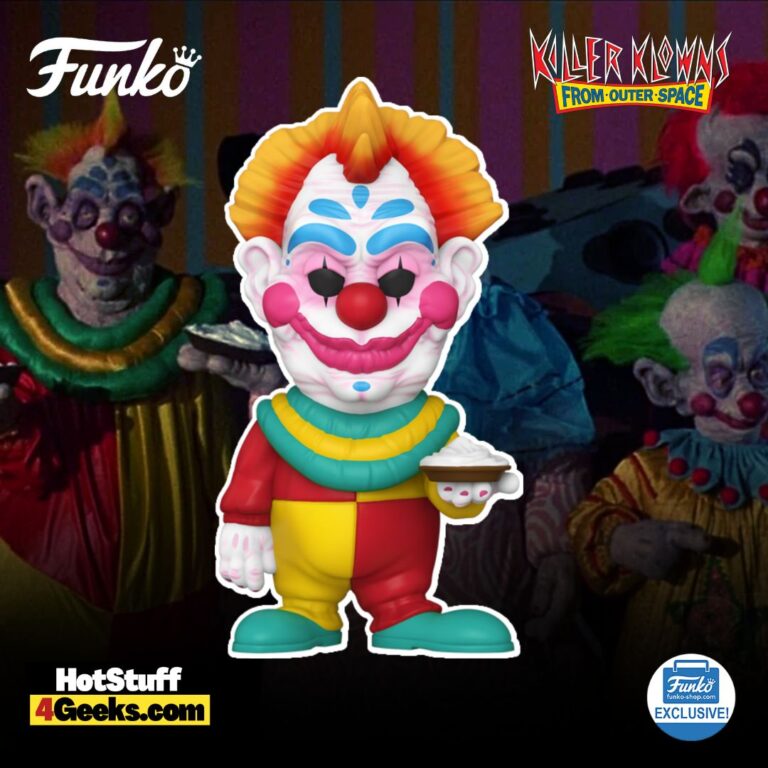 Fasten your seat belts, Killer Klowns fans! The Funko universe is bringing to life a legend from the cult classic "Killer Klowns from Outer Space." Meet Bibbo, the lovable rogue with a heart of… well, let's say, cotton candy. This new Funko Pop! Movies: Killer Klowns From Outer Space: Bibbo Funko Pop! Vinyl Figure (2023) – Funko Shop Exclusive gives a fresh spin to everyone's favorite overweight, English-speaking Klown.
UPDATE: Bibbo drops today at 9.30 AM PST! To get your hands on this Pop Vinyl Figure at its launch, be sure to check out the links I've provided below – click to jump or scroll to continue reading!
Sweet and Sinister: Meet Bibbo in Funko Pop! A Funko Shop Exclusive
Featuring his signature yellow mohawk, vibrant checkered suit, and unique potbelly, this Funko avatar is the epitome of Bibbo's unique style.
His comically oversized green shoes put the perfect finishing touch on this delightfully ominous character.
What sets this piece apart is its precision in detailing. Even Bibbo's infamous pizza box, a grim memento of his twisted sense of humor, appears!
But why stop at Bibbo? If you're a fan of this captivating Klown, don't miss out on the all-new Funko Pop! Movie Moment: Killer Klowns From Outer Space – Bibbo with Shorty in Pizza Box vinyl figure. This Spirit Halloween Exclusive brings to life that iconic scene that left us shivering with laughter and fear.
Remember, this isn't just another collectible. It's Bibbo and Shorty in all their terrifying glory! Ready to sprinkle a bit of cosmic chaos on your display shelf?
Then these Klowns are just the ticket!
The Funko Shop Exclusive Bibbo Funko Pop! can be found at the links below (click to jump!)
A Carnival of Chaos: Why Bibbo Stands Out in 'Killer Klowns from Outer Space
Get ready to dive into the madcap world of "Killer Klowns from Outer Space," where intergalactic jesters are anything but funny. Among these horrific harlequins, one character stands out for his striking presence, and that is none other than Bibbo.
What makes Bibbo distinct from his monstrous companions?
Well, first things first, let's talk about that style.
Sporting a vibrant yellow mohawk, Bibbo is not your everyday, run-of-the-mill antagonist.
His yellow-red checkered suit and oversized green clown shoes imbue him with a peculiar charm.
He embodies what happens when outer space embraces the circus aesthetic.
A potbelly, indicative of his indulgence, adds an element of hilarity to his ominous persona.
His appearance might be fascinating, but Bibbo's actions tell a tale.
He masterminds a fatal pizza box prank on an unsuspecting teenager, and we see him casually watching as a woman is encased in a giant balloon.
He's part of the fearsome clown crew that dispatches an obstinate security guard with corrosive pies.
Yes, pies that melt you!
Noteworthy among his fellow Klowns, Bibbo is one of the few to utter words in English.
His language repertoire may only consist of "pizza" and "uh-huh," but it's remarkable, considering his lips never move.
Bibbo's surprise when Klownzilla, the real boss, arrives on the scene is as palpable as the audience's shock.
The movie may end with an explosion that seems fatal for the Klowns, but rest assured, our peculiar protagonist, Bibbo, survives.
"Killer Klowns from Outer Space" is undeniably a carnival of chaos, and Bibbo sits comfortably in the center ring.
His offbeat personality and comic antics amplify the film's blend of humor and horror.
If you're in for a zany ride, Bibbo is your perplexing guide!
Funko Pop! Movies: Killer Klowns From Outer Space: Bibbo Funko Pop! Vinyl Figure (2023) – Funko Shop Exclusive
Available at:
Starting now, you can receive 10% off in-stock items with my special link at Entertainment Earth!
 Enjoy!
As an Amazon Associate I earn from qualifying purchases
Want more stuff like this?
Get the best viral stories straight into your inbox!
Don't worry, we don't spam