2023 NEW La Lotería: El Diablito Glow Funko Pop! PX Exclusive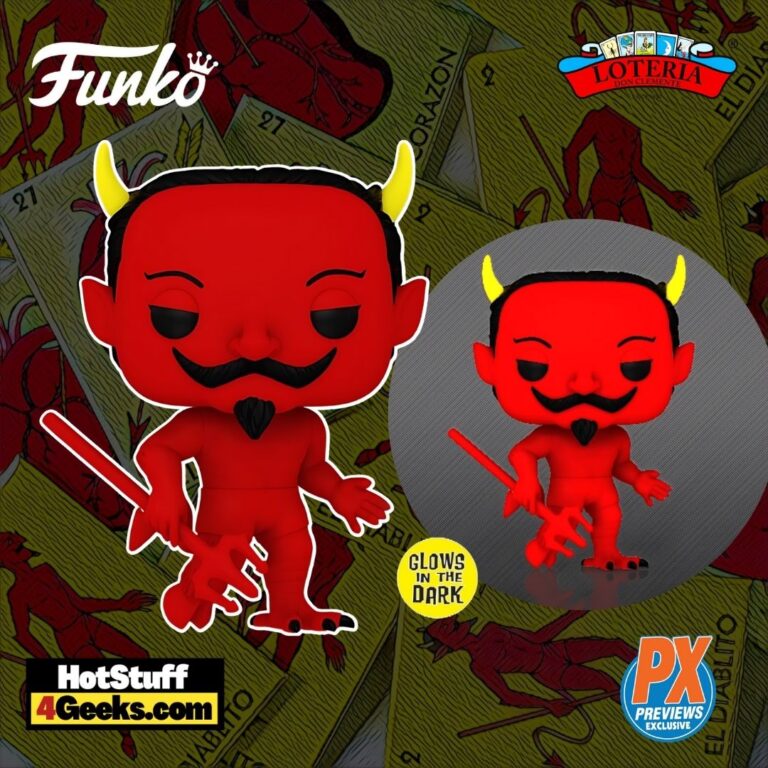 When it comes to reinventing tradition with a modern twist, the new Funko Pop! Board Games – La Lotería: El Diablito Glow-In-te-Dark (GITD) Funko Pop! Vinyl Figure – PX Exclusive, takes the cake. This unique piece brilliantly marries the charm of a classic Mexican board game with the contemporary allure of Funko Pop! collectibles.
To get your hands on this Pop Vinyl Figure at its launch, be sure to check out the links I've provided below – click to jump or scroll to continue reading!
Illuminate Your Game Night with La Lotería: El Diablito Funko Pop (Glow)!
The show's radiant El Diablito star comes to life in an all-new luminescent avatar.
Translating as "The Little Devil," El Diablito is a celebrated figure in the lotería game.
With its enigmatic glow, this Funko Pop! figure adds an extra layer of exhilaration to your game nights, steeped in the fascinating cultural narratives of La Lotería.
In the dimmed lights, watch El Diablito cast an ethereal glow, mirroring the game's unexpected turns and thrilling suspense.
Its high-quality vinyl design, coupled with the mystique of the GITD feature, ensures El Diablito Funko Pop! will be the centerpiece of your collection and game nights, illuminating the rich tapestry of tradition it embodies.
The PX Exclusive El Diablito Glow Funko Pop! is now available for pre-order at the links below (click to jump!)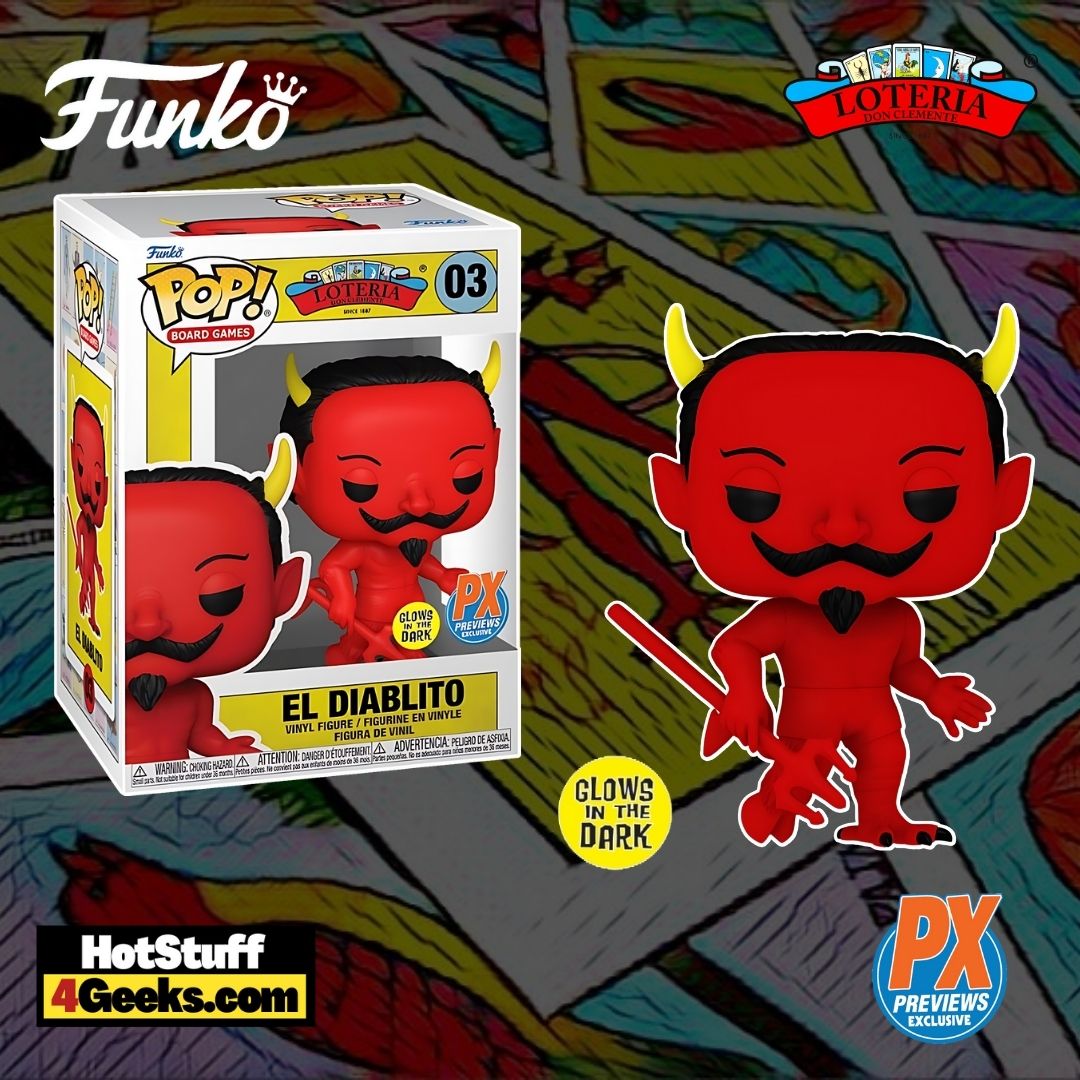 La Lotería: Unearthing the Mysteries of the Diablito Card
One can't talk about Mexican culture without diving into the fascinating world of La Lotería, often called Mexican bingo.
This cherished game, centuries-old, is more than just a pastime.
It's a vibrant tapestry of tradition, an emblem of Hispanic heritage, and a mirror reflecting Mexico's rich historical tapestry.
Among the colorful tableau of illustrated cards in a lotería deck, one particular card strikes a chord of intrigue and fascination—the Diablito.
Known in English as the Little Devil, the Diablito card harbors a compelling blend of symbolism and historical narrative.
It's a fiery nod to Mexican folklore and traditional beliefs, and the sight of its striking crimson figure often invites an exhilarating rush of adrenaline to the game.
It is impossible to ignore the joy in the little devil's smirk, signifying the unpredictability of the game, the unexpected turns, and the thrilling suspense that has us coming back for more.
Diablito's presence in the deck introduces a whimsical, if not slightly ominous, element to the otherwise cheerful game.
Like a devilish wildcard, it shakes up the status quo and breathes an air of uncertainty into the gameplay.
Depending on your perspective, it has a dual representation as a beacon of luck or a sign of impending mischief.
La Lotería, indeed, isn't just a game.
The Diablito, along with its co-players in the deck, are emblematic cultural storytellers, each card narrating a unique anecdote about Mexico's past and present.
They offer an intimate insight into the country's cultural essence through the symbols and characters with deep historical significance.
To delve into the Diablito card is to uncover a facet of Mexico's cultural quirks, traditional beliefs, and sense of humor.
But it also beckons players of all ages into a space of light-hearted suspense and unpredictability, just as life does.
As we journey through this uncertain time of social distancing and quarantine, the familiarity and nostalgia evoked by La Lotería, especially the enigmatic Diablito card, serve as a comforting anchor.
These iconic game bridges generations, inviting everyone to the table, uniting us in a shared heritage, and reminding us of the importance of joy, even amid adversity.
So, the next time you sit for a round of La Lotería, pay special heed to the Diablito card.
It's more than just an illustration—it's a vibrant chapter in the captivating story of Mexican culture, waiting to be appreciated, one game at a time.
Starting now, you can receive 10% off in-stock items with my special link at Entertainment Earth!
 Enjoy!
As an Amazon Associate I earn from qualifying purchases
Want more stuff like this?
Get the best viral stories straight into your inbox!
Don't worry, we don't spam