Exclusive: 2023 NEW Loki 18-Inch Mega-Sized Funko Pop!
Funko Pop! Marvel Infinity Saga: Loki 18-Inch Mega-Sized Fnko Pop! Vinyl Figure – Funko Shop Exclusive
Available at:
Embark on a journey to Asgardian greatness with the release of the Funko Pop! Marvel Infinity Saga: Loki 18-Inch Mega-Sized Funko Pop! Vinyl Figure – Funko Shop Exclusive. This towering tribute to the God of Mischief is a treasure that promises to bring the grandeur of Marvel's universe right into the heart of your collection. With a presence as commanding as Loki's own, this exclusive piece is the epitome of what every Marvel enthusiast's shelf should boast.
UPDATE: Loki Mega 18-inch Loki Pop! drops today at 9:30 AM PST! To get your hands on this Pop Vinyl Figure at its release, be sure to check out the links I've provided below – click to jump or keep scrolling for more details!
Mega Pop! Loki: A Titan Among Marvel Collectibles
Marvel fans and Funko enthusiasts, prepare to add some towering mischief to your display shelves! Marvel Infinity Saga's most charismatic trickster has ascended to Mega Pop! status, with the release of the Loki 18-inch Mega-Sized Funko Pop! Vinyl Figure.
Exclusive to the Funko Shop, this substantial collectible immortalizes the Prince of Asgard in his iconic helmet, detailed with glistening golden horns that signify his royal lineage and capacity for cunning plans.
The impressive 18-inch vinyl titan captures every nuance of Loki's attire from the Infinity Saga series down to the emerald and black of his Asgardian garb.
With a pose ready to unleash the next gambit, this Loki Mega Pop! promises to be a standout piece. It will ensure that a hint of Loki's signature brand of chaos is always at the heart of your collection.
For those looking to showcase their affinity for the God of Mischief or perhaps seeking to orchestrate a grander narrative within their Marvel ensemble, this exclusive release is a must-have.
The Funko Shop Exclusive Mega Loki Fuko Pop! can be found for order at the links below (click to jump!)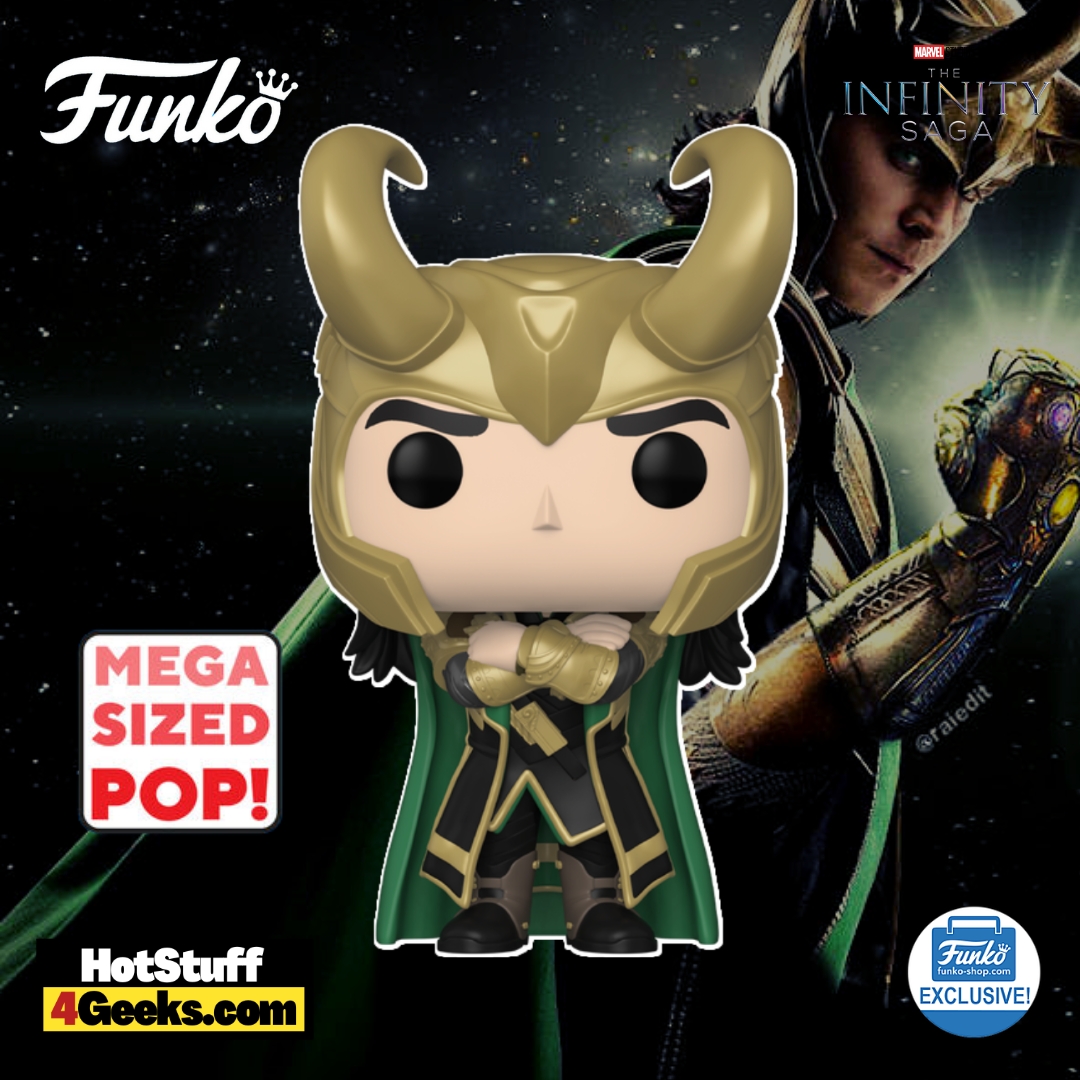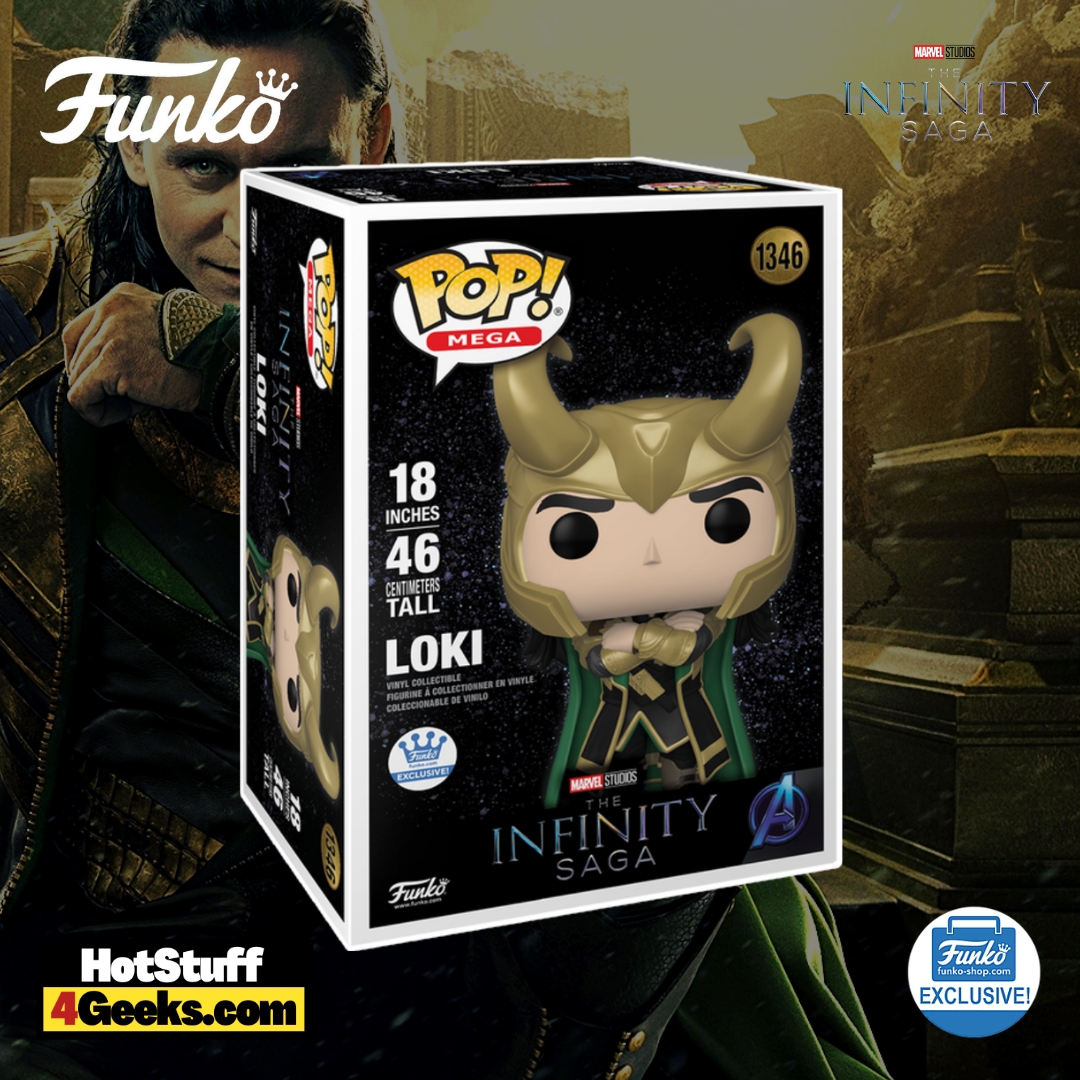 Loki's Latest Power: Shaping Marvel's Universe with Stories
Over a decade has passed since Tom Hiddleston first graced our screens as the cunning Loki in the Marvel Cinematic Universe.
With a twinkle in his eye and a scheme up his sleeve, Loki became a character we loved to follow — unpredictable, wry, and always a few steps ahead.
Fast forward to today, where the MCU has taken a bold leap, rebranding Loki from the God of Mischief to the God of Stories.
What sparked this significant shift, you ask? The answer lies in the evolution of Loki's character through the latest chapters of his journey on Disney+.
In the most recent season of "Loki," something remarkable happens — our antihero discovers a newfound superpower. Time-slipping, an ability he's toyed with before, now falls under his deliberate control.
But it's not the control itself that's the head-turner; it's how he achieves it. Through the power of connection and a bond with his allies, Loki can now reshape narratives.
Think about that: the power to change the storyline is, in a literal sense, at his fingertips.
This transition isn't just for show; it's steeped deeply in the character's lore. Marvel Comics fans might nod in recognition, as Loki's comic book journey mirrors this transformation.
Once bound by his mischievous title, Loki, in the comics, faces his past and future selves to emerge as a figure of profound narrative influence — a god not just playing with stories but creating them.
Why does this matter? For one, it showcases the depth of character development that Marvel is capable of. It's no small feat to pivot a character's fundamental nature while keeping audiences on board.
Yet, here we are, accepting Storyteller Loki's leadership and eager to see where he leads us. This shift also opens a treasure trove of narrative possibilities.
If Loki can alter stories, what does this mean for the MCU? How will this impact the narratives we've come to know? The implications are as vast as they are thrilling.
One might argue that bestowing such power on Loki makes him nearly invincible. But in the grand tapestry of the MCU, it feels earned.
This is a Loki who has faced his fears, seen the consequences of a solitary path, and chosen something richer — connection, growth, and perhaps redemption.
It's a Loki who has realized that with great power comes not just responsibility but the opportunity to do something extraordinary.
It's an exciting time to be a part of Loki's world. The God of Mischief title has been outgrown, and in its place, the God of Stories rises, promising us a journey into uncharted narrative realms.
The MCU has effectively turned a new page for Loki, and we, as the audience, are here for the read.
As an Amazon Associate I earn from qualifying purchases
Funko Pop! Marvel Infinity Saga: Loki 18-Inch Mega-Sized Fnko Pop! Vinyl Figure – Funko Shop Exclusive
Available at:
Want more stuff like this?
Get the best viral stories straight into your inbox!
Don't worry, we don't spam