2023 NEW Loki 2: Snake Eating Its Tail Funko Pop! Moment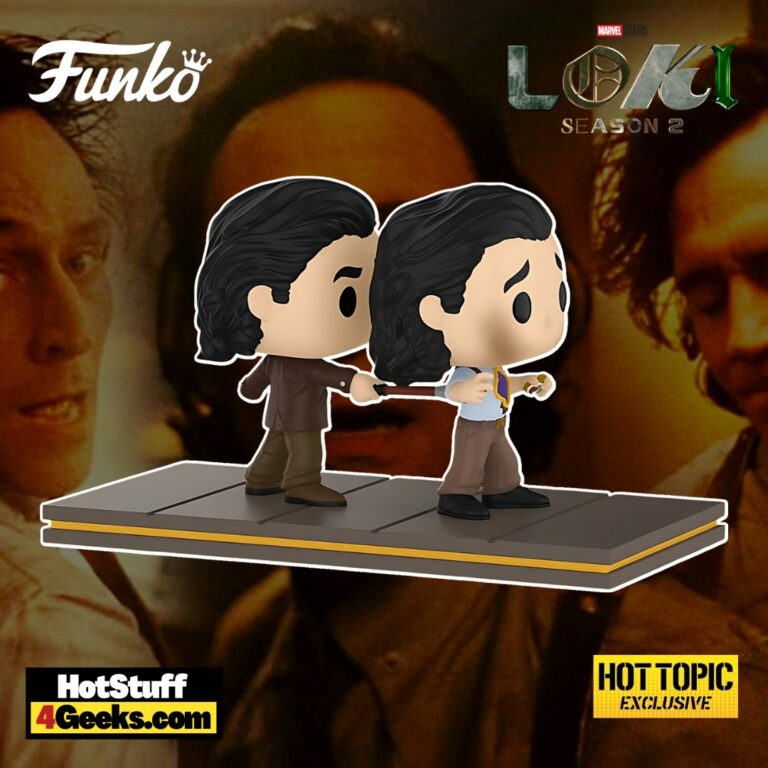 Unleash the chaos of the multiverse onto your shelves with the new Funko Pop! Loki 2: Snake Eating Its Tail Funko Pop! Moment Vinyl Figure – Hot Topic Exclusive. This figure is a playful twist in the Funko universe, just like Loki's ever-unpredictable antics in the MCU!
UPDATE: Now available for pre-order! To get your hands on this Pop Vinyl Figure, be sure to check out the links I've provided below – click to jump or keep scrolling for more details!
Unveiling the Exclusive Loki 2: Snake Eating Its Tail Funko Pop! Moment
Hot Topic is launching an exclusive Funko Pop! vinyl figure that encapsulates a pivotal scene from the "Loki" Season 2 finale – the 'Snake Eating Its Tail' moment.
This figure is a must-have for fans, as it distills the thematic core of the series into a collectible form.
The clever design showcases Loki's transformative arc as he embraces his new mantle as the God of Stories, signifying his profound character development and the reshaping of the MCU's narrative fabric.
This Funko Pop! Moment is not just a nod to the fans but a celebration of the show's deep dive into the complexities of fate and free will.
It's a collector's item that is a creative rendition of Loki's mastery over time and his eventual ascendancy to a role far more significant than he ever imagined.
Add this exclusive piece to your collection and let it serve as a gateway to re-experiencing the cunning and depth of Loki's journey.
The Hot Topic Exclusive Snake Eating Its Tail Funko Pop! Moment can be found for pre-order at the links below (click to jump!)+
Unraveling the Loki Season 2's 'Ouroboros' Narrative
In television storytelling, the concept of a narrative looping back onto itself isn't new, but "Loki Season 2" elevates this idea to a mesmerizing level.
Dubbed the 'snake eating its tail' or 'Ouroboros' structure by producer Kevin Wright, this approach is not just a storytelling gimmick; it's a fundamental part of the season's architecture that speaks volumes about its thematic richness.
The 'Ouroboros' is an ancient symbol depicting a serpent consuming its tail, signifying infinity and the cyclical nature of life.
In "Loki Season 2", this translates into a narrative that challenges the linear progression of time, a central theme in the series. The season resumes precisely where the first left off, a clever maneuver ensuring continuity and deepening character arcs.
This structure has profound implications for the Time Variance Authority (TVA), previously portrayed as an all-powerful, timeless entity.
However, Season 2 subtly unravels this facade. As Loki grapples with uncontrollable time-slipping, a phenomenon thought impossible within the TVA, the organization's susceptibility to the very time rules it enforces becomes glaringly apparent.
This paradoxical scenario is the 'Ouroboros' in action – the TVA, in governing time, is also bound by it.
Moreover, the structure raises intriguing questions about the nature of the TVA's existence. Is the TVA truly outside of time, or is it trapped in its infinite loop?
The implications are staggering, suggesting that the TVA might have a past, present, and future contrary to its foundational beliefs.
Such a revelation would redefine the TVA's role and reshape the understanding of time in the Marvel Cinematic Universe.
Interestingly, the 'Ouroboros' concept isn't just a plot device; it reflects the characters' journeys, particularly Loki's. His journey through time isn't linear but cyclical, mirroring his personal growth.
Each loop through time allows him to confront his past actions and make different choices, providing a compelling exploration of character development in a non-traditional narrative form.
The 'snake eating its own tail' structure also sets the stage for a potentially mind-bending climax. If the ending loops back to the beginning, it aligns with the thematic undercurrents of fate versus free will.
Loki's struggle against predetermined destiny has been a recurring theme, and this narrative structure could serve as a metaphor for his eternal fight to break free from the shackles of preordained paths.
"Loki Season 2" doesn't just play with time as a narrative element; it uses time as a canvas to paint a complex, interwoven story of fate, free will, and the cyclical nature of existence.
The 'Ouroboros' structure is not just a clever plot twist; it's the heartbeat of the series, pulsating with deeper meanings and endless possibilities.
Loki Season 2's use of the Ouroboros as a narrative device captivates the audience with its complex storytelling and invites us to ponder more profound philosophical questions about time, memory, and destiny.
It's a testament to the creative storytelling that Marvel has become renowned for, entwining ancient symbols with modern narratives to create a compelling television experience.
As an Amazon Associate I earn from qualifying purchases
Want more stuff like this?
Get the best viral stories straight into your inbox!
Don't worry, we don't spam