2023 NEW Marvel: Avengers Endgame – Iron Spider Funko Pop!
Funko Pop! Marvel: Avengers Endgame – Iron Spider Funko Pop! Vinyl Figure (2023 release)
Available at:
Get ready to add a new jewel to your Marvel collection with the latest Funko Pop! Marvel: Avengers Endgame – Iron Spider Funko Pop! Vinyl Figure (2023 release). This isn't just any figure; it's a miniature masterpiece that captures the essence and detail of the Iron Spider, one of the most iconic suits donned by Peter Parker in the Marvel Cinematic Universe.
To get your hands on this Pop Vinyl Figure, be sure to check out the links I've provided below – click to jump or scroll to continue reading!
Unveiling the 2023 Iron Spider Funko Pop! Figure: A Marvel in Miniature Form
Dive deep into Marvel lore, and you'll find characters so intricately designed that each iteration brings about palpable excitement. 2023 saw the unveiling of the new Funko Pop! Marvel: Avengers Endgame – Iron Spider Vinyl Figure, and it's something to discuss.
The character, synonymous with strength, agility, and groundbreaking tech, is masterfully captured in this release.
Capturing the iconic red-blue scheme from the Avengers Endgame portrayal, this figure pays homage to Spider-Man's enduring legacy while giving a nod to Tony Stark's engineering genius.
The intricate detailing on the Iron Spider suit, especially those menacing spider legs, is a treat for both the casual fan and the hardcore Marvel enthusiast.
If you're in for a marvel of craftsmanship and a slice of Marvel magnificence, this Funko rendition promises not to disappoint.
A tiny figure, yet it holds a universe of stories!
Iron Spider Funko Pop! from Avengers Endgame can be found for pre-order at the links below (click to jump!)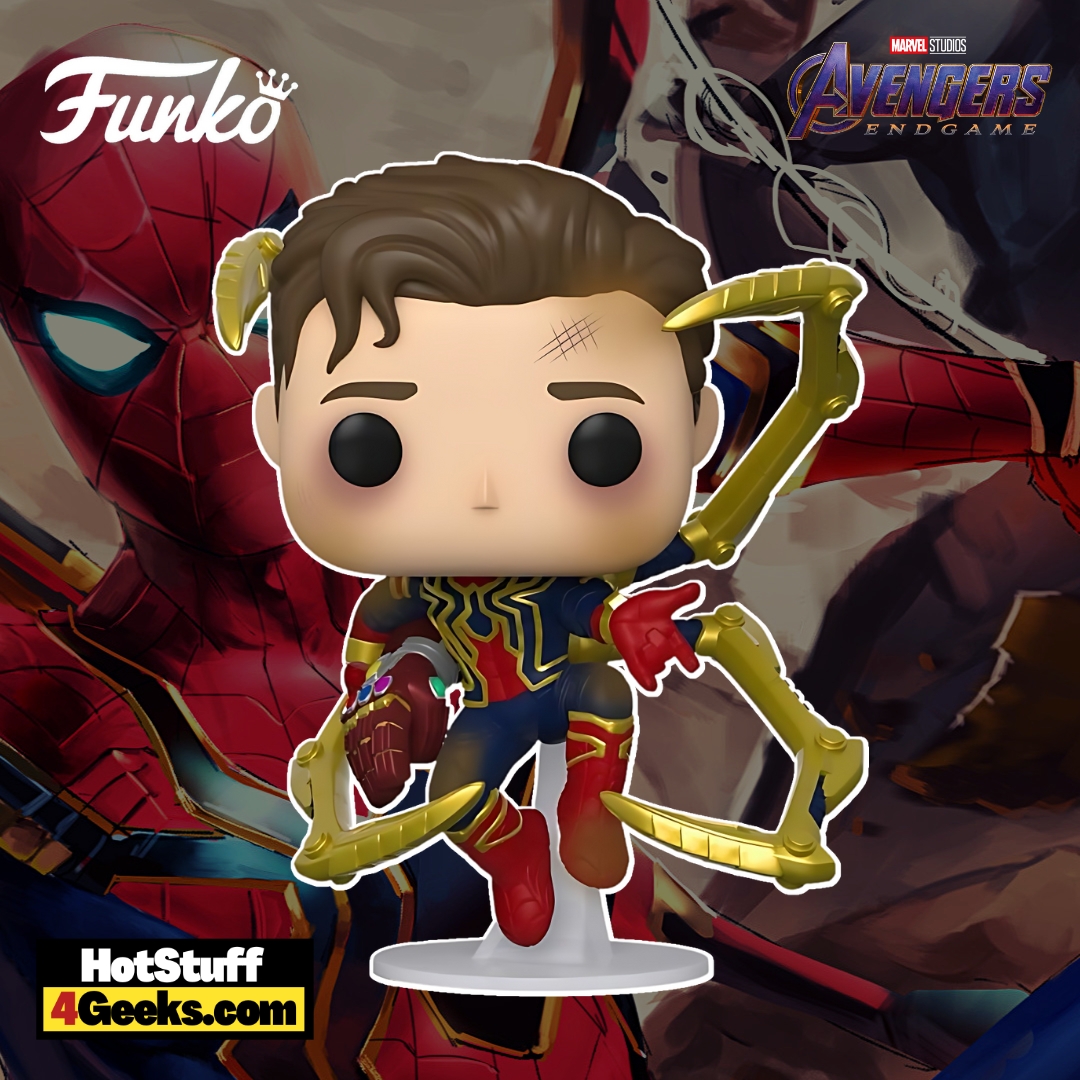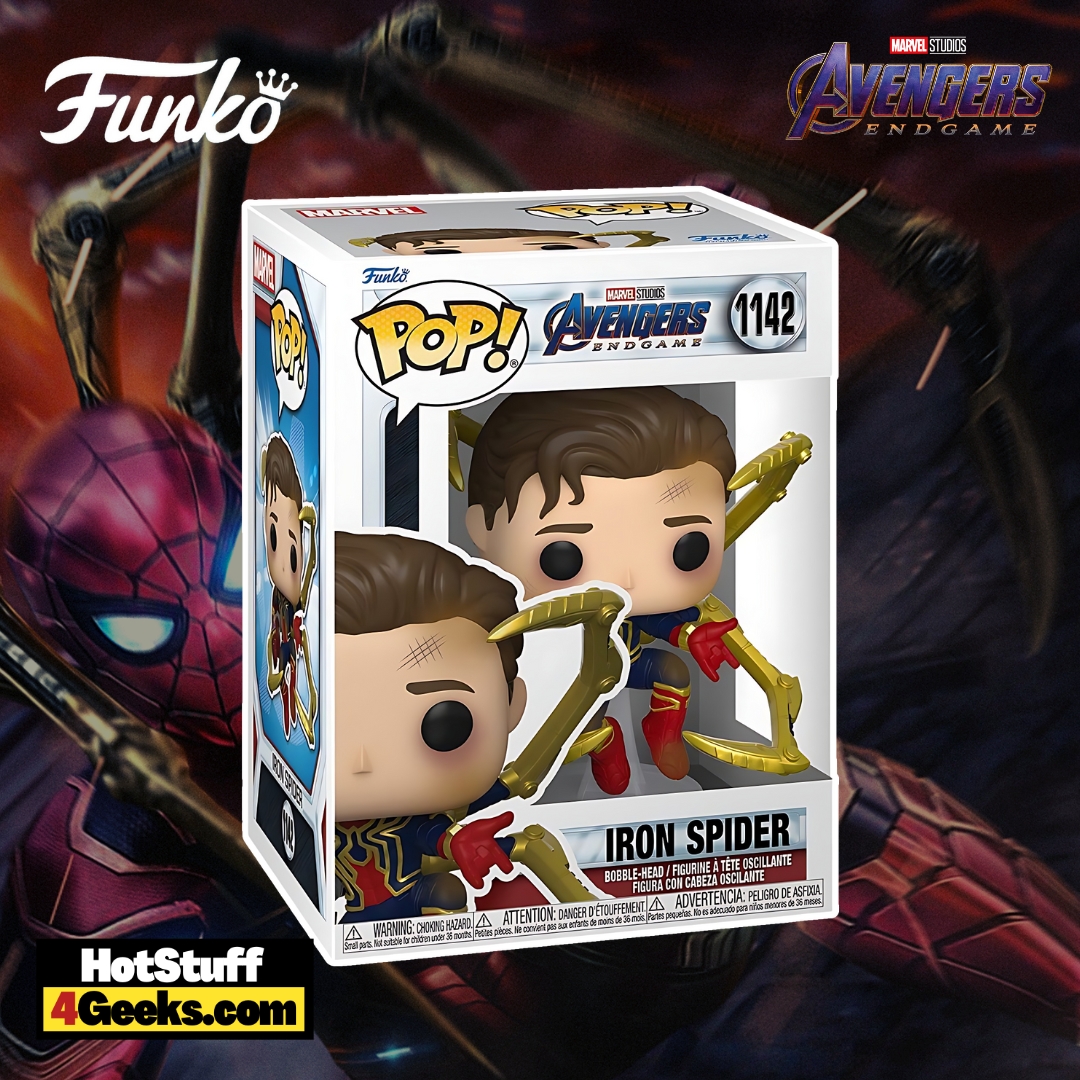 The Intricacies of Spider-Man's Iron-Spider Armor: A Deep Dive
If you've ever wondered what it would be like to possess the combined technological prowess of Tony Stark and the iconic features of Spider-Man, the Iron Spider suit provides just the irresistible taste of that merger.
This amalgamation of design and technology is not just a symbol of Spidey's transition into the greater Marvel world but also a vivid representation of the evolution of superhero gear.
Initially conceived in the comic books during the intriguing Civil War saga, the Iron Spider suit was the brainchild of none other than the genius, billionaire, playboy, and philanthropist Tony Stark.
Peter Parker's friendly neighborhood Spider-Man look underwent a significant transformation with this suit. And while the movies gave us glimpses of its prowess, there's more to this high-tech attire than meets the eye.
The color scheme is one aspect of the suit that stands out.
Historically, the classic Steve Ditko design—a beloved rendition of Spidey's costume—showcased rich reds and blues.
Yet the Iron Spider, in its comic form, embraced a more fiery combination of red and yellow. However, the cinematic version paid homage to the classic, sticking with red and blue.
Tech-wise, the suit is packed.
It's not just about web-slinging and wall-crawling anymore. Spider-Man's street-level heroics would vastly benefit from the built-in emergency scanner—making him attuned to the immediate needs of New York City.
Can we just take a moment to appreciate a suit that allows him to tune into emergency radio frequencies?
On the more stealthy side of things, the Iron Spider introduced a cloaking feature.
Who wouldn't want to vanish at a moment's notice in a showdown with intergalactic tyrants?
Additionally, infrared vision ensures Spidey's not left in the dark, literally.
And if you've ever been curious about those striking spider legs, they're more than just combative appendages. In the comics, these legs offered an extra layer of surveillance, housing tiny cameras.
Protection is paramount, and the suit doesn't skimp.
While being bulletproof is a practical aspect of the armor, the in-built breathing apparatus turns out to be a delightful bonus—perfect for those space escapades or encounters with poison gas-spewing foes.
Furthermore, the relationship dynamics between Tony and Peter find an echo in the design.
Embedded within the suit is a program allowing Tony to override control—highlighting the protective and occasionally overbearing nature of their bond.
But here's a fun tidbit: the Iron Spider isn't exclusive to Peter.
Over time, the Marvel universe has seen others, including the likes of Aaron Davis and even Mary Jane, donning this high-tech marvel.
In essence, the Iron Spider suit represents the nuanced evolution of superhero attire.
It's a blend of nostalgia and forward-thinking tech, showcasing the expansive universe Spider-Man now finds himself a part of.
Dive deep; there's always more to discover about this fascinating piece of superhero tech.
As an Amazon Associate I earn from qualifying purchases
Funko Pop! Marvel: Avengers Endgame – Iron Spider Funko Pop! Vinyl Figure (2023 release)
Available at:
Want more stuff like this?
Get the best viral stories straight into your inbox!
Don't worry, we don't spam