2023 NEW Marvel: Miles Morales w/ Chase Funko Pop! Pin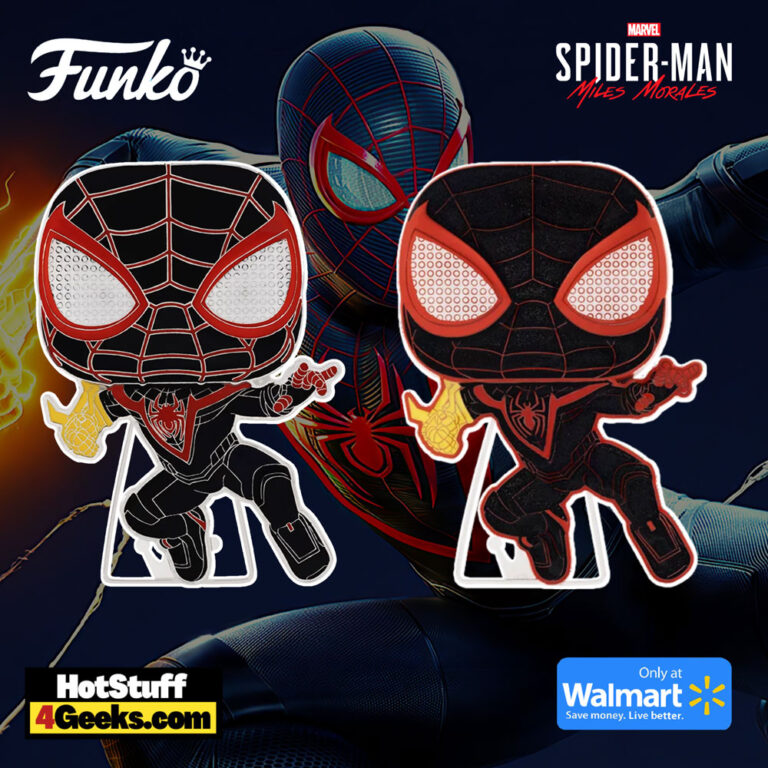 Are you sick of web-slinging with the same old Spider-Man? The one with boring old red and blue suit that never changes? Well, the new Funko Pop! Pop Pin: Marvel – Miles Morales with Chase Funko Pop! Pin Figure – Walmart Exclusive is here to save the day!
The pop pin figure is now available for pre-order at the links below – click to jump or scroll to continue reading!
If you're a fan of Spider-Man, then the new Miles Morales Chase Funko Pop! Pin is essential for your collection.
Not only will it make your look epic and attract the envy of all your friends, but it also celebrates one of Marvel's most popular characters.
Sure, Miles Morales was born in an alternate universe – but he's still fully equipped with those iconic web-shooters, black accents on his suit, and a unique attitude that has won him the hearts of fans around the globe.
So get your pre-orders in now and show off your newest addition to everyone you know.
The Walmart Exclusive Miles Morales with Chase Funko Pop! Pin is now available for pre-order at the links below (click to jump!)
Move over, Peter Parker. There's a new web-slinger in town. His name is Miles Morales!
While Peter has been a staple in pop culture for over 50 years, Miles has quickly made a name for himself as the Spider-Man for a new generation.
Created by Brian Michael Bendis and Sara Pichelli, Miles first appeared in Ultimate Comics: Fallout #4 and has since become a fan-favorite character thanks to the massive impact of Spider-Man: Into the Spider-Verse.
One thing that sets Miles apart from Peter is his family dynamics.
While Peter had to keep his secret from his Aunt May, Miles had the support of his parents, Jefferson and Rio.
In fact, Miles' relationship with his father is a major focus of Into the Spider-Verse, as he initially struggles to connect with him.
However, becoming Spider-Man allows Miles to open up to Jefferson finally, and the two have a stronger bond than ever.
And while Peter's Uncle Ben is a guiding force in his life, Miles' uncle Aaron is far from an inspirational force.
In fact, he's an unrepentant criminal who takes up the mantle of the Prowler.
This crafts an interesting character dynamic and serves as a radical departure from the usual trappings of the Spider-Man mythos.
Another thing that makes Miles a compelling character is his artistic side. In Into the Spider-Verse, he's shown to have a skilled hand at crafting art through spray paint.
Even his Spider-Man suit features layers of black paint mixed with red, which pays homage to his suit from the comics.
In the PS5 game, Marvel's Spider-Man: Miles Morales, Miles is shown to be interested in making mixtapes.
And in Ahmed & Garron's Miles Morales comic, he uses his creative writing class as a way to express his feelings about superheroism.
This struck a chord with many fans and even launched the "Spidersona" movement, where they drew themselves as spider-powered beings.
Finally, Miles is more open with his emotions than Peter. He's not afraid to cry or to talk out his problems — whether it's with his friend Ganke or his parents.
In contrast, Peter would often shove his emotions down or mask them with Spider-Man's trademark humor.
And while that's a good coping mechanism, Miles' way seems far healthier.
All in all, Miles Morales has become the Spider-Man for a new generation.
With his compelling family dynamics, artistic side, and emotional openness, it's no wonder he's become such a beloved character.
So, move over, Peter Parker, because Miles is here to stay!
Funko Pop! Pop Pin: Marvel – Miles Morales with Chase Funko Pop! Pin Figure – Walmart Exclusive
Available at:
Starting now, you can receive 10% off in-stock items with my special link at Entertainment Earth!
 Enjoy!
As an Amazon Associate I earn from qualifying purchases
Want more stuff like this?
Get the best viral stories straight into your inbox!
Don't worry, we don't spam