2023 NEW Marvel: Spider-Man (Die-Cast) Funko Pop! w/ Metallic Chase
Get ready, Spider-Man enthusiasts! The web-slinging hero is returning to the spotlight in an exciting new format. Funko Shop is adding a dash of classic Marvel charm to their premier Pop! collection, releasing the new Funko Pop! Marvel: Spider-Man (Die-Cast) Funko Pop! Vinyl Figure with Silver Metallic Chase Variant – Funko Shop Exclusive (2023 release). This exclusive piece is bound to spice up your Marvel assemblage, invoking the authentic spirit of the beloved character in stunning detail.
UPDATE: Spider-Man (Die-Cast) is releasing today at 9.30 AM PT! To get your hands on this Pop Vinyl Figure at its release, be sure to check out the links I've provided below – click to jump or scroll to continue reading!
Reviving the Spider-Man Magic: The Die-Cast Funko Pop! Exclusive
The Spider-Man die-cast Pop! isn't your ordinary figure.
Encased in acrylic with etched details, this collector's item presents a multi-dimensional view of your favorite web-slinger.
Want to get up close and personal with the details? No problem.
You can open the case and detach the figure, but trust us, with a crystal clear view from every angle, you won't feel the need to.
Making this release even more exciting is the silver metallic chase variant.
Imagine the thrill of unboxing your Spider-Man Pop! and discovering you've hit the jackpot with a 1 in 6 chance!
It's like a superhero lottery, infusing a little more excitement into the collector's journey.
In the grand tradition of Marvel, this Funko Pop! Spider-Man manages to capture the enduring allure of the character, while presenting collectors with an innovative and aesthetically pleasing format.
Just as Peter Parker balances his high school life with his superhero exploits, this figure marries the nostalgia of the comic book hero with the sophistication of a high-end collectible.
So gear up. It's time to welcome this web-slinging hero home.
The Funko Shop Exclusive Die-Cast Spider-Man with Silver Metallic Chase Funko Pop! can be found for purchase at the links below (click to jump!)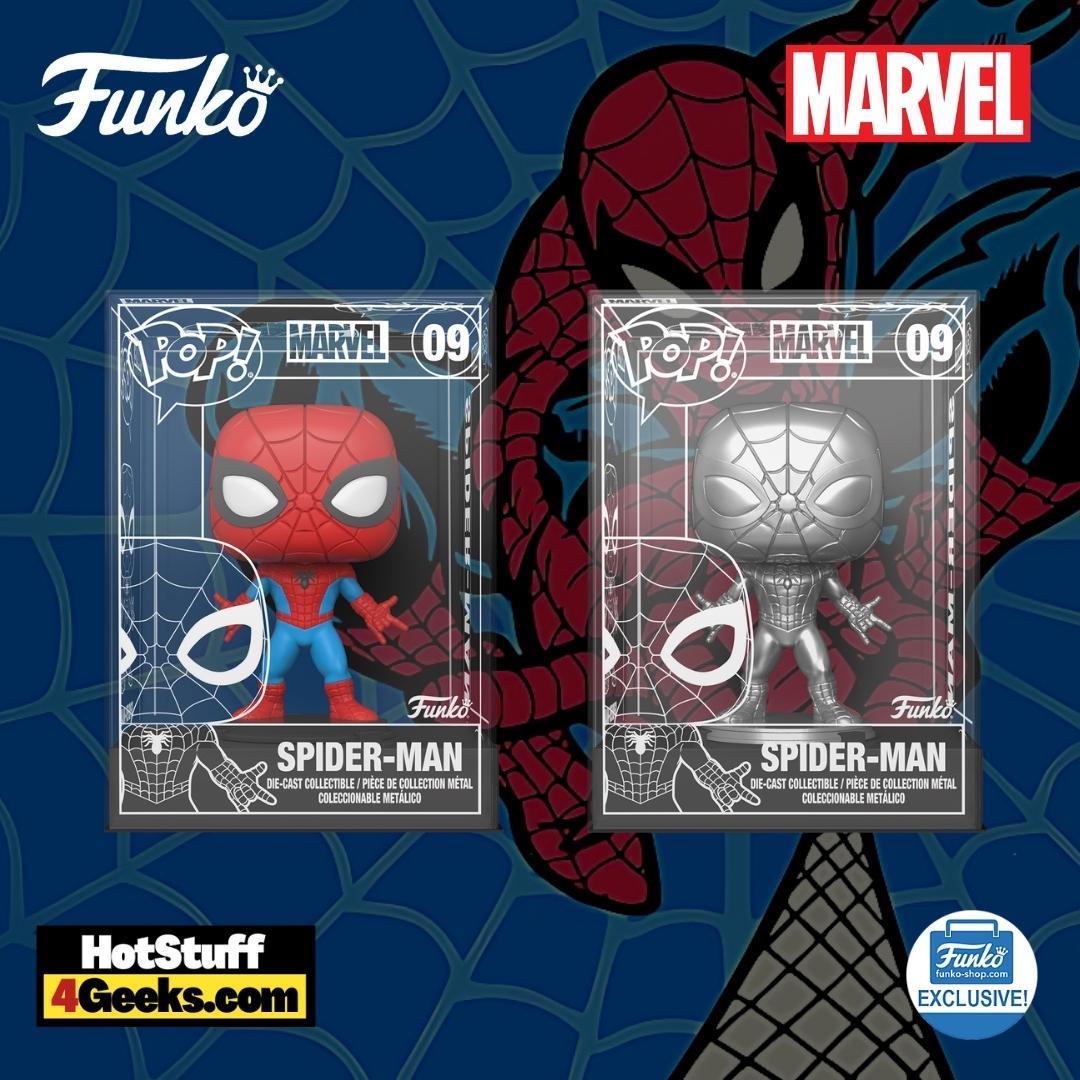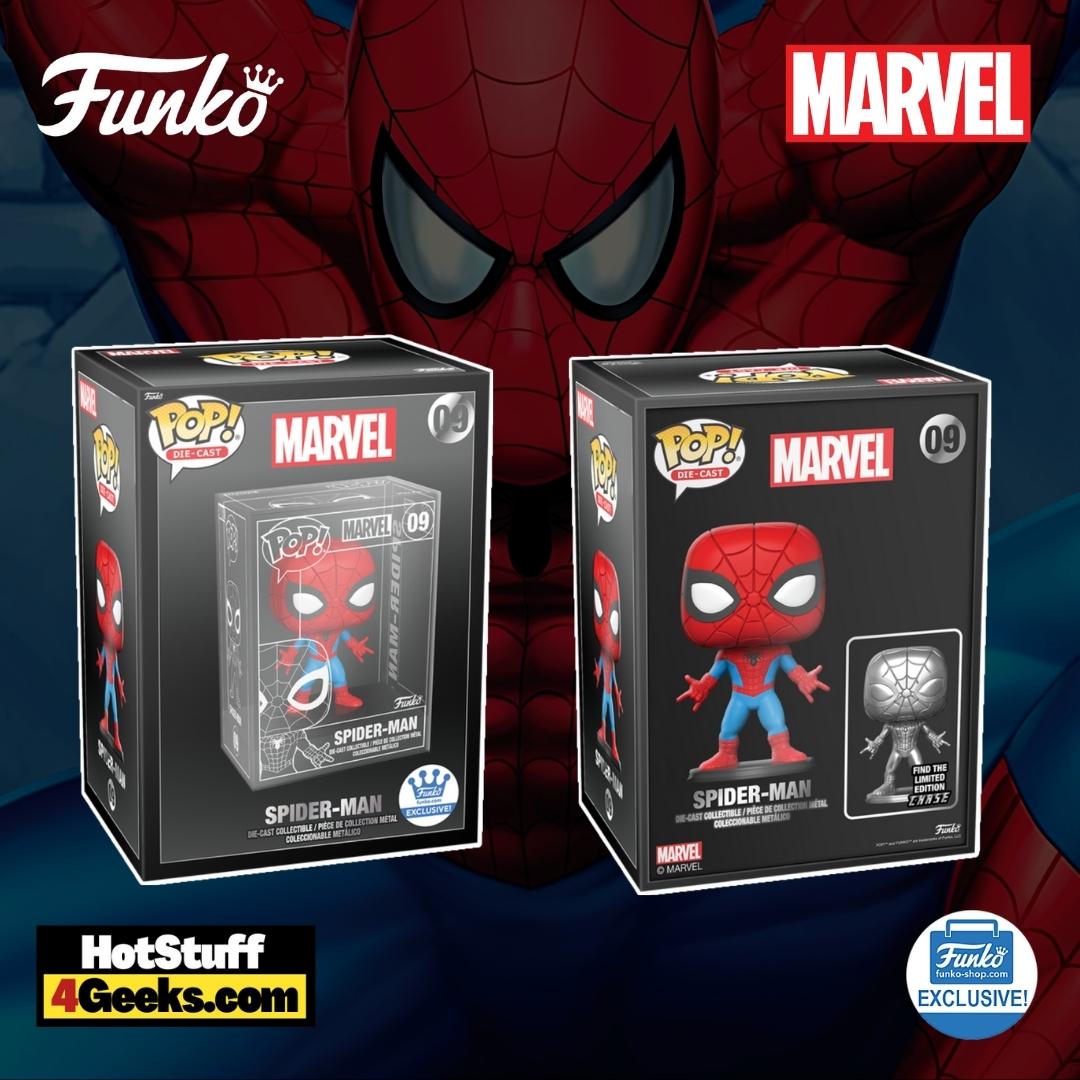 Spider-Man: A Timeless Hero Transcending Borders and Boundaries
On August 10, 2023, we celebrate a unique and intriguing milestone: Spider-Man, one of the world's most beloved comic book superheroes, turns 61.
It seems only yesterday when this awkward teenager, Peter Parker, first appeared in the Amazing Fantasy #15 panels published by Marvel Comics.
His story captured our hearts and minds, immersing us in a world of adventure and imagination while simultaneously rooting us in the realities of everyday life.
Many of us remember discovering Spider-Man in our formative years, the tales passed down from parents, siblings, or friends, much like the treasured comic collection that Tyler Scott Hoover received from his father.
For many, these stories became almost sacred, a testament to the appeal of a character who was neither a billionaire nor a god but an ordinary high schooler navigating the challenges of adolescence and adulthood.
Spider-Man was not your usual caped vigilante.
He was the quintessential everyman, struggling with school, relationships, and, above all, maintaining his secret identity.
The fact that he was just an unassuming kid who suddenly gained superpowers made him more relatable.
He wasn't born into privilege, wealth, or power; he was an accidental hero fueled by the drive to do good and uphold the values instilled in him by his Uncle Ben.
What is truly fascinating about Spider-Man is his universal appeal, reaching across race, gender, and nationality.
Thanks to his full-body costume, anyone could envision themselves behind the mask, swinging through the cityscape.
His appeal transcended the confines of his original depiction, paving the way for diverse interpretations.
Perhaps the most impactful of these new representations is Miles Morales, an Afro-Latino teenager who has carved out a niche in the Spider-Verse.
He, along with characters like Cindy Moon, aka Silk, underscore the fact that Spider-Man is not defined by race or ethnicity but by a shared experience of struggle and resilience.
Despite the increasing diversity in the superhero realm, Spider-Man stands apart, a testament to the extraordinary potential of ordinary people.
His story revolutionized the superhero narrative, proving that heroes could emerge from any background, from any corner of the world.
They could be anyone, from the high school nerd to the professional cosplayer, from the fan devouring the latest comic issue to the movie-goer anxiously waiting for the next blockbuster.
As we honor Spider-Man's legacy, we must also acknowledge his impact on the wider comic book culture.
His induction into the Comic-Con Hall of Fame in July bears testament to his timeless appeal.
His character has given fans the freedom to express their love for the Spider-Verse uniquely, contributing to the vibrant, inclusive community that comic culture has become.
In conclusion, Spider-Man's journey from a shy teenager to a celebrated hero reminds us of our shared human experiences.
Whether in comic books, movies, or cosplay, the story of Spider-Man continues to inspire us, a beacon of hope in an often challenging world, showing us that great power comes with great responsibility.
Funko Pop! Marvel: Spider-Man (Die-Cast) Funko Pop! Vinyl Figure with Silver Metallic Chase Variant – Funko Shop Exclusive (2023 release)
Available at:
Starting now, you can receive 10% off in-stock items with my special link at Entertainment Earth!
 Enjoy!
As an Amazon Associate I earn from qualifying purchases
Want more stuff like this?
Get the best viral stories straight into your inbox!
Don't worry, we don't spam