2023 NEW MHA: Funko All Might Silver Age Soda 3 Liter (GITD)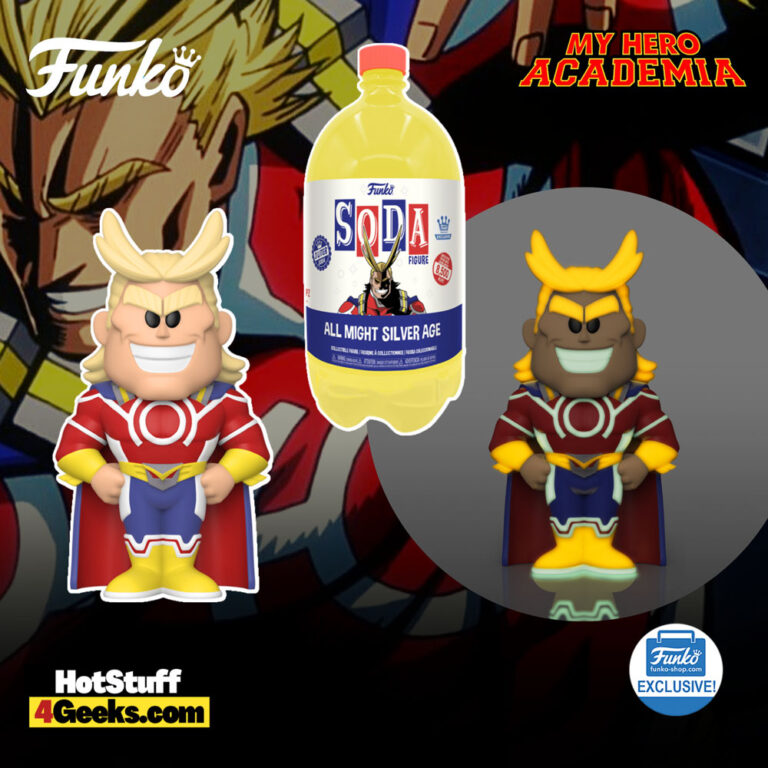 It's hard not to get excited when it comes to the new Funko Pop! Soda: My Hero Academia – All Might Silver Age Glow-In-The-Dark (GITD) Funko Vinyl Soda 3 Liter Figure – Funko Shop Exclusive. After all, it features the Symbol of Peace himself, and seeing All Might molded into a 3 Liter Soda is something that fills any fan of the anime/manga series with joy.
The pop figure droops today at 9.30 AM PT and can be found at the links below – click to jump or scroll to continue reading!
All Might is an absolute ray of sunshine in his Silver Age costume, with its bold colors and iconic yellow lightning bolt symbolizing the power of justice.
The costume is an unmistakable symbol to all who see it of the hope and strength that All Might still carries within him, even after so many years in the superhero business.
One look and you just know that nothing wrong could possibly come out of it–unless you're the opponent, of course!
With only 8,500 of these collectibles in the world and a 1 in 6 chance of finding its limited-edition chase version – which glows a glorious yellow! – this 3 Liter Soda is the stuff dreams are made of.
So if you think your luck could be in, why not give those dice a roll?
You just might find yourself joining the exclusive Silver Age club!
The Funko Shop Exclusive Funko Vinyl Soda 3 Liter All Might Silver Age can be found at the links below (click to jump!)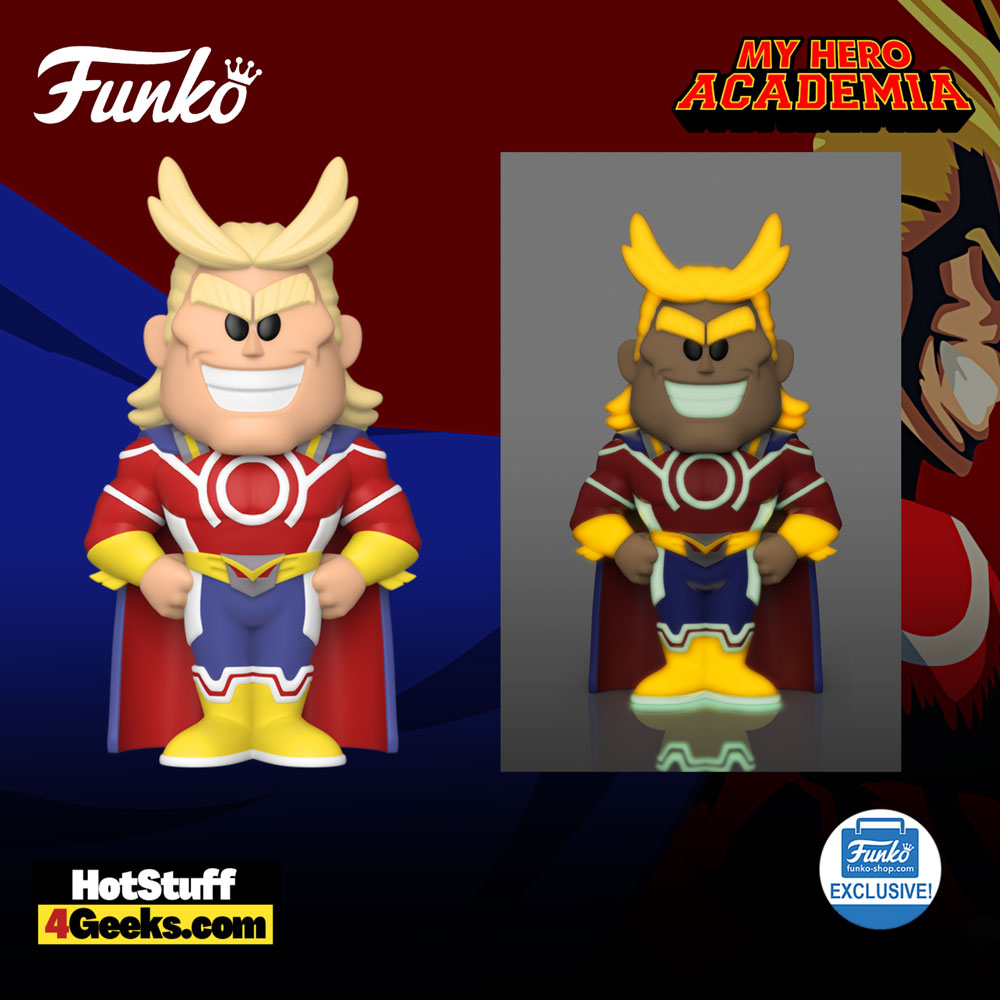 As fans of My Hero Academia, we all know and adore All Might – the superhero who beams with a contagious smile, flexes his impressive muscles, and symbolizes unwavering hope.
But have you ever wondered what inspired Kohei Horikoshi to breathe life into this iconic character?
Strap in, fellow enthusiasts, as we dive into the captivating origins of All Might and how he's won the hearts of fans worldwide.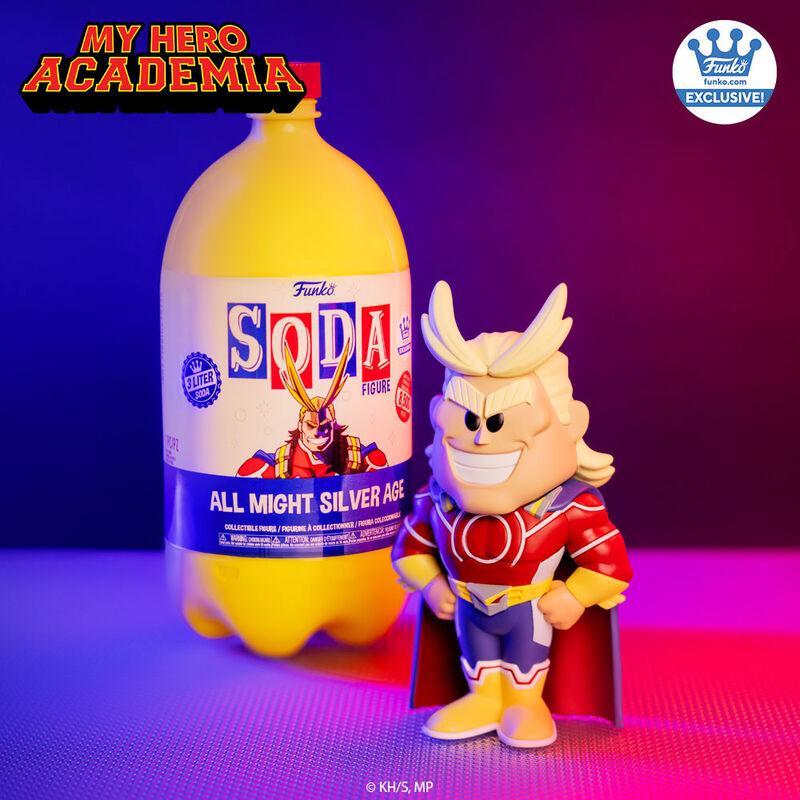 While All Might shines as the embodiment of heroism, his inception wasn't as smooth as one might think.
Horikoshi's vision of All Might initially faced skepticism from his peers, who doubted the character's potential.
Yet, Horikoshi persisted, confident that All Might would become a beloved, influential figure.
And, oh, how right he was!
Horikoshi didn't pull All Might out of thin air.
Instead, he drew from various sources, combining their best attributes to shape this mighty hero.
American comic book legend Superman was a primary influence, showing All Might his unwavering commitment to justice and preserving life.
Dragon Ball's Goku, another iconic hero, also contributed to All Might's essence, reinforcing the character's unparalleled power and ability to save the day.
These ingredients, when mixed with the core ideals of heroism and peace, gave rise to the legendary "symbol of peace."
Despite his undeniable power, All Might is no stranger to loss and tragedy.
His master's self-sacrifice to save him revealed a vulnerable side that resonates deeply with fans.
Despite his suffering, All Might protects the innocent and teaches the next generation of heroes at U.A. High School.
All Might's quirk, "One for All," not only represents his indomitable strength but also embodies the values of friendship, humility, and unity.
Passed down to the worthy, this quirk eventually finds its way to Deku, reminding us that true heroism transcends individual power.
All Might exemplifies selflessness and courage, inspiring us all to strive for greatness.
Horikoshi's intention in creating All Might was to craft a character symbolizing peace, justice, and inspiration.
He envisioned a hero with immense strength, an unyielding moral compass, and an unwavering desire to help others.
Though the anime now follows Deku's journey as a budding hero, All Might's legacy endures, capturing the hearts of My Hero Academia fans around the globe and solidifying his status as the ultimate symbol of peace and justice.
Funko Pop! Soda: My Hero Academia – All Might Silver Age Glow-In-The-Dark (GITD) Funko Vinyl Soda 3 Liter Figure – Funko Shop Exclusive
Available at:
Starting now, you can receive 10% off in-stock items with my special link at Entertainment Earth!
 Enjoy!
As an Amazon Associate I earn from qualifying purchases
Want more stuff like this?
Get the best viral stories straight into your inbox!
Don't worry, we don't spam