2023 NEW MHA – Shoto Todoroki GITD Funko Pop! Volcano X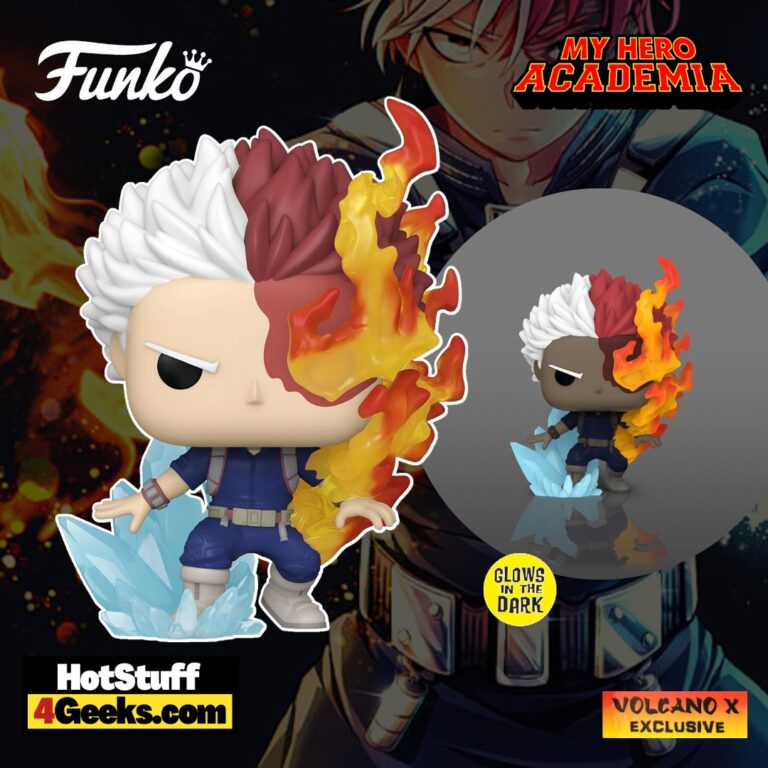 Prepare to ignite your Funko Pop! collection with the latest blaze of glory—the new Funko POP! Animation: My Hero Academia – Shoto Todoroki (Glow in The Dark) Funko Pop! Vinyl Figure – Volcano X Exclusive, released today. This radiant rendition of Todoroki is a nighttime spectacle, embodying our beloved icy-hot hero's fiery and frosty duality.
Shoto Todoroki is now available for pre-order! To get your hands on this Pop Vinyl Figure, be sure to check out the links I've provided below – click to jump or keep scrolling for more details!
Shine On: Shoto Todoroki Glow-in-the-Dark Funko Pop! Exclusive Release
Meet the latest spectacle in collectible figures: the Shoto Todoroki Glow-in-the-Dark Funko Pop! This Volcano X Exclusive is a standout piece, depicting the fan-favorite "My Hero Academia" character in mid-action, flaunting his unique Half-Cold Half-Hot quirk.
The figure's design is a dynamic showcase of Todoroki's dual powers, with one side wreathed in textured yellow and orange flames while the other is encased in a jagged, translucent ice formation.
Crafted with fans in mind, this Funko Pop! captures Todoroki's focused expression, a detail that speaks volumes of his intense dedication and formidable prowess.
The meticulous design extends to his hero costume, complete with a utility belt and combat-ready stance. This figure is a snapshot of Todoroki's essence, an emblem of his continuous battle to master his abilities and forge his path as a hero.
By day, the figure is a striking addition to any display. By night, it transforms, emitting a soft glow that reminds Todoroki's fiery determination and icy resolve.
This collectible is a must-have for enthusiasts eager to light up their "My Hero Academia" collection with a touch of Todoroki's spirit.
The Volcano X Exclusive Shoto Todoroki GITD is now available for pre-order at the links below (click to jump!) It's expected to ship on November 18.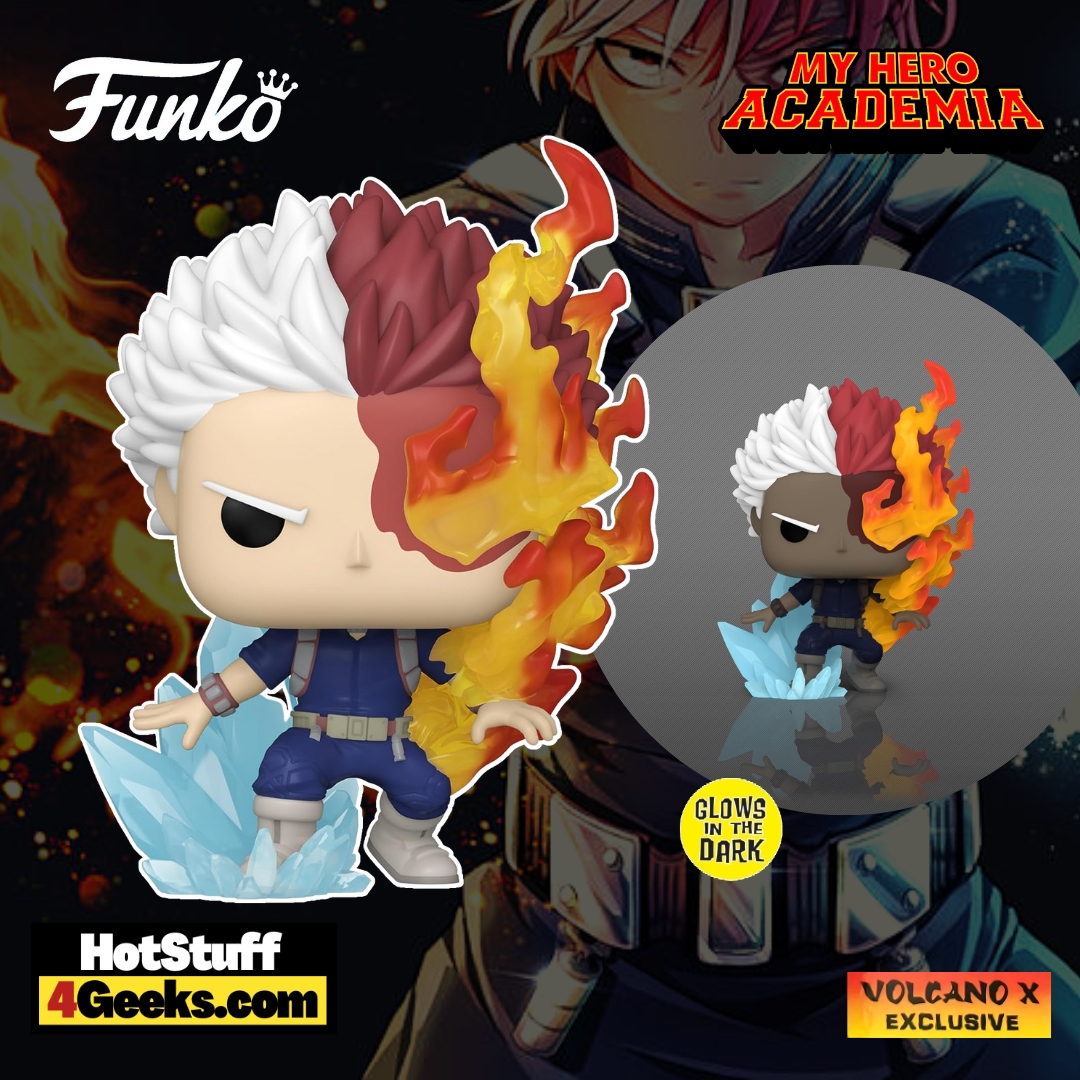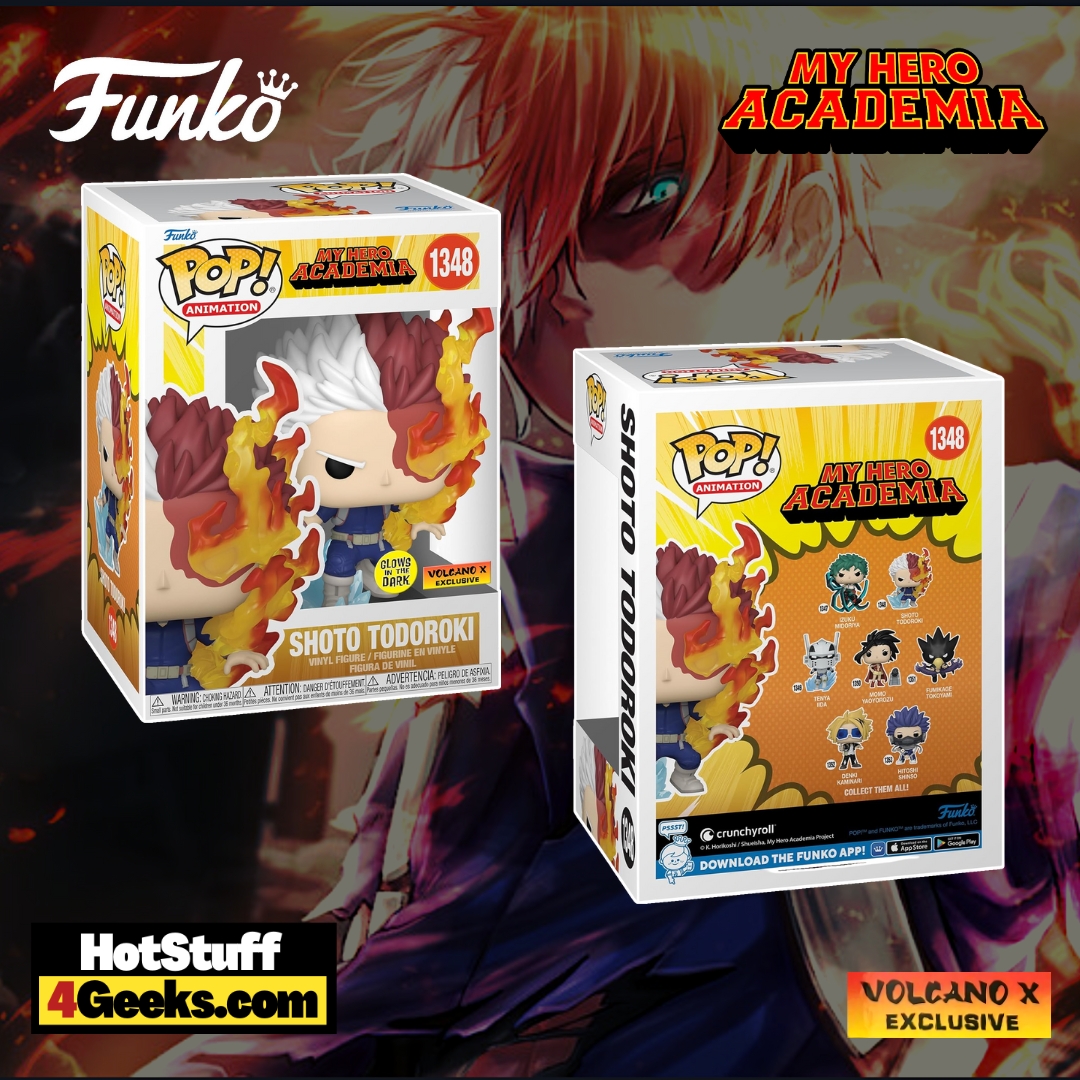 Shoto Todoroki: A Hero's Journey in My Hero Academia
Shoto Todoroki stands out in "My Hero Academia," not just for his powerful quirk but for the rich backstory and complexities that define him.
Todoroki's journey from a troubled child to a formidable hero combines personal struggle, growth, and acceptance, making him a compelling character in the anime universe.
The intriguing aspect of Todoroki's name, containing kanji for both "burning" and "freezing," cleverly mirrors his dual quirk of ice and fire.
This duality goes beyond his abilities; it represents the inner conflict stemming from his family dynamics, especially his relationship with his father, Endeavor.
Todoroki's struggle with his identity and the burden of his father's expectations adds depth to his character, making him more than just a student with extraordinary powers.
A lesser-known facet of Todoroki's personality is his love for cold soba. This detail, while small, adds a layer of normalcy to his otherwise tumultuous life.
It's these humanizing elements that make Todoroki relatable and endearing to fans.
Todoroki's creation as a character is significant; he was the first to be designed after the decision to set "My Hero Academia" in a high school.
This fact highlights his importance in the storyline, a role he fulfills impressively.
His performance in the U.A. Sports Festival, where he secured the most nominations despite finishing second, underscores his remarkable abilities.
Todoroki's academic prowess complements his combat skills. Ranking fifth in the mid-terms at U.A. High is no small feat, proving his intellectual capabilities alongside his physical ones.
This balance makes him a well-rounded character, excelling in practical and theoretical aspects.
His entrance into U.A. High is noteworthy. Todoroki was selected based on a recommendation to bypass the entrance exam.
This highlights his inherent potential and the lofty expectations placed upon him, partly due to his father's ambitions to mold him into a mighty hero.
Todoroki's backstory is marked by trauma, shaping his personality significantly. The rigorous training from his father and the incident with his mother have left him with deep emotional scars.
These experiences made him a reserved individual, contrasting with his more cheerful and innocent childhood.
Izuku Midoriya plays a crucial role in Todoroki's character development. Midoriya's encouragement helps Todoroki embrace both sides of his quirk, symbolizing his journey toward self-acceptance.
This turning point is pivotal in his growth as a character.
Contrary to his initially reserved nature, Todoroki deeply values friendships. After his battle with Midoriya, he starts to acknowledge his relationships more, showing a readiness to risk his life for his friends.
This change from a solitary figure to a more empathetic and connected hero adds a rich dimension to his narrative.
In summary, Shoto Todoroki's character in "My Hero Academia" is a fascinating study of growth, conflict, and redemption.
His evolution from a troubled youth to a hero in the making is a testament to his resilience and strength, making him a beloved character in the anime world.
As an Amazon Associate I earn from qualifying purchases
Want more stuff like this?
Get the best viral stories straight into your inbox!
Don't worry, we don't spam