2023 Michael Jackson Thriller Funko Pop! The King of Pop Reborn
There's a fresh way to relive the dazzling spectacle of the Thriller era. Meet the new Funko Pop! Rocks: Michael Jackson (Thriller) Funko Pop! Vinyl Figure (2023 release), a splendid piece that reverberates with the legacy of this groundbreaking album. It's not just a piece of memorabilia but a totem of respect for the album that upended the music world.
To get your hands on this Pop Vinyl Figure at its release, be sure to check out the links I've provided below – click to jump or scroll to continue reading!
Pop Culture in Vinyl: Unveiling the Thriller-Inspired Michael Jackson Funko Pop!
The Thriller music video, with its theatrical horror, innovative choreography, and Michael's unforgettable red leather jacket, was the gem that spearheaded the MTV revolution.
This new vinyl figure, dressed in that iconic outfit, poised mid-dance, captures the essence of that seminal moment in pop history.
Yet, it's not only about aesthetics.
This figure resonates with the significance of the Thriller album, an avant-garde piece of art that pushed the boundaries and shaped modern music.
Every glance at this Funko Pop will transport you back to the pulsating beats and daring moves of Thriller, reminding us of its enduring influence in our pop culture lexicon.
It's nostalgia, repackaged in pop vinyl!
Michael Jackson (Thriller) Funko Pop! can be purchased at the links below (click to jump!)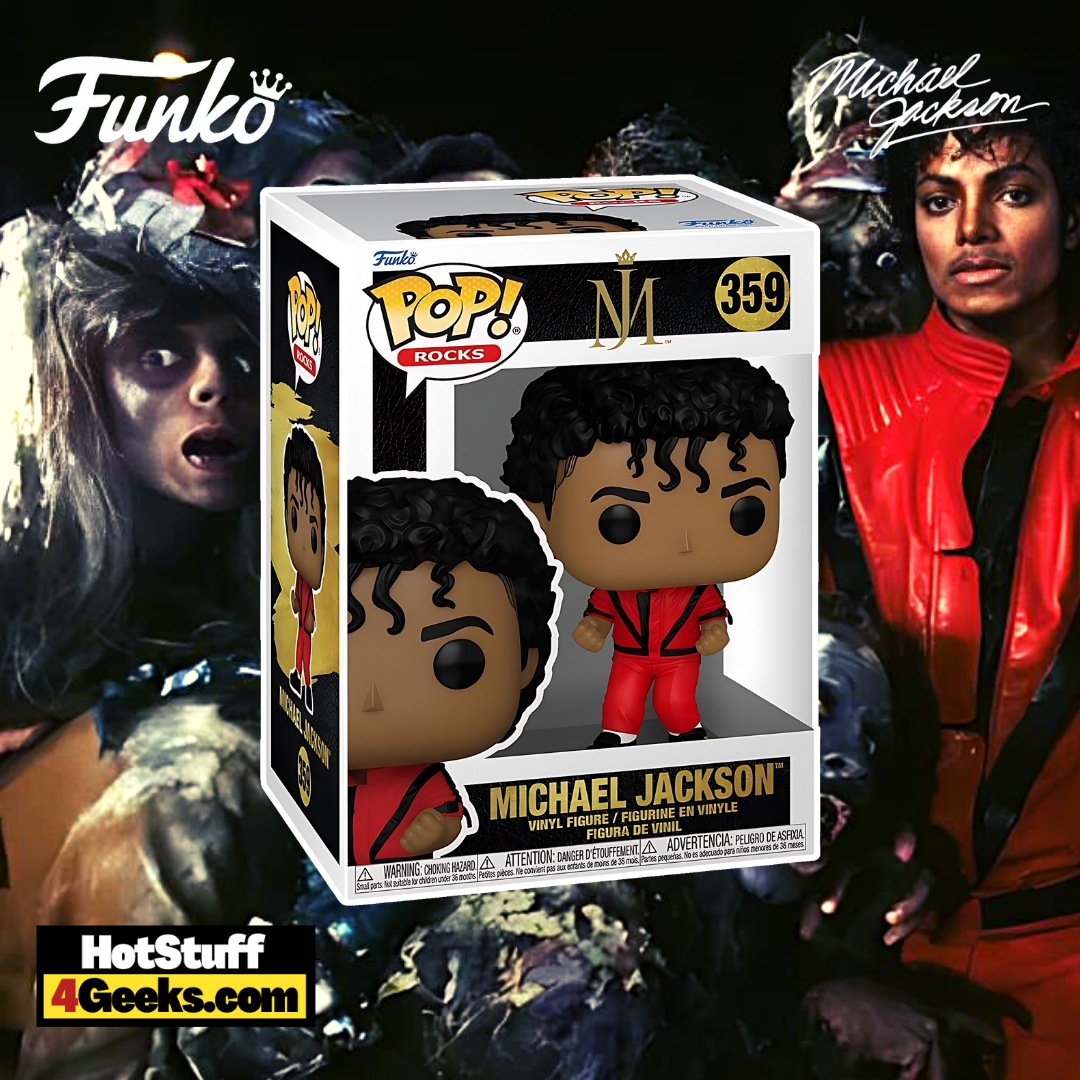 The Unraveling Impact of Michael Jackson's Thriller: A Game-Changer in Music History
What a sensation it was in November 1983 when Michael Jackson – a name synonymous with pop royalty – shattered the confines of the music industry with the revolutionary short film for his hit, "Thriller."
Little did we know that a phone call between Michael and acclaimed director John Landis in the wee hours of a London morning would catalyze a seismic shift in how we perceived and consumed music videos.
It was the unlikely marriage of cinema and music, a 13-minute tour de force that transfixed a generation and beyond.
A quick stroll down memory lane and we find ourselves drawn into the making of this iconic piece.
Picture the creative process – not merely crafting a music video but a short film that blurs the boundaries of entertainment. A truly novel approach that breathed new life into the industry.
MJ's Thriller was a groundbreaking spectacle, even behind the scenes.
Marquee names from all walks of Hollywood, including Marlon Brando and Fred Astaire, graced the set, adding to the intoxicating energy. Such star power hinted at the monumental cultural shift about unfolding.
And when the video finally broke cover, it did more than just command attention.
It was a supernova that altered the DNA of MTV, breaking racial barriers and reshaping the rules of music video production.
The Thriller phenomenon amplified MTV's cultural relevance and simultaneously laid the groundwork for the making-of genre of documentary – a peek behind the curtain that was equally enthralling.
In the wake of Thriller, music videos grew beyond a mere promotional tool into an art form in their own right.
They became a crucible for innovation, a playground for directors to weave visual narratives that elevated the music.
This metamorphosis helped birth an industry that now operates hand-in-hand with major music networks, infusing fresh vitality and economic vigor into the field.
Jackson's Thriller wasn't just another music video – it was a cultural event.
The legacy it left behind is the freedom and audacity it inspired in future artists.
Visionaries like Spike Jonze emerged, adopting Thriller's eccentricity, humor, and freedom.
Jonze and countless others took that baton and ran with it, crafting iconic videos that continue to push boundaries.
Michael Jackson, through Thriller, became the harbinger of a new era.
One that encouraged music video directors to think outside the box and create works that reflected the essence of the song and the artist while touching viewers' hearts.
He was not just an artist at the peak of his powers but a trendsetter whose innovation still echoes in every corner of the music industry today.
The influence of Michael Jackson's Thriller resonates, even decades later.
Its enduring legacy is a testament to the power of creativity, the transformational potential of music, and the timeless appeal of an artist who dared to push boundaries.
The story of Thriller is a testament to the power of vision – an echo of a time when a King changed the world with his dance.
Starting now, you can receive 10% off in-stock items with my special link at Entertainment Earth!
 Enjoy!
As an Amazon Associate I earn from qualifying purchases
Want more stuff like this?
Get the best viral stories straight into your inbox!
Don't worry, we don't spam