2023 NEW Michael Jackson's Bad Funko Pop! Album. The Legend is Back!
As the King of Pop's legacy endures, it's no surprise that his iconic 'Bad' era has been immortalized in the form of a fun and funky character – Funko Pop! Albums: Michael Jackson's Bad Funko Pop! Album Vinyl Figure! This Pop! tribute encapsulates the essence of Jackson's groundbreaking 1987 album, capturing the flair, attitude, and unmistakable style that made the world sit up and take notice.
The pop figure is now available for pre-order at the links below – click to jump or scroll to continue reading!
This Pop! Album embodies the fearless and innovative spirit of Michael Jackson during the 'Bad' epoch.
The figure rocks the unforgettable black leather outfit, complete with zippers and buckles galore, which became synonymous with Jackson's trailblazing presence on stage and screen.
It even strikes a pose that would make any moonwalker proud, effortlessly exuding the swagger and confidence that defined this remarkable period in music history.
The Michael Jackson's Bad Funko Pop! Album is more than just a collectible; it's a celebration of an artist who dared to push boundaries, redefine pop music, and leave an indelible mark on the world.
With its undeniable charm and a dash of nostalgia, this character serves as a reminder that sometimes, to achieve greatness, you have to be a little "bad."
So, whether you're an MJ enthusiast or a casual fan, this character is a must-have addition to any collection, providing a daily dose of inspiration to embrace your inner rebel and keep the spirit of Michael Jackson's 'Bad' alive and well.
Because as the King of Pop himself once said, "If you want to make the world a better place, take a look at yourself and make a change."
Michael Jackson's Bad Funko Pop! Album is now available for pre-order at the links below (click to jump!) It's expected to be released in August 2023.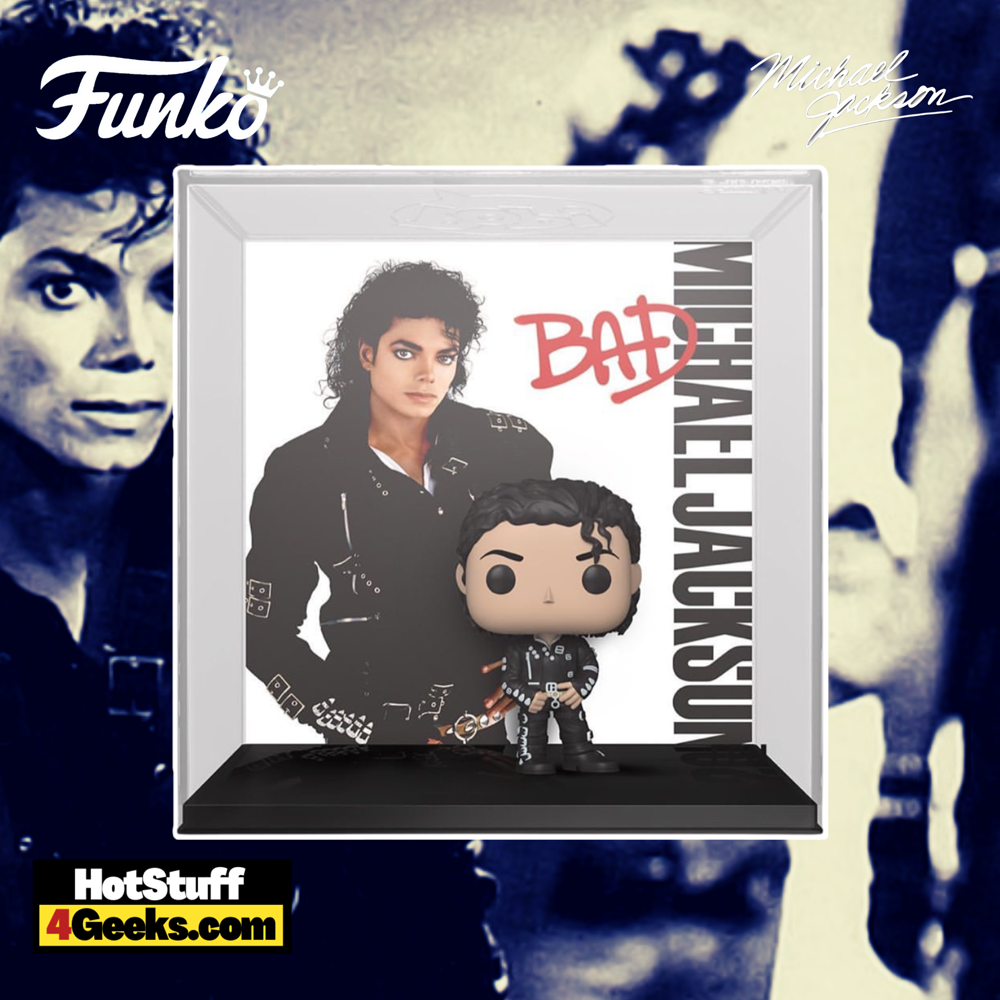 When it comes to the King of Pop, many associate Michael Jackson's success with his iconic albums 'Off the Wall' and 'Thriller.'
However, an often overlooked gem in his musical journey is 'Bad.'
Released in 1987, this album is a testament to Jackson's creative prowess and a veritable treasure trove of pop classics.
Following the unparalleled success of 'Thriller,' with its 38.5 million copies sold and countless accolades, it's no surprise that Michael Jackson felt the pressure to deliver yet another masterpiece.
Never one to shy away from a challenge, Jackson set out to create an album that would surpass 'Thriller' in terms of innovation and commercial success.
With ambitious goals of selling 100 million units and incorporating never-before-heard sounds, the stage was set for the creation of 'Bad.'
From the get-go, 'Bad' showcases Jackson's incredible ability to merge various musical styles into a cohesive and captivating album.
Tracks like "The Way You Make Me Feel" showcase a seamless blend of pulsating electronics and vintage soul, while "Speed Demon" takes listeners on a high-octane ride through funk-infused soundscapes.
In collaboration with musical legends like Stevie Wonder on "Just Good Friends" and the soaring gospel-infused "Man in the Mirror," Jackson proves that his creative genius knows no bounds.
As if the auditory experience of 'Bad' wasn't enough, Michael Jackson raised the bar with groundbreaking music videos that would go on to inspire future generations of artists.
The short film for the title track, directed by none other than Martin Scorsese, explores themes of identity and inner-city life through captivating choreography and a compelling narrative.
Meanwhile, "Smooth Criminal" serves up a larger-than-life spectacle, with gravity-defying dance moves and a captivating storyline that transports viewers into the heart of a 1930s gangster flick.
Amidst the whirlwind of media attention and outrageous rumors surrounding Michael Jackson during this time, he maintained his sense of humor.
The music video for "Leave Me Alone" pokes fun at the absurdity of the tabloid stories, showcasing Jackson's ability to laugh at himself even in the face of adversity.
While it's easy to get caught up in comparisons with 'Off the Wall' and 'Thriller,' 'Bad' deserves recognition as a pop masterpiece in its own right.
With its innovative sounds, visually stunning music videos, and Jackson's ever-present wit, this album is a shining example of the King of Pop's boundless creativity.
So, as you moonwalk your way through the annals of pop music history, don't forget to tip your hat to the brilliance of Michael Jackson's 'Bad' album.
After all, it's not just good – it's bad in the best way possible.
And for those hardcore MJ fans, a delightful collectible captures the essence of this epic era: Michael Jackson's Bad Funko Pop!
This quirky, big-headed figurine pays homage to the King of Pop's legendary fashion sense, donning his iconic black leather outfit and striking a pose that screams "Who's Bad?"
Funko Pop! Albums: Michael Jackson's Bad Funko Pop! Album Vinyl Figure
Available at:
Starting now, you can receive 10% off in-stock items with my special link at Entertainment Earth!
 Enjoy!
As an Amazon Associate I earn from qualifying purchases
Want more stuff like this?
Get the best viral stories straight into your inbox!
Don't worry, we don't spam