2023 NEW Mickey Mouse Die-Cast w/ Silver Chase Funko Pop!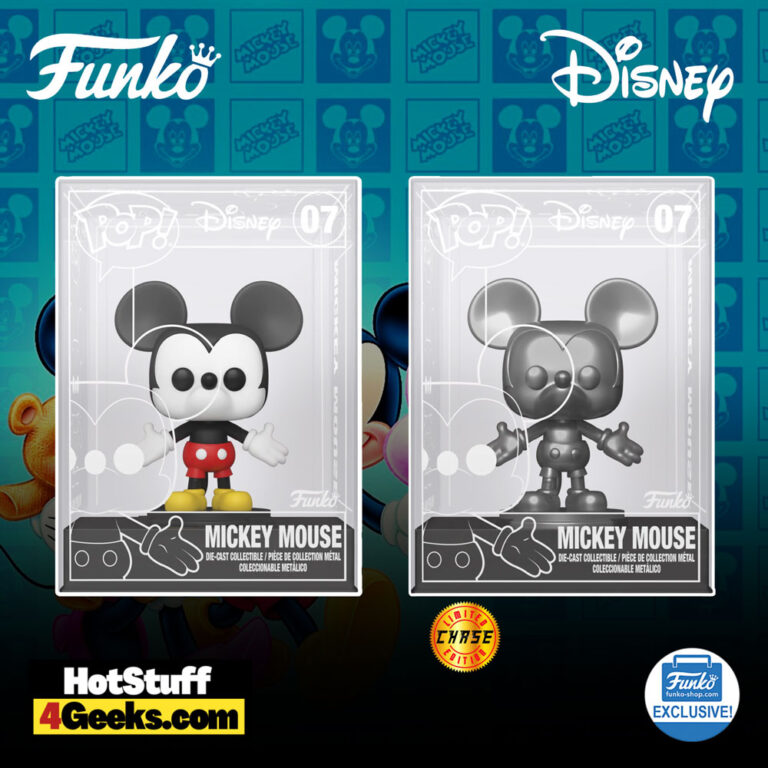 Mickey Mouse is a beloved character known the world over, and the new Funko Pop! Disney: Mickey Mouse Die-Cast with Silver Metallic Chase Funko Pop! Vinyl Figure – Funko Shop Exclusive – Funko Fair 2023 celebrates the iconic critter in a modern way.
The pop figure can be found at the links below – click to jump or scroll to continue reading!
The Mickey Mouse Die-Cast Pop! is a true collectible that captures the spirit of this classic Disney character.
Every detail of the iconic familiar face gives it an extra touch of luxury in any collection.
There's even a chance we might find one of the silver metallic finish chases out of every six boxes  – definitely something to look forward to!
The figure comes in a die-cast acrylic case that features etched details and fastens to the base of the case.
The case can be opened, and the figure detached from the base, but with a clear view of all sides of your collectible, you won't need to unbox it.
The Funko Shop Exclusive Mickey Mouse Die-Cast Funko Pop! with Silver Metallic Chase Variant from Funko Fair 2023 can be found at the links below (click to jump!)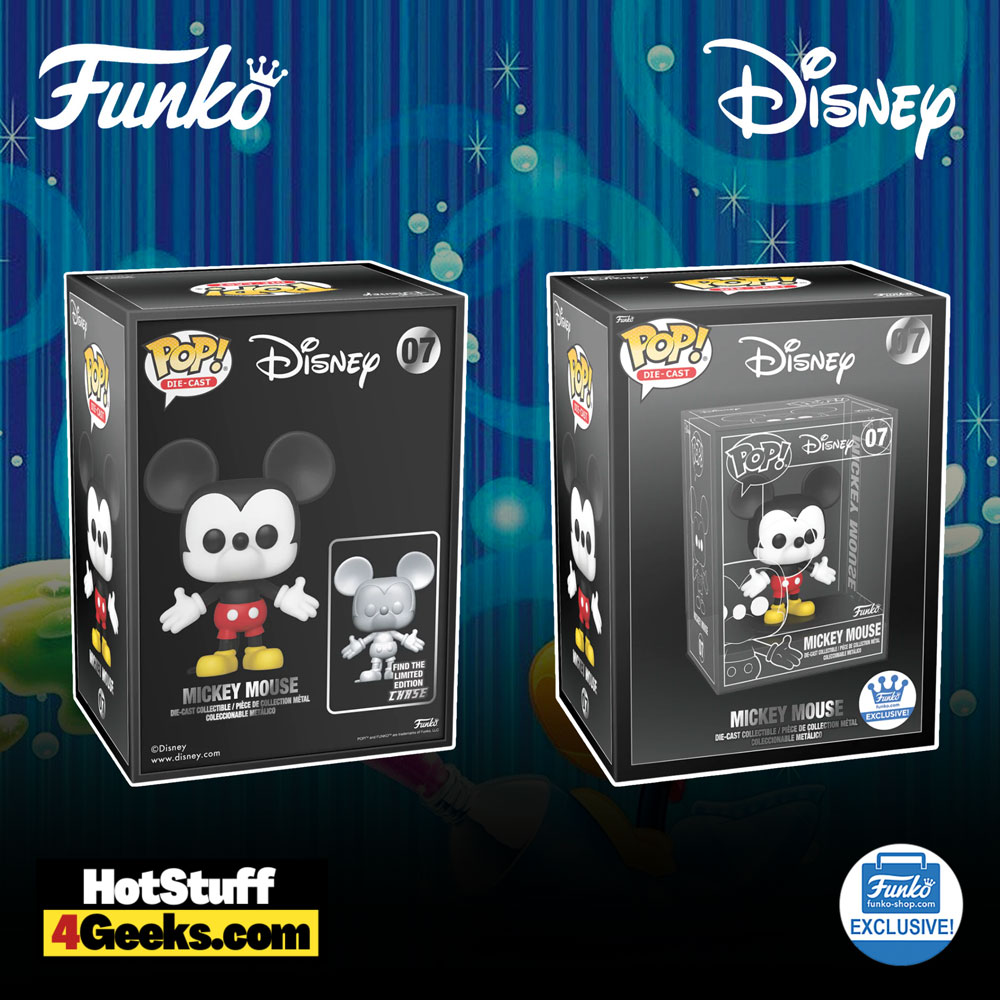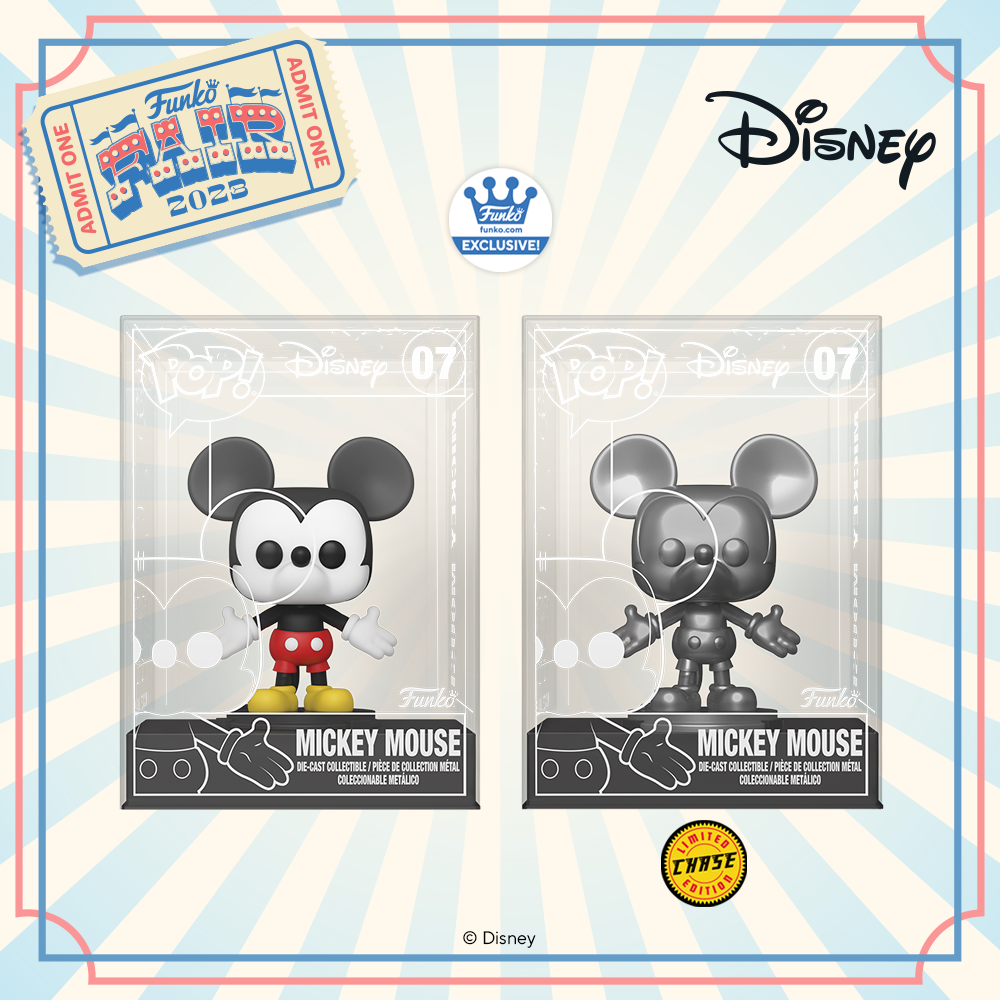 Mickey Mouse is not just a cartoon character but an icon that has brought joy and laughter to generations of people around the world.
Created by Walt Disney and Ub Iwerks in 1928, Mickey Mouse was initially named Mortimer Mouse, but Walt Disney's wife convinced him to change it to Mickey.
Mickey's cheerful face, big ears, and red shorts make him one of the most recognizable characters in the world.
The creation of Mickey Mouse was inspired by a dispute between Walt Disney and his business partner at Universal, which led to Disney losing the rights to his first character, Oswald the Lucky Rabbit.
This loss inspired Disney to create a new character, a mouse named Mickey, who would become the mascot of The Walt Disney Company.
Mickey's first cartoon was "Plane Crazy," which premiered in Hollywood on May 15, 1928, but it did not obtain distribution.
However, Steamboat Willie, the first animation to feature synchronized music and sound effects, premiered in New York on November 18, 1928, and became a huge hit.
Mickey Mouse quickly became a national fad, and Disney started a line of Mickey merchandise.
Within two years, the Mickey Mouse Club, a fan club for children, was up and running. Mickey was often joined by his girlfriend, Minnie Mouse, and an animated gang of friends, including Donald Duck, Goofy, and Pluto.
Mickey was a cheerful and mischievous rodent who starred in over 100 cartoon shorts, and his signature black cap with mouse ears worn by the show's stars has become one of the most iconic items in merchandising history.
Despite all his success and fame, Mickey always remains true to himself: a loyal friend with a boundless sense of adventure and optimism.
With his white gloves and bright smile, Mickey is recognized around the world as a symbol of fun for both children and adults.
No matter what situations he gets into or how daunting the task may be, Mickey always finds confidence in himself and those around him, bringing about a happy resolution.
Funko Pop! Disney: Mickey Mouse Die-Cast with Silver Metallic Chase Funko Pop! Vinyl Figure – Funko Shop Exclusive – Funko Fair 2023
Available at:
Starting now, you can receive 10% off in-stock items with my special link at Entertainment Earth!
 Enjoy!
As an Amazon Associate I earn from qualifying purchases
Want more stuff like this?
Get the best viral stories straight into your inbox!
Don't worry, we don't spam