2023 NEW Miles Morales on Subway Car Funko Pop! Train
The Funko Pop! universe just got a little more exciting with the release of its newest member – the Funko Pop! Disney 100th Anniversary:  Miles Morales on Subway Car Funko Pop! Train Vinyl Figure – Amazon Exclusive, an exclusive to mark Disney's 100th anniversary. This character-driven piece brings the fan-favorite Spider-Man from the Spider-Verse into your home in an entirely new way.
UPDATE: Now Available at Amazon! To get your hands on this Pop Vinyl Figure, be sure to check out the links I've provided below – click to jump or scroll to continue reading!
All Aboard the Spider-Train: Unveiling the Miles Morales Subway Car Funko Pop!
What truly makes this Funko Pop! shine is how it captures the essence of Miles Morales.
We all know Miles as the Brooklyn kid turned hero, and what better symbol of his city than a subway car?
The intricately designed figure has Miles perched atop, web-slingers at the ready, giving a nod to those thrilling scenes of him navigating the city's underground transit system.
This Funko Pop! Train Vinyl Figure is not just about commemorating Disney's milestone anniversary; it's about celebrating Miles Morales himself.
It's about appreciating the unexpected hero who swung into our hearts from the city's high rises and subway tunnels, forever changing our idea of Spider-Man.
This figure encapsulates that journey, making it a must-have for any true Spider-Verse aficionado.
The Amazon Exclusive Miles Morales on Subway Car Funko Pop! Train(Disney's 100 Years of Wonder) can be purchased at the links below (click to jump!)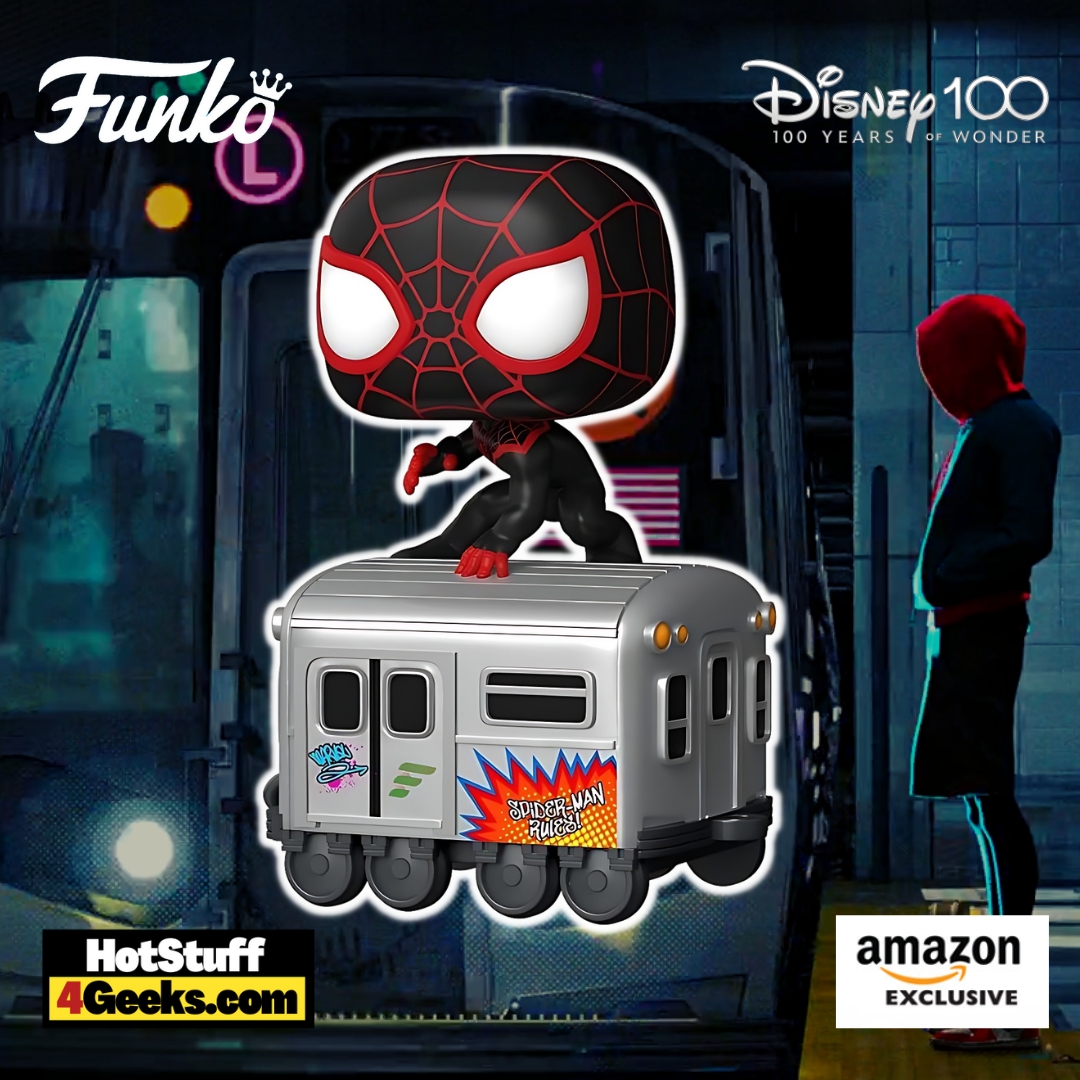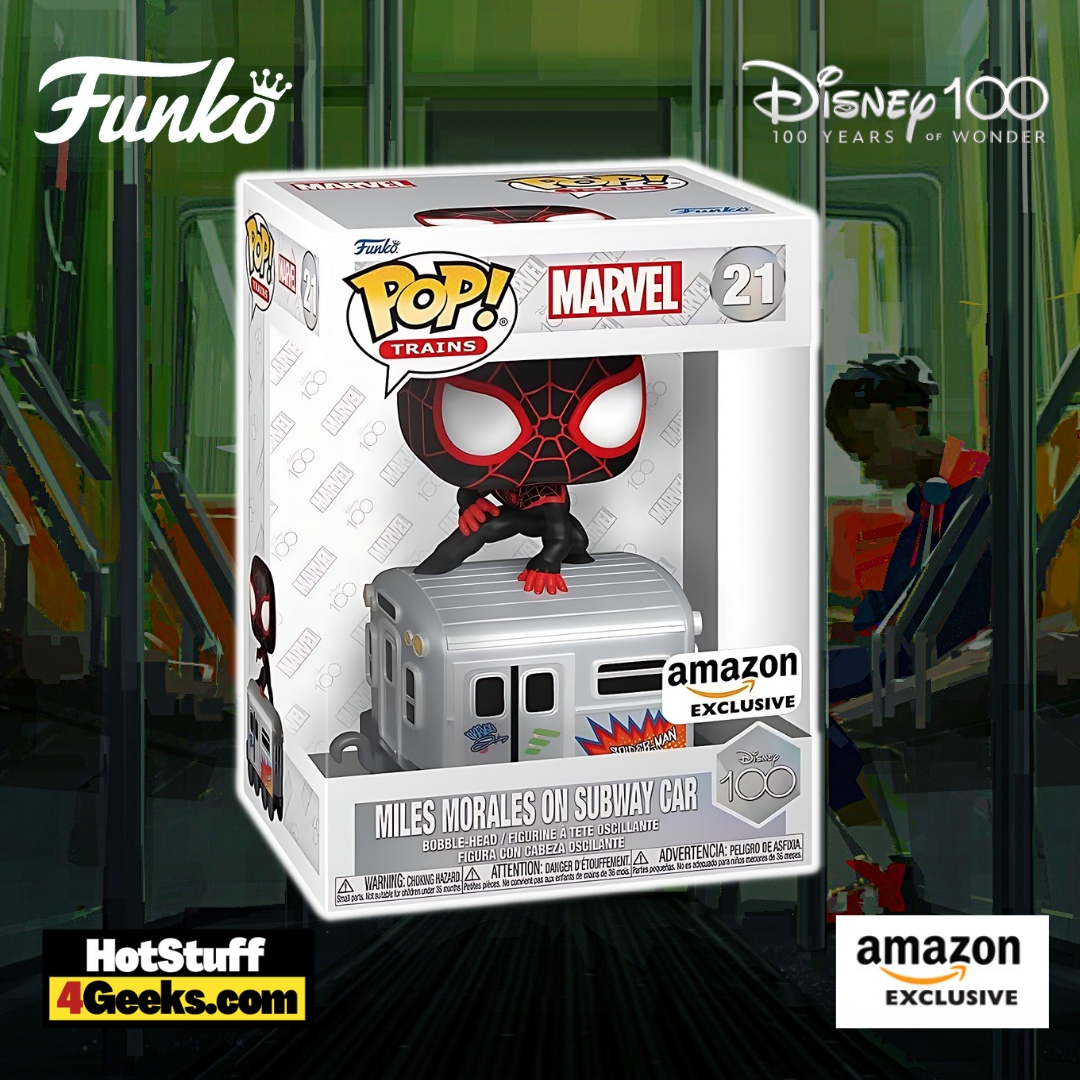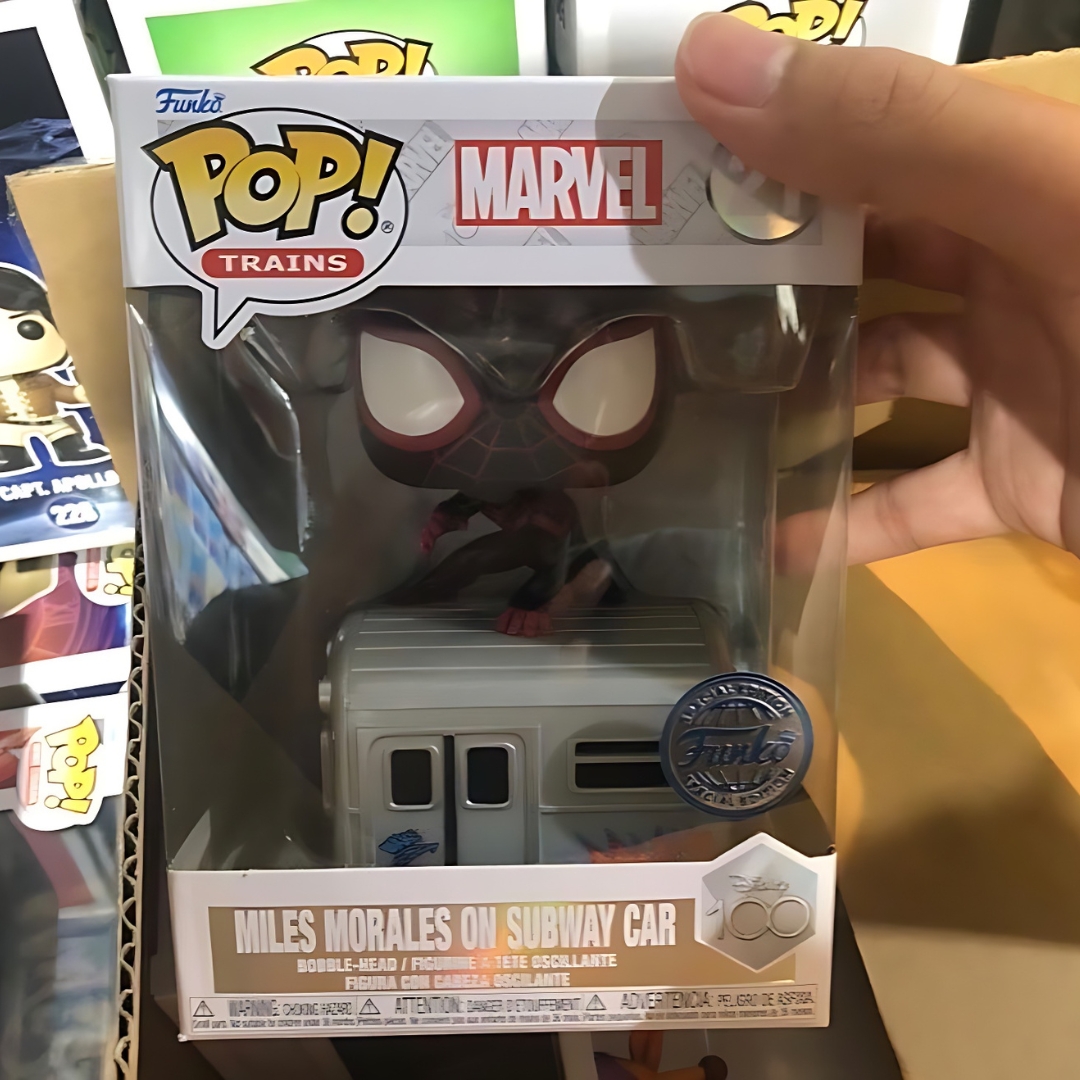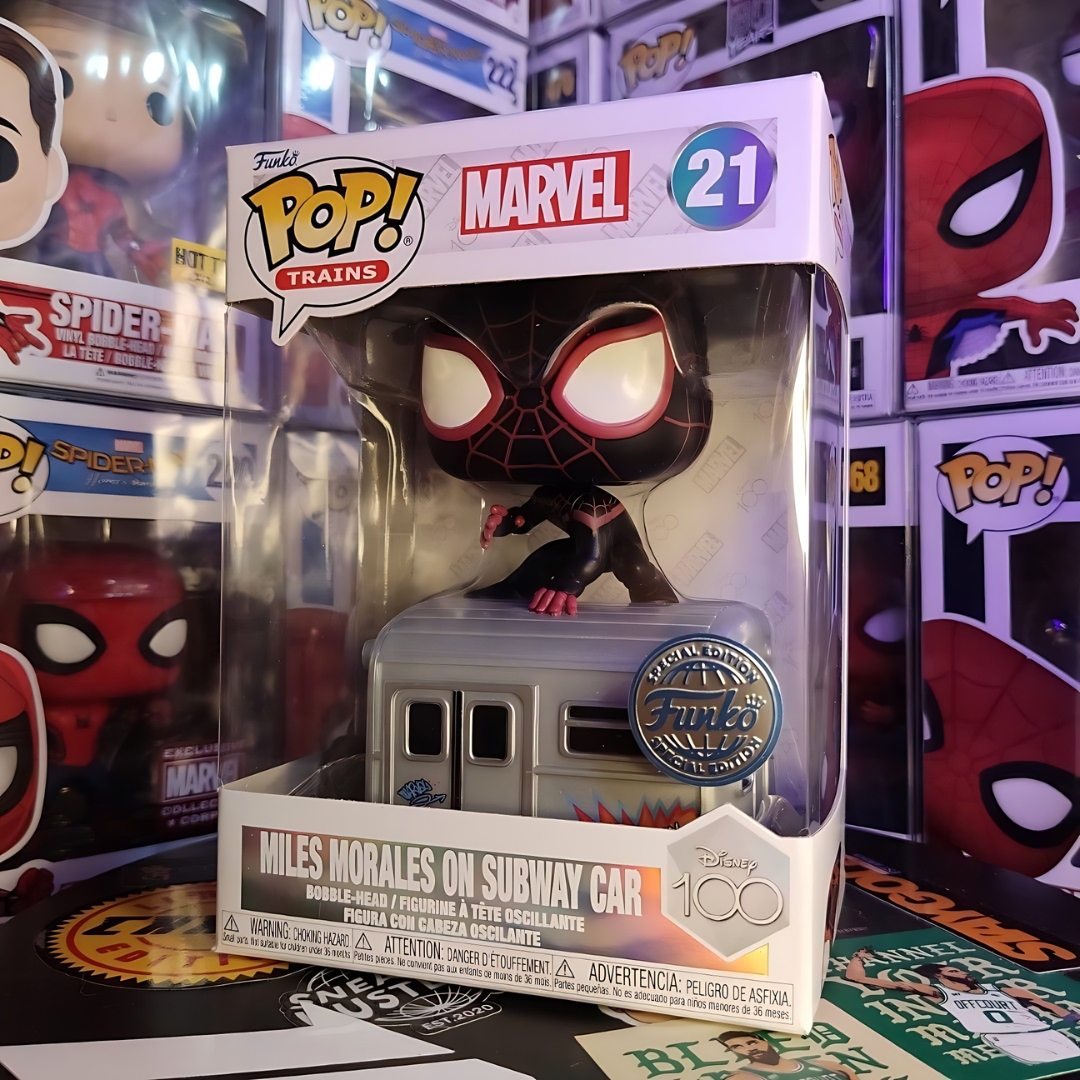 The Unexpected Hero: A Deeper Dive into Miles Morales as Spider-Man
If you've followed the recent adventures within the Spider-Verse, you'll know that Miles Morales, our beloved protagonist, has been weaving a complicated web indeed.
His journey from an ordinary teenager to the extraordinary Spider-Man of his universe, Earth-1610, is a narrative arc that has captured the hearts of many.
In the first installment of the 'Spider-Verse' series, 'Spider-Man: Into the Spider-Verse,' we saw Miles, a gifted student at Brooklyn Visions Academy, undergo a life-altering change.
An unexpected encounter with a strange spider in his Uncle Aaron's apartment leads to Miles acquiring superhuman abilities.
Suddenly, he's not just another kid struggling with school; he's Spider-Man, the new guardian of his city.
The fascinating twist, however, reveals itself in the sequel, 'Spider-Man: Across the Spider-Verse.'
We learn that the spider which bestowed Miles with his powers is not of his universe, Earth-1610.
The creature, in fact, had been transported by the villainous Dr. Jonathan Ohnn from another universe, Earth-42.
Miles, it would appear, was never destined to be Spider-Man in his universe.
In Earth-42, the spider had been meant to bite the local version of Miles or perhaps Peter Parker, thereby creating that universe's own Spider-Man.
But destiny, as we know, can take unexpected turns.
Such a revelation throws a complex twist into the whole Spider-Verse saga.
Notably, it sparks off a contentious argument with Spider-Man 2099, who views Miles as an anomaly in the grand scheme of the multiverse.
But is he truly an anomaly? Or is he merely an unplanned hero whose existence doesn't necessarily disrupt the cosmic order?
Gwen Stacy, also known as Spider-Woman, presents us with a counter-narrative.
Her own experiences demonstrate that there can be variations in the multiverse without causing catastrophic upheaval.
It's a thought-provoking perspective, one that adds layers of nuance to the debate surrounding Miles' place as Spider-Man.
But then again, isn't that what makes the Spider-Verse such a captivating concept?
The fact is that there are infinite possibilities and no hard-and-fast rules about who can or cannot be a hero.
In the grander view, Miles Morales is not just an unexpected Spider-Man.
He embodies the idea that heroes can come from anywhere, from any universe, even if by a twist of fate.
As we eagerly await the third installment, 'Spider-Man: Beyond the Spider-Verse,' we look forward to learning how Miles will continue to shape his own destiny and that of the Spider-Verse.
Whether he was meant to be Spider-Man or not, there's no denying that Miles Morales has made the role his own, carving a unique place in our hearts as the web-slinger of his universe.
And so, while the web of the Spider-Verse continues to expand and intertwine, one thing remains certain: Miles Morales, in all his complexity, is a Spider-Man we all love to cheer for.
More from this collection:
Funko Pop! Disney 100th Anniversary: Miles Morales on Subway Car Funko Pop! Train Vinyl Figure – Amazon Exclusive
Available at:
Starting now, you can receive 10% off in-stock items with my special link at Entertainment Earth!
 Enjoy!
As an Amazon Associate I earn from qualifying purchases
Want more stuff like this?
Get the best viral stories straight into your inbox!
Don't worry, we don't spam