2023 NEW MLB Jackie Robinson Mini Backpack and Pop! Bundle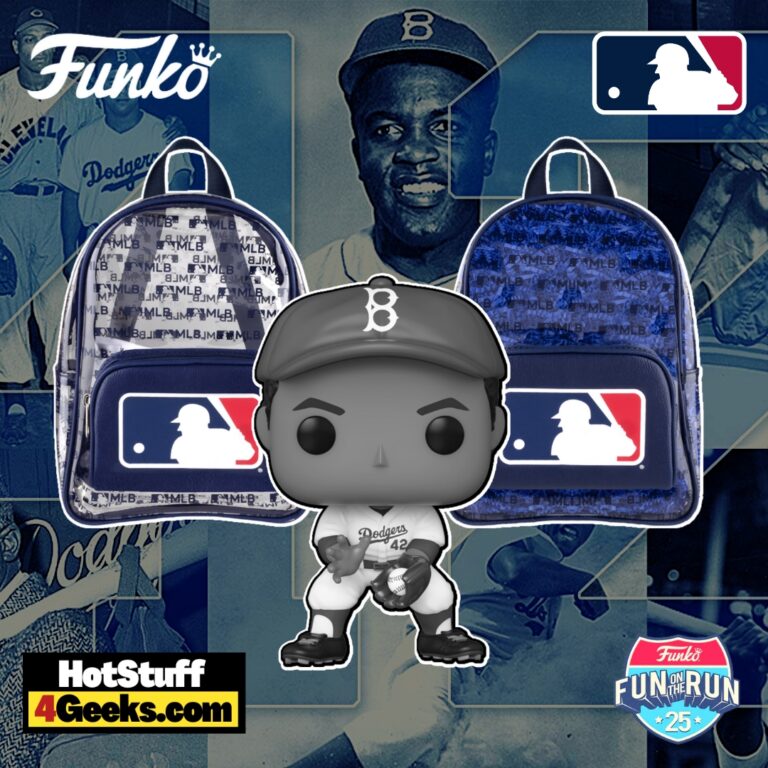 Imagine owning a piece of baseball history, something that celebrates not just the sport but also the spirit of a man who changed it forever. That's exactly what the new Funko Pop! MLB Stadium: Jackie Robinson Mini Backpack and Funko Pop! Vinyl Figure Bundle – Walmart X Fun on the Run Exclusive brings to the table. It's not just a collectible; it's a tribute to the resilience and courage of Jackie Robinson in a manner as unique as the man himself.
Jackie Robinson Mini Backpack and Funko Pop! is releasing today at 9.30 AM PT! To get your hands on this Bundle, be sure to check out the links I've provided below – click to jump or scroll to continue reading!
Carrying History: The Jackie Robinson Funko Bundle
The heart of this bundle is the Funko Pop! Vinyl Figure of Robinson, an exclusive black and white portrayal of him in his iconic Dodgers uniform.
The sharp details, down to the stitching on the jersey, capture Robinson's essence on the field. It's like a moment frozen in time, a reminder of the daring audacity of the man who wore number 42.
Accompanying this is the Jackie Robinson Mini Backpack. It's not just a bag; it's a homage to stadium culture, meeting all ballpark requirements with an added flair.
The black front pocket flaunting the MLB logo, the sturdy silver-colored metal hardware, and the adjustable straps all come together to create a stylish, game-ready accessory.
The Funko Pop! MLB Stadium: Jackie Robinson Mini Backpack and Vinyl Figure Bundle is more than a collector's item; it's a slice of history, a testament to the spirit of Jackie Robinson.
So, go ahead, and let the legend accompany you to the next big game.
The Walmart X Fun on the Run Exclusive Jackie Robinson Bundle can be found for purchase at the links below (click to jump!)
Jackie Robinson: A Groundbreaker Beyond the Diamond
Jackie Robinson, a man whose name echoes throughout the annals of American history, was more than just a baseball player. He was a trailblazer, a change-maker, and a bastion of resilience.
The story of Robinson's life is packed with complexities and bursts of brilliance that dramatically altered the course of our nation's beloved sport.
Born on January 31, 1919, Robinson grew up during a time when racial segregation and discrimination were institutionalized.
Yet, even in such harsh conditions, he showed remarkable promise, both in academics and athletics.
At the University of California, Los Angeles (UCLA), he was a multi-sport star, excelling in baseball, football, basketball, and track and field. Robinson's athletic prowess, however, was just one aspect of his personality.
He was also a man of moral fiber with an unbending commitment to social justice.
And then came 1947. In this defining year, Robinson did something unheard of: he broke Major League Baseball's color line.
Donning a Brooklyn Dodgers uniform, he bravely stepped onto Ebbets Field on April 15, 1947, as the first African-American player in the major leagues.
The pressure was immense, and the criticisms were rampant.
But Robinson, with a heart as powerful as his swing, persevered.
His debut was no token gesture.
Robinson wasn't merely there to fulfill a racial quota or pacify societal pressure.
He was there to play baseball, and he did it extraordinarily well.
He earned Rookie of the Year honors in 1947, and in 1949, he claimed the prestigious National League Most Valuable Player Award.
The numbers he put up were dazzling, but the real victory lay in the barriers he shattered and the conversations he instigated.
Off the field, Robinson was a tireless advocate for civil rights.
He understood the magnitude of his platform and used it to challenge racial prejudice and social inequalities.
He spoke out against injustice, campaigned for integration, and supported politicians who fought for civil rights.
Post-retirement, Robinson's commitment to change didn't waver.
He played a crucial role in establishing the African-American-owned and controlled Freedom National Bank in Harlem.
His tireless activism earned him the Spingarn Medal, the highest honor of the National Association for the Advancement of Colored People (NAACP).
Jackie Robinson's legacy isn't merely confined to baseball. It's embedded in every fight for equality, every stand against prejudice, and every stride toward a fairer world.
Robinson didn't just play baseball—he changed the game, and in doing so, he changed the world.
His life, an intricate web of defiance and strength, serves as a shining beacon of perseverance and change.
Funko Pop! MLB Stadium: Jackie Robinson Mini Backpack and Funko Pop! Vinyl Figure Bundle – Walmart X Fun on the Run Exclusive
Available at:
Starting now, you can receive 10% off in-stock items with my special link at Entertainment Earth!
 Enjoy!
As an Amazon Associate I earn from qualifying purchases
Want more stuff like this?
Get the best viral stories straight into your inbox!
Don't worry, we don't spam