2023 NEW Moon Rabbit and Chang'E with Gift Box Funko Pops!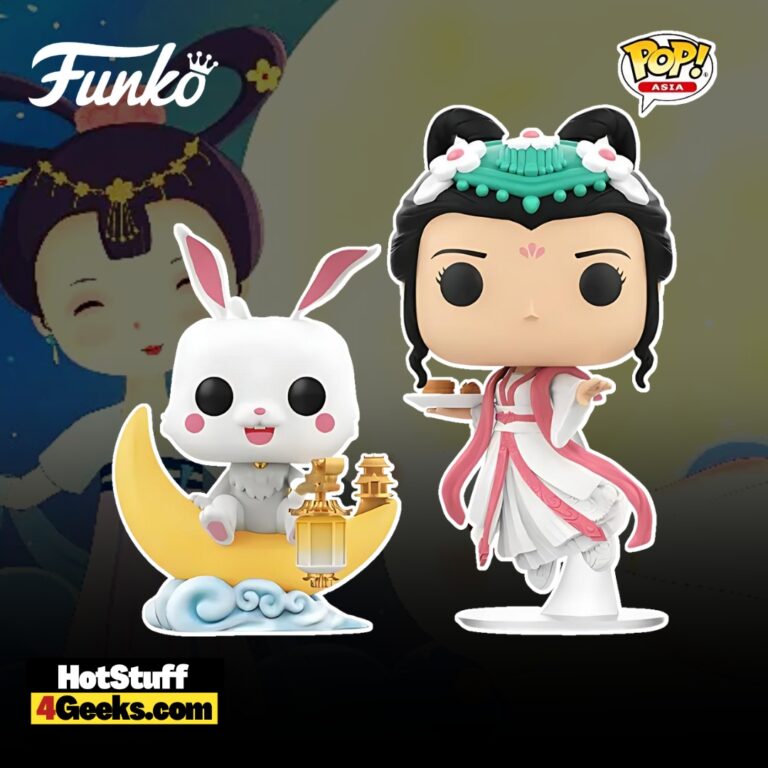 Hold onto your collectible hats because 2023 just got even more mythical. With the dazzling new Funko Pop! Asia: Storybook Classic – Moon Rabbit and Chang'E with Gift Box Funko Pop! Vinyl Figures (2023 release), the legends of the East come alive like never before. Dive deep into the mesmerizing tale of Moon Rabbit and Chang'E, immortalized in delightful vinyl form, all snug in a fancy gift box.
To get your hands on this Pop Vinyl Figure, be sure to check out the links I've provided below – click to jump or scroll to continue reading!
Ever heard whispers of the enchanting dance between Chang'E and the Moon Rabbit? It's an age-old tale filled with magic, celestial charm, and…immortal elixirs?
Ah, mythology never fails to spark wonder!
Now, in a move that might make even those celestial beings a tad bit envious, Funko Pop! Asia has unveiled its 2023 masterpiece. Enter the "Storybook Classic – Moon Rabbit and Chang'E with Gift Box" vinyl figures.
Crafted meticulously, the figures capture the ethereal beauty of Chang'E and the diligent charm of her lunar rabbit. But there's an essence here that goes beyond vinyl.
These aren't mere collectibles; they're tiny gateways to ancient tales, legends brought to life.
Holding one feels like having a slice of the moon's mystery right on your mantle.
As the year unfolds, be prepared to get captivated by these celestial beings, a testament to legends that time refuses to forget.
Moon Rabbit and Chang'E with Gift Box Funko Pop! Asia is now available for pre-order at the links below (click to jump!)
Moonlit Mysteries: The Legend of Chang'E and the Lunar Rabbit
You know those nights when you gaze up at the silvery orb in the sky and can't help but wonder about its stories?
There's more than craters and moon landings up there; ancient tales whisper of a goddess and a quirky little rabbit.
Sounds like the plot of a whimsical novel?
Think again!
Meet Chang'E, a figure of celestial prominence in Chinese mythology. Her tale starts, as most enthralling stories do, with a quest for immortality.
Once a mortal, Chang'E made a decision that would forever tie her to the moon.
After consuming an elixir of life, instead of being anchored to the Earth, she found herself drifting towards the moon, becoming its divine inhabitant.
Why the moon, you ask?
Well, sometimes destiny has its own GPS, and it doesn't always rely on logical waypoints!
While the circumstances that led Chang'E to the moon were tragic, featuring betrayals and heartfelt decisions, her tale on the moon takes a lighter turn with her fluffy companion: the Moon Rabbit.
Now, this isn't your garden variety bunny; this one has a mortar and pestle and is on a perpetual mission.
What's the bunny up to, you wonder?
Crafting the elixir of immortality, of course! An irony, given that the very same elixir sent Chang'E to the moon in the first place.
But why a rabbit?
Across many cultures, if you squint just right, the shadows and plains on the moon might just resemble a rabbit.
And trust me, once you see it, it's hard to unsee.
The ancients weren't just romantics but the OGs of connecting the dots—quite literally.
So, it's no surprise that the Moon Rabbit hopped right into the storyline when they spun tales around lunar landscapes.
Chang'E and her lunar bunny aren't just bedtime tales to lure kids to sleep but integral parts of cultural celebrations, like the Mid-Autumn Festival.
Imagine lanterns illuminating the night, mooncakes (a delicacy linked to this legend) being shared, and stories of Chang'E and her industrious rabbit being recounted generation after generation.
The moon isn't just a lifeless rock floating in the vastness of space; it's a canvas of tales, dreams, and aspirations.
Through stories like that of Chang'E and the Moon Rabbit, it becomes clear how humans, irrespective of their age, have always looked skywards, not just in search of answers but also for a touch of magic.
Starting now, you can receive 10% off in-stock items with my special link at Entertainment Earth!
 Enjoy!
As an Amazon Associate I earn from qualifying purchases
Want more stuff like this?
Get the best viral stories straight into your inbox!
Don't worry, we don't spam