2023 NEW Namor (Metallic Green) Funko POP! and Tee Exclusive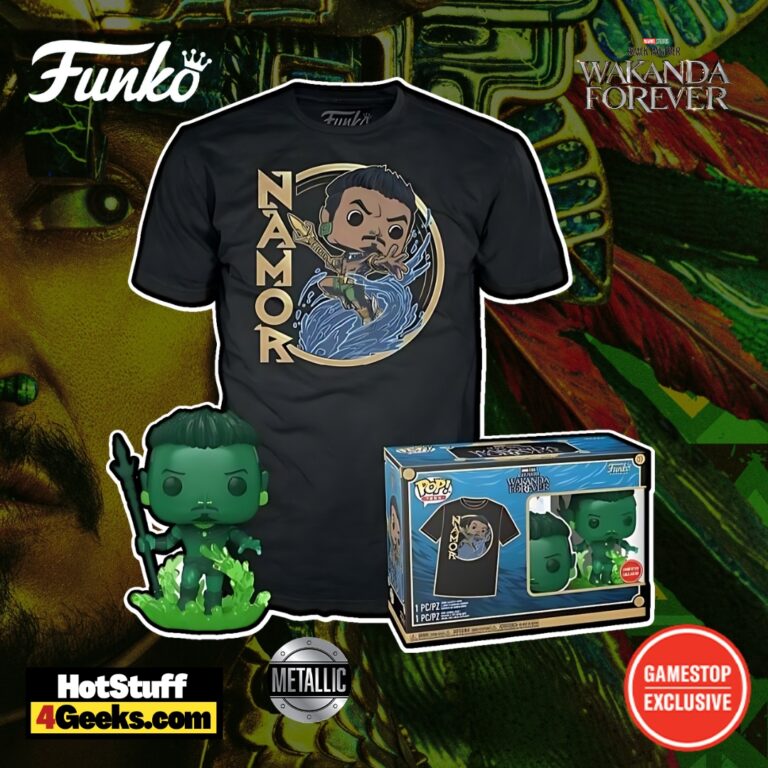 Dive into the vibrant universe of 'Black Panther: Wakanda Forever' with the release of the new Funko Pop! and Tee – Black Panther: Wakanda Forever – Green Namor (Metallic) Funko POP! Vinyl Figure and Tee Bundle – GameStop Exclusive that has fans in a frenzy. This bundle lets you bring home not just a piece of merchandise but an element of the mysterious Prince Namor's world.
It's now available for pre-order! To get your hands on this Pop! Tee Bundle, be sure to check out the links I've provided below – click to jump or scroll to continue reading!
This Namor figure, decked out in metallic green, is a testament to Funko Pop! 's attention to detail and creativity.
It captures the fiery intensity of the Sub-Mariner, adding a touch of sparkling undersea magic that's sure to turn heads.
And yes, it glows just as brightly as Namor's dynamic personality!
Paired with a just as a unique tee, this bundle becomes more than a collector's item—it's a wearable declaration of your MCU fandom. And the best part? It's all wrapped in the thrill of being a GameStop exclusive.
Isn't it exciting when you own something not everyone can get their hands on? So why wait? Dive right in and claim your piece of Atlantis!
The GameStop Exclusive Metallic Green Namor Funko POP! and Tee is now available for pre-order and  can be found at the links below (click to jump!)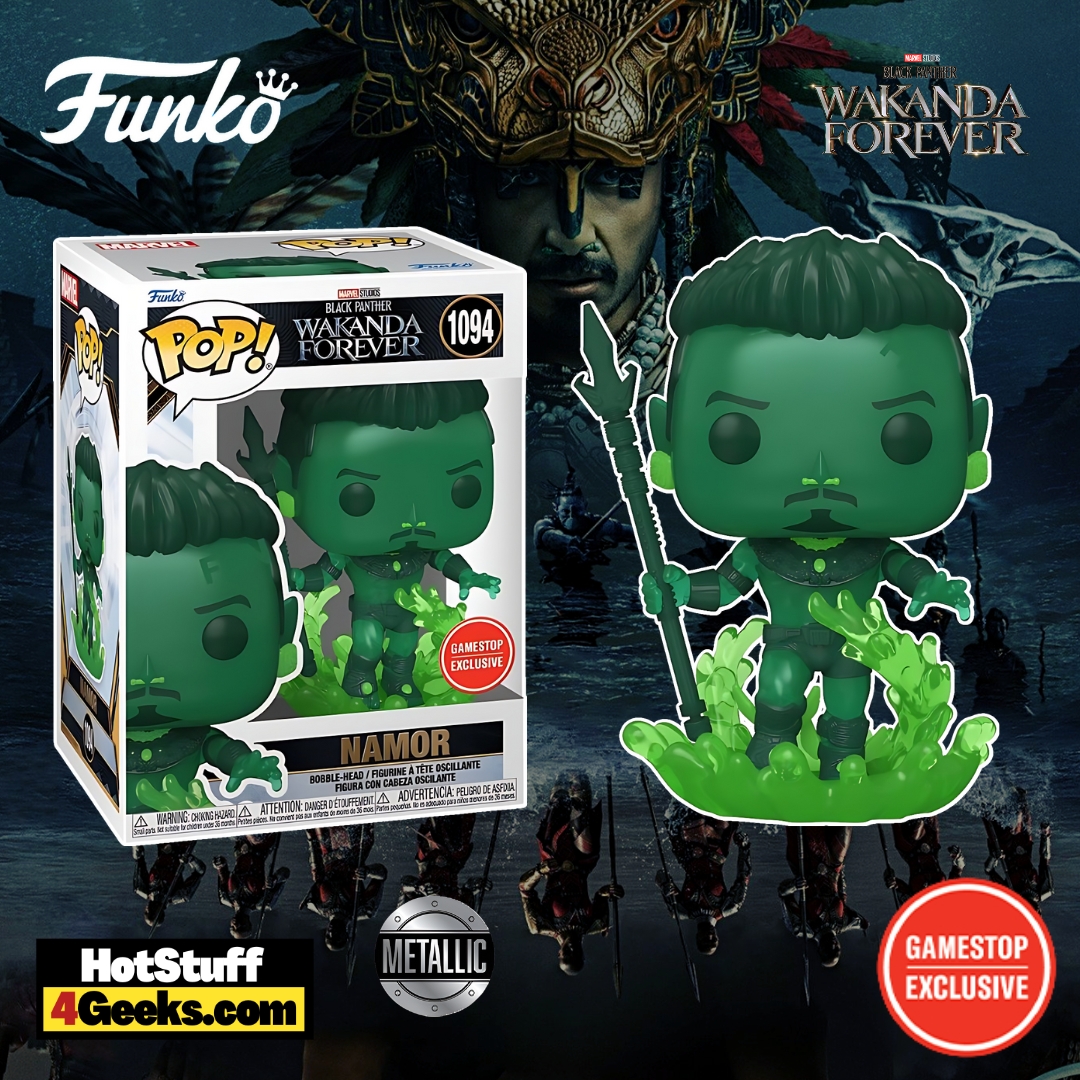 A Deep Dive into Namor's Role in 'Black Panther: Wakanda Forever
If you're a fan of the Marvel Cinematic Universe, you're probably as excited as I am about the latest developments in "Black Panther: Wakanda Forever."
One aspect that has the fanbase truly buzzing is the introduction of the Sub-Mariner, Prince Namor, into the rich tapestry of this cinematic universe.
Namor's role in this sequel has been highly anticipated, especially given the complexity of his character in Marvel comics.
He's not your conventional hero and certainly not your everyday villain.
Instead, he treads a thin line between the two, providing a deliciously ambiguous character that keeps us guessing.
And isn't it the unpredictability that makes it exciting?
Namor's integration into Wakanda's storyline is nothing short of intriguing.
An aquatic prince and ruler of the underwater city of Atlantis, he adds a whole new dimension to the narrative.
From the trailers, it's clear that tension simmers between Wakanda and Atlantis, and Namor is right at the heart of this conflict.
You can almost taste the dramatic power play that's about to unfold, and I'm here for it!
The portrayal of Namor in 'Black Panther: Wakanda Forever' seems to draw heavily on his comic origins.
Known for his fiery temper and a fierce protective instinct towards his kingdom, he embodies the phrase "the enemy of my enemy is my friend."
With Wakanda and Atlantis positioned as uneasy neighbors, we are set for a classic rivalry.
But who knows? With time, they might also become reluctant allies against a common threat.
Speaking of portrayal, the casting choice has won over a lot of skeptics.
The actor's commanding screen presence captures Namor's regal bearing and the intensity of his character with admirable ease.
Add the sleek visual effects that bring Atlantis to life, and we have a cinematic treat in store.
What makes this addition all the more compelling is the potential for future plot developments.
With Namor in the mix, we're opening the doors to more complex political dynamics, epic underwater battles, and the potential for some fascinating character growth.
Plus, who wouldn't love to see how other characters interact with our enigmatic prince?
All in all, Namor's entry into the MCU in "Black Panther: Wakanda Forever" is the new wave of excitement that fans didn't know they were waiting for.
So, are we ready to plunge into the depths of this new saga?
The sea may be uncharted, but with Namor steering the ship, it promises to be an adventure like no other.
It's not just about seeing a new character. It's about immersing ourselves in a whole new world – a world beneath the waves.
It will be a wild ride, and I can't wait to see where it takes us.
Starting now, you can receive 10% off in-stock items with my special link at Entertainment Earth!
 Enjoy!
As an Amazon Associate I earn from qualifying purchases
Want more stuff like this?
Get the best viral stories straight into your inbox!
Don't worry, we don't spam