2023 NEW Naruto: Jiraiya with Rasengan Glow Funko Pop!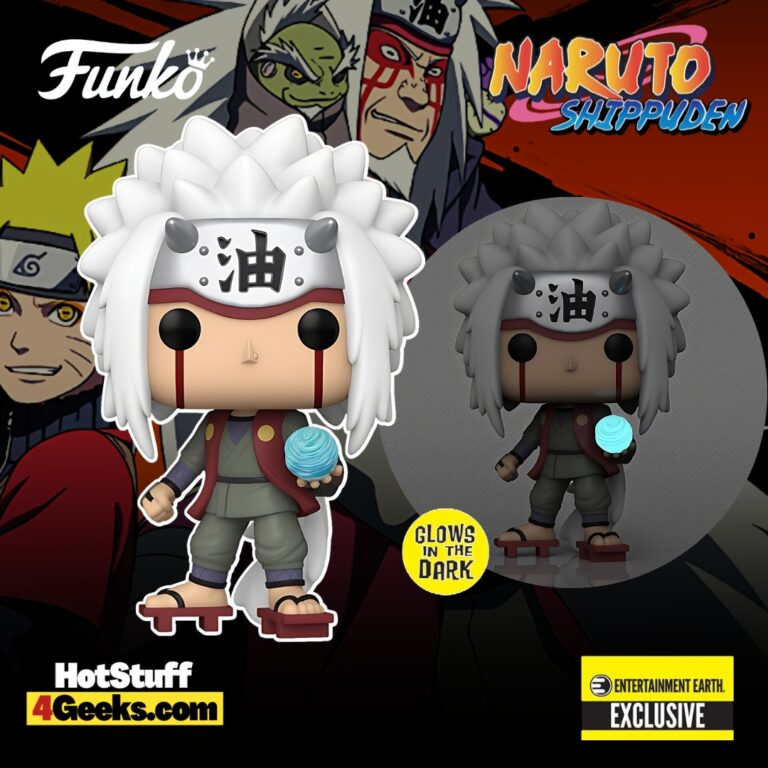 Unveiling their latest marvel, Funko Pop! Animation breaks into the spotlight with their Naruto Shippuden exclusive – the Funko Pop! Animation: Naruto Shippuden – Jiraiya with Rasengan Glow-In-the-Dark (GITD) Funko Pop! Vinyl Figure – Entertainment Earth Exclusive (2023 release). This collectible is a splendid homage to the legendary Sannin and his signature jutsu, the Rasengan.
To get your hands on this Pop Vinyl Figure at its release, be sure to check out the links I've provided below – click to jump or scroll to continue reading!
The Radiant Legacy: Funko Pop! Animation's Glow-in-the-Dark Jiraiya with Rasengan
The Rasengan, a unique ball of spinning chakra, symbolizes raw power and mastery of technique.
This Jutsu, capable of tearing through mountains, was passed down to Jiraiya by his prodigious student, Minato Namikaze.
Ever since, it has become Jiraiya's signature move, his chakra-infused weapon of choice.
Now, this GITD Funko Pop! Vinyl Figure captures the Sage in the middle of unleashing this formidable attack, a sight sure to evoke awe and nostalgia among fans.
What's exciting about this release is how it puts the Rasengan front and center – literally.
The figure showcases Jiraiya in action, a spiraling chakra ball in his hand, glowing in the dark.
It's a visual treat that mirrors the high-speed spin and destructive force of the real Rasengan.
It's a tangible tribute to Jiraiya's mastery of the Rasengan, an iconic Jutsu, embodying the heart of his combat prowess.
This GITD Funko Pop! Vinyl Figure is a glowing testament to Jiraiya's indomitable spirit and power.
The Entertainment Earth Exclusive Glow Funko Pop! can be found for purchase at the links below (click to jump!)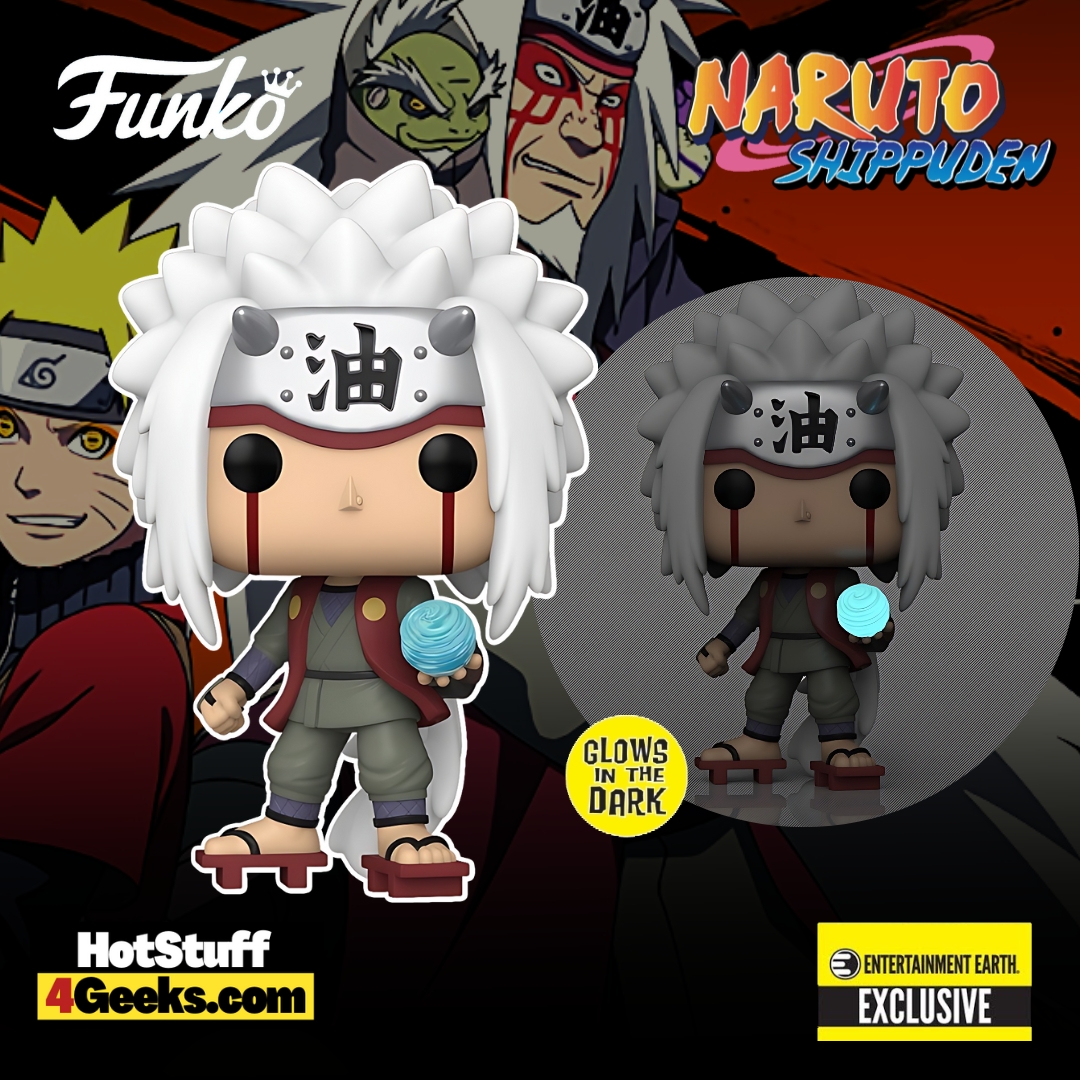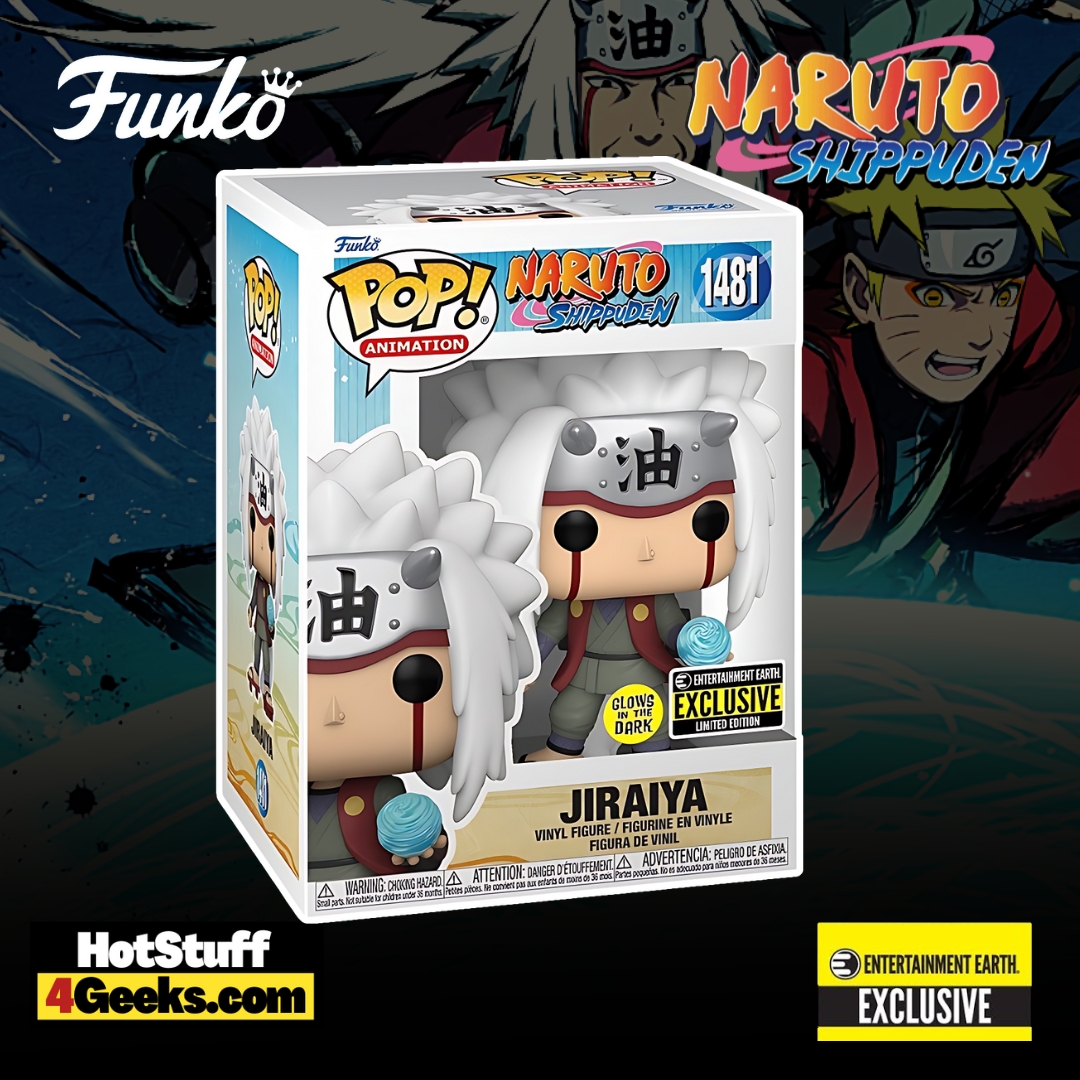 Jiraiya, Naruto's Charismatic Mentor: Unveiling the Toad Sage's Arc
Jiraiya, also known as the Toad Sage, stands out as one of the most memorable characters in the intricate tapestry of "Naruto".
With his distinctive white mane and boisterous personality, this iconic figure encapsulates a complex blend of humor, wisdom, and unwavering bravery that has endeared him to countless fans worldwide.
Even though Jiraiya has a penchant for light-heartedness, don't be fooled. His jovial exterior conceals a man of profound wisdom and formidable strength.
As one of the legendary Sannin, his ninja abilities are indisputable.
Jiraiya's impressive arsenal of techniques, which is dominated by his toad-based abilities, consistently reminds us of his prowess on the battlefield.
However, the essence of Jiraiya transcends his martial expertise.
As a mentor to Naruto Uzumaki, the eponymous protagonist, he instills values of resilience, determination, and the unyielding pursuit of dreams.
He has a knack for nurturing potential, having mentored not only Naruto but also the Fourth Hokage, Minato Namikaze.
Jiraiya's role as a teacher thus plays a pivotal role in shaping the heroes of Konoha, making him an unsung hero.
Yet, Jiraiya is not without his quirks.
He's infamous for his "research" into romance novels, often garnering comedic disapproval from those around him.
But delve deeper, and you'll find a man committed to understanding human nature, with all its light and darkness.
These seemingly eccentric passions lead to his creation of the "Tale of the Gutsy Ninja," a parable that profoundly influences Naruto's growth.
However, Jiraiya's journey is far from a bed of roses.
His path is marked with heartache, sacrifice, and battles lost. Jiraiya has weathered many storms, from the tragic loss of his students to the persistent failures against his former teammate, Orochimaru.
These trials and tribulations have only strengthened his resolve, mirroring the series' more prominent themes of resilience in the face of adversity.
As the narrative unfolds, we find ourselves equally enamored by Jiraiya's humor and moved by his tragedies.
His story reminds us that even the strongest among us carry burdens.
Yet, it is our capacity to stand back up, learn, and grow that truly defines us.
In the grand arena of Naruto, Jiraiya stands as a beacon of wisdom, strength, and determination.
He embodies the mentor archetype with his unique blend of charm and depth, humor, and tragedy.
His journey is one of a toad sage, a mentor, and a warrior, ever reminding us of the enduring power of resilience and the unyielding spirit of the shinobi.
Funko Pop! Animation: Naruto Shippuden – Jiraiya with Rasengan Glow-In-the-Dark (GITD) Funko Pop! Vinyl Figure – Entertainment Earth Exclusive (2023 release)
Available at:
Starting now, you can receive 10% off in-stock items with my special link at Entertainment Earth!
 Enjoy!
As an Amazon Associate I earn from qualifying purchases
Want more stuff like this?
Get the best viral stories straight into your inbox!
Don't worry, we don't spam