2023 NEW Naruto – Orochimaru (Akatsuki) METTALIC Funko Pop!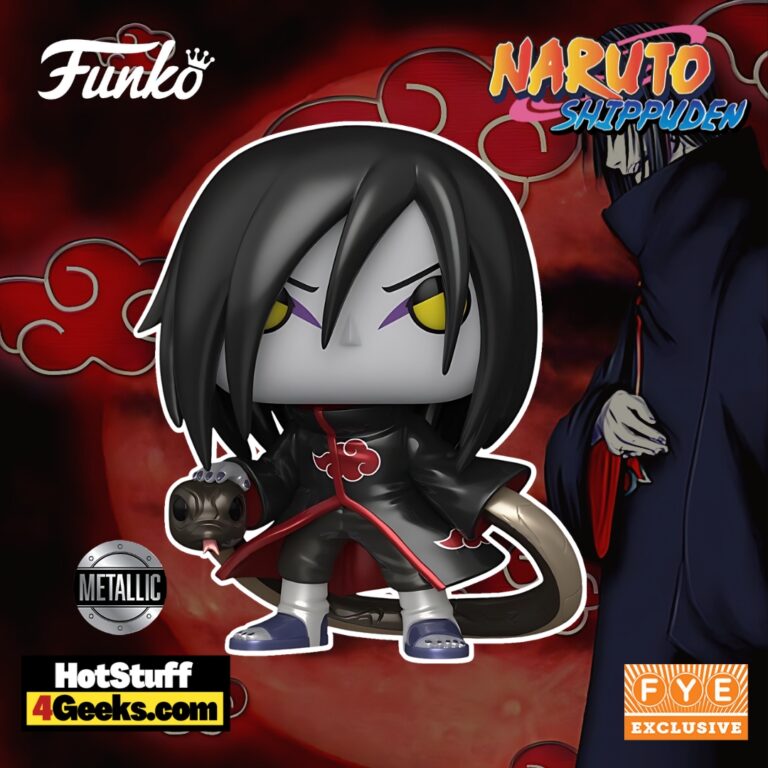 The Funko Pop! Animation: Naruto Shippuden – Orochimaru (Akatsuki) Metallic Funko Pop! Vinyl Figure is a captivating homage to one of the most complex characters from the Naruto universe. With his cunning smile and signature Akatsuki cloak, this FYE Exclusive figure captures the essence of Orochimaru in his time as a rogue member of the infamous organization.
It's no LIVE! To get your hands on this Pop Vinyl Figure, be sure to check out the links I've provided below – click to jump or scroll to continue reading!
This figure isn't merely about aesthetics; it brings to life the enigma of Orochimaru.
From his sinister yet intelligent gaze to his serpent-like demeanor, the intricacies truly mirror the dark intricacies of his character.
The metallic finish adds a sheen that emphasizes Orochimaru's obsession with the unattainable – his quest for immortality and power.
Owning this Funko Pop! figure means immersing yourself in the convoluted world of Orochimaru, a constant reminder of the relentless pursuit of his sinister ambitions.
Indeed, it's a must-have for any ardent Naruto fan looking to delve deeper into the twisted universe of shinobi.
The FYE Exclusive Orochimaru (Akatsuki) Metallic Funko Pop! can be purchased at the links below (click to jump!)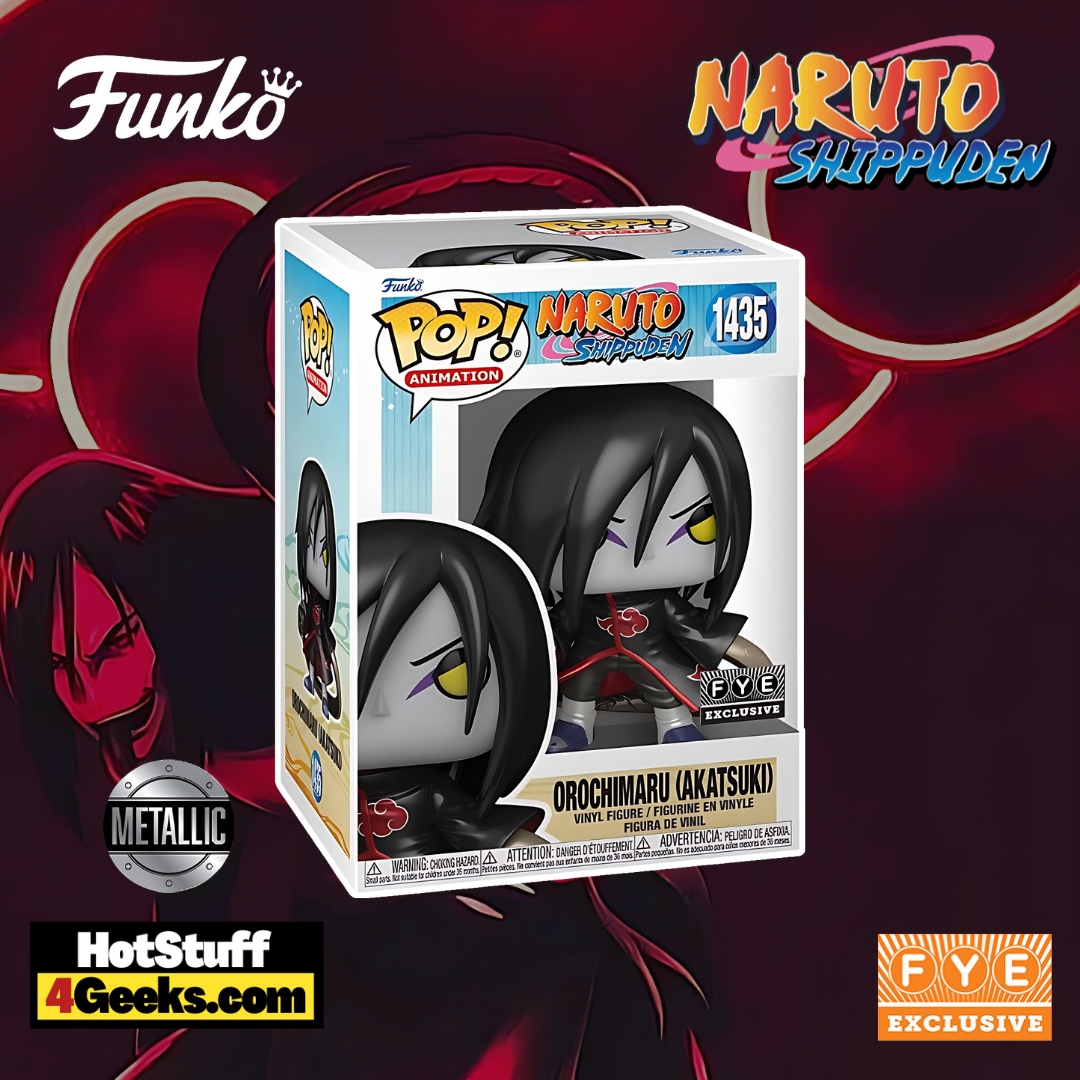 Orochimaru: A Twisted Tale of Power and Ambition in Akatsuki
Orochimaru, a character from the celebrated anime Naruto, exemplifies a blend of genius and hostility that continues to enthrall fans.
In this blog post, we're peeling back the layers of Orochimaru's involvement with the notorious organization Akatsuki – a chapter of his story that added complexity to his multifaceted character.
Our story begins with Orochimaru, a gifted shinobi, stepping onto a path of darkness ignited by his overwhelming thirst for immortality and ultimate power.
His pursuit of these ambitions led him to join Akatsuki, a group of rogue ninjas, each with their terrifying skills and sinister motives.
At this point, Orochimaru was viewed as an ally in Akatsuki's ranks, but his true intentions remained mysterious.
Orochimaru's time within the Akatsuki was a thrilling dance of duplicity and cunning.
A master of manipulation, he seemed to fit in perfectly, adding an extra edge of menace to the already deadly group.
His endgame? To get his hands on the Sharingan, the rare and powerful eye technique possessed by certain members of the Uchiha clan.
Orochimaru believed that the Sharingan held the key to fulfilling his dark desires.
His pursuit of the Sharingan led him to target his fellow Akatsuki member, Itachi Uchiha, a plan that eventually turned the tables against him.
Itachi, wise and powerful, saw through Orochimaru's veiled intentions. In a fascinating showdown, Itachi defeated Orochimaru and expelled him from the organization.
It was a bitter end to Orochimaru's short-lived Akatsuki membership, yet his presence left a lasting imprint on the group.
Stripped of his Akatsuki cloak but not his ambitions, Orochimaru went on to establish the Hidden Sound Village.
He carried on his nefarious experiments and plans there, including his continued quest for the Uchiha power.
Though Orochimaru's tenure with the Akatsuki was brief, it underscored his duplicitous nature and relentless pursuit of power.
While other Akatsuki members sought destruction or domination, Orochimaru's primary focus was always his own personal gain.
During his time within the organization, he showcased his ability to seamlessly blend into any situation while never losing sight of his goals.
So, there you have it – a snapshot of Orochimaru's intriguing, albeit twisted, journey within the Akatsuki.
From being a promising member to becoming an expelled outcast, Orochimaru's Akatsuki saga is a testament to his thirst for power and the lengths he is willing to go to obtain it.
His character arc within this sinister group serves as an essential piece of the giant puzzle of Orochimaru. This character continues to baffle, engage, and intrigue fans around the globe.
MUST-READS:
Starting now, you can receive 10% off in-stock items with my special link at Entertainment Earth!
 Enjoy!
As an Amazon Associate I earn from qualifying purchases
Want more stuff like this?
Get the best viral stories straight into your inbox!
Don't worry, we don't spam