2023 NEW Naruto with Rasengan Funko Vinyl SODA (Glow Chase)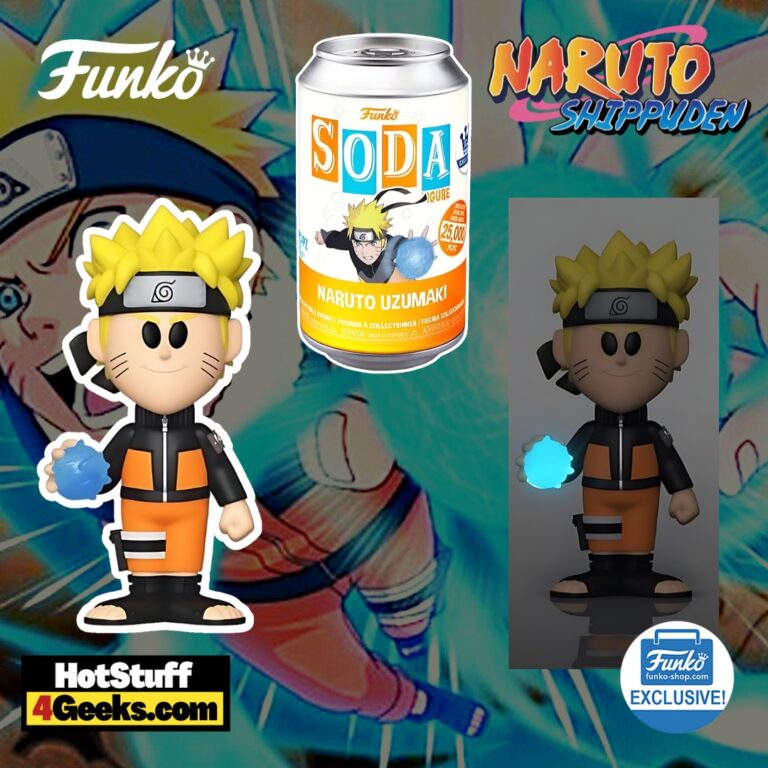 Let's take a leap into the heart of Konoha and grasp the essence of its hero, Naruto Uzumaki. Now, imagine capturing that essence with the swirling chakra of the Rasengan, all in the palm of your hand. That's the magic of the new Funko Soda release – Funko Soda: Naruto Shippuden – Naruto Uzumaki with Rasengan Funko Vinyl SODA with Glow in the Dark (GITD) Chase Variant – Funko Shop Exclusive (2023 release).
To get your hands on this Soda Vinyl Figure at its release, be sure to check out the links I've provided below – click to jump or scroll to continue reading!
Naruto's Brightest Battle Move: Naruto's Rasengan Soda with Glow Chase Release
When it comes to anime icons, Naruto Uzumaki isn't just a name; he's a legend.
Think of those heart-racing moments in "Naruto Shippuden" when the air thickens, and he summons his signature move – the Rasengan.
Ah, goosebumps, right?
Well, imagine encapsulating that fierce, unyielding spirit in vinyl.
The latest Funko Soda release has done just that, giving us Naruto Uzumaki wielding his Rasengan!
But here's where things get dazzling.
This isn't your typical Funko.
Tucked within this collection is a Glow in the Dark (GITD) Chase Variant.
Once the lights are off, Naruto's Rasengan illuminates, adding another layer of magic to an already spectacular piece.
Whether you're reminiscing about Naruto's unwavering determination or simply admiring the intricate design, this Funko Soda release truly captures the heart of the beloved ninja.
For fans old and new, it's a radiant nod to a cherished legacy.
The Funko Shop Exclusive Naruto Uzumaki with Rasengan Funko Vinyl SODA with Glow in the Dark Chase can be found for purchase at the links below (click to jump!)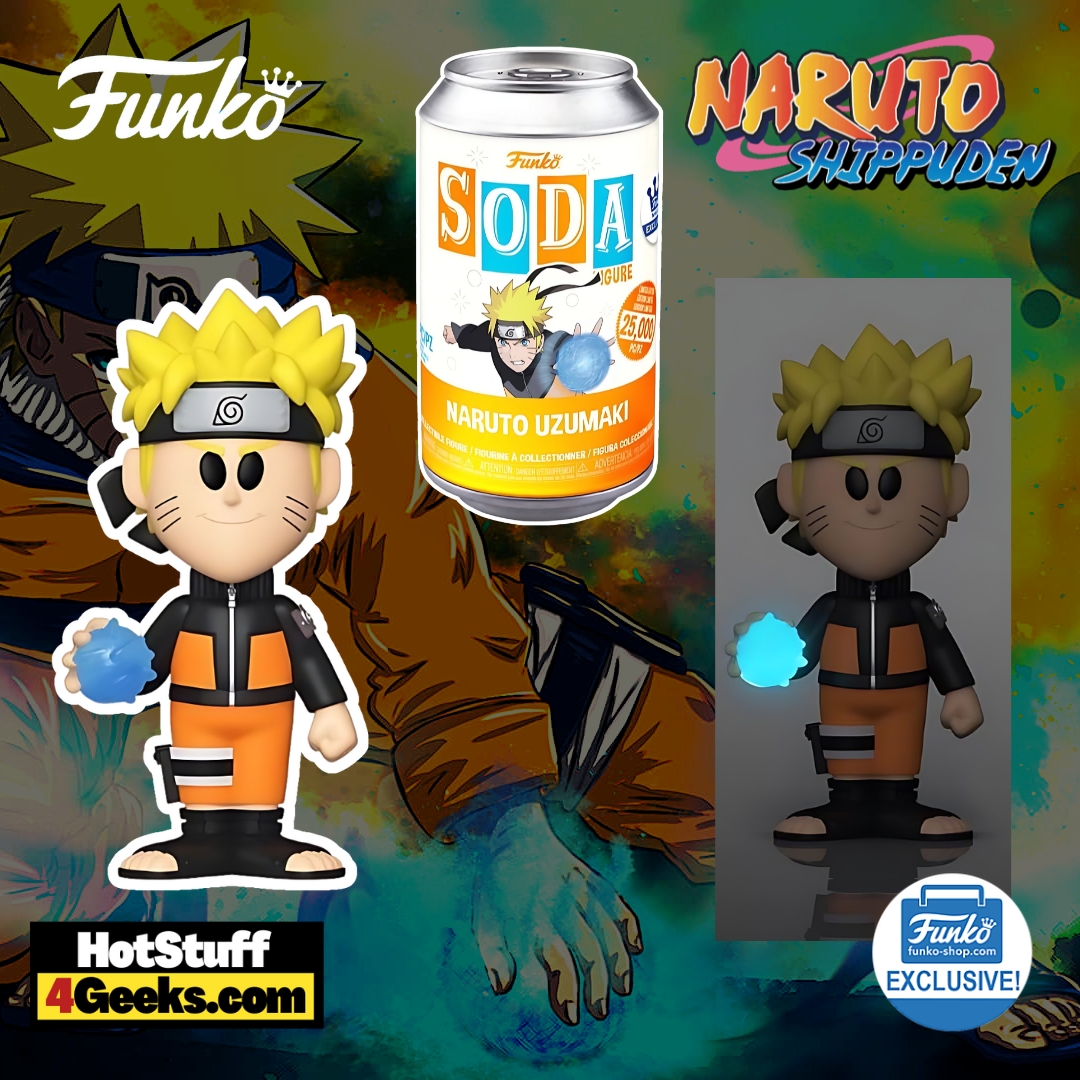 The Rasengan Evolution: Naruto's Spin on Legacy
The ninja world has countless techniques, some legendary and others… well, not so much.
But if there's one jutsu that has made its mark through time, versatility, and sheer impact, it's undoubtedly the Rasengan.
Let's delve into the whirlwind journey of this iconic technique!
Introduced by Naruto's godfather, Jiraiya, and later discovered to be a creation of the Fourth Hokage, Minato Namikaze, the Rasengan is no ordinary technique.
Its foundation lies in the pure concentration and rotation of chakra.
But the beauty? It's adaptable.
Every Rasengan is like a snowflake – unique and magnificent.
Starting with the original Rasengan: this isn't just a churning ball of chakra.
It's an A-level jutsu and a legacy passed down to legends like Kakashi, Konohamaru, and of course, Naruto and Boruto.
Minato may have envisioned it after the Beast Ball technique, but the generations after took it to unparalleled heights.
Now, enter Naruto. Oh, and when he enters, he does it with a bang!
The Rasengan doesn't stay behind when he taps into his Jinchūriki mode.
Infused with the Nine-Tails Fox's fiery chakra, it transforms, giving it an ominous shade and an added layer of power.
Remember the face-off at the Valley of the End?
That Rasengan was not your regular Spinball.
Time skips in anime aren't just for age transformations and new outfits.
They bring upgraded skills.
Post his training with Jiraiya, Naruto unveiled the Big Ball Rasengan.
Think of it as the older sibling of the Rasengan – bigger, bolder, and demanding more chakra.
And it made its first spectacular appearance against Itachi.
But Naruto wasn't done. With a determination that could move mountains, he blended his newfound Wind Style chakra with the Rasengan.
The outcome? The Wind Release: Rasengan.
And if combined with Yamato's Water Style, it evolves into the show-stopping Hurricane Vortex Jutsu.
From there, the Rasengan took on various forms, each more intriguing than the last.
From the Rasenshuriken to the Sage Art: Massive Rasengan, Naruto's journey with this technique has been nothing short of spellbinding.
Speaking of evolutions, we can't skip over the Boruto era.
As the progeny of the Seventh Hokage, Boruto took the Rasengan legacy and made it his own.
His Vanishing Rasengan is nothing short of a ninja magic trick, and the High Compression Rasengan?
Let's just say it packs a punch.
In conclusion, the Rasengan isn't just a jutsu. It's a symbol of growth, adaptability, and relentless spirit.
Each version reflects not just a fighter's power but their journey, challenges, and the legacy they're crafting.
So, here's to the Rasengan, a technique that whirls through the annals of ninja history, reminding us that with passion and creativity, even the old can be made new again.
Funko Soda: Naruto Shippuden – Naruto Uzumaki with Rasengan Funko Vinyl SODA with Glow in the Dark (GITD) Chase Variant – Funko Shop Exclusive (2023 release)
Starting now, you can receive 10% off in-stock items with my special link at Entertainment Earth!
 Enjoy!
As an Amazon Associate I earn from qualifying purchases
Want more stuff like this?
Get the best viral stories straight into your inbox!
Don't worry, we don't spam