2023 NEW Naruto with Rasenshuriken Glow Funko Pop! Exclusive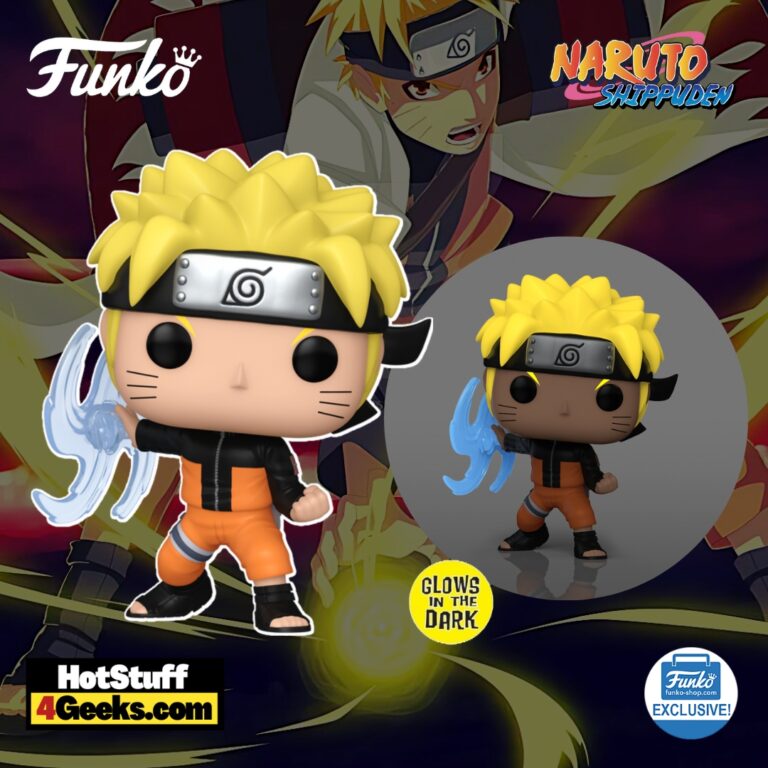 Unleash your inner ninja, Naruto enthusiasts, because a brand-new Funko Pop! vinyl figure is about to explode onto the scene. Shining bright amidst the myriad of Naruto collectibles is the new Funko Pop! Animation: Naruto: Shippuden – Naruto Uzumaki with Rasenshuriken Glow-In-the-Dark (GITD) Funko Pop! Vinyl Figure – Funko Shop Exclusive (2023 release).
This Pop! releases today at 9.30 AM PT! To get your hands on this Vinyl Figure at its release, be sure to check out the links I've provided below – click to jump or scroll to continue reading!
Illuminating the Battle Scene: Naruto Uzumaki with Rasenshuriken Glow-In-The-Dark Funko Pop!
Capturing the electrifying essence of Naruto Uzumaki's formidable Rasenshuriken technique, this collectible is a marvel that thrives in the dark.
Fashioned with intricate detailing, the GITD Funko Pop! brilliantly brings Naruto's iconic battle move to life.
The glowing Rasenshuriken, encased in Naruto's palm, ignites the dark with its radiant luminescence, reminiscent of the thrilling Naruto: Shippuden episodes.
This Funko Pop! figure isn't just a testament to Naruto's formidable skill but a striking symbol of the intricate artistry that Funko Pop! stands for.
A luminous tribute to the tenacious shinobi's signature technique, it's a collector's item destined to leave you as excited as Naruto's infectious battle cry, "Dattebayo!"
The Funko Shop Exclusive Naruto Uzumaki with Rasenshuriken Glow Funko Pop! can be found for purchase at the links below (click to jump!)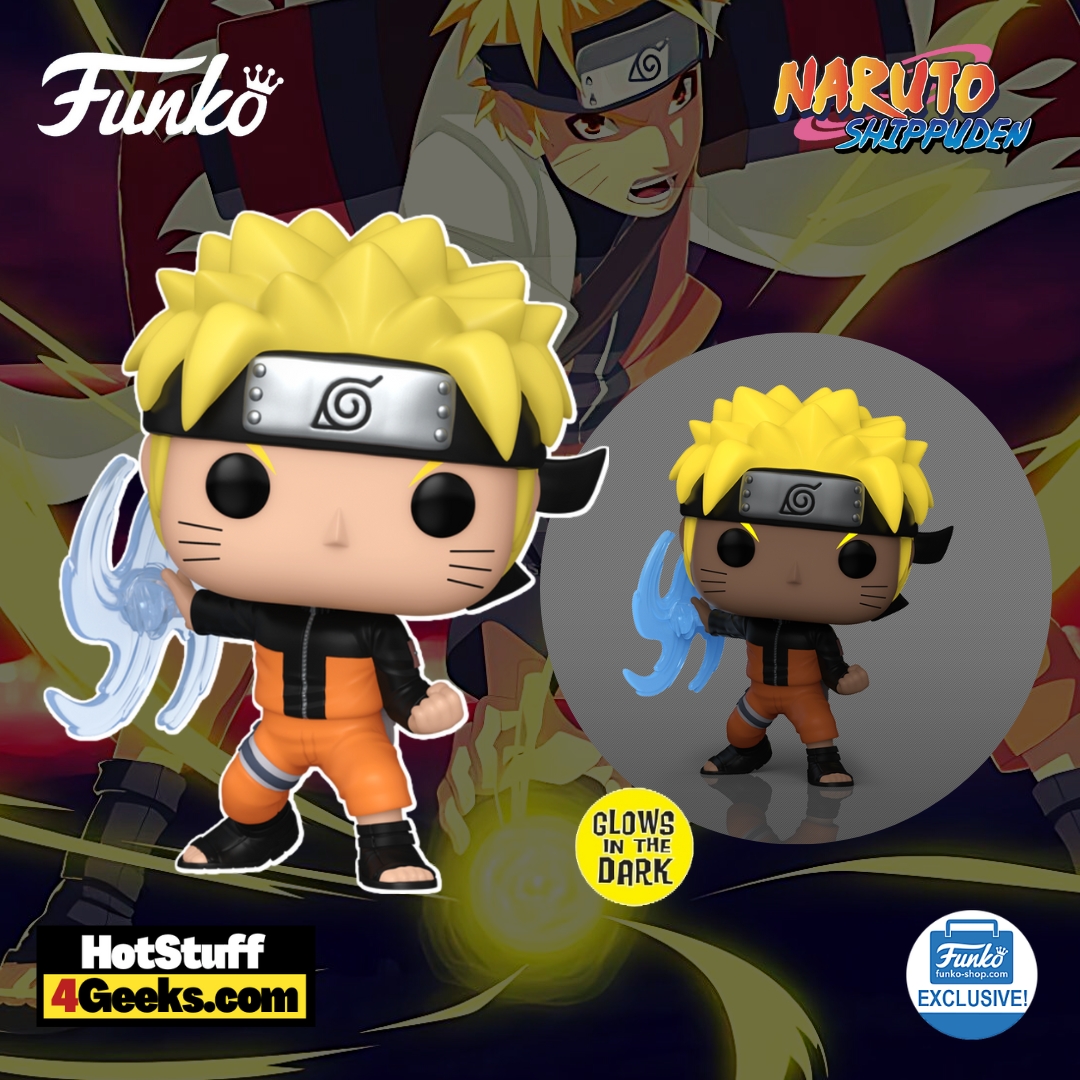 The Unraveling Mystery of Naruto's Rasenshuriken: A Blend of Skill and Grit
Do you recall the moment when Naruto Uzumaki, a character that exudes both strength and determination, unleashed one of his most devastating techniques?
An awe-inspiring, fearsome power that became a turning point in the battles of the shinobi world – the Rasenshuriken.
A unique blend of Naruto's hard-earned skill, unwavering perseverance, and an inherent affinity for Wind Release, this technique remains a testament to his evolution as a powerful ninja.
Now, let's pull back the curtains on the story behind this phenomenal technique.
Naruto's Rasenshuriken has its roots tied to the legendary Rasengan, a unique battle move birthed by the Fourth Hokage, Minato Namikaze.
Minato, renowned as Konoha's Yellow Flash for his astounding speed, crafted the Rasengan by masterfully condensing and rotating chakra within his palm.
This powerful technique, which required no hand seals, was an ideal fit for Minato's agile fighting style.
Yet, the Rasengan was more than just a powerful jutsu – it represented an unfinished legacy.
Minato's vision was to imbue it with nature transformation, ultimately crafting an even more potent technique.
However, this dream went unrealized during Minato's lifetime, making it a baton to be passed on to the young and ambitious Naruto.
Following a defining defeat at the hands of Sasuke, Naruto found a renewed determination to elevate his combat prowess.
The jovial, resilient Naruto we know embraced rigorous training under Kakashi Hatake, the Copy Ninja, to refine his jutsu.
Recognizing Naruto's potential, Kakashi envisioned him transcending Minato's skills and accomplishing the unfulfilled mission of mastering the Rasengan.
The journey, however, was far from easy. Naruto, with his Wind Release nature affinity, strived to incorporate it into the Rasengan, a formidable task in itself.
After days of intense practice, he ingeniously utilized two shadow clones to maintain the Jutsu's shape and simultaneously apply nature transformation.
The result? A devastatingly powerful jutsu that Naruto christened the Rasenshuriken.
When deployed, the Rasenshuriken morphs the original sphere of Rasengan into a colossal chakra shuriken armed with rapidly spinning wind blades.
Its power and precision are unmatched – when it strikes, it creates a swirling vortex of microscopic wind blades that inflict cellular-level damage.
The sheer magnitude of this harm is so extensive that it disrupts the target's ability to mold chakra, rendering medical ninjutsu futile.
The Rasenshuriken, in its debut against Kakuzu, showcased its unparalleled destructive prowess by annihilating his three remaining hearts in a single strike.
Its power was so immense that even Kakashi couldn't quantify the microscopic wounds it inflicted, despite his keen Sharingan.
As Naruto honed his skills, his command over the Rasenshuriken soared, reaching a point where he could summon it without shadow clones.
The Rasenshuriken is a testament to Naruto's battle ingenuity and underlines the extent of his growth as a formidable shinobi.
To sum it up, Rasenshuriken, born from Naruto's sheer tenacity and unyielding spirit, is a beacon of his journey, representing his determination, resilience, and inherent talent.
It underscores the critical message at the heart of Naruto's story: with hard work and persistence, one can defy the odds and carve their path to greatness.
Funko Pop! Animation: Naruto: Shippuden – Naruto Uzumaki with Rasenshuriken Glow-In-the-Dark (GITD) Funko Pop! Vinyl Figure – Funko Shop Exclusive (2023 release)
Available at:
Starting now, you can receive 10% off in-stock items with my special link at Entertainment Earth!
 Enjoy!
As an Amazon Associate I earn from qualifying purchases
Want more stuff like this?
Get the best viral stories straight into your inbox!
Don't worry, we don't spam