2023 NEW NBX: Funko Oogie Boogie 3 Liter Soda (GITD) Chase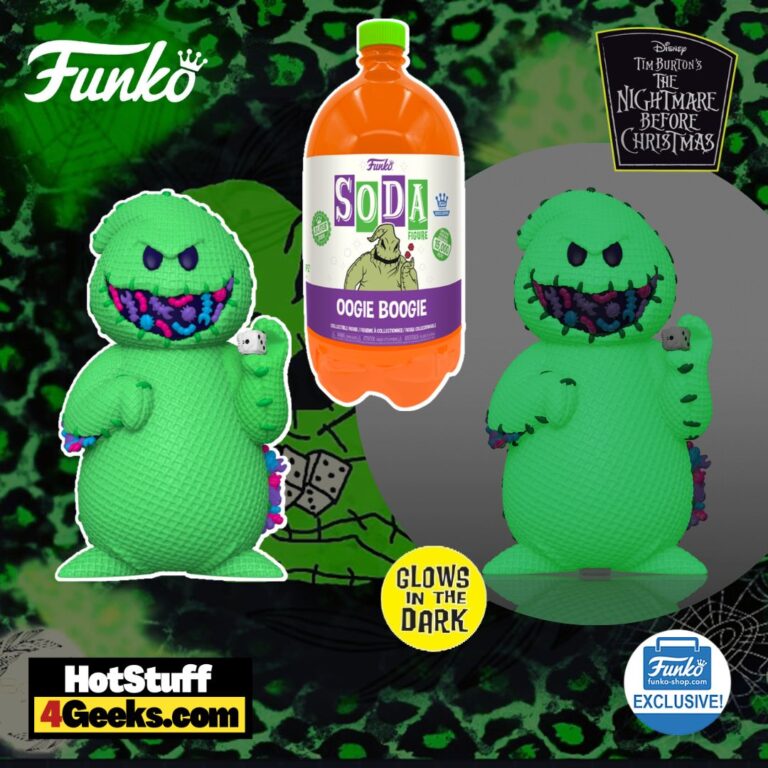 Here's a little something for all you Oogie Boogie enthusiasts! A collectible item that'll get your heart racing just as quickly as our bug-filled baddie's dice roll. Funko Shop has created an exclusive 3 Liter Funko SODA figure to mark the 30th Anniversary of The Nightmare Before Christmas. And guess who's hogging the spotlight? Yep, our enigmatic villain, Oogie Boogie himself with the new Funko Pop! Soda: The Nightmare Before Christmas – Oogie Boogie 3 Liter Funko Vinyl Soda  Figure with Glow-In-The-Dark (GITD) Chase Variant – Funko Shop Exclusive.
UPDATE: Oogie Boogie drops today at 9.30 AM PST! To get your hands on this Pop Soda at its release, be sure to check out the links I've provided below – click to jump or scroll to continue reading!
Roll the Dice with Funko's New Oogie Boogie 3 Liter Exclusive!
This piece of art is as perplexing as Oogie Boogie's character, infusing his menacing aura into a tangible form.
Just like our favorite Boogeyman, who surprises us at every turn, there's a 1 in 6 chance you might stumble upon a glow-in-the-dark variant of this figure, adding a thrilling twist to your collection.
But hurry, only 15,000 of these collectibles were made! It's the perfect tribute to the monster who defies the norms of Halloween Town, weaving fear and personhood into an unforgettable character.
So, ready to let Oogie Boogie roll the dice in your collection?
The Funko Shop Exclusive Vinyl Soda 3 Liter Oogie Boogie can be found at the links below (click to jump!)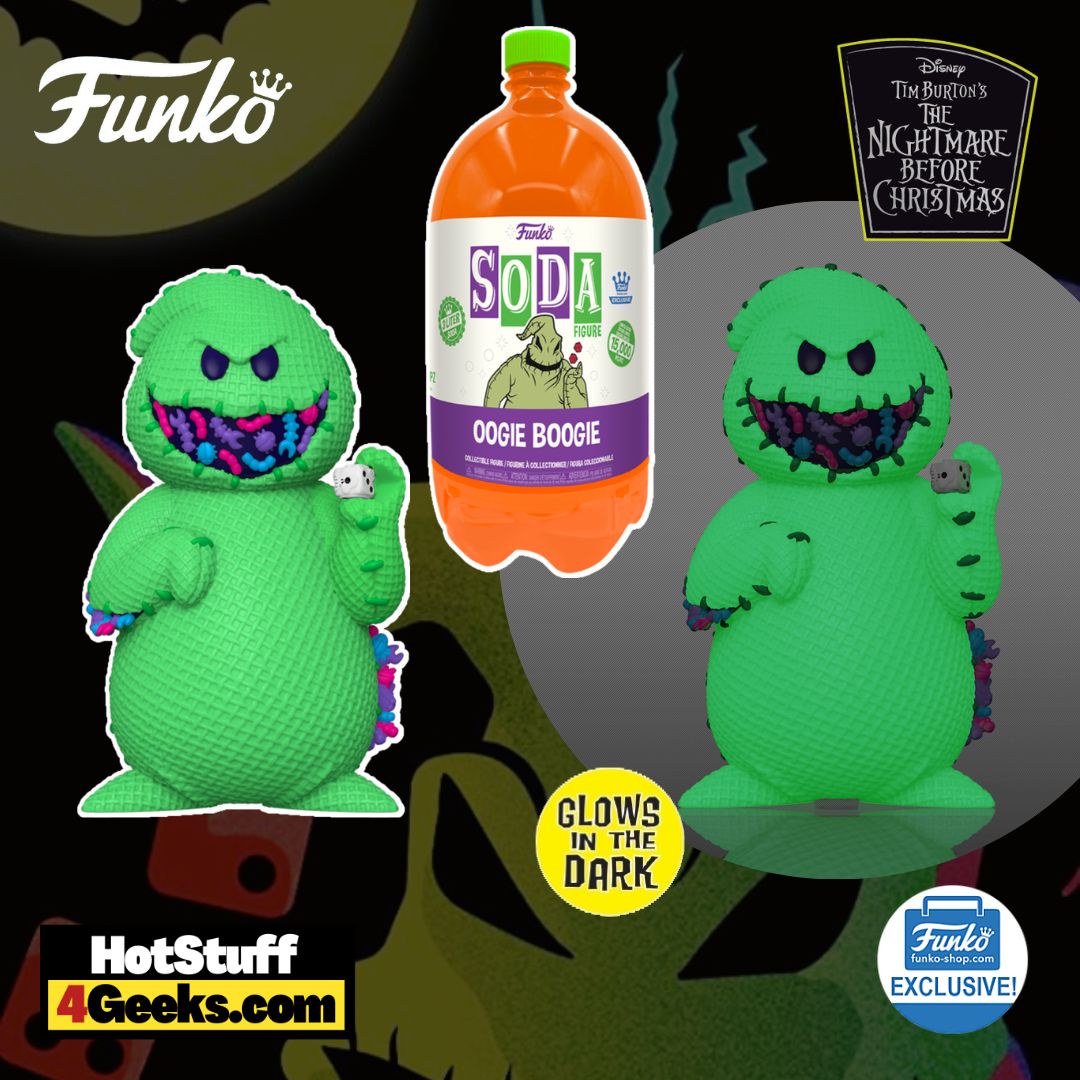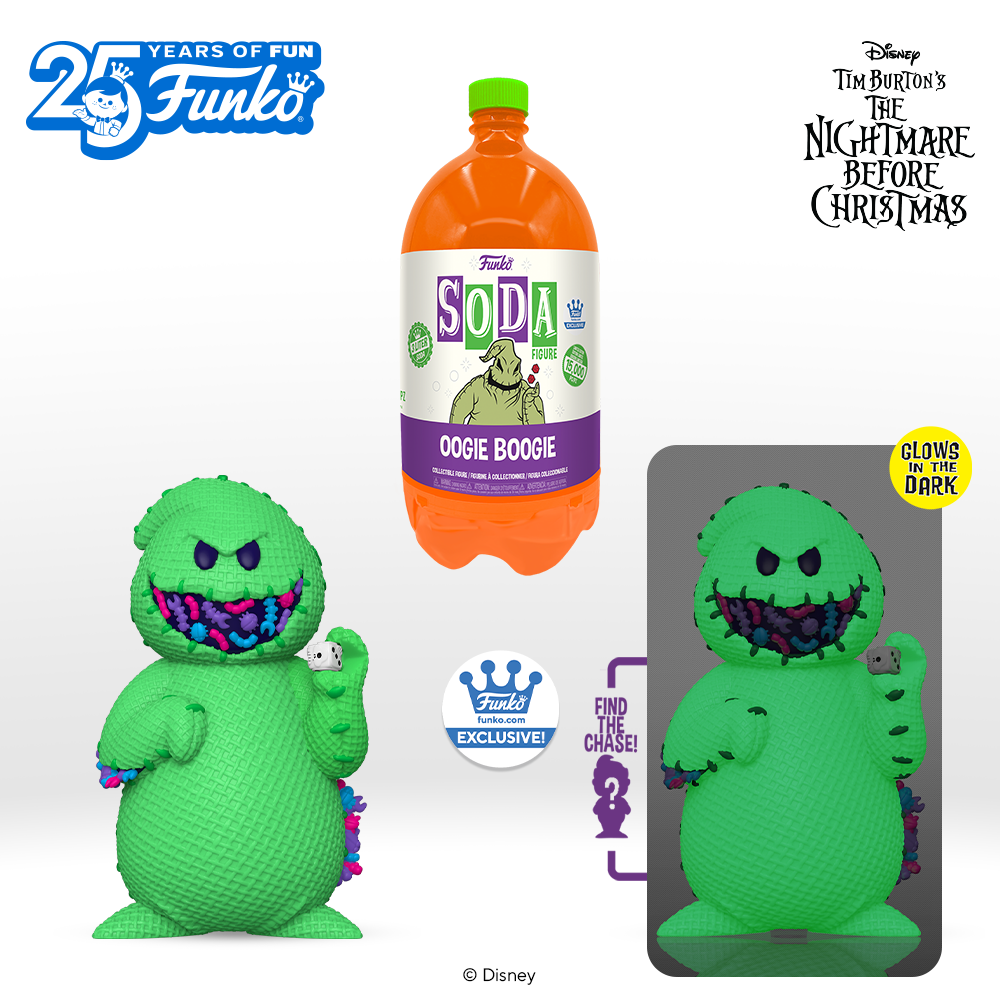 Why Oogie Boogie is More Than Just a Monster
There's no denying the palpable allure of The Nightmare Before Christmas, a cinematic staple that's managed to blur the lines between Halloween chills and Christmas cheer.
But have you ever taken a moment to delve into the curious case of its most infamous villain, the one and only Oogie Boogie?
Now, Oogie Boogie is no ordinary antagonist.
He's a paradox, a riddle wrapped in an enigma, a monster lurking in the underbelly of a world where fear is communal, light-hearted, and harmless.
While Halloweentown revels in a fear that unites, Oogie Boogie thrives on a fear that tears apart that inflicts real harm.
It's like comparing an amusing ghost story to a night in a haunted house – quite a different ball game, right?
Adding to his unnerving aura is his form – an eerie sack crawling with bugs.
It's a sight that sends shivers down your spine, leaving a lingering feeling of discomfort.
It's something you'd rather not think about but can't help pondering – how can so many bugs come together to act, sing, and move as one?
It's a literal manifestation of individual personhood, a concept that's as scary as it's intriguing.
As if his monstrous form and bad intentions weren't enough, the stark contrast of Oogie Boogie's neon-bright lair against the soft tones of Halloweentown and Christmastown only emphasizes his unsettling otherness.
It's a sudden and alarming departure from the 'fun fear' we've grown comfortable with, jolting us out of our comfort zones.
So, next time you revisit this timeless classic, take a moment to appreciate the multi-faceted enigma that is Oogie Boogie.
He's more than a villain.
He's a testament to the darker sides of fear and personhood, a nightmare that dares us to question our understanding of ourselves and our world.
Check more The Nightmare Before Christmas 30th Anniversary HERE!
The new Funko Pop! Soda: The Nightmare Before Christmas – Oogie Boogie 3 Liter Funko Vinyl Soda  Figure with Glow-In-The-Dark (GITD) Chase Variant – Funko Shop Exclusive
Available at:
Starting now, you can receive 10% off in-stock items with my special link at Entertainment Earth!
 Enjoy!
As an Amazon Associate I earn from qualifying purchases
Want more stuff like this?
Get the best viral stories straight into your inbox!
Don't worry, we don't spam