2023 NEW Nerds – Cherry Nerd (Scented) Funko Pop! Exclusive
by

PopCorn Princess

April 26, 2023
Funko Pop! Ad Icons: Nerds – Cherry Nerd (Scented) Funko Pop! Vinyl Figure – Funko Shop Exclusive
Available at:
Unleash a world of whimsy and nostalgia with the new Funko Pop! Ad Icons: Nerds – Cherry Nerd (Scented) Funko Pop! Vinyl Figure – Funko Shop Exclusive – a fascinating character inspired by the classic Nerds candy we've all grown to adore. This lovable personality embodies the irresistible essence of the cherry-flavored treats, captivating our senses and transporting us back to our most cherished moments.
The pop figure can be found at the links below – click to jump or scroll to continue reading!
Whoever said being nerdy wasn't cool clearly hasn't laid eyes on the Cherry Nerd (Scented) Funko Pop!
Trust me, this little guy will have you embracing your inner geek in no time.
Not only is he adorably awkward, but he smells like cherries too! Talk about sensory overload.
You can place him proudly on your shelf or desk, and every time you catch a whiff of that cherry scent, you'll be reminded of the joys of being a nerd.
The Funko Shop Exclusive Cherry Nerd (Scented) Funko Pop! can be found at the links below (click to jump!)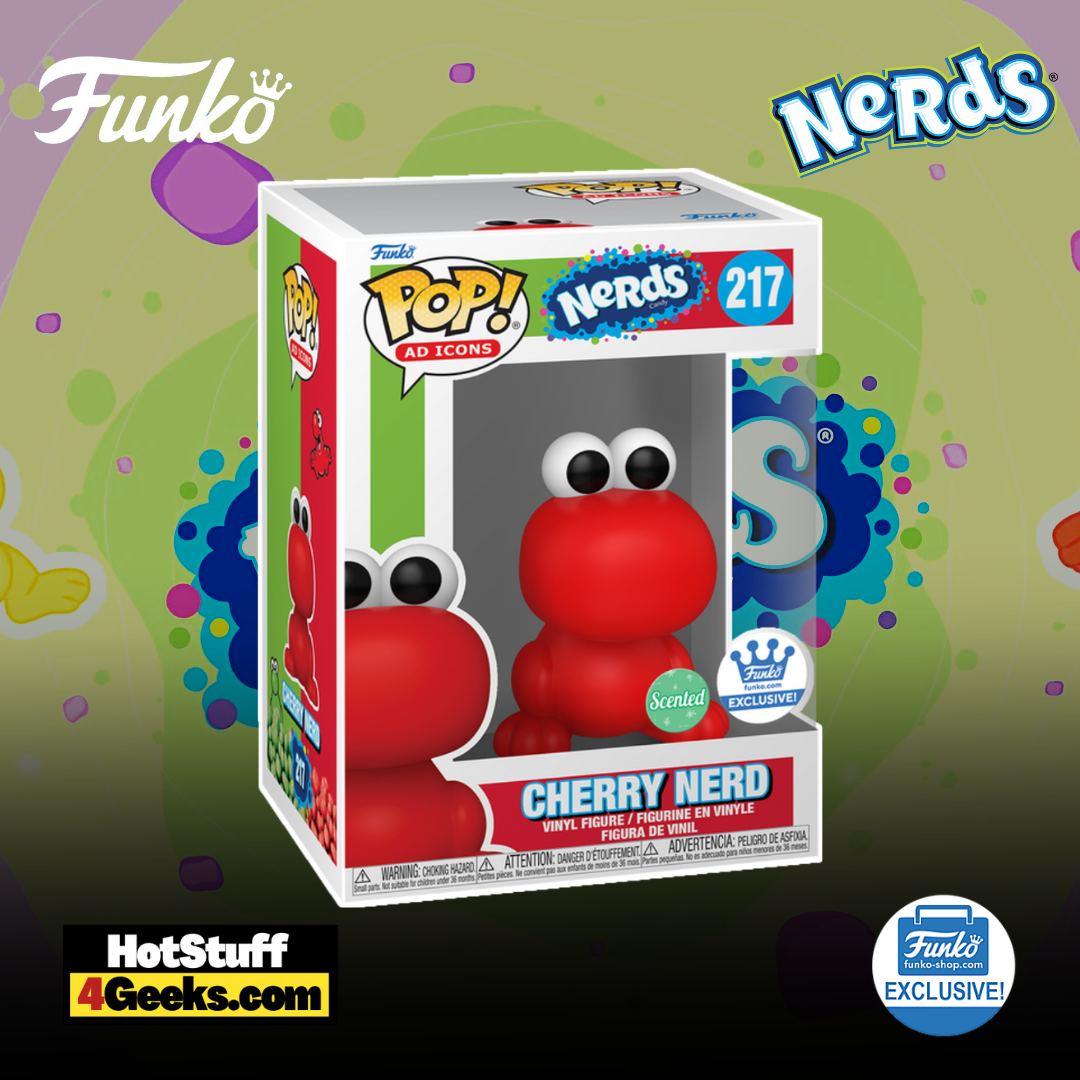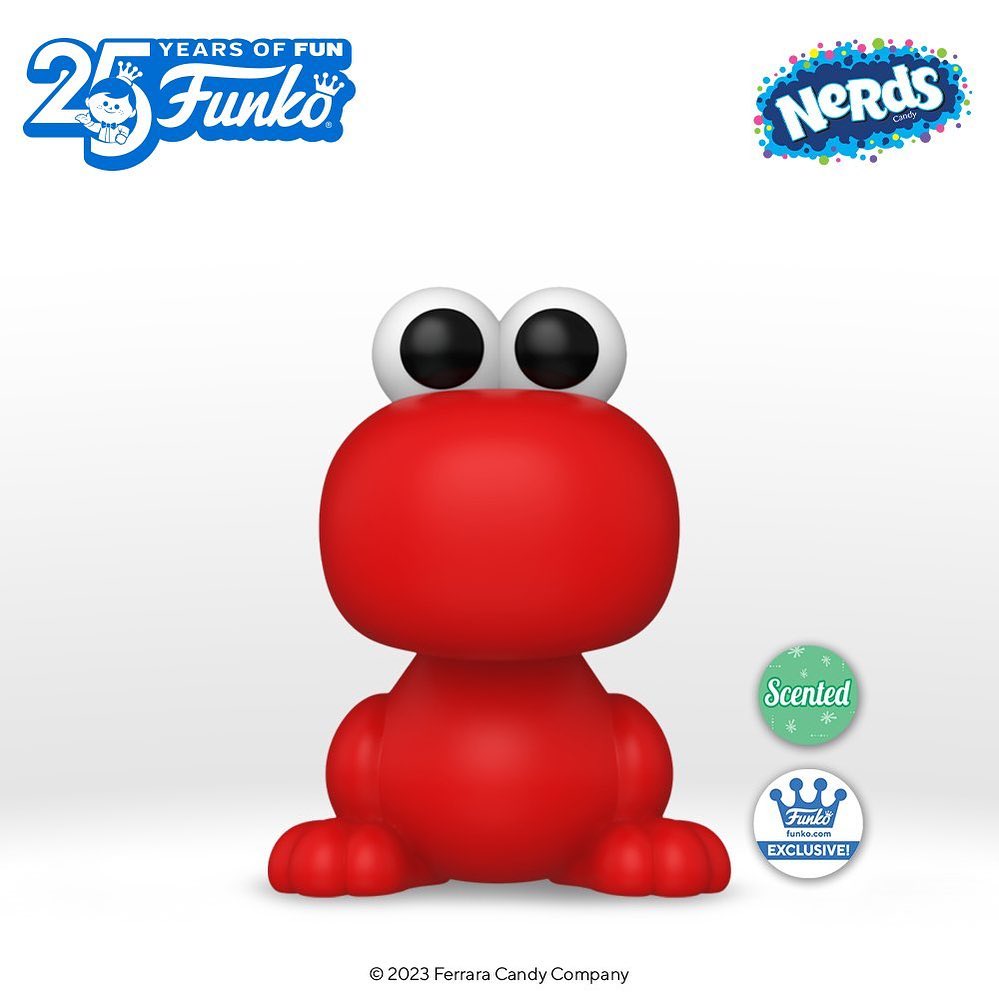 As candy enthusiasts, we've all had our fair share of confectionery indulgences.
But have you ever stopped to ponder the iconic, tiny, tangy, and crunchy candy we all know as Nerds?
These little pure delight morsels have tickled our taste buds for decades.
The genesis of Nerds Candy can be traced back to 1983 when Angelo Fraggos introduced them to the world.
The name "Nerds" has always been shrouded in mystery, with some attributing it to a quirky reference in a Dr. Seuss book, while others link it to the studious, book-loving individuals we've all encountered in our lives.
Regardless of the true inspiration behind the name, Nerds Candy has become a beloved staple in American pop culture.
From the beginning, Nerds Candy set itself apart with its iconic two-toned packaging, featuring separate compartments for distinct flavors.
The original Cherry/Orange and Strawberry/Grape combinations offered a delightful symphony of sweet and sour notes, with each tiny Nerd dancing on our taste buds.
Over the years, the Nerds Candy family has expanded, introducing a dazzling array of flavor combinations.
Whether you prefer the electrifying kick of Sour-Lightning Lemon/Amped Apple or the luscious fusion of Wild Cherry/Watermelon, there's a Nerds duo to suit every palate.
As we eagerly await the next innovative flavor pairing, our love affair with these scrumptious tidbits continues to grow.
In a rapidly evolving world, Nerds Candy has managed to maintain its appeal to both young and old alike.
Although the Nerds Breakfast Cereal may have been retired, there's no shortage of opportunities to indulge in this timeless treat throughout the day.
After all, Nerds were crowned the Candy of the Year in 1985, a testament to their enduring charm and popularity.
As an Amazon Associate I earn from qualifying purchases
Funko Pop! Ad Icons: Nerds – Cherry Nerd (Scented) Funko Pop! Vinyl Figure – Funko Shop Exclusive
Available at:
Want more stuff like this?
Get the best viral stories straight into your inbox!
Don't worry, we don't spam
PopCorn Princess
Hey there, I'm Princess. I'm an annual comic con attendee, Star Wars-loving, and collector freak. My mission is simple: To bring cool geeky news and content and share my passion with the rest of the world. (... I secretly wish to save the world as a superheroine...)