2023 NEW Obi-Wan Kenobi: Darth Vader (Damaged) Funko Pop!
Not official until confirmed.
Introducing the newest addition to your Funko Pop! collection – Funko Pop! Star Wars: Obi-Wan Kenobi: Darth Vader (Damaged Helmet) Funko Pop! Vinyl Figure – Walmart/Target Exclusive! This latest iteration of everyone's favorite Sith Lord captures the essence of his raw vulnerability and menacing presence as portrayed in the Obi-Wan Kenobi TV series.
To get your hands on this Pop Vinyl Figure at its release, be sure to check out the links I've provided below – click to jump or scroll to continue reading!
But don't let the adorable, oversized head fool you – this Vader is anything but cuddly.
With his battle-damaged armor and a hint of Hayden Christensen's smolder in his eyes, you can practically hear the heavy breathing from inside that tiny helmet. It's like a chibi version of your worst nightmare, and we can't get enough!
This Funko Pop! figure offers a rare glimpse into the tormented soul of the galaxy's most feared villain.
As he grapples with his tumultuous past and an insatiable hunger for power, you can't help but feel a pang of sympathy for this tiny terror.
Just make sure to keep him far away from your Jedi Funko Pops – we wouldn't want any intergalactic drama on our shelves now, would we?
The Walmart/Target Exclusive Darth Vader (Battle Damaged) Funko Pop!  can be found at the links below (click to jump!)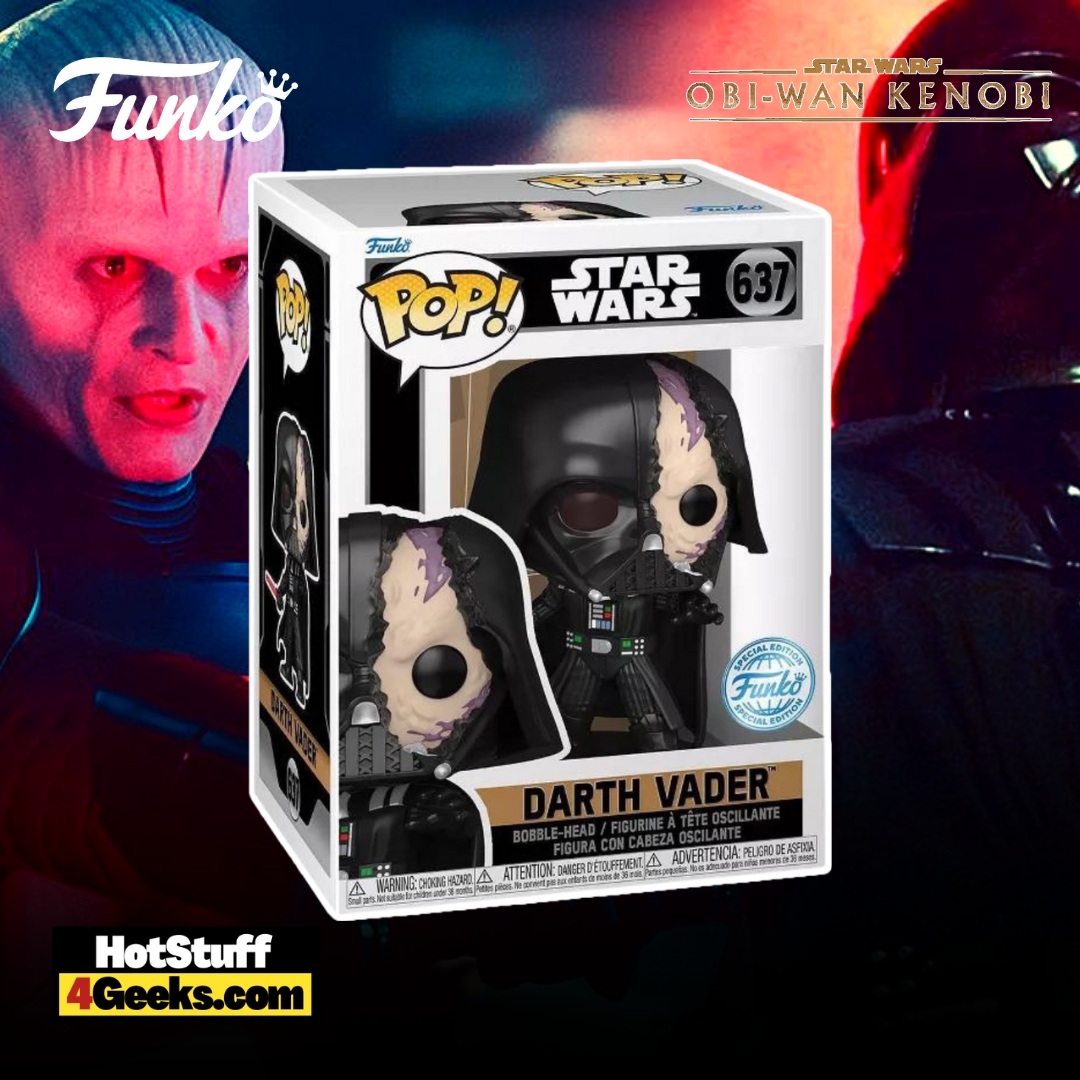 Have you ever wondered what Darth Vader might have been like during his angsty, rebellious teen years?
Well, maybe not quite a teenager, but the Obi-Wan Kenobi TV series on Disney+ gives us a glimpse into the life of a younger, more ruthless Darth Vader, and it's nothing short of spine-chilling.
Remember that one time when Anakin Skywalker was an innocent, lovable little podracer from Tatooine?
Yeah, those days are long gone. Hayden Christensen reprises his role as Vader, and let me tell you, he's not the same Anakin who was all about "Yippee!" and "I don't like sand."
In this series, Christensen takes his acting skills to a new level, showing us a side of Vader we've never seen before.
Vader's newfound brutality is on full display in the series, with a penchant for snapping necks and tearing apart transports like they're nothing more than a LEGO set.
This guy is giving the original trilogy's Vader a run for his Galactic Credits. It's like watching Anakin go through an evil metamorphosis – he's a Sith butterfly, if you will.
What's even more intriguing about this younger Vader is his relationship with his former master, Obi-Wan Kenobi.
It's a mix of loathing, obsession, and an unhealthy dose of unresolved daddy issues.
Honestly, it's a recipe for disaster, but it makes for some truly captivating television.
But don't be fooled – this terrifying version of Vader is still very much under the thumb of his master, Darth Sidious.
He's the ultimate puppet, dancing on the strings of the Emperor's wicked plans.
It's like watching the most sinister episode of Sesame Street ever, with Sidious as the puppeteer and Vader as the world's scariest Muppet.
And while we're all rooting for Obi-Wan (I mean, who isn't?), it's hard not to feel a twinge of sympathy for this deeply conflicted and troubled version of Vader.
The series masterfully shows the remnants of Anakin that still linger beneath the surface, making us wonder if there's any hope for his redemption.
In the end, the Obi-Wan Kenobi TV series delivers an unforgettable take on Darth Vader that has left fans both terrified and enthralled.
It's a rollercoaster ride through the darkest corners of the galaxy, and if you're not already on board, you better strap in – it's going to be a wild ride.
Check out the Obi-Wan Kenobi Funko Pops! Wave 1 HERE and Wave 2 HERE!
As an Amazon Associate I earn from qualifying purchases
Want more stuff like this?
Get the best viral stories straight into your inbox!
Don't worry, we don't spam