2023 NEW One Piece: Chopperemon (Wano) Flocked Funko Pop!
Funko Pop! Animation: One Piece – Chopperemon (Wano Outfit) Flocked Funko Pop! Vinyl Figure – Funko Shop Exclusive (2023 release)
Available at:
Prepare to be enchanted by the latest addition to the Funko family: the new Funko Pop! Animation: One Piece – Chopperemon (Wano Outfit) Flocked Funko Pop! Vinyl Figure – Funko Shop Exclusive (2023 release). This upcoming treasure is more than just a nod to Tony Tony Chopper's stint in Wano; it's an intricate, tangible expression of everything that makes this Straw Hat Pirate so unforgettable.
To get your hands on this Pop Vinyl Figure at its release, be sure to check out the links I've provided below – click to jump or scroll to continue reading!
Unveiling the Wano-Era Tony Tony Chopper: A Flocked Funko Pop! Exclusive
Hold onto your hats, One Piece fans! Funko has unveiled its latest marvel—the Funko Pop! Animation: One Piece – Chopperemon (Wano Outfit) Flocked Funko Pop! Vinyl Figure.
Exclusive to Funko Shop and slated for a 2023 release, this is not your run-of-the-mill Funko Pop.
But let's zero in on the character itself—Chopper in Wano attire. If you thought Chopper couldn't get any more compelling, think again.
Decked out in traditional Wano garb, this Funko version captures the Straw Hat's doctor in an aesthetic inspired by Japan's Edo period.
Ah, but the 'Flocked' in the name isn't just for show; it means our favorite reindeer comes with that soft, fuzzy texture, lending an extra layer of tangibility to this already multi-dimensional character.
What sets this Funko Pop! figure apart is its meticulous attention to the nuance of Chopper's Wano phase.
It embodies the doctor-reindeer's complex persona: an intriguing blend of medical sagacity, innate curiosity, and endearing naivety.
The intricacies of his Wano costume, paired with that characteristic fuzzy finish, are a tribute to a character who defied classification at every turn.
In essence, this exclusive Chopperemon Funko Pop! acts as a microcosm of what makes Tony Tony Chopper such a perplexing yet lovable figure in the One Piece universe.
So mark your calendars for 2023—this is one piece of merchandise you won't want to miss.
The Funko Shop Exclusive Chopperemon (Wano Outfit) Flocked Funko Pop! can be found for order at the links below (click to jump!)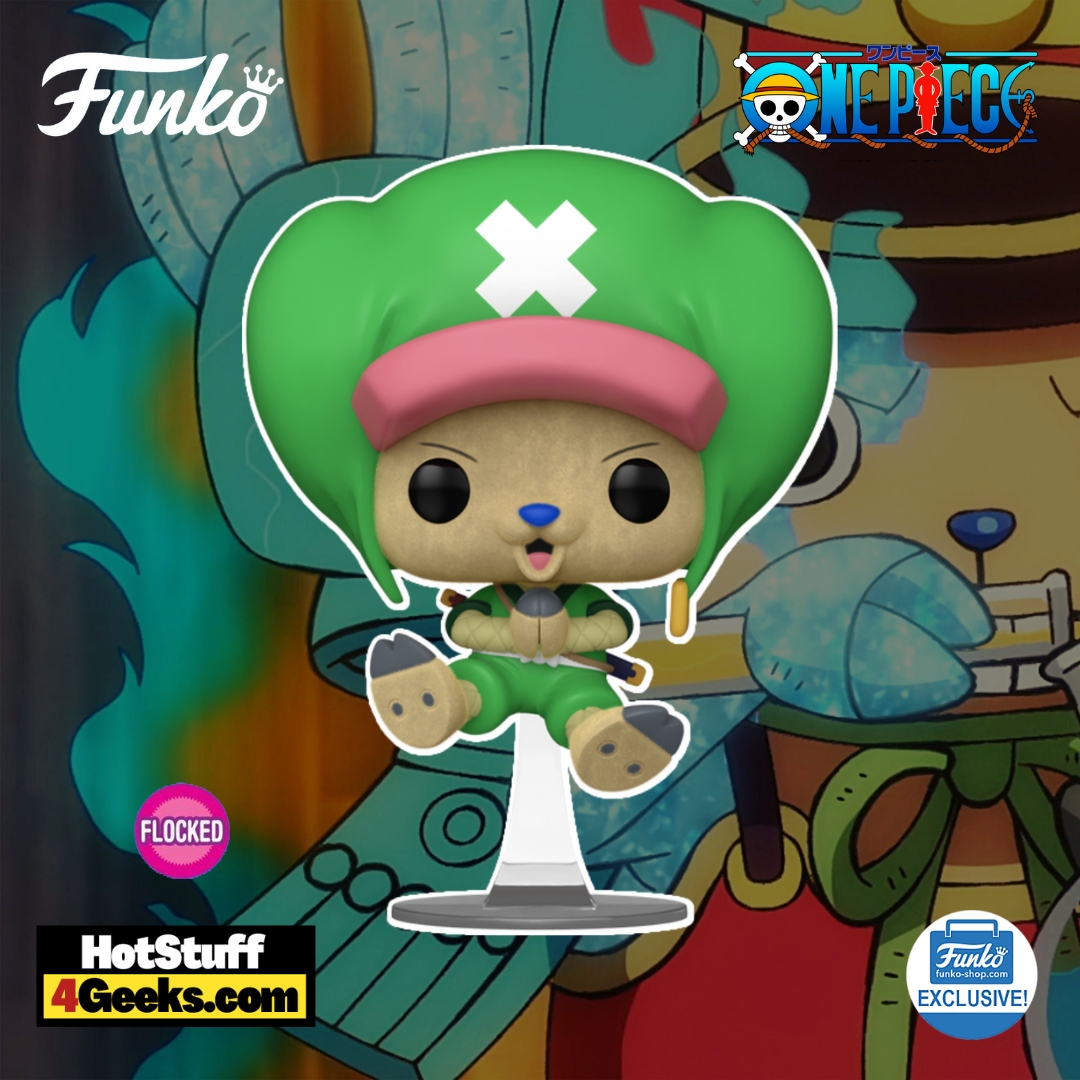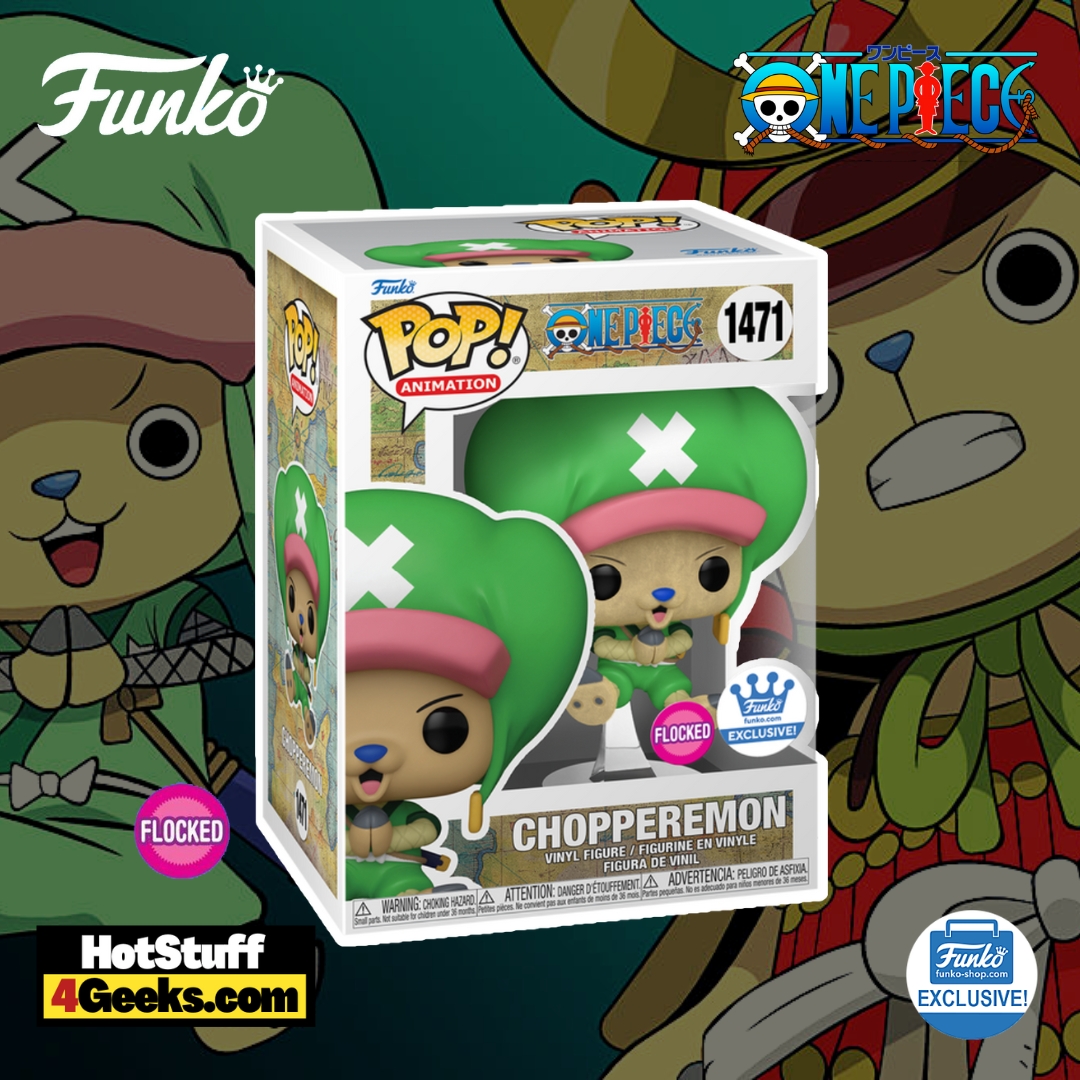 The Mystifying World of Tony Tony Chopper: One Piece's Cotton Candy-Loving Enigma
Step into the universe of One Piece, and you'll quickly find yourself engrossed by a peculiar assemblage of pirates known as the Straw Hat Crew.
Among this eclectic group stands a character who defies conventional archetypes—Tony Tony Chopper.
Don't let the fluffiness deceive you; there's more to this seemingly adorable reindeer than meets the eye.
First and foremost, Chopper is a product of the Hito Hito no Mi Devil Fruit.
This Zoan-type fruit endowed him with human-like faculties, contrasting sharply with his Paramecia-using shipmates.
Originating from the Grand Line's Drum Island, he embodies the archipelago's mysterious aura.
Don't mistake him for an ornamental pet; he's the Straw Hat Crew's indispensable physician, a role he's yearned for since his formative years under the tutelage of Dr. Kureha.
Interestingly, this isn't Chopper's first gig as a pirate.
He once temporarily aligned with the Foxy Pirates during the Davy Back Fight, making him one of the few Straw Hat members to have ever switched allegiances—even if momentarily.
His initial and post-time skip bounties stand at a measly 50 and 100 berries, respectively, mainly because the World Government dismisses him as the crew's mascot.
But anyone familiar with his fighting prowess knows that's a significant oversight.
Dubbed the "Cotton Candy Lover," Chopper's epithet doesn't inspire dread, but don't underestimate his courage.
His Monster Point form exhibits a level of strength that can obliterate even elite assassins.
When it comes to demonstrating courage, he's proved his mettle against formidable foes, like staving off a Yonko at Whole Cake Island.
The series' creator, Eiichiro Oda, reveals that Chopper was designed to balance endearing charm and a fearless disposition.
Even the voice acting for Chopper went through phases.
Ikue Otani initially lent her voice until episode 253, when Kazue Ikura took over for a brief nine-episode stretch.
But Ikue Otani resumed her role, solidifying the reindeer's auditory identity in the anime series.
Chopper is not merely a supporting cast member; he embodies the Straw Hat Crew's spirit of adventure and comradeship.
As the youngest member at 17 years, he has undertaken challenges that belie his years.
His dreams and capabilities reflect the crew's daring, unexpected, and ever-changing aspirations.
So, if you've pigeonholed Chopper as merely a fluffy sidekick, it's time to recalibrate your perspective.
There's a blend of complexity and unpredictability to this character that keeps us all intrigued, episode after episode.
As an Amazon Associate I earn from qualifying purchases
Funko Pop! Animation: One Piece – Chopperemon (Wano Outfit) Flocked Funko Pop! Vinyl Figure – Funko Shop Exclusive (2023 release)
Available at:
Want more stuff like this?
Get the best viral stories straight into your inbox!
Don't worry, we don't spam