2023 NEW One Piece – Snake Man Luffy Metallic Funko Pop!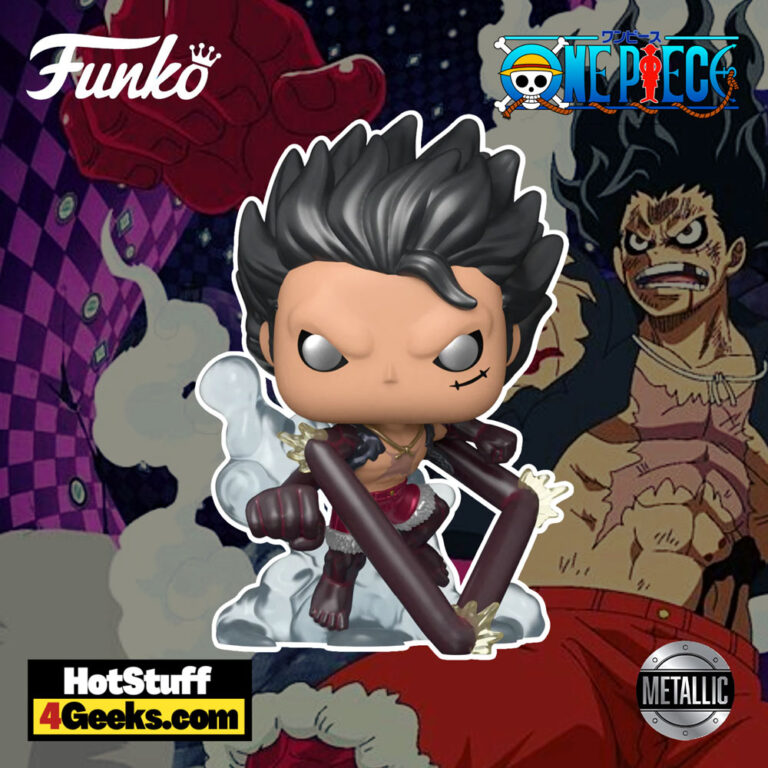 The new Funko Pop! Animation: One Piece – Snake Man Luffy Metallic Funko Pop! Vinyl Figure – Funko Shop Exclusive (Funko Fair 2023) is sure to shake things up! With its unique design and gleaming metallic finish, this Funko Pop! provides the perfect way to celebrate everyone's favorite Monkey-Man and show your love of the series in style.
The pop figure is dropping today at 9.30 AM PT at the links below – click to jump or scroll to continue reading!
Is there anything more fun than owning a super-cool Snake Man Luffy Metallic Funko Pop!?
This rad version of everyone's favorite rubber pirates is something to show off to all your family and friends.
Before you know it, you'll feel as adventurous as Luffy and ready to take on any danger!
Luffy's Gear 4 Snakeman is like picking up an extra set of stretchy superpowers on a Saturday night.
With this form, Luffy can reach opponents from a new angle and make them feel pretty constricted with his snakelike wraps.
His Haki-powered body is made even more durable and unstoppable, meaning that really no one is safe from Luffy's outstretched arms!
Even when his enemies manage to dodge or counter his stretchy attacks, they won't be out of the woods until Luffy "uncoils" himself… but honestly, who wants to wait that long?
The Funko Shop Exclusive Metallic Snake Man Luffy Funko Pop! (Funko Fair 2023) can be found at the links below (click to jump!)
Monkey D. Luffy is one pirate who has gone from being a mortal to a fearsome force to be reckoned with!
His power progression throughout One Piece, with the help of the Gomu Gomu no Mi, of course, has seen him master an impressive array of 'Gears,' which basically makes it sound like he's a technology genius too!
Joking aside, his Gears have enabled him to punch through some of the most difficult challenges the world has ever seen – before having lunch.
Gear 4 is a powerful transformation Monkey D. Luffy can activate in the manga and anime series One Piece.
By using his Haki — no ordinary power, mind you — Luffy turns into some kind of superhuman, increasing his strength and speed to ridiculous heights.
Even with these abilities, though, what really sets Gear 4 apart are its unique sub-forms.
Think of Boundman taking stretchy arms to a whole new level! Then there's Tankman: a whole unit that can be seen trundling around with Luffy inside it, and finally, Snakeman (expect lots of slithering and serpentine attacks.)
Simply put, Luffy's progress over time sets him as a dangerous figure among pirates – although one suspects he actually still manages to look quite cute doing it.
Check out the One Piece Funko Pops! Complete List (Wave 2023) here.
Funko Pop! Animation: One Piece – Snake Man Luffy Metallic Funko Pop! Vinyl Figure – Funko Shop Exclusive (Funko Fair 2023)
Available at:
Starting now, you can receive 10% off in-stock items with my special link at Entertainment Earth!
 Enjoy!
As an Amazon Associate I earn from qualifying purchases
Want more stuff like this?
Get the best viral stories straight into your inbox!
Don't worry, we don't spam