2023 NEW One Piece – Wanted Ace Funko Pop! Poster Exclusive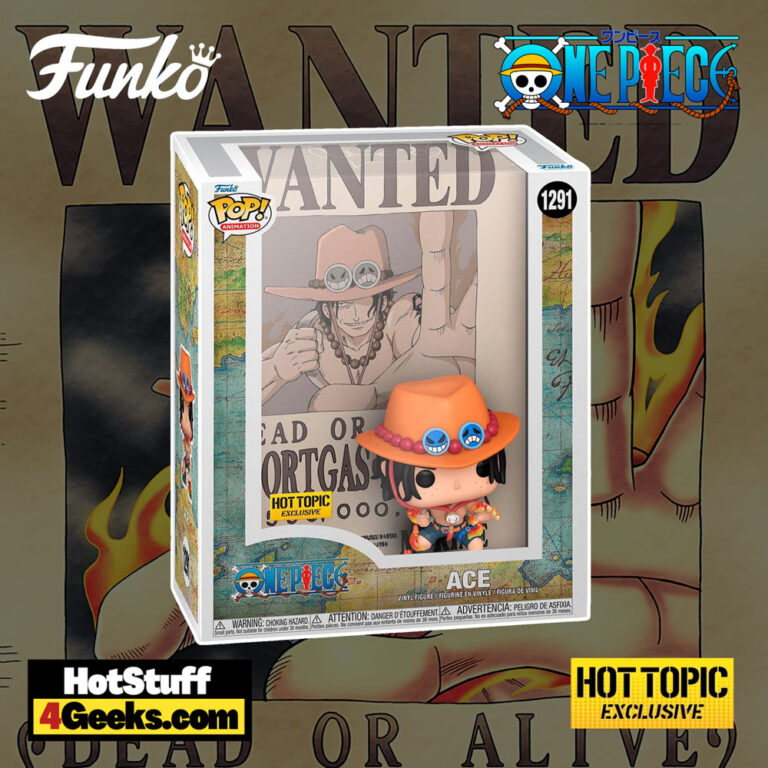 Are you a fan of the anime and manga series, One Piece? Then, celebrate the legacy of Portgas D. Ace with this unique new Funko Pop! Art Cover: One Piece – Wanted Dead or Alive Portgas D. Ace Funko Pop! Poster Vinyl Figure – Hot Topic Exclusive!
The pop figure is now available for pre-order at the links below – click to jump or scroll to continue reading!
The Pop! vinyl figure features Ace in his iconic outfit as he appeared in the show – dressed in a flamed costume and hat with an eager, confident smirk on his face.
If you're a passionate One Piece fan, this Funko Pop is sure to be a treasured item in your collection. From the ships at sea to the bottom of the oceans, get your hands on Portgas D. Ace – Wanted Dead or Alive!
Nicely sculpted and wearing his signature battle gear, this epic figure also comes with his hat, situating him as the naughty pirate he was – it looks just like he jumped off the pages of manga.
A perfect companion for all your One Piece adventures, whether playing or traveling, you'd better move fast if you don't want to miss out on having Captain Ace in your posse!
The Hot Topic exclusive Wanted Ace Funko Pop! Poster (Funko Fair 2023) is now available for pre-order at the links below (click to jump!)
Ace's wanted poster definitely made an impression – even with a hefty bounty of 550,000,000 Berries, it was clear that the world gave him a lot of respect.
That's saying something when you consider he was in the same league as big-name pirates like Blackbeard and Big Mom!
So why did they place such a high value on Ace?
Well, it came down to his impressive ability to manipulate fire.
In the world of One Piece, this was considered incredibly rare, making Ace an extremely sought-after asset in the eyes of the World Government.
And that's not all: next to his fire mastery, Ace had devoted loyalty to those who mattered most to him and was a powerful fighter with an attitude that inspired fear and respect.
It's no surprise why Ace quickly became known as one of the fiercest pirates ever!
In the end, Ace's legacy lived on long after his death, inspiring many others to follow in his footsteps and strive to become powerful and just pirates.
His wanted poster serves as a reminder of his impact on the world of One Piece and the legacy he left behind.
Check out the One Piece Funko Pops! Complete List (Wave 2023) here.
Starting now, you can receive 10% off in-stock items with my special link at Entertainment Earth!
 Enjoy!
As an Amazon Associate I earn from qualifying purchases
Want more stuff like this?
Get the best viral stories straight into your inbox!
Don't worry, we don't spam