2023 NEW Ozzy Osbourne in Black Suit Funko Pop! Exclusive
Ah, Ozzy Osbourne, the legendary "Prince of Darkness." Not merely a musician, but a myth, a figure of immense charisma and mystery, clad in a black suit, his new Funko Pop! Rocks: Ozzy Osbourne in Black Suit Funko Pop! Vinyl Figure – Funko Shop Exclusive embodies the essence of his intriguing persona.
The pop figure is releasing today at 9.30 AM PT and can be found at the links below – click to jump or scroll to continue reading!
The tiny vinyl Ozzy, resplendent in his gothic attire, is a throwback to the era when he enthralled audiences with his raw power and vocal prowess.
This isn't just a figurine; it's a symbol of a man who danced on the edge of controversy and navigated the labyrinth of fame with an unparalleled dark allure.
The black suit, synonymous with Ozzy's rebellious spirit, adds an enigmatic charm, just as it did when he donned it in real life.
This Funko Pop! isn't about the art of miniature but more about the monumental character it represents – the irrepressible, the untamed, the ever-enigmatic Ozzy Osbourne.
The Funko Shop Exclusive Ozzy Osbourne in Black Suit Funko Pop! can be found at the links below (click to jump!)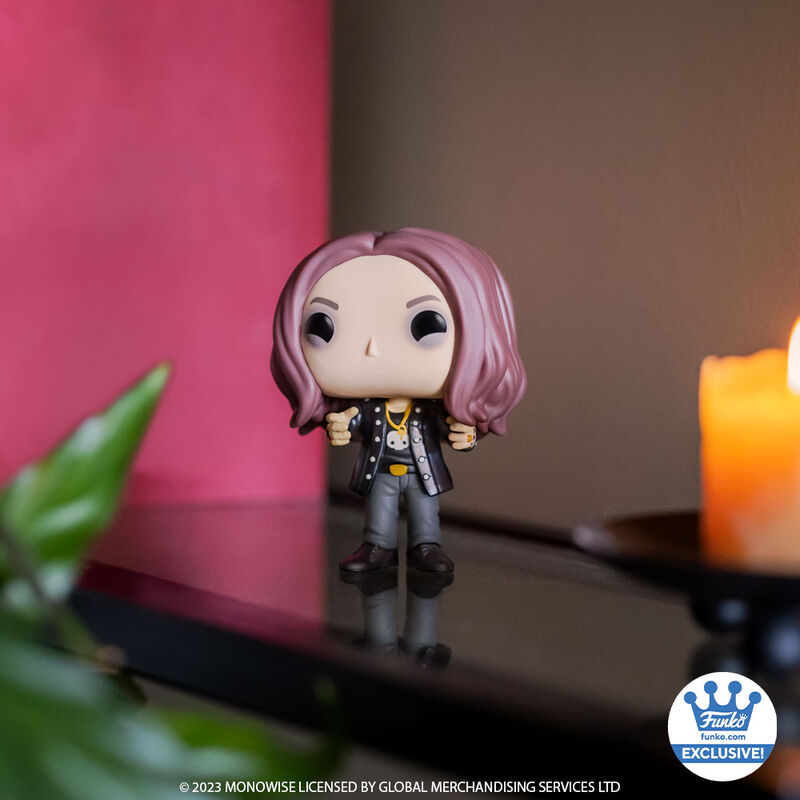 There's something wild, almost mystical, about the one and only Ozzy Osbourne.
A true legend, he isn't just a character in the annals of rock 'n' roll history – he's the soul, the pulse, the driving force behind the creation of an entire genre.
There's a primal energy to his music that shakes you to your core, a raw, untamed power that led him from humble beginnings to iconic status.
Hailing from Birmingham, England, a gritty working-class town, young John Michael Osbourne, our beloved Ozzy, found solace in the rhythms and beats of music.
Inspired by the Beatles, he began crafting his distinctive style that would forever alter the music world's landscape.
Partnering with future Black Sabbath members Geezer Butler, Toni Iommi, and Bill Ward, he embarked on a musical journey that would traverse the murkiest depths and highest peaks of rock stardom.
As frontman of Black Sabbath, Ozzy crafted an enigmatic persona, dubbed the "Prince of Darkness."
His voice, a haunting echo against the backdrop of their pioneering heavy metal sound, became synonymous with the genre. Album after album, hit after hit, they dominated the 70s, captivating audiences worldwide.
But life as a rock star has its pitfalls, and Ozzy wasn't immune to them.
Struggling with substance abuse, interpersonal conflicts, and erratic behavior, he found himself distanced from his bandmates, eventually culminating in his departure from the group in 1979.
Yet, like a phoenix rising from the ashes, Ozzy reinvented himself, launching a successful solo career that rivaled his previous band's fame.
Teaming up with emerging guitar virtuoso Randy Rhoads, Ozzy unleashed a slew of albums that shook the music world once again, proving his undeniable talent and tenacity.
Controversies and tragedies have marred Ozzy's life, but he has persisted, his music always a beacon amid the tumult. Love or hate him.
There's no denying his indelible mark on rock and heavy metal.
So, as the Prince of Darkness turned 74, we can only salute him and honor the man, the legend, the one and only Ozzy Osbourne.
Funko Pop! Rocks: Ozzy Osbourne in Black Suit Funko Pop! Vinyl Figure – Funko Shop Exclusive
Available at:
Starting now, you can receive 10% off in-stock items with my special link at Entertainment Earth!
 Enjoy!
As an Amazon Associate I earn from qualifying purchases
Want more stuff like this?
Get the best viral stories straight into your inbox!
Don't worry, we don't spam