2023 NEW Ozzy Osbourne in Purple Fringe Outfit Funko Pop!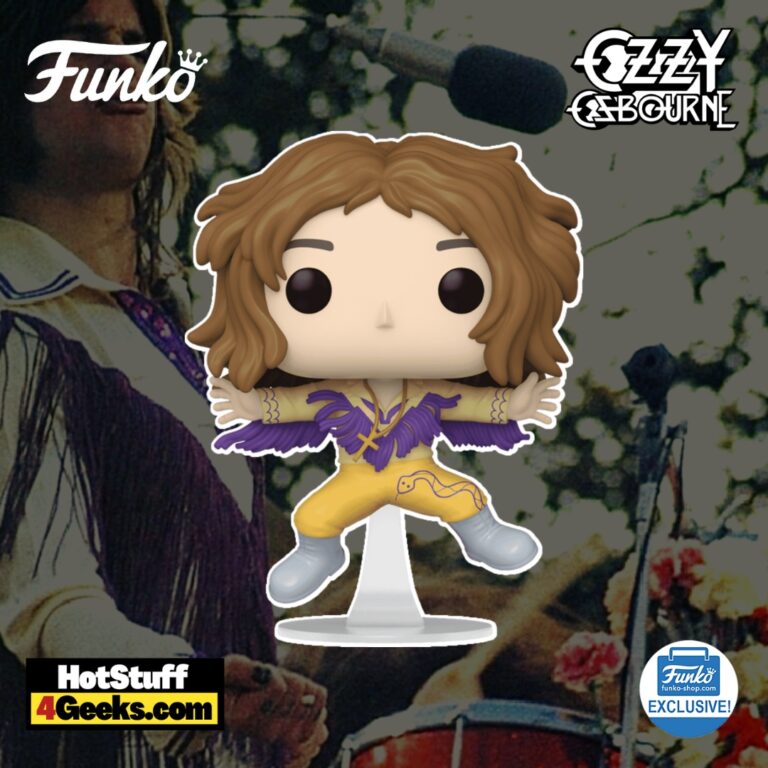 Get ready to relive one of the most iconic moments in rock history with a dash of vinyl magic! Introducing the new  Funko Pop! Rocks: Ozzy Osbourne in Purple Fringe Outfit Funko Pop! Vinyl Figure – Funko Shop Exclusive, a collectible that takes you straight back to Ozzy's legendary performance at the 1974 California Jam concert in Ontario. This isn't just a memento; it's a ticket to a nostalgia-filled rock and roll experience.
Ozzy Osbourne's Pop! drops today at 9.30 AM PST! To get your hands on this Pop Vinyl Figure at its release, be sure to check out the links I've provided below – click to jump or scroll to continue reading!
A Glimpse into 1974: The Ozzy Osbourne in Purple Fringe Outfit Funko Pop!
Remember the roaring wave of fans, the electrifying air, and the pulsating energy of the California Jam concert in Ontario in 1974?
Ah, it's hard to forget!
The world paused when Ozzy Osbourne of Black Sabbath, decked out in that iconic purple fringe outfit, took center stage. It was rock magic.
So, what if I told you that electrifying moment has been captured and encapsulated? Yep, you guessed it!
The new Funko Pop! Rocks release features none other than our very own Prince of Darkness in his legendary purple fringe outfit!
This Funko Shop Exclusive is a tiny vinyl trip down memory lane, bringing that raw and raucous concert moment right to our shelves.
The attention to detail? Remarkable.
Every fringe, every glint in Ozzy's eyes—it's all there. Whether you were at the concert or wish you were, this is a piece of rock history you'd want to grab!
The Funko Shop Exclusive Ozzy Osbourne in Purple Fringe Outfit Funko Pop! can be found for order at the links below (click to jump!)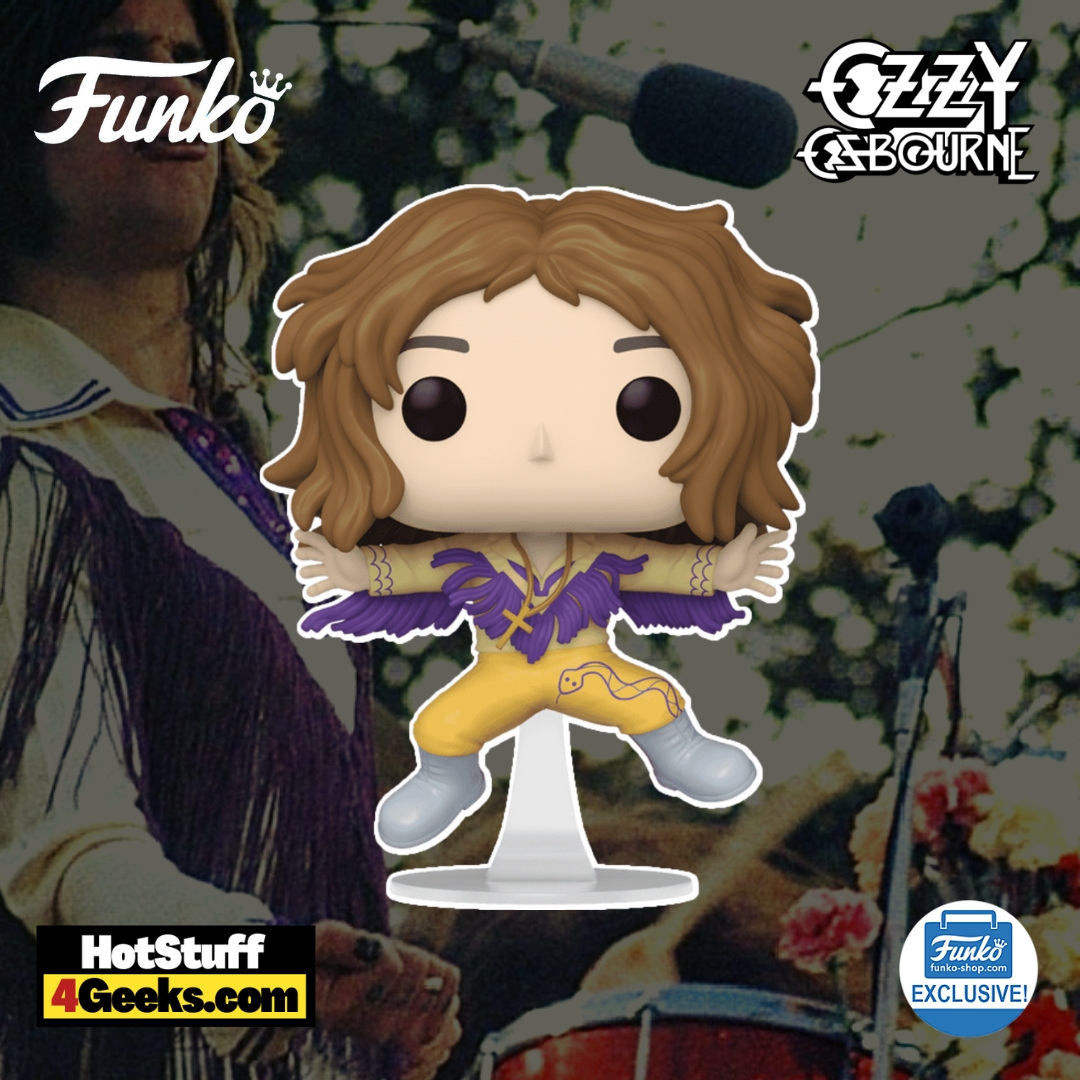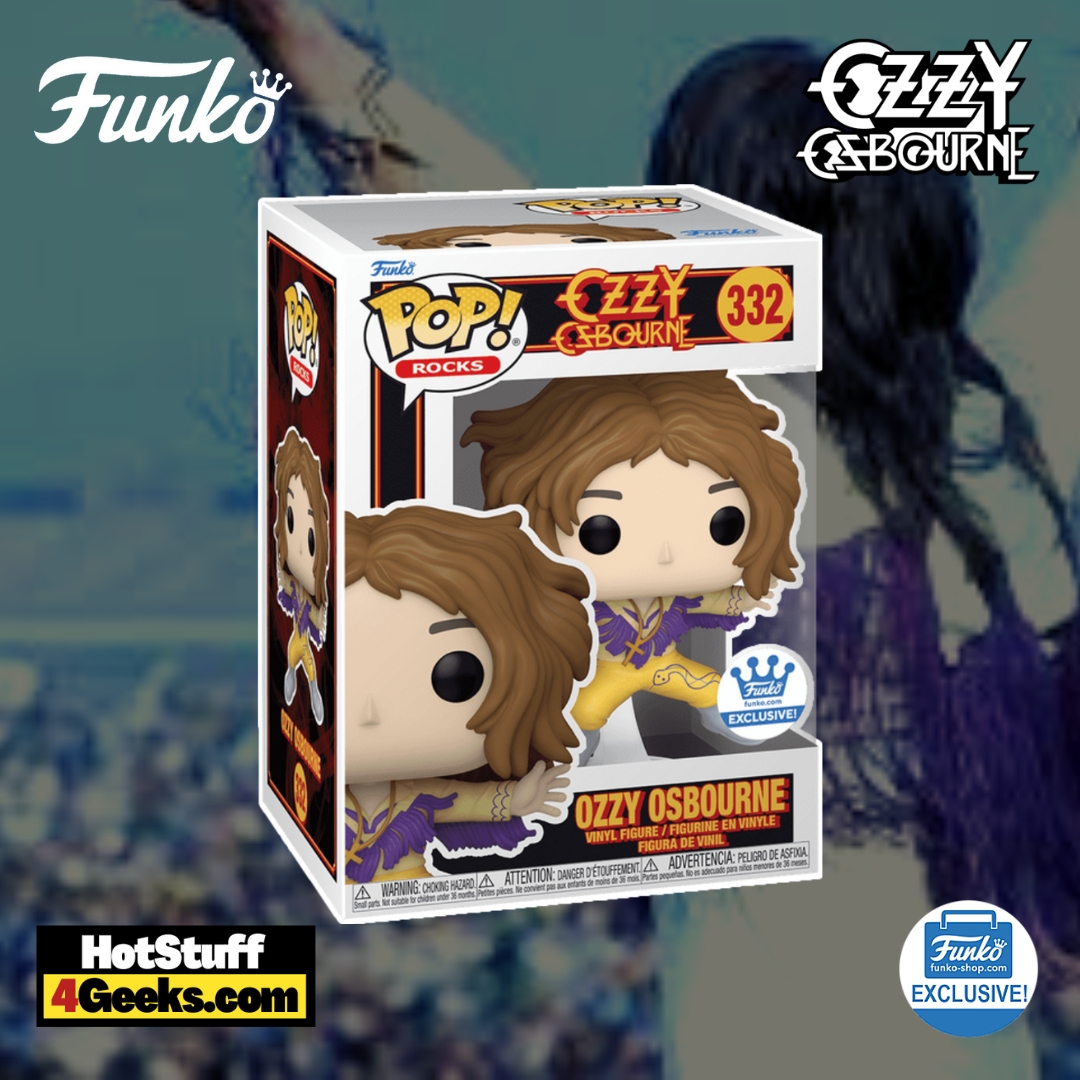 The Paranoid Pilgrimage: Ozzy Osbourne and Black Sabbath's Rise to Heavy Metal Immortality
The 1970s—when the world was still feeling the aftershocks of cultural revolutions when rock 'n roll was no longer just an art form but a way of life.
Among the trailblazers and risk-takers, none perhaps took a bolder leap into the musical abyss than Ozzy Osbourne and Black Sabbath.
A band that soared on the wings of rebellious spirits, they dragged rock into darker, previously unexplored territories. So, let's dive deep into the rabbit hole of their musical mystique, shall we?
Ozzy Osbourne, the Prince of Darkness himself, was born as John Michael Osbourne in Birmingham, England.
This industrial city, cloaked in soot and weary from labor struggles, set a fitting backdrop for Black Sabbath's inception.
Amidst factory noise and working-class angst, Osbourne, Tony Iommi, Geezer Butler, and Bill Ward formed Black Sabbath in 1968.
What began as an amalgam of blues-infused rock soon evolved into something far darker, far heavier—like a concoction of eldritch ingredients only they had the secret recipe for.
What really set the stage for Black Sabbath was their unapologetically grim outlook, musically speaking.
Their 1970 debut album, "Black Sabbath"—was a cacophony of dread and existentialism.
With tracks like "N.I.B." and "The Wizard," they rejected the flower power sentiment of the late '60s, opting instead for the shadows.
But their second album, "Paranoid," blasted them into the stratosphere of rock legends.
The eponymous track "Paranoid" not only hit the charts but also hit a nerve.
The song became an anthem for a generation grappling with the Vietnam War, civil unrest, and a future that was anything but certain.
The band's creative reach didn't just stop at the music, though.
The way they approached their albums as entire experiences—from disturbing artwork to lyrical narratives—elevated them from mere musicians to musical shamans guiding their listeners through an emotional wilderness.
The combination of Iommi's thunderous guitar riffs, Butler's haunting bass lines, Ward's manic drumming, and Ozzy's inimitable vocals was nothing short of alchemy.
If you delve into Ozzy's solo career, it's like stepping into another fascinating chapter of the same epic.
His rendezvous with Randy Rhoads produced "Blizzard of Ozz," an album that reverberates like a sacred text through the metal community.
Hits like "Crazy Train" are classic Ozzy—manic, unpredictable, yet so profoundly human.
So, here we stand, decades later, and the legend of Ozzy Osbourne and Black Sabbath continues to grow, still defying genres, expectations, and, quite frankly, the laws of rock 'n roll physics.
The band may have called it quits, but the repercussions of their seismic impact still resonate.
They ventured where few dared to tread, and in doing so, they became immortal.
Funko Pop! Rocks: Ozzy Osbourne in Purple Fringe Outfit Funko Pop! Vinyl Figure – Funko Shop Exclusive
Available at:
Starting now, you can receive 10% off in-stock items with my special link at Entertainment Earth!
 Enjoy!
As an Amazon Associate I earn from qualifying purchases
Want more stuff like this?
Get the best viral stories straight into your inbox!
Don't worry, we don't spam