2023 NEW Parks and Recreation Funko Pops! Pawnee's Finest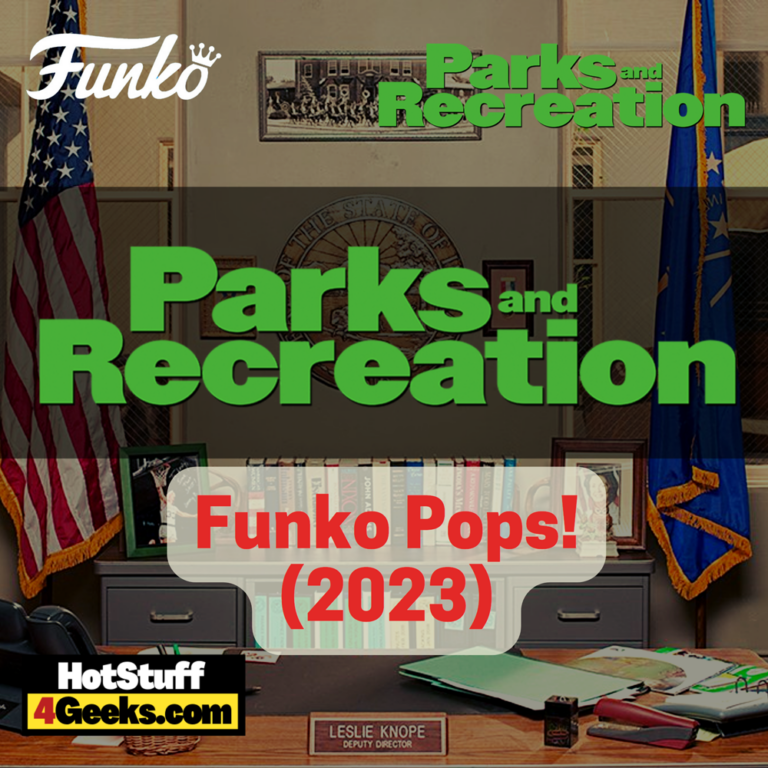 Not official until confirmed.
Indulge your "Parks and Recreation" fandom with the new Funko Pop! Television: Parks and Recreation Funko Pops! (2023). These vibrant, handcrafted figurines are the epitome of love for our favorite Pawnee characters!
To get your hands on these Pop Vinyl Figures at its launch, be sure to check out the links I've provided below – click to jump or scroll to continue reading!
Reviving the joy of the charismatic town of Pawnee, Indiana, Funko Pop! Television's 2023 Parks and Recreation collection is a splendid addition for any fan.
These figurines, crafted with meticulous attention to detail, encapsulate the soul of the show and its characters with delightful accuracy.
Funko Pop! has found a way to encapsulate the essence of Parks and Recreation in these figurines, paying tribute not just to the characters but the values of friendship, public service, and the pursuit of the ludicrous that made the show a hit.
Now, go treat yo' self!
Here are the Parks and Recreation Pop! Figures for this release:
Jean Ralphio Funko Pop! Vinyl Figure
Mona Lisa Funko Pop! Vinyl Figure
Leslie (Wedding) Funko Pop! Vinyl Figure
Parks and Recreation Funko Pop! Vinyl Figures (2023) are coming soon. There's no release date yet, but stay tuned because I'll update more information in the long run.

In the bustling landscape of television series, there is one gem that continues to sparkle even after its run – the witty, wholesome, and consistently amusing "Parks and Recreation."
A sitcom set in the fictional town of Pawnee, Indiana, this show demonstrates the beauty of bringing together an ensemble of quirky characters – and let's not forget the laughs, oh, the laughter it brings!
"Parks and Recreation" centers around the town's parks department and its fervently devoted head, Leslie Knope.
Portrayed by Amy Poehler with undeniable charm, Leslie's unwavering optimism is a beacon of hope. She's this fierce dynamo, so in love with her job, her town, and her friends it's infectious.
And then there's the deadpan, bacon-loving Ron Swanson, the lovable goofball Andy Dwyer, and the sarcastically aloof April Ludgate, among others.
Each character brings a unique flavor, creating a delicious comedic stew that never ceases to entertain.
The brilliance of "Parks and Recreation" lies in its ability to balance slapstick humor with heartfelt moments. It's not just a comedy.
It's a study of humanity, a testament to the bonds of friendship, and an exploration of the endearing oddities of small-town life.
The show embraces its characters' eccentricities, yielding delightful, organic humor that keeps you coming back for more.
The show's value as a stress-buster is unquestionable.
Each episode is a guaranteed 21 minutes of joy, where problems, while significant, are tackled with a sense of humor.
Watching "Parks and Recreation" is akin to enjoying a warm cup of hot chocolate on a cold day – comforting, satisfying, and guaranteed to bring a smile to your face.
"Parks and Recreation" is an undeniable testament to the power of good comedy – a show that keeps giving, leaving you cherishing every moment in Pawnee.
Funko Pop! Television: Parks and Recreation Funko Pop! Vinyl Figures (2023)
Available at:
Starting now, you can receive 10% off in-stock items with my special link at Entertainment Earth!
 Enjoy!
As an Amazon Associate I earn from qualifying purchases
Want more stuff like this?
Get the best viral stories straight into your inbox!
Don't worry, we don't spam