2023 NEW Patrick Mahomes Funko Pop! Trading Card Funko Pop!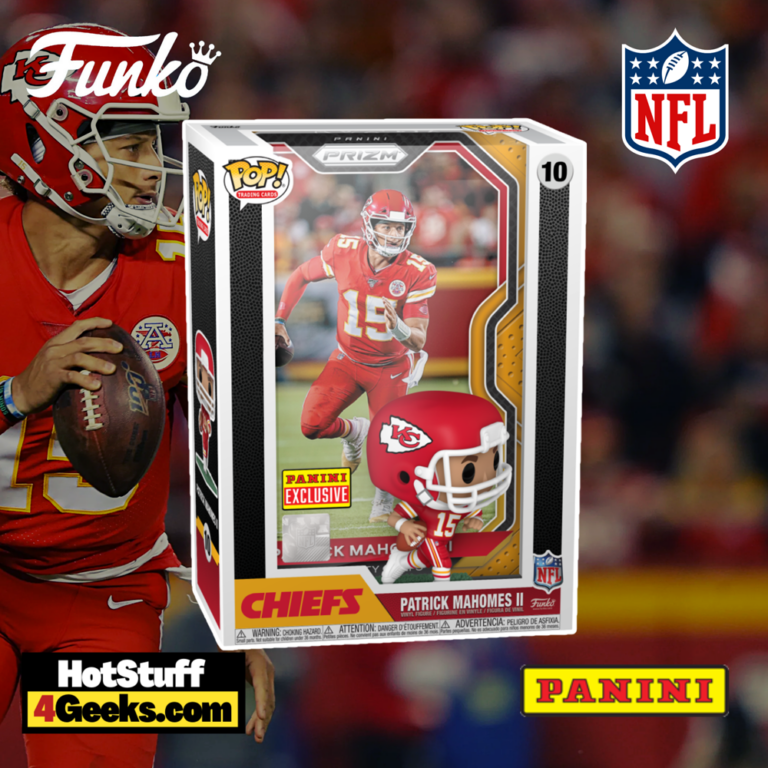 Behold, fellow collectors and football fanatics, the ultimate shrine to the mysterious force of nature known as Patrick Mahomes II! It's the new Funko Pop! Trading Cards: Patrick Mahomes II Funko Pop! Trading Card Vinyl Figure – Panini Exclusive that's got everyone talking for a good reason. This isn't your average Funko Pop; it's a tribute to a man whose very existence defies the conventional norms of football and reality itself.
The pop figure is dropping on 24 April and can be found at the links below – click to jump or scroll to continue reading!
This Pop! Figure masterpiece, inspired by the Patrick Mahomes 2020 Panini Prizm Football Card #124, captures the essence of our gridiron virtuoso in all his red-and-gold Kansas City Chiefs glory.
But let's not get too caught up in the plastic – this is about the man behind the miniaturized mask.
Mahomes has dazzled us with his no-look passes, perplexed us with his behind-the-back tosses, and sent shivers down our spines with his legendary late-game heroics.
It's as if the football gods themselves crafted this demigod of a quarterback just to keep us mere mortals entertained.
The Funko Pop! version of Mahomes captures a fraction of the enigma that he truly is, and that's precisely why it's so special.
It serves as a physical reminder of the jaw-dropping magic Mahomes conjures on the field.
The Patrick Mahomes II Funko Pop! Trading Card is the ultimate collectible for fans who appreciate the perplexing, the extraordinary, and the downright otherworldly.
It might not hurl a football 70 yards or escape a collapsing pocket, but it's a charming nod to the fantastical football wizard who continues to leave us all spellbound.
Patrick Mahomes II Funko Pop! Trading Cards can be found at the links below (click to jump!)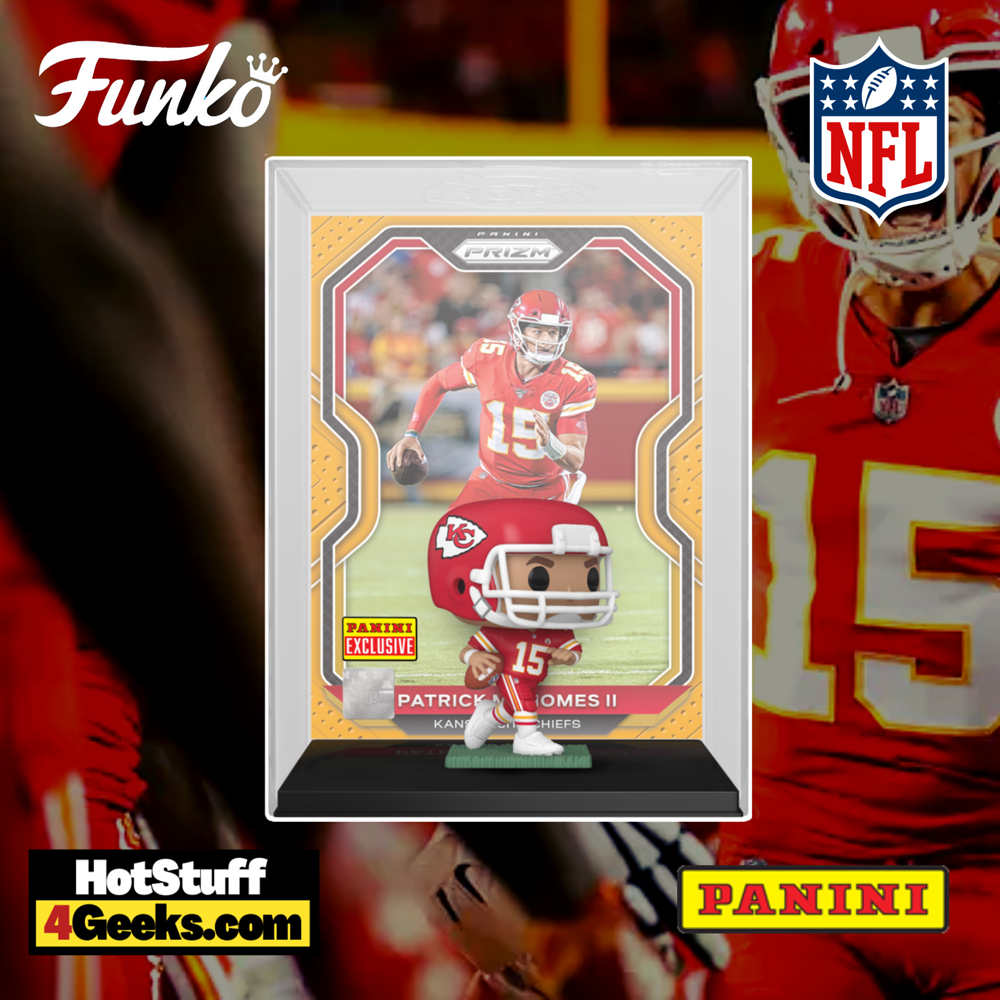 Mahomes has been rewriting the NFL record books.
But this isn't your granddad's dusty, moth-eaten book – oh, no!
This is a flashy, neon-lit compilation of statistics that would make even the greatest quarterbacks in history weep tears of envy.
From Super Bowl appearances to passing yards and touchdowns, Mahomes has been bending the laws of physics and football, creating a legend that's harder to catch than a greased pig at a county fair.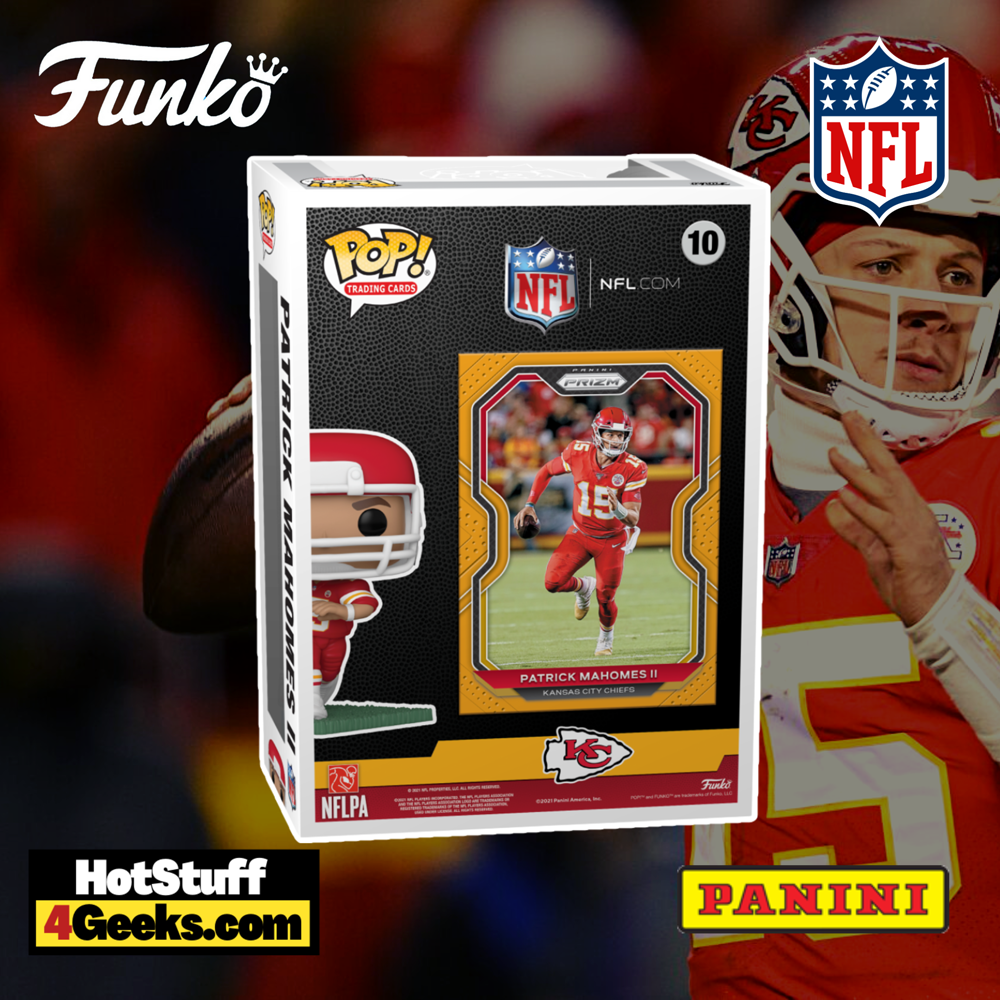 But enough about the numbers – let's talk about the man, the myth, the Mahomes!
What makes Patrick so unique isn't just the way he racks up stats like a kid collecting baseball cards.
No, sirree!
It's the way he plays the game – with a creative flair and spontaneity that leaves even the most seasoned football fans scratching their heads in disbelief.
Mahomes is a jazz musician on the field, playing his own brand of improvisational football and making sweet, sweet music with each snap.
Mahomes has a certain je ne sais quoi that makes every play feel like an epic adventure.
Whether he's launching a no-look pass or whipping out a behind-the-back toss during practice (we're waiting for the day he pulls that one off in a game!), there's never a dull moment with the Chiefs' number 15 under center.
It's as if he's constantly daring the universe to catch up, all while wearing a cheeky grin that says, "You ain't seen nothin' yet!"
But let's not forget the pièce de résistance – Mahomes' innate ability to make the impossible seem possible.
Defying logic, gravity, and all known rules of quarterbacking, he's managed to elevate the humble football to an art form.
Even the most skeptical of football fans can't help but marvel at the sheer audacity of his play.
It's like watching Picasso paint, Shakespeare writes, or a cat successfully play fetch – a rare and wondrous sight to behold!
So, as we look to the future of football and the continued ascent of Patrick Mahomes, we can't help but feel a sense of excitement and awe.
Will he go on to surpass the likes of Brady, Montana, and Manning?
Only time will tell.
But one thing's for sure – with Mahomes at the helm, the Kansas City Chiefs and the NFL are in for a wild, exhilarating, and magical ride.
As an Amazon Associate I earn from qualifying purchases
Want more stuff like this?
Get the best viral stories straight into your inbox!
Don't worry, we don't spam