2023 NEW Patrick Mahomes II 10-Inch Jumbo Sized Funko Pop!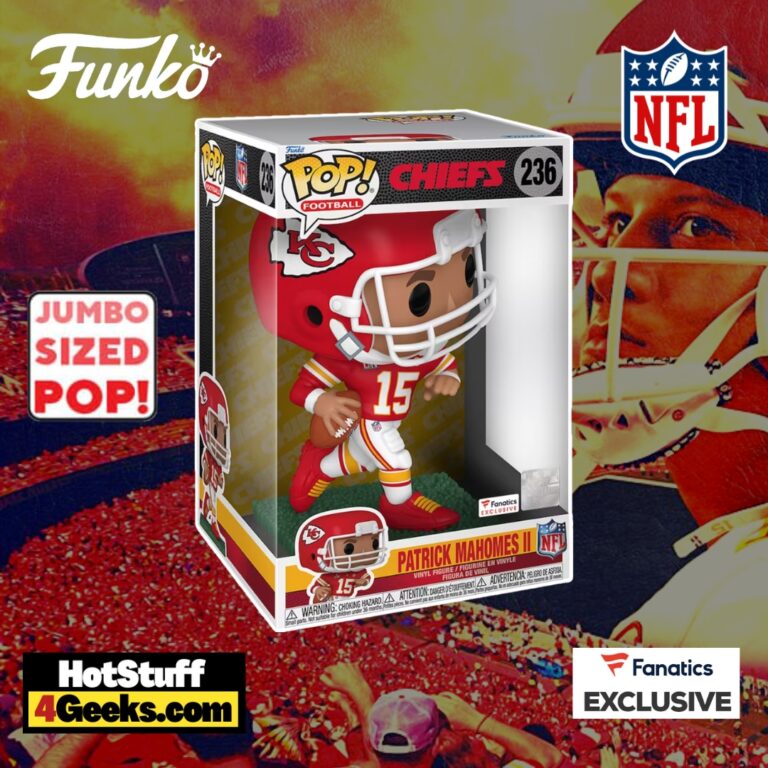 The Funko Pop! Football: Kansas City Chiefs – Patrick Mahomes II 10-Inch Jumbo Sized Funko Pop! Vinyl Figure – Fanatics Exclusive has arrived, causing quite a stir among fans and collectors alike. As an exclusive release from Fanatics, this colossal 10-inch figure celebrates the indomitable spirit and unmistakable prowess of the Chiefs' star quarterback, Patrick Mahomes II.
To get your hands on this Pop Vinyl Figure, be sure to check out the links I've provided below – click to jump or scroll to continue reading!
A Jumbo Tribute: The Patrick Mahomes II 10-Inch Funko Pop! Exclusive
When we talk about cultural impact in the world of sports, memorabilia often serves as miniature monuments to athletic brilliance.
Now, the universe of collectibles is expanding to include something audacious and larger-than-life.
Fanatics has dropped a Kansas City Chiefs – Patrick Mahomes II 10-Inch Jumbo-Sized Funko Pop! Vinyl Figure, and let me tell you, it's the epitome of cool, much like the man it represents.
Crafted with an eye for detail, this Funko Pop! is a juggernaut. Standing at 10 inches, it dwarfs your average Funko Pop! in stature, a fitting metaphor for the quarterback's outsized influence on the game.
The vinyl figure captures Mahomes' signature moves, from the placement of his hands on the football to his iconic headband and jersey number—details that fans will absolutely revel in.
If Mahomes is a maestro on the gridiron, this Funko Pop! is the ultimate vinyl ensemble of his genius. It's as if Fanatics condensed the awe and wonder that Mahomes evokes on the field into a form you can place on your mantel.
To get your hands on one is akin to owning a tangible slice of football history captured in vinyl. It's a Fanatics Exclusive, carrying a unique flair, further elevating its allure.
For fans and collectors, the stakes have been raised. This isn't some humdrum piece to merely add to your collection—it's a dynamic conversation starter that personifies the excitement Patrick Mahomes brings each Sunday.
The Fanatics Exclusive Patrick Mahomes II Kansas City Chiefs 10-Inch Jumbo-Sized Funko Pop! is now available for pre-order at the links below (click to jump!)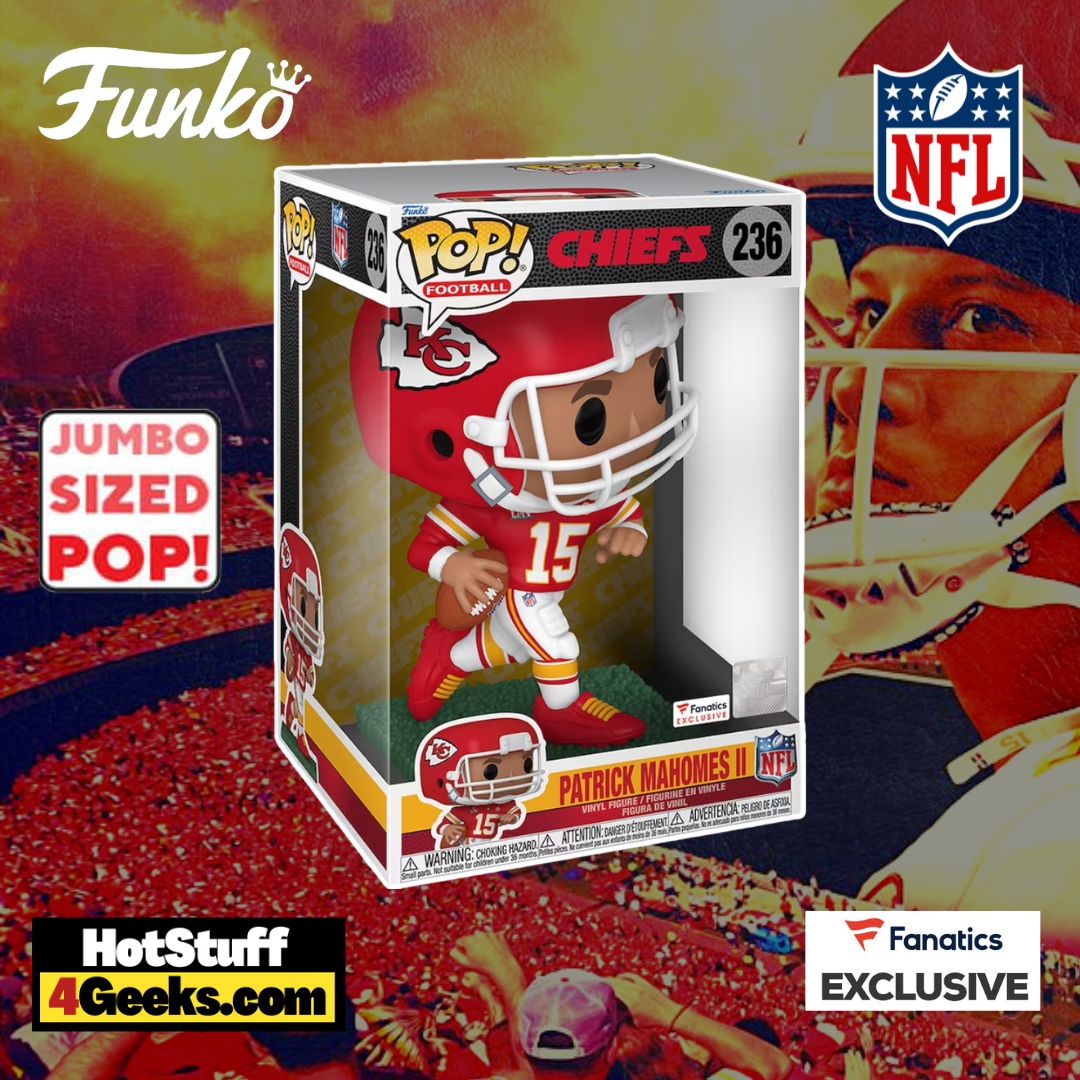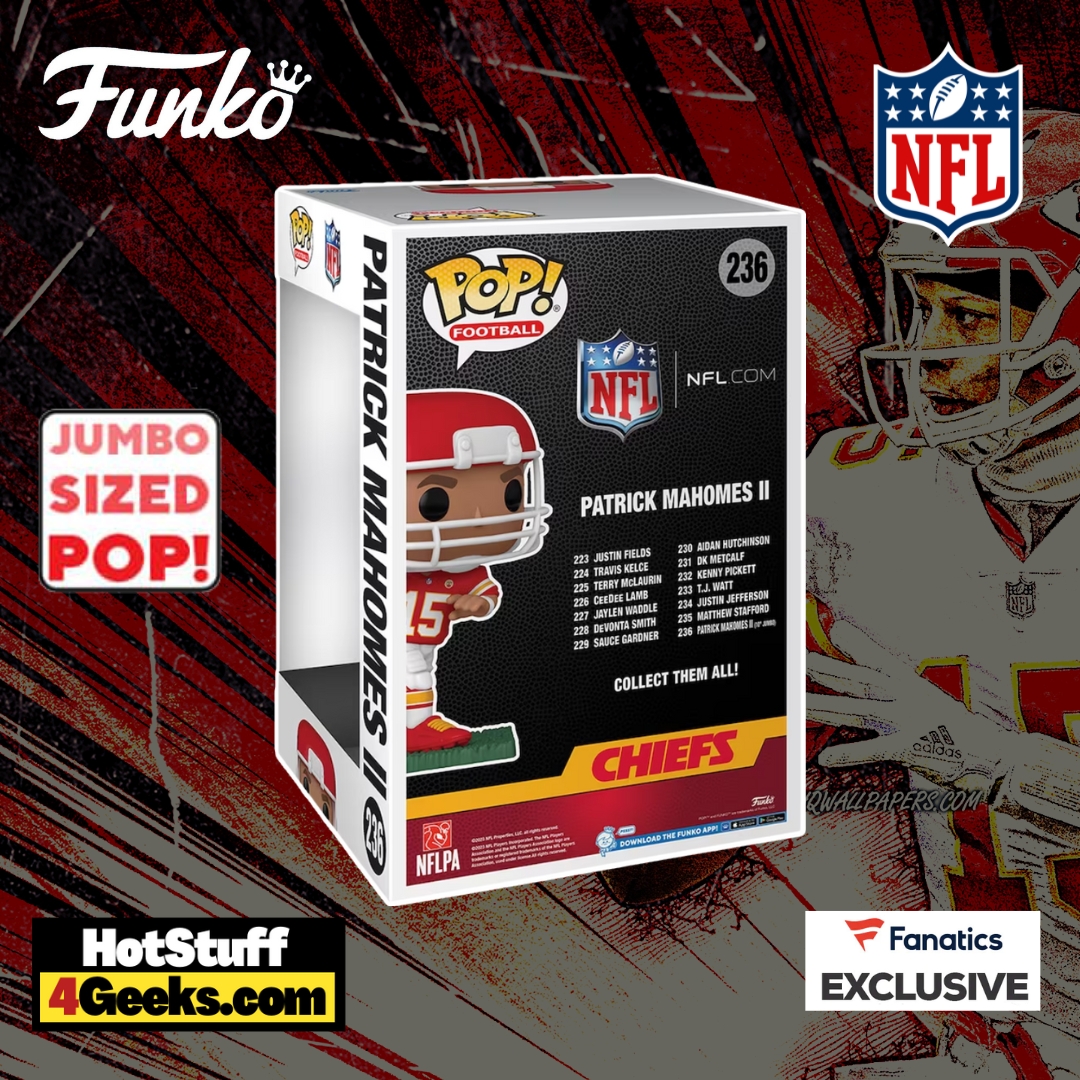 The Meteoric Ascent of Patrick Mahomes II: Changing the Game, One Spiral at a Time
In the world of professional football, names like Tom Brady and Peyton Manning have long held sway, etching their legacies through years of dominating performances.
Yet, over the last few years, a prodigy has emerged from the ranks, rewriting the playbook on what it means to be an elite quarterback. Meet Patrick Mahomes II—the man, the myth, the burgeoning legend.
Drafted 10th overall by the Kansas City Chiefs in the 2017 NFL Draft, Mahomes became the cornerstone of a franchise yearning for a title.
The Chiefs found more than just a strong arm; they unearthed a leader with an unparalleled knack for reading defenses, a knack so prescient it often feels as if he's playing chess while everyone else is playing checkers.
Mahomes made his starting debut in the 2018 season, and what a debut it was.
There was a young quarterback who made the impossible look routine, throwing no-look passes and sidearm spirals that defied physics.
Fans and analysts alike were slack-jawed, witnessing something akin to watching Da Vinci paint or Beethoven compose.
He amassed 50 touchdown passes that year, joining the exclusive 5,000-yard club, an achievement shared by only a handful of quarterbacks in the history of the NFL.
Not surprisingly, he scooped up the MVP award like a maestro at work.
But what sets Mahomes apart isn't just his athletic prowess; it's his uncanny ability to keep calm under pressure.
With the game on the line, the Chiefs' superstar shows a composure that eludes even seasoned veterans.
His come-from-behind win against the San Francisco 49ers in Super Bowl LIV is an unforgettable testament to his mental fortitude.
Trailing in the 4th quarter, he spearheaded a drive that captured both the Lombardi Trophy and Super Bowl MVP honors.
Furthermore, Mahomes is equally transcendent off the field. His Patrick Mahomes Foundation focused on improving the lives of children, has made him a humanitarian hero.
He's even delved into the business world, acquiring ownership stakes in teams like the Kansas City Royals.
We often hear about generational talents, athletes who come along once in a lifetime to change the face of their respective sports.
For the gridiron, Patrick Mahomes II fits that bill in spades. He's a young quarterback with an old soul, wise beyond his years and already carving a niche in the pantheon of the greats.
If Mahomes continues on this trajectory, his name won't just be etched in record books; it will be synonymous with greatness itself. Indeed, he's altering the game, one jaw-dropping play at a time.
Starting now, you can receive 10% off in-stock items with my special link at Entertainment Earth!
 Enjoy!
As an Amazon Associate I earn from qualifying purchases
Want more stuff like this?
Get the best viral stories straight into your inbox!
Don't worry, we don't spam