2023 NEW Peter Pan 6-Pack Funko Vinyl Soda With Cooler Magic
Get ready to explore the whimsical world of Neverland with the release of the new Funko Soda: Peter Pan 6-Pack Funko Vinyl Soda With Cooler – Funko Shop Exclusive. This limited edition set, capped at a rare 12,000 pieces, is like a hidden treasure chest, drawing you into the fantastic adventures of our beloved ageless hero, Peter Pan, and his enchanting comrades.
This 6-Pack Soda with Cooler is releasing today at 9.30 AM PT! To get your hands on this bundle at its launch, be sure to check out the links I've provided below – click to jump or scroll to continue reading!
Stepping into Neverland: An Enchanting Rendezvous with the Peter Pan Funko Soda 6-Pack
Imagine opening the Funko Peter Pan Lunch Box and being greeted by the enchanting figures of Peter Pan, Tinker Bell, Wendy, Captain Hook, Smee, and Tick Tock, each residing in their individual Funko SODA cans.
Oh, the thrill of the chase!
Each figure holds the potential to be a rare variant – from Peter Pan's Shadow to the Glowing Tick Tock, the suspense of unboxing is almost as intoxicating as the voyage to Neverland itself!
Designed meticulously, the Cooler is no mere storage box.
It's a nautical wonder with a riveting motif of our beloved Neverland characters and symbolic maritime illustrations.
Crafted from sturdy nylon and equipped with silver hardware, it's not just a cooler; it's an emblem of childhood nostalgia and endless imagination.
With its high-density Funko logo print, it's a testament to the craftsmanship of Funko, combining functionality with a delightful dash of fantasy.
Embrace this fascinating journey with Peter Pan and his gang.
The Funko Soda: Peter Pan 6-Pack is more than a collectible; it's an adventure that defies the boundaries of reality and fiction, carrying a fragment of Neverland right into your hands.
Inside the Funko Peter Pan Cooler, you'll find six cans of vinyl sodas containing limited edition figures from the beloved Disney' movie:
Peter Pan Soda Figure with Peter Pan Shadow Chase
Tinker Bell Soda Figure with Red Glow Tinker Bell Chase
Wendy Soda Figure with Diamond Glitter Wendy Chase
Captain Hook Soda Figure with Captain Hook with Watch Chase
Smee Soda Figure with Smee with Shaving Cream Chase
Tick Tock Soda Figure with Glowing Tick Tock Chase
Each purchase of a SODA 6-Pack will include one chase variant per Cooler.
The Funko Shop Exclusive Vinyl Soda Peter-Pan 6-Pack with Cooler can be found at the links below (click to jump!)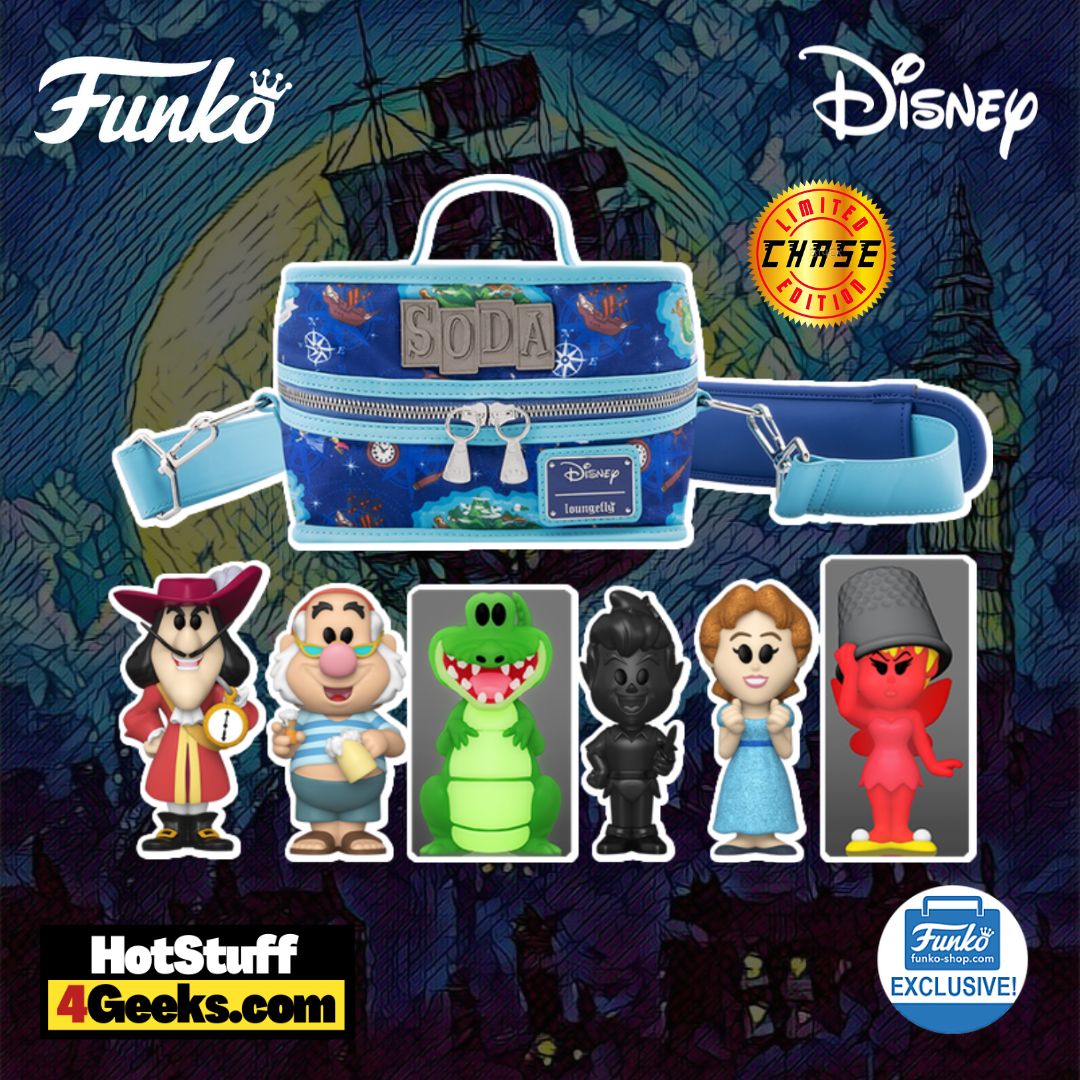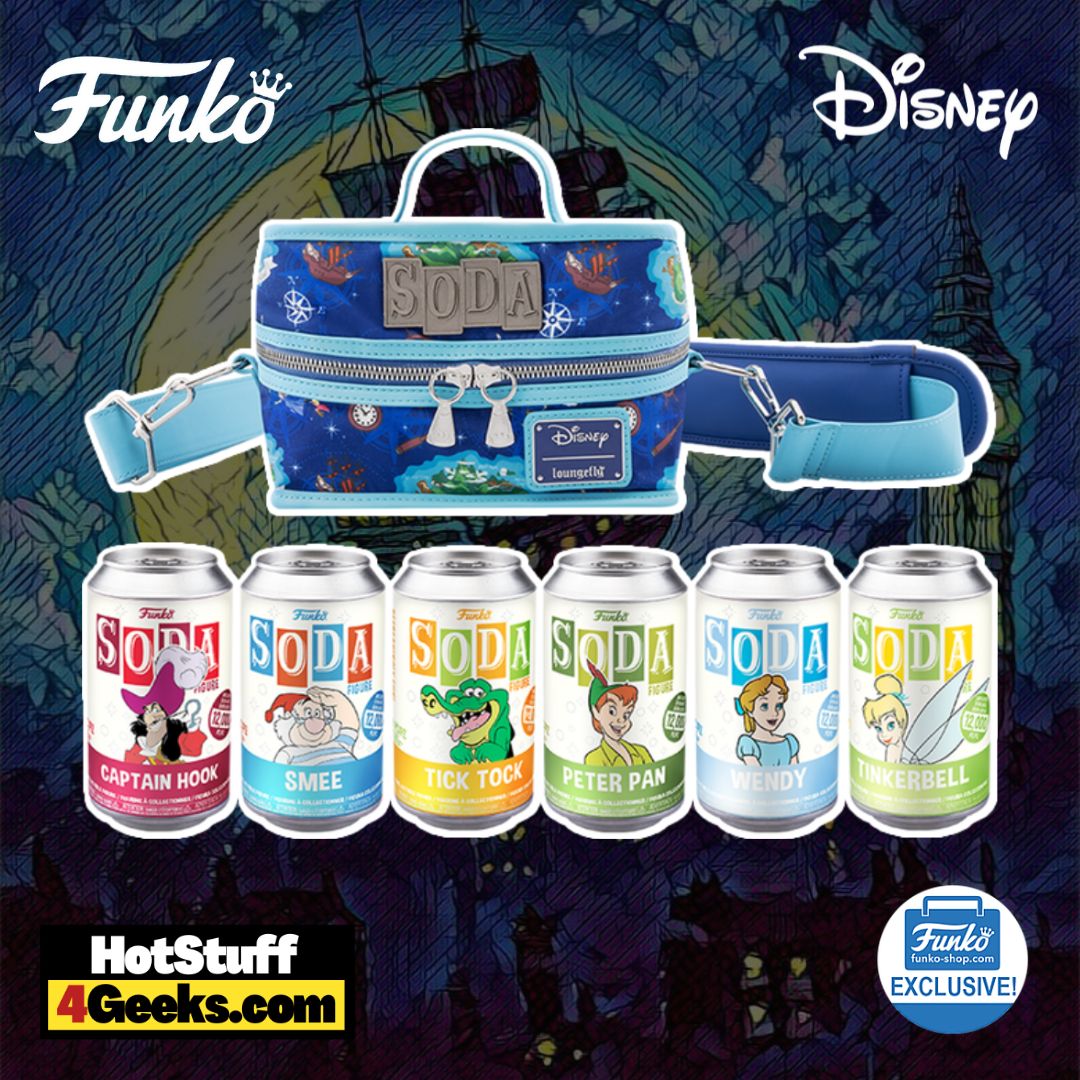 Embracing the Timeless Magic: The Odyssey of Peter Pan
Our lives are woven with stories, some fleeting like a summer breeze, others timeless, etched deep in our collective conscience.
One such memorable tale is that of Peter Pan, the boy who refused to grow up.
His journey from J.M. Barrie's imagination to Disney's enchanting animation unfurls an intriguing story ripe with history, inspiration, and an irresistible dash of magic.
In the quiet corners of early 20th-century London, a Scottish author, Barrie, found inspiration in the candid innocence of the Llewelyn Davies boys.
This heartfelt connection sparked the creation of a whimsical, ageless boy named Peter Pan and his charming sidekick Wendy.
Unbeknownst to many, Peter Pan's name draws from Greek mythology and one of the Llewelyn Davies brothers, blending the enchantment of the old world with a dash of the new.
Peter Pan's adventures, initially intended for the stage, soon found a place in our hearts and on our bookshelves.
A twist of fate led this tale of youthful frolic and daring escapades to American actress Maude Adams, who spiritedly portrayed Peter on Broadway, entrancing audiences and a young Walt Disney.
This encounter was pivotal, setting the stage for Disney's journey toward recreating this beloved tale.
From the bustling streets of Marceline, Missouri, Disney was captivated by Peter Pan's enchanting world, so much so that he dreamt of immortalizing it in animation.
While the tumultuous waves of World War II delayed his plans, his vision remained steadfast.
When Disney's team finally took up the challenge in the early '50s, they created an animated classic that charmed millions worldwide.
Disney's rendition of Peter Pan, from the enchanting landscapes of Neverland to the endearing characters, spoke directly to our inner child, awakening our deepest desires for adventure and magic.
Their interpretation of the tale didn't merely retell a story but breathed a unique spirit into each frame, echoing the park Peter Pan's Flight's popularity at Disneyland.
Peter Pan's narrative continues to evolve, inspiring music, theatre, and films.
It reminds us to preserve the youthful spirit within, making us long for a sprinkle of pixie dust and an adventure to the second star to the right.
Uniting fantasy and reality, the Peter Pan saga is a beacon of joy, igniting imaginations and warming hearts for generations to come.
In this dance of storytelling, where past, present, and future intertwine, the tale of Peter Pan transcends boundaries, reminding us all that in a world ripe with possibility, the marvel of eternal youth is but a thought away.
Funko Pop! Soda: Peter Pan 6-Pack Funko Vinyl Soda With Cooler – Funko Shop Exclusive
Available at:
Starting now, you can receive 10% off in-stock items with my special link at Entertainment Earth!
 Enjoy!
As an Amazon Associate I earn from qualifying purchases
Want more stuff like this?
Get the best viral stories straight into your inbox!
Don't worry, we don't spam