2023 NEW Photo Negative Glamrock Freddy Funko Action Figure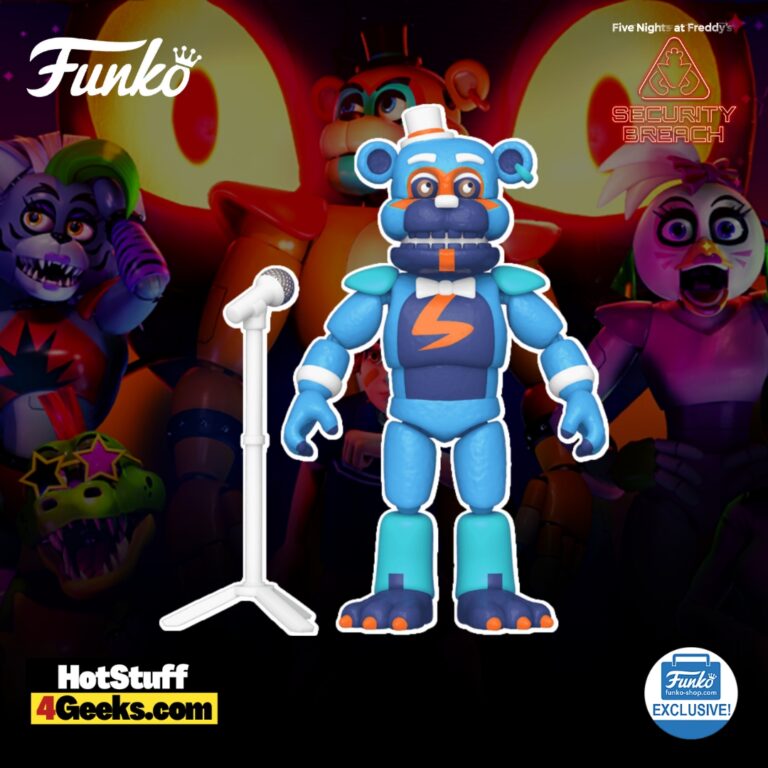 Get ready to elevate your fandom experience with a twist—introducing the new  Funko: Five Nights at Freddy's: Security Breach – Photo Negative Glamrock Freddy Funko Action Figure, a Funko Shop Exclusive that's bound to shake up your collection. This isn't your typical Glamrock Freddy; it's a surreal, photo-negative version that adds a layer of mystery and complexity to the iconic character.
UPDATE: Photo Negative Glamrock Freddy drops today at 9:30 AM PST!  To get your hands on this Vinyl Action Figure at its release, be sure to check out the links I've provided below – click to jump or scroll to continue reading!
A Surreal Twist: Photo Negative Glamrock Freddy Shakes Up Funko Collections
Oh, you thought you knew Glamrock Freddy? Think again. The latest Funko Shop Exclusive is here to challenge your perception of this lovable animatronic rockstar.
Enter Photo Negative Glamrock Freddy, a reimagined specter equipped with his signature microphone stand. But it's not just any Freddy—this one is styled in a photo-negative aesthetic that plays games with your eyes and dabbles in the surreal.
Naturally, this isn't your run-of-the-mill Funko figure. While staying true to Freddy's core elements, this limited edition goes beyond subverting expectations and tapping into the deeper mystique that makes Five Nights at Freddy's: Security Breach so compelling.
Will your collection ever be the same? Frankly, it's a rhetorical question. Once Photo Negative Glamrock Freddy takes the stage in your display cabinet, the 'normal' in your collection starts to blur, making room for the complex layers that Freddy's new look unravels.
This collectible hits all the right notes: detailed design, exclusive availability, and a rebellious edge. It's as if someone took the already complex character of Glamrock Freddy and turned the enigma dial up to eleven.
And if you're a fan looking to add a dash of the uncanny to your collection, this figure's elusive charm is hard to resist.
The Funko Shop Exclusive Photo Negative Glamrock Freddy Funko Action Figure can be found for order at the links below (click to jump!)
The Enigmatic Guardian: Glamrock Freddy's Evolution in FNAF: Security Breach and RUIN DLC
What started as a simple indie game series featuring haunted pizzeria animatronics has evolved into a labyrinthine universe filled with lore and unsolved mysteries.
But among the kaleidoscope of characters, few have managed to capture our hearts and imaginations quite like Glamrock Freddy in the game's latest iteration, "Security Breach," and its add-on, the "RUIN" DLC.
Remember the terrifying original Freddy Fazbear?
Well, Glamrock Freddy diverges sharply from his original role. With an aesthetic nod to the early UK 1970s glam rock scene, this animatronic takes on a guardian angel role for a young character named Gregory.
Forget your standard, bare-bones Freddy; this one comes with upgrades.
We're talking about Monty's purple gloves and green fingers, a voicebox from Chica that stuns other animatronics, and Roxy's eyes for X-ray vision capabilities.
But don't be fooled; though he may be dolled up, he maintains his enigmatic core.
Oh, but the story doesn't stop there. Glamrock Freddy's unique design elements—from his blue-striped top hat and sky-blue face paint to his bear-like teeth—aren't just for show.
They help create a more approachable, yet paradoxically more mysterious, animatronic guardian.
Now, here's where things get intricate. Glamrock Freddy has a compartment in his chest, a la Tony Stark's Iron Man, where Gregory can climb inside for protection.
Need to recharge your robotic savior? Just hop into a recharge station, but be wary. When that battery runs low, this guardian turns deadly.
And let's delve a little into his dark transformation.
In the aptly named "Disassemble Vanny" ending, Freddy finds himself literally shattered. Imagine an automaton with gaping holes in its torso, exposed endoskeleton hands, and a crumbling exterior.
It's like watching your childhood hero dissolve before your eyes.
But hang on—here comes the RUIN DLC, where our once guardian angel is reduced to a headless menace, chasing after a new protagonist, Cassie, in a derelict landscape.
With "Prototype" ominously written on his foot, he adds an additional layer of mystique to his already complex narrative.
What truly sets Glamrock Freddy apart is his distinct personality.
Far from the predatory animatronics we've come to know, he's friendly, naive, and downright concerned for the well-being of his comrades.
Imagine an animatronic lamenting the absence of Bonnie! It's this complex disposition that adds both warmth and nuance to the nerve-wracking environment of "Security Breach" and "RUIN."
In summary, Glamrock Freddy is a masterpiece of game design, story arc, and character development.
A guardian and antagonist, glamorous yet shattered, friend yet foe—Freddy continues to be a character who fascinates us, terrifies us, and most importantly, keeps us coming back for more.
So next time you dive into the Five Nights universe, keep an eye out. Glamrock Freddy is more than just a pretty face; he's the enigmatic guardian you never knew you needed.
Funko: Five Nights at Freddy's: Security Breach – Photo Negative Glamrock Freddy Funko Action Figure – Funko Shop Exclusive
Available at:
Starting now, you can receive 10% off in-stock items with my special link at Entertainment Earth!
 Enjoy!
As an Amazon Associate I earn from qualifying purchases
Want more stuff like this?
Get the best viral stories straight into your inbox!
Don't worry, we don't spam