2023 NEW Pong Krell and Captain Rex 2-Pack Funko Pop! Exclusive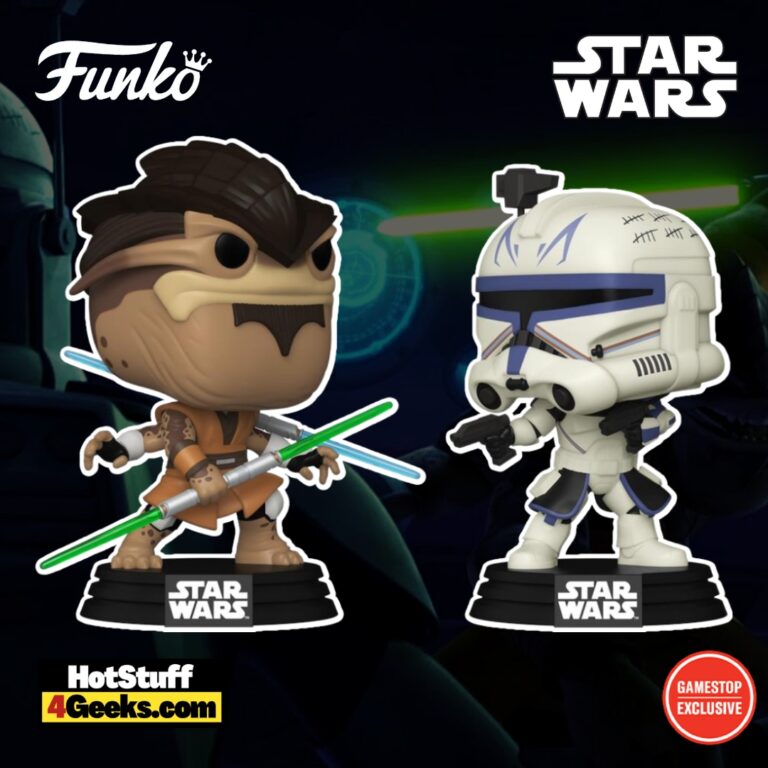 Prepare for an intergalactic roll call as the Funko POP! Star Wars: Clone Wars – Pong Krell and Captain Rex 2-Pack Funko Pop! Vinyl Figure – GameStop Exclusive storms onto the scene. This dynamic duo is here to recreate the electrifying showdown from Umbara right on your collectibles shelf.
The 2-pack is now available for pre-order at GameStop! To get your hands on this Pop Vinyl Figure, be sure to check out the links I've provided below – click to jump or keep scrolling for more details!
Exclusive Funko Pop! Release: Clone Wars' Pong Krell vs. Captain Rex
In an exclusive rollout that's set to excite Clone Wars fans, GameStop presents the new Funko Pop! Vinyl Figure 2-Pack, capturing the intense duel from "Star Wars: The Clone Wars" S4E10, "Carnage of Krell."
Here, we witness the compelling battle between the complex Jedi General Pong Krell and the brave Captain Rex.
This exclusive Funko set immortalizes the pivotal moment when loyalties are tested and authentic leadership is challenged.
The dual-wielding Krell, with his trademark green and blue lightsabers, stands in direct contrast to Rex, who, with blaster poised, represents the moral fortitude of the clone troopers.
The episode itself, known for its depth and controversy within the Star Wars community, is brought to life with these figures.
The detailed design speaks volumes of the characters' ethos — Krell's menacing stance versus Rex's determined poise.
For fans looking to re-experience the turmoil and conflict of "Carnage of Krell" or to honor their favorite series, this 2-pack is a standout addition to any collection.
The GameStop exclusive Pong Krell and Captain Rex 2-Pack Funko Pop! is now available for pre-order at the links below (click to jump!)
"Star Wars: The Clone Wars" S4E10 – "Carnage of Krell": A Tense Battle of Morals and Loyalty
"Star Wars: The Clone Wars" Season 4 Episode 10, "Carnage of Krell," is a powerful narrative that thrusts its audience into the heart of a moral and ethical battleground.
Set against the shadowy planet Umbara backdrop, the episode is a pivotal point in the series, renowned for its intense and emotional storyline.
In this episode, the clone troopers, led by Captain Rex, find themselves under the command of Jedi General Pong Krell. Krell's harsh leadership style and reckless strategies contrast with what the clones are accustomed to, creating a tense atmosphere.
His blatant disregard for clone lives and aggressive tactics raise severe moral questions, setting a dark tone for the episode.
The plot intensifies as it becomes evident that Krell's motives might not align with the Republic's interests. His orders lead to a tragic friendly fire incident, where the clones unknowingly attack their fellow soldiers.
This shocking revelation is crucial, highlighting the fog of war and the psychological turmoil it brings.
Captain Rex's character shines through as he grapples with conflicting loyalties: his duty to follow orders and his moral compass telling him to protect his fellow troopers.
The tension peaks when Rex and his comrades, including key figures like Fives and Jesse, confront and eventually detain Krell, leading to a pivotal moment where the clones take a stand against blind obedience.
"Carnage of Krell" is remembered for its emotional depth, complex storytelling, and significant contribution to the broader "Star Wars" narrative, making it a standout episode that resonates deeply with fans of the series.
As an Amazon Associate I earn from qualifying purchases
Want more stuff like this?
Get the best viral stories straight into your inbox!
Don't worry, we don't spam