2023 NEW Pop! Icons: Birthday Ronald McDonald Funko Pop!
by

PopCorn Princess

April 26, 2023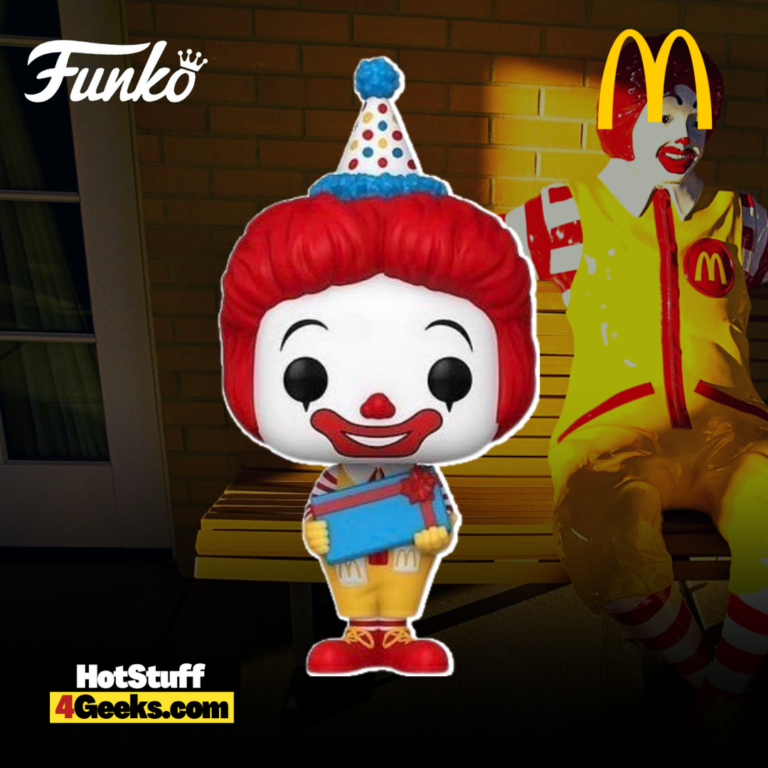 What better way to celebrate the lovable, hamburger-loving clown than with a unique collectible? Introducing the new Funko Pop! Ad Icons: Birthday Ronald McDonald Funko Pop! Vinyl Figure! This adorable figure captures the essence of everyone's favorite fast-food icon in all his colorful, cheerful glory.
The pop figure is now available for pre-order at the links below – click to jump or scroll to continue reading!
Birthday Ronald McDonald, donning his iconic yellow jumpsuit with red-and-white stripes, is here to spread joy and laughter to fans of all ages.
This delightful figure embodies the spirit of celebration with a whimsical party hat and a delicious slice of cake, reminding us of the countless birthdays enjoyed under the golden arches.
Birthday Ronald McDonald Funko Pop is a must-have for fans, a tribute to the playful, fun-loving spirit that has made this iconic clown a beloved part of our culture.
So go ahead and indulge in a little nostalgia, and let the birthday festivities begin with this delightful addition to your collection!
Birthday Ronald McDonald Funko Pop! is now available for pre-order at the links below (click to jump!)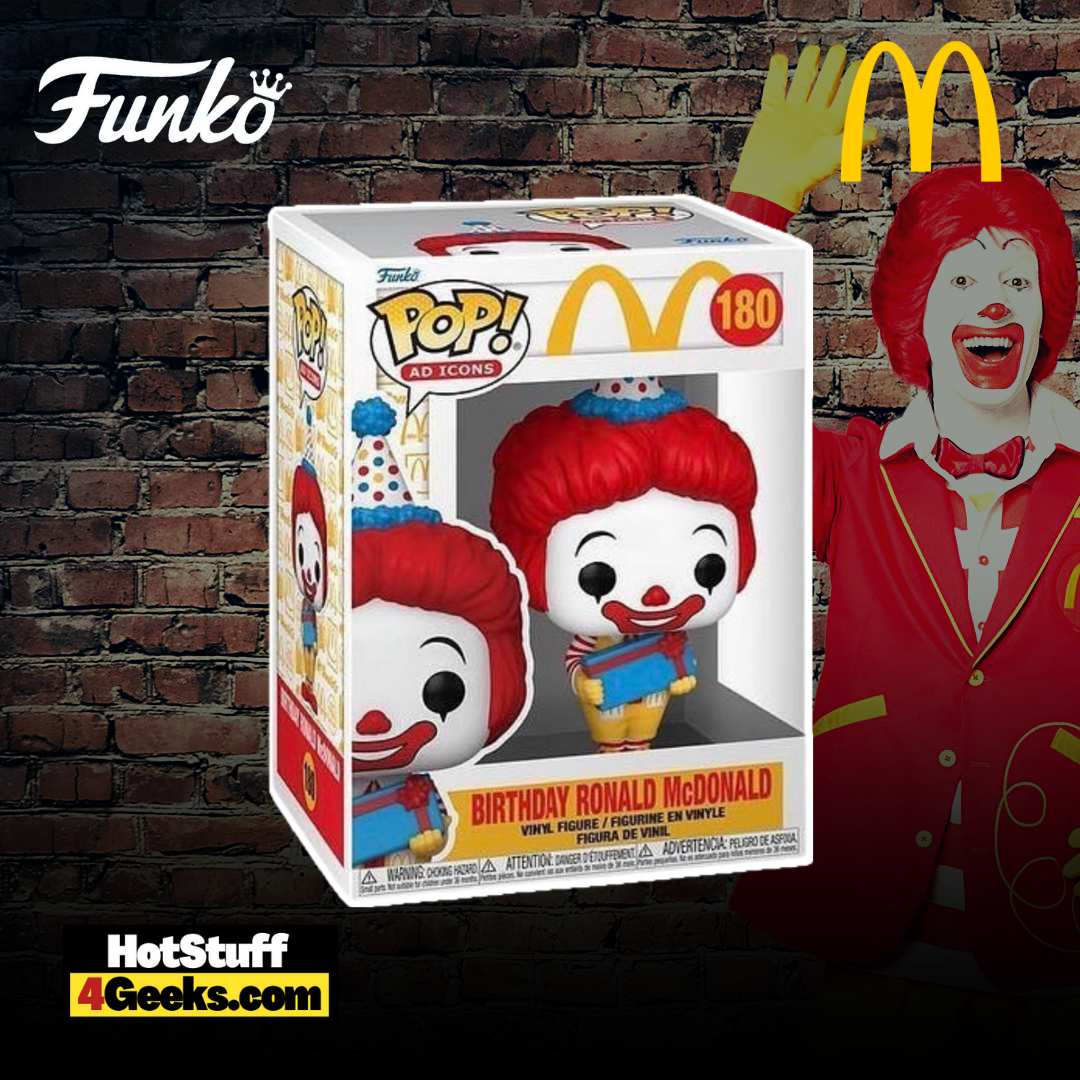 Have you ever stopped to ponder the intriguing story behind the world's most famous clown?
Ronald McDonald, the iconic mascot of fast-food giant McDonald's, has a rich and captivating history.
The colorful character, recognized by millions across the globe, was not born overnight. Instead, it took a blend of creativity, inspiration, and a touch of Bozo the Clown to bring Ronald to life.
In the early 1960s, when the television industry was booming and mascots were becoming increasingly popular, McDonald's sought an innovative way to attract families and children to their fast-food chain.
They found the answer in the form of a goofy, hamburger-loving clown who would soon become synonymous with their brand.
The idea of adopting a clown as a mascot can be traced back to the popular Bozo the Clown show. Bozo, who graced TV screens during the 1950s, '60s, and '70s, was a beloved character that captivated fans nationwide.
When the show was canceled in 1963, advertising executive Barry Klein, who had worked with both Bozo and McDonald's, saw an opportunity to capitalize on the clown's popularity.
By creating their own clown, McDonald's could continue to appeal to children and families alike.
Enlisting the help of Willard Scott, the actor who played Bozo, the McDonald's team created a unique character.
Ronald McDonald, the Hamburger-Happy Clown, featured a McDonald's cup for a nose, a food tray hat, and a burger-filled belt.
Initially appearing in a few local commercials, Ronald's instant appeal prompted McDonald's executives to take the clown to the national stage.
Ronald's original design transformed, thanks to Ringling Brothers clown Michael "Coco" Polakovs.
The modern Ronald we all know, and love emerged, donning a yellow jumpsuit to represent the golden arches and red-and-white stripes reflecting the restaurant's colors.
This carefully crafted character quickly became a symbol of McDonald's, embodying the brand's fun, family-oriented approach to fast food.
Over the years, Ronald McDonald has evolved into more than just a mascot.
The Ronald McDonald House Charities, which supports sick children and their families, is a testament to the impact this character has had on countless lives.
Ronald McDonald's influence has expanded beyond the realm of fast food and has become an integral part of our cultural landscape.
Funko Pop! Ad Icons: Birthday Ronald McDonald Funko Pop! Vinyl Figure
Available at:
Starting now, you can receive 10% off in-stock items with my special link at Entertainment Earth!
 Enjoy!
As an Amazon Associate I earn from qualifying purchases
Want more stuff like this?
Get the best viral stories straight into your inbox!
Don't worry, we don't spam
PopCorn Princess
Hey there, I'm Princess. I'm an annual comic con attendee, Star Wars-loving, and collector freak. My mission is simple: To bring cool geeky news and content and share my passion with the rest of the world. (... I secretly wish to save the world as a superheroine...)