2023 NEW Pop! Movies: Carrie Blacklight Funko Pop! Exclusive
Hey there, horror film fans and collector enthusiasts! Let's shine a spectral spotlight on a unique treasure – the new Funko Pop! Movies: Carrie – Carrie Blacklight Funko Pop! Vinyl Figure – an exclusive offering from Entertainment Earth.
The pop figure is now available for pre-order and can be found at the links below at its release – click to jump or scroll to continue reading!
Featuring the haunting visage of Carrie White, this tiny dynamo is a trip back to the chilling climax of the classic horror flick 'Carrie.'
Her eerie glow radiates under blacklight, highlighting every detail – from the iconic prom dress to the spectral remnants of that unforgettable pig's blood incident.
But let's take a step back and appreciate the character's depth. Carrie, this shy, ethereal soul, misunderstood and tormented, takes form in this vibrant vinyl figure.
It's like she's stepped out of that fateful prom scene, a spectral mirage of her cinematic self.
It's an uncanny mix of adorableness and terror – a bit weird but delightfully so.
In short, the Carrie Blacklight Funko Pop! is a microcosm of the movie's disturbing charm, compacted into a delightfully creepy blacklight collectible.
A must-have for any fan of the classic 'Carrie' film or the larger horror genre!
The Entertainment Earth Exclusive Carrie Blacklight Funko Pop! is now available for pre-order and can be found at the links below (click to jump!)
Let's dive into the haunting brilliance of a cinematic gem – the iconic horror film, 'Carrie'.
As fresh today as it was back in 1976, Brian De Palma's adaptation of Stephen King's debut novel is a potent cocktail of high school drama, supernatural powers, and religious fanaticism.
'Carrie' bursts onto your screen with an unexpected jolt. It's no ordinary teen movie.
This is the tale of a quiet, misunderstood girl named Carrie White, portrayed flawlessly by Sissy Spacek.
The ethereal vulnerability Spacek brings to the character adds layers of complexity to an already compelling narrative.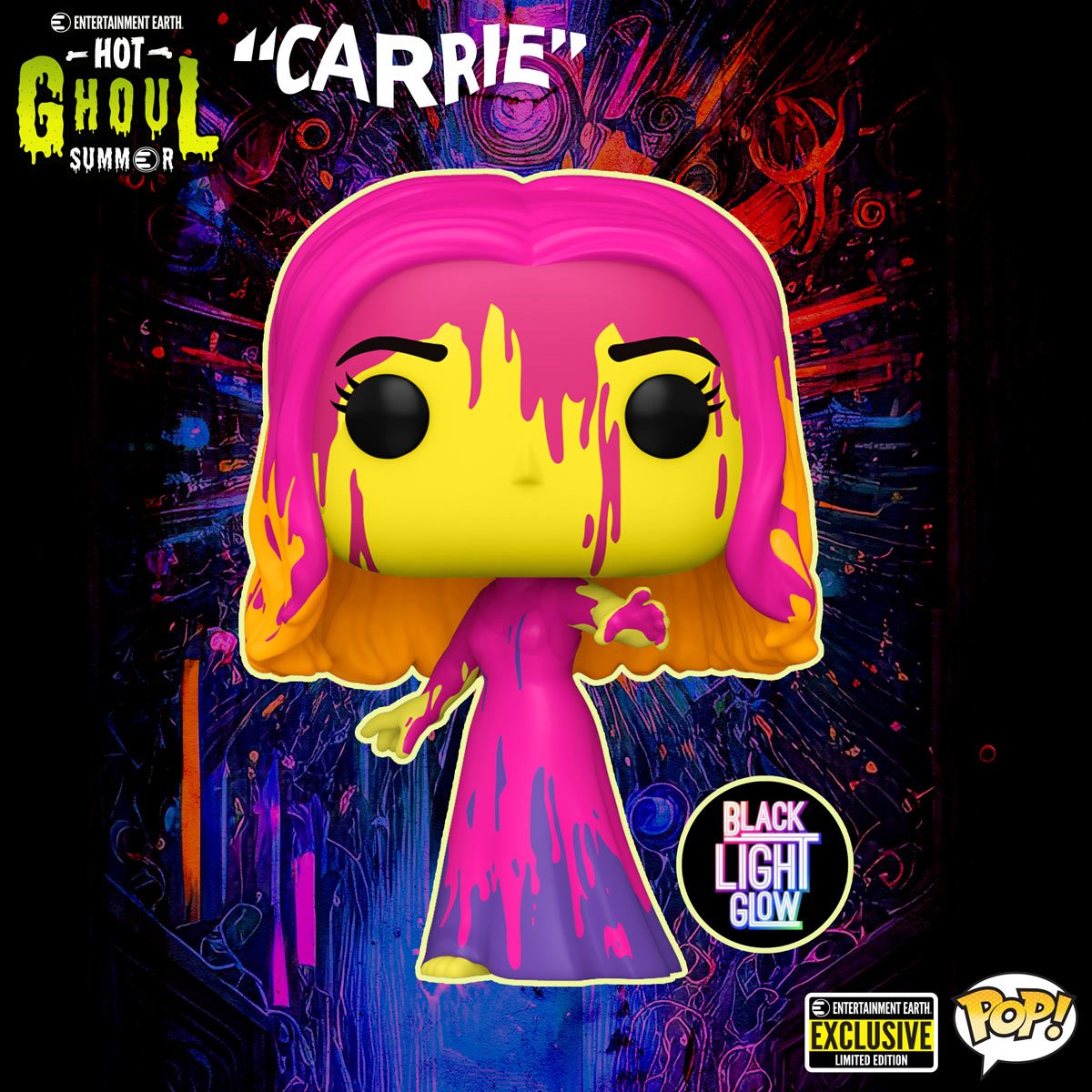 The movie's perplexing magic lies in its multi-genre makeup.
It's simultaneously a terrifying horror flick, a black comedy, and a fantastical fairy tale gone awry.
The horror is as visceral as it gets, culminating in an unforgettable prom night that still sends shivers down our spines.
The matriarchal monster in this film is none other than Margaret White, Carrie's mother.
Played with chilling intensity by Piper Laurie, Margaret turns faith into a weapon, creating a home environment that's more prison than a sanctuary.
The performance leaves you feeling a strange mix of dread, pity, and fascination.
What adds an extra dimension to 'Carrie' is its status as a masterclass in suspense.
De Palma's deft direction, coupled with Donaggio's evocative soundtrack, crafts moments of edge-of-your-seat tension that stick with you long after the end credits roll.
A final shout-out to that shocking ending – an iconic moment that became a template for horror films to follow.
It proves the devil is in the details, and 'Carrie' delivers that devilish surprise with aplomb.
So, fire up your DVD player or streaming service, and take a trip back to 1976.
You'll see why 'Carrie' remains a powerful beacon in the annals of horror cinema, proving its relevance with every new generation of viewers.
Prepare to be enchanted, appalled, and utterly captivated.
Now, that's the magic of 'Carrie."
Funko Pop! Movies: Carrie – Carrie Blacklight Funko Pop! Vinyl Figure – Entertainment Earth Exclusive
Available at:
Starting now, you can receive 10% off in-stock items with my special link at Entertainment Earth!
 Enjoy!
As an Amazon Associate I earn from qualifying purchases
Want more stuff like this?
Get the best viral stories straight into your inbox!
Don't worry, we don't spam