2023 NEW Pop! Rocks: 21 Savage Funko Pop!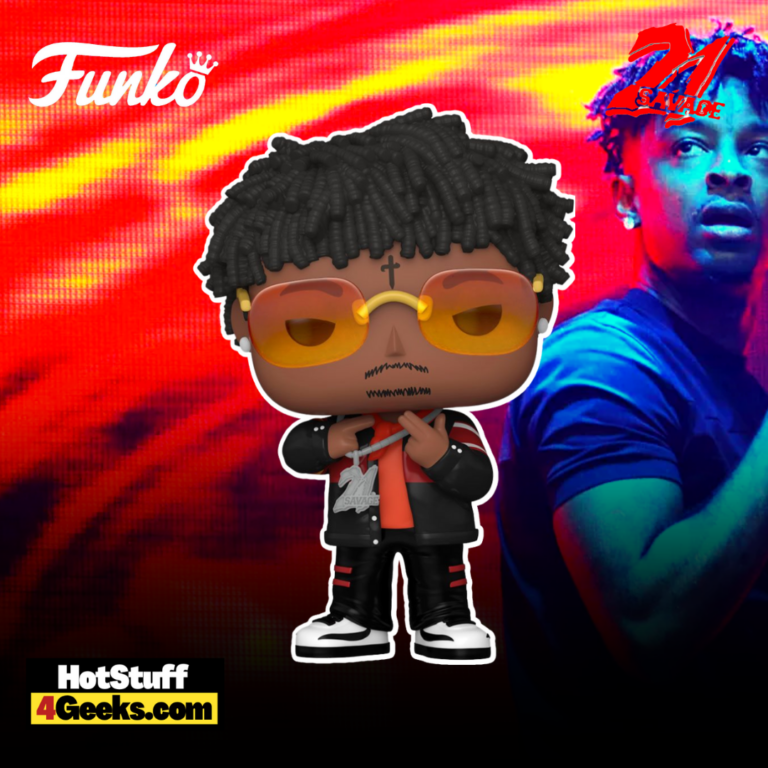 Busting onto the collectibles scene, meet the Funko Pop! that's as fierce and real as the rapper it represents – the new Funko Pop! Rocks: 21 Savage Funko Pop! Vinyl Figure. It's got swag, style, and an attitude as palpable as the real MC. Just like 21's music, this figurine is a blend of authenticity and creativity that pops in every detail.
The pop figure is now available for pre-order at the links below – click to jump or scroll to continue reading!
Check out the dreadlocks, a quintessential part of 21 Savage's identity, captured to perfection.
The all-black outfit is a nod to his streetwear aesthetic, a signature of his Atlanta roots.
But what really sets this Funko Pop! apart is the spirit it embodies.
Just like 21 Savage, it's not just another figure in the crowd.
It stands out, with its unapologetic realness, representing an artist who's been fearlessly carving his own path in the music scene.
This 21 Savage Funko Pop! isn't just a collectible, it's a tribute to a game-changer, an icon, and a true original.
21 Savage Funko Pop! is now available for pre-order at the links below (click to jump!) It's expected to be released in August 2023.
Deep from the heart of Atlanta, a relentless force of artistry thrives – 21 Savage.
This chart-topper doesn't merely spit verses.
He breathes life into his lyrics, transforming tales of hardship into gripping narratives that command attention.
Here's a raw talent that's been shaping the hip-hop landscape with a potent mix of gritty storytelling and disarming honesty.
21 Savage, birthed Shéyaa Bin Abraham-Joseph, has been the seismic shock the music scene needed.
In 2022, he stole the limelight, delivering standout features and jaw-dropping performances that turned heads and raised eyebrows.
From the grooves of "Jimmy Cooks" to the undeniable sway of "Cash In Cash Out," 21 served up a buffet of hot tracks for us to feast on.
His contribution to Metro Boomin's HEROES & VILLAINS was the golden thread weaving the entire tapestry together.
Savage, with his signature monotone delivery, brought a raw, untamed energy to the project that had us all bobbing our heads to the beat.
His collab with Drake, "Her Loss," was another tour de force, showcasing his versatility and courageous willingness to push boundaries.
This wasn't just another album; it was a testament to his relentless drive and ambition.
21 Savage doesn't sugarcoat the grit or glorify the grime.
Instead, he gives us reality unfiltered, underscoring the harsh realities of the streets. His lyrics are poignant yet hard-hitting, a mix that often leaves listeners on edge, contemplating the stark realities he so bravely reveals.
The raw, unadulterated essence of 21 Savage's music is its secret ingredient.
He's not just a rapper but a poet of the streets, an urban bard spinning tales from life's underbelly in all its unvarnished truth.
If you're looking for authenticity and raw talent, look no further than 21 Savage.
He's the real deal, unapologetically himself, and that's why we can't help but tune in.
Starting now, you can receive 10% off in-stock items with my special link at Entertainment Earth!
 Enjoy!
As an Amazon Associate I earn from qualifying purchases
Want more stuff like this?
Get the best viral stories straight into your inbox!
Don't worry, we don't spam