2023 NEW Pop! Rocks: U2 "Pop" (1997) Funko Pop! Album
Funko Pop! Albums: U2 "Pop" (1997) Funko Pop! Album Vinyl Figures
Available at:
Get ready to rock out with the new Funko Pop! Albums: U2 "Pop" (1997) Funko Pop! Album Vinyl Figures, featuring the iconic band members Bono, The Edge, Larry Mullen Jr., and Adam Clayton. This unique set of collectibles captures the essence of U2 during their daring and experimental phase, showcasing their distinct personas and larger-than-life characters.
The pop figure is now available for pre-order at the links below – click to jump or scroll to continue reading!
Bono, the ever-enigmatic frontman, is seen with his enigmatic smirk, encapsulating the charisma and mystery that make him one of the most captivating performers of all time.
The Edge, known for his sonic innovation and signature beanie, is depicted in his full glory as he strums his guitar, ready to unleash a torrent of groundbreaking riffs.
Larry Mullen Jr., U2's drummer and rhythmic backbone, is portrayed in a dynamic pose, drumsticks in hand, reflecting his prowess behind the kit.
And let's not forget Adam Clayton, the band's bassist and unsung hero, who provided the groovy foundation upon which U2's experimental sound was built.
These Funko Pop! Album embodies the spirit of U2 during their "Pop" era, highlighting the band's adventurous nature and willingness to push boundaries.
So, grab your own set of U2 "Pop" (1997) Funko Pops and let these legendary musicians grace your shelves with their enigmatic presence, reminding you of the funky, creative, and humorous side of one of the greatest bands in history.
The U2 (Pop 1997) Funko Pop! Album is now available for pre-order at the links below (click to jump!) It's expected to be released in August 2023.
Forget what you thought you knew about U2's most audacious experiment, the 1997 album "Pop."
It's time to dive deep into this underappreciated gem and rediscover the innovative spirit that defined U2 during their techno-rock phase.
So, dust off your old CD player, put on your dancing shoes, and join us on this trip down memory lane as we explore the daring, bold, and outright intriguing world of U2's "Pop."
When "Pop" was released, the world wasn't quite ready for a U2 album that embraced electronica, hip-hop, and funk.
The band's loyal fanbase was left scratching their heads, wondering where their favorite rock anthems had gone.
Little did they know that beneath the surface of this seemingly confounding album, U2 was pushing the boundaries of music and challenging the status quo.
U2 didn't just dabble in electronic music; they dove headfirst into uncharted territory, merging rock and electronic in ways never heard before.
"Pop" wasn't just a nod to the burgeoning electronic scene; it was a full-blown love affair.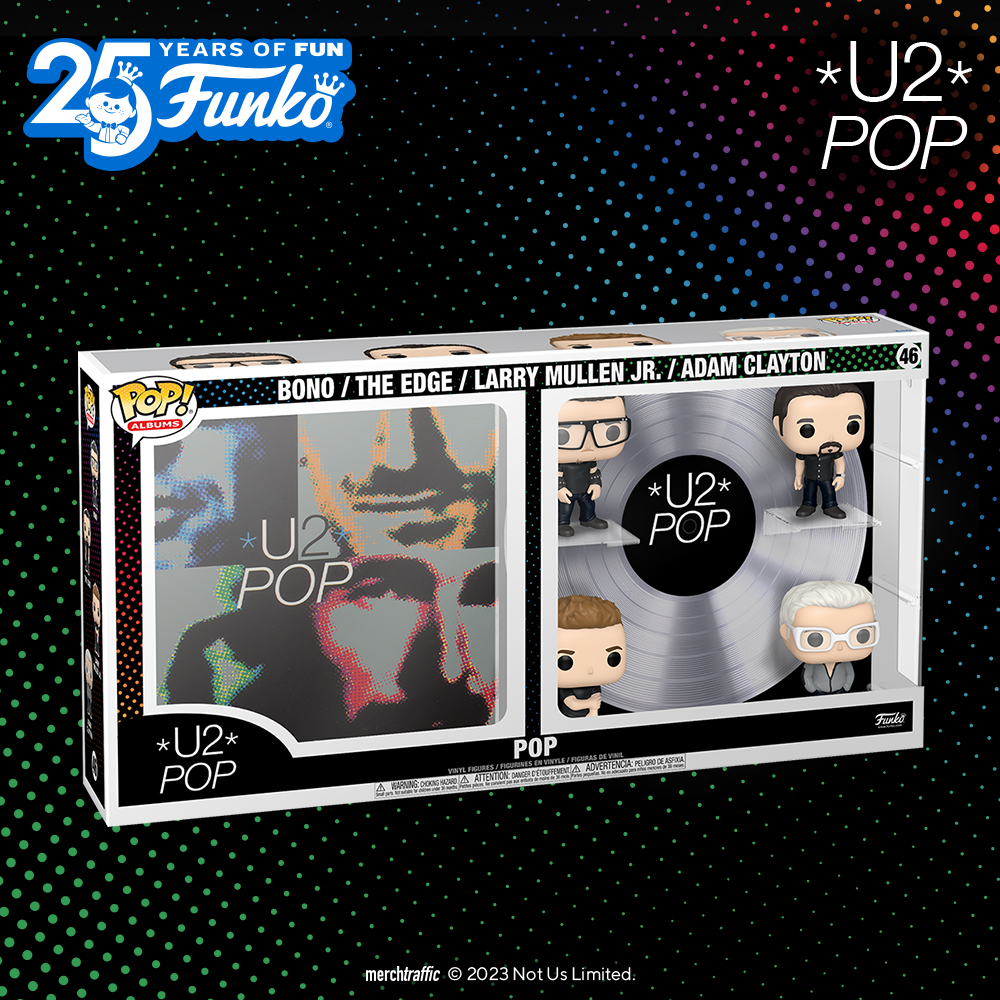 Songs like "Discothèque" and "Mofo" showcased the band's willingness to experiment and push the envelope, leaving no stone unturned in their quest for musical innovation.
"Pop" also revealed the band's more vulnerable and introspective side. Bono's vocals shifted from triumphant leads to whispers and warbles, adding depth and nuance to the songs.
The Edge's guitar work was deconstructed and reassembled, creating a raw, robotic sound that challenged the listener's expectations.
The album was a complete departure from U2's classic larger-than-life rock persona, and it was a risk that paid off in spades.
While some critics at the time may have scoffed at U2's foray into electronic music, it's impossible not to appreciate the album's wittiness and sense of humor.
The tongue-in-cheek title "Pop" was a nod to the band's deviation from the mainstream, and the lyrics of songs like "The Playboy Mansion" dripped with sarcasm and wit.
U2 proved that they were not only willing to take risks but also laugh at themselves in the process.
Today, "Pop" stands as a testament to U2's fearlessness and refusal to be pigeonholed.
It's a reminder that even the biggest bands in the world can still surprise us and take us on a journey to the unexpected.
So let's give "Pop" the recognition it deserves and embrace the spirit of innovation that continues to define U2.
In the world of U2, "Pop" may have been overshadowed by the massive success of "The Joshua Tree" and "Achtung Baby," but it remains a crucial part of the band's legacy.
It's a testament to their courage, creativity, and humor, proving that true artists are never afraid to take risks and defy expectations.
So, the next time you're in the mood for a musical adventure, crank up the volume on "Pop" and let U2 take you on a ride that's anything but ordinary.
As an Amazon Associate I earn from qualifying purchases
Funko Pop! Albums: U2 "Pop" (1997) Funko Pop! Album Vinyl Figures
Available at:
Want more stuff like this?
Get the best viral stories straight into your inbox!
Don't worry, we don't spam