2023 NEW Queer Eye Funko Pops! Funko Shop Exclusives
Funko Pops! With Purpose: Queer Eye Funko Pop! Vinyl Figures – Funko Shop Exclusive
Available at:
Get ready to add a splash of fabulousness to your Funko Pop! collection because the Queer Eye gang has received the ultimate Pop! culture tribute – their very own Funko Pops! With Purpose: Queer Eye Funko Pops! – Funko Shop Exclusives. These adorable vinyl figures capture the show's essence, and, true to form, they're here to serve a higher purpose – just like our beloved Fab Five.
The pop figures drop today at 9.30 AM PTA and can be found at the links below at its release – click to jump or scroll to continue reading!
This delightful set of vinyl figurines captures the essence of our beloved Fab Five, featuring their unique looks and dynamic personalities in a tiny, oh-so-adorable form.
But wait, there's more!
These cute and quirky collectibles aren't just a fabulous addition to your shelf.
They're also on a mission to spread love and acceptance.
True to the spirit of the Queer Eye series, these Funko Pops! With Purpose are designed to remind us of the transformative power of self-expression and the importance of embracing our authentic selves.
From Bobby's carefully curated outfits to Jonathan's fabulous mane, each figurine reflects the charm and charisma of our favorite makeover maestros.
And with every purchase, you're not just adding a little extra burst of fabulousness to your home but also supporting a message of inclusivity and self-love.
Here are the exclusives pops! list for this release:
Tan France Funko Pop! Vinyl Figure
Bobby Berk Funko Pop! Vinyl Figure
Antoni Porowsk Funko Pop! Vinyl Figure
Karamo Brown Funko Pop! Vinyl Figure
Jonathan Van Ness Funko Pop! Vinyl Figure
The Funko Shop Exclusives Queer Eye Funko Pop! Vinyl Figures (2023) can be found at the link below (click to jump!)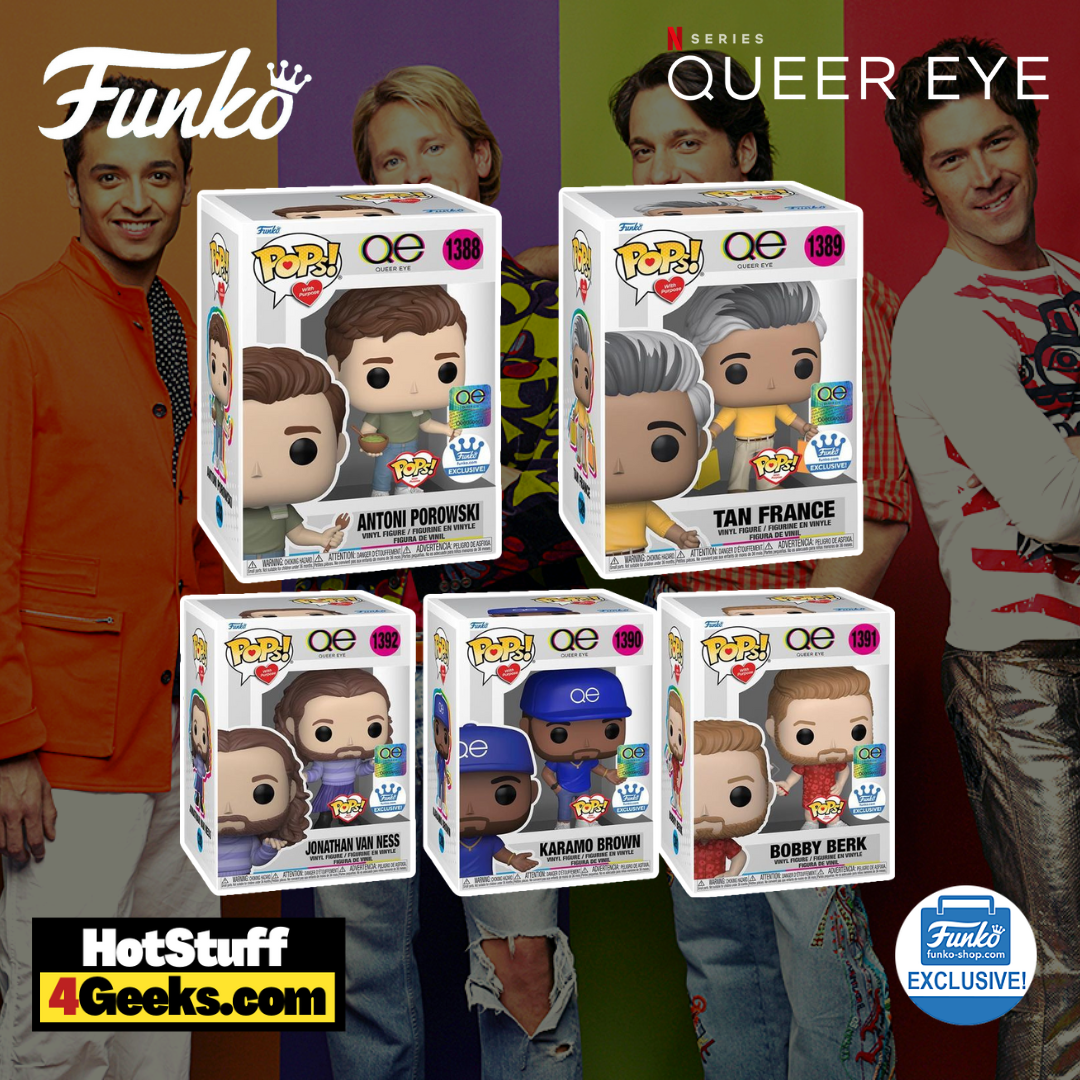 Queer Eye, the Netflix reboot of the original series Queer Eye for the Straight Guy, has been turning heads and warming hearts since its premiere in 2018.
The show's Fab Five – the dashing design guru Bobby Berk, the ever-charming grooming expert Jonathan van Ness, the wisdom-filled culture expert Karamo Brown, the dapper fashion expert Tan France, and the sizzling cooking expert Antoni Porowski – have made it their mission to transform not just the looks, but the lives of their subjects. And what a fabulous mission it is!
These five experts in their respective fields don't just descend upon their "heroes" like fairy godparents.
They also offer genuine connections and understanding.
In each episode, they whip up a delectable concoction of style, self-confidence, and self-discovery, making us laugh, cry, and cheer for the heroes' metamorphoses.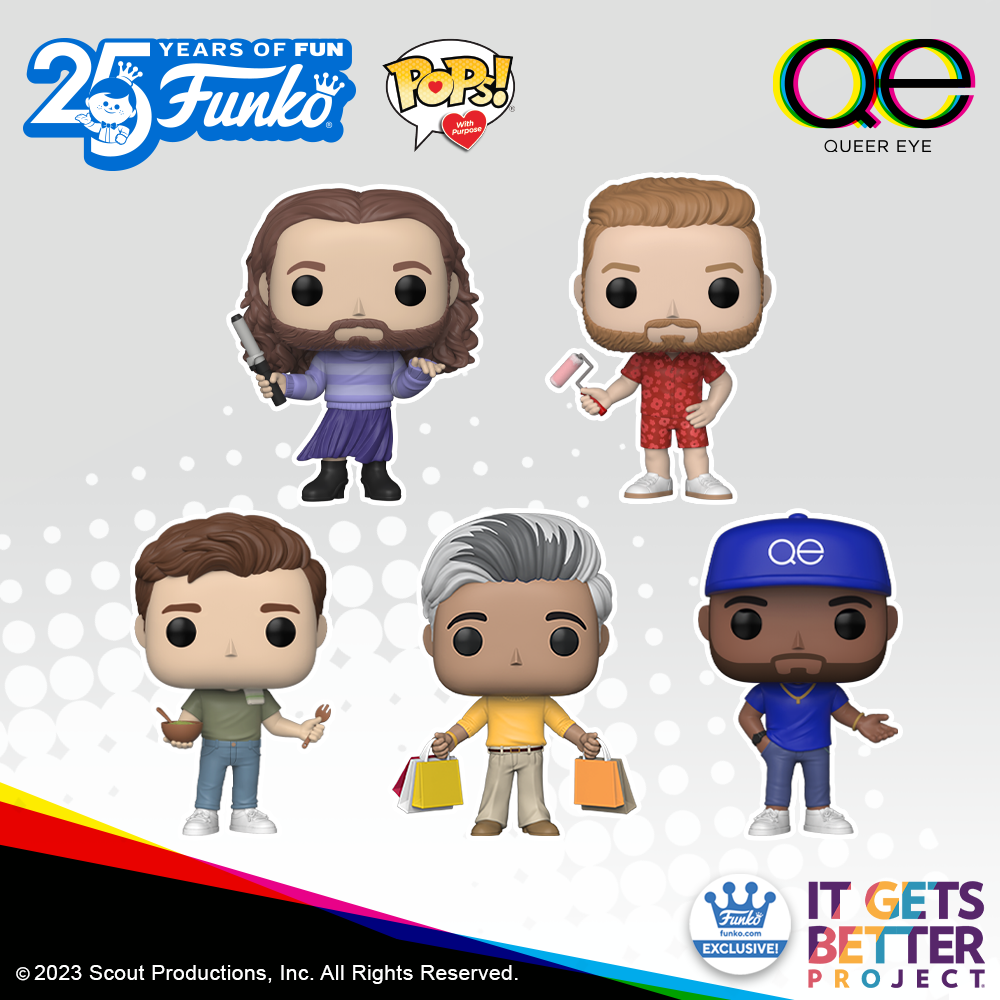 Now, let's address the elephant in the room – or rather, the fabulously dressed elephant.
Queer Eye is not your run-of-the-mill makeover show.
It's a rollercoaster of emotions and unexpected wisdom, served with a side of sass and heartfelt moments.
The Fab Five tackle topics like acceptance, identity, and vulnerability, ensuring that every episode leaves viewers feeling slightly better about the world.
But let's not forget the intelligent humor sprinkled throughout each episode, like glitter on a freshly baked cake.
Whether it's Jonathan van Ness's witty one-liners or Tan France's playful banter, the Fab Five always manage to bring a smile to our faces, even in the most emotional of episodes.
One of the show's secret ingredients is its ability to celebrate diversity, highlighting the stories of individuals from all walks of life.
From a lesbian facing challenge after being kicked out of her adoptive family to a grieving widower trying to start a new chapter, Queer Eye teaches us that it's never too late to embrace who we truly are and make meaningful changes in our lives.
As an Amazon Associate I earn from qualifying purchases
Funko Pops! With Purpose: Queer Eye Funko Pop! Vinyl Figures – Funko Shop Exclusive
Available at:
Want more stuff like this?
Get the best viral stories straight into your inbox!
Don't worry, we don't spam