Sweet News: Reese's New Funko Pop! Ad Icon 2023 Edition
by

PopCorn Princess

September 27, 2023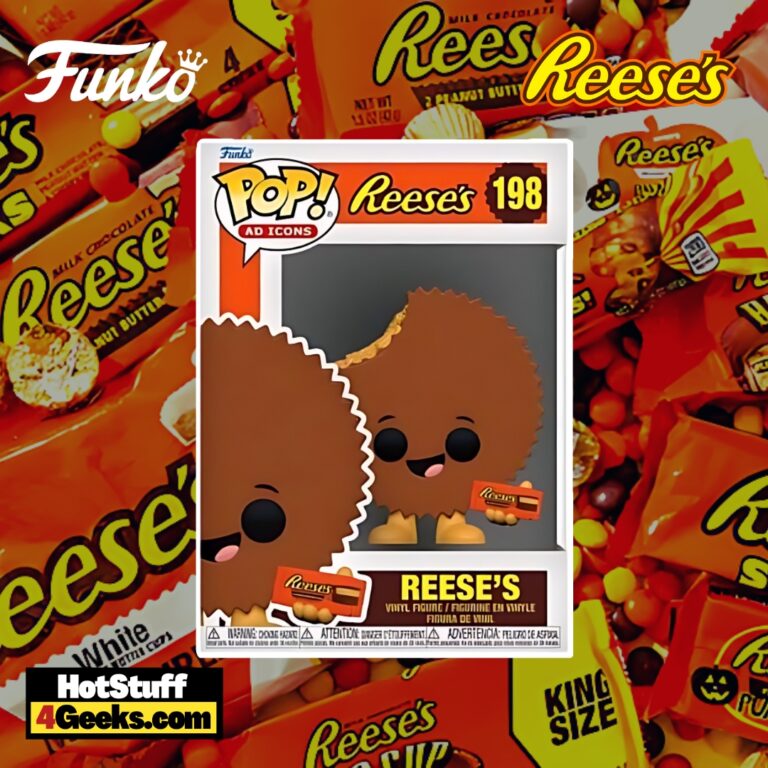 In the ever-evolving world of collectibles, certain releases stand out more than others. The Funko Pop! Ad Icons: Reese's Funko Pop! Vinyl Figure (2023 release) is one such standout, merging the iconic charm of Reese's with the playful allure of Funko. This captivating figure captures the beloved candy's spirit and promises to be a must-have for enthusiasts everywhere.
UPDATE: Now available for pre-order! To get your hands on this Pop Vinyl Figure, be sure to check out the links I've provided below – click to jump or scroll to continue reading!
The Chocolate-Peanut Butter Duo: Reese's Funko Pop! Ad Icon Revealed
It's always a delightful day in the collector's universe when an iconic brand gets its Funko Pop! makeover.
The latest? The sweet and savory Reese's! Ready to enchant shelves and hearts alike, this Ad Icon comes as an irresistible Reese's Funko Pop! Vinyl Figure.
While its character captures the very essence of Reese's – that delightful blend of chocolate and peanut butter – its stature stands as a symbol of pop culture and the candy's timeless appeal.
As it stands (literally) with its gleaming eyes and familiar branding, one can't help but be whisked away by nostalgia, back to those days of unwrapping Reese's Peanut Butter Cups.
The character's design encapsulates all that's adored about the candy and the brand, reminding us why Reese's continues to reign supreme in confectionery kingdoms and, now, in the world of collectibles.
Reese's Funko Pop! can be found for pre-order at the links below (click to jump!)
A Peanut Butter Odyssey: Behind Reese's Delicious History
It's no secret that America has a soft spot for Reese's.
After all, who can resist the allure of velvety peanut butter wrapped in a cozy blanket of rich chocolate?
But there's so much more to the Reese's story than meets the eye. Dive in with me as we unravel some fascinating tidbits about this beloved confection!
First off, let's address the elephant in the room—or rather, the almond. Before Reese's iconic peanut butter cups graced our taste buds, H.B. Reese took a swing at the candy world with chocolate-covered almonds and raisins.
Unfortunately, his venture turned out to be less sweet than he'd hoped.
It seems the universe nudged him in the direction of the dairy industry before leading him back to the candy arena.
And speaking of those early ventures, Reese wasn't shy about keeping things in the family. His initial candy successes? Bars named after his very own offspring.
There was the Lizzy Bar, a delightful combo of caramel and coconut, and the Johnny Bar, molasses-packed and named in honor of his son.
These initial successes eventually paved the way for Reese's renowned peanut butter cups.
Prices sure have changed over the years. Once upon a time, you could snag a Reese's cup for a mere penny. Talk about a sweet deal!
And if you think Reese's took the world by storm with a significant marketing campaign, think again.
Initially, they didn't stand solo; they were part of a five-pound assorted candy bag, modestly waiting for their time to shine.
Here's a twist: Reese's owes a nod to World War II for its popularity surge.
With sugar and chocolate in short supply, Reese smartly leaned on the one ingredient that wasn't rationed: peanut butter.
This move set the brand apart and solidified its spot in candy history.
Have you ever seen E.T. the Extra-Terrestrial? A particular scene with an adorable alien snacking on candy might come to mind.
Initially, Spielberg wanted M&M's for this iconic moment, but when that didn't work out, Reese's Pieces had their moment in the spotlight—and what a moment it was!
The scene tugged at our heartstrings and catapulted Reese's Pieces' sales to the moon!
While we're at it, did anyone get their hands on the Reese's Peanut Butter Cup Oreos?
A blissful union of two epic treats!
Today, it might be hard to find these delightful concoctions, but if you did, consider yourself part of an elite club.
Halloween and Reese's seem to go hand in hand.
Across the vast American landscape, eager trick-or-treaters hope to find that distinct orange-wrapped treasure in their loot bags.
Reese's reigns supreme as the preferred treat for many.
Lastly, if you're looking for a reason to indulge, know there's an entire day dedicated to Reese's!
On May 18th, enthusiasts unite to celebrate their love for this peanut butter sensation. Don't miss out; mark your calendars!
In the grand tapestry of sweet treats, Reese's is a testament to innovation, resilience, and downright deliciousness.
Who knew there was so much to uncover about a candy most of us have enjoyed time and time again?
The next Reese's you enjoy might just taste a little bit sweeter with all this newfound knowledge. Cheers to the continued journey of this delightful treat!
As an Amazon Associate I earn from qualifying purchases
Want more stuff like this?
Get the best viral stories straight into your inbox!
Don't worry, we don't spam
PopCorn Princess
Hey there, I'm Princess. I'm an annual comic con attendee, Star Wars-loving, and collector freak. My mission is simple: To bring cool geeky news and content and share my passion with the rest of the world. (... I secretly wish to save the world as a superheroine...)