Monstrous Trio: The NEW 2023 Monster High Funko Pop! Release
Funko Pop! Retro Toys – Monster High Funko Pop| Vinyl Figure (2023 release)
Whisked from the cryptic corridors of Monster High, a spectral symphony of nostalgia envelopes the collector's realm with the eerily enchanting new Funko Pop! Retro Toys – Monster High Funko Pops! (2023 release). This mystical procession from the beloved school of the otherworldly has morphed into vinyl, intertwining the adolescent angst of yesteryears with a hauntingly adorable contemporaneity, embarking upon a new era where enchanting ghoulhood and collectible charisma seamlessly entwine.
UPDATE: Now Available for pre-order! To get your hands on these Pop Vinyl Figures at their release, be sure to check out the links I've provided below – click to jump or scroll to continue reading!
Unveiling the spectral veil, Monster High's iconic triad – Clawdeen Wolf, Draculaura, and Frankie Stein – enchantingly reincarnates into a collector's haven with the release of new Retro Toys – Monster High Funko Pops!
The audacious Clawdeen Wolf, with her impeccable fashion sense intermingled with a werewolf's wildness, has been mesmerizingly encapsulated in a Pop! Vinyl figure, navigating through the arcane universe of collectibles with her monstrous charm.
Draculaura, the vegetarian vampire who faints at the mere mention of the word 'blood,' brings an adorable paradox into the collection with her miniature Funko avatar, meshing her ageless grace with a contemporary, cute veneer.
And behold, Frankie Stein, the charismatic daughter of Frankenstein, embarks upon the Pop! journey, her bolts and stitches are now immortalized in vinyl, bewitching collectors and fans with her timeless teenage spirit.
This Funko series marvelously intertwines childhood nostalgia and the ethereal, crafting a universe where the eerie and adorable coalesce with stupefying allure.
A treasure trove for both the devoted Monster High admirers and Funko enthusiasts, these vinyl figures intertwine spectral elegance with pop culture, etching the beloved characters into the eternal corridors of collectible fame.
Unveiling the Monster High Funko Pops List for this release:
Clawdeen Wolf Funko Pop! Vinyl Figure
Draculaura Funko Pop! Vinyl Figure
Frankie Stein Funko Pop! Vinyl Figure
The Monster High Funko Pop! Vinyl Figures can be found for pre-order at the links below (click to jump!)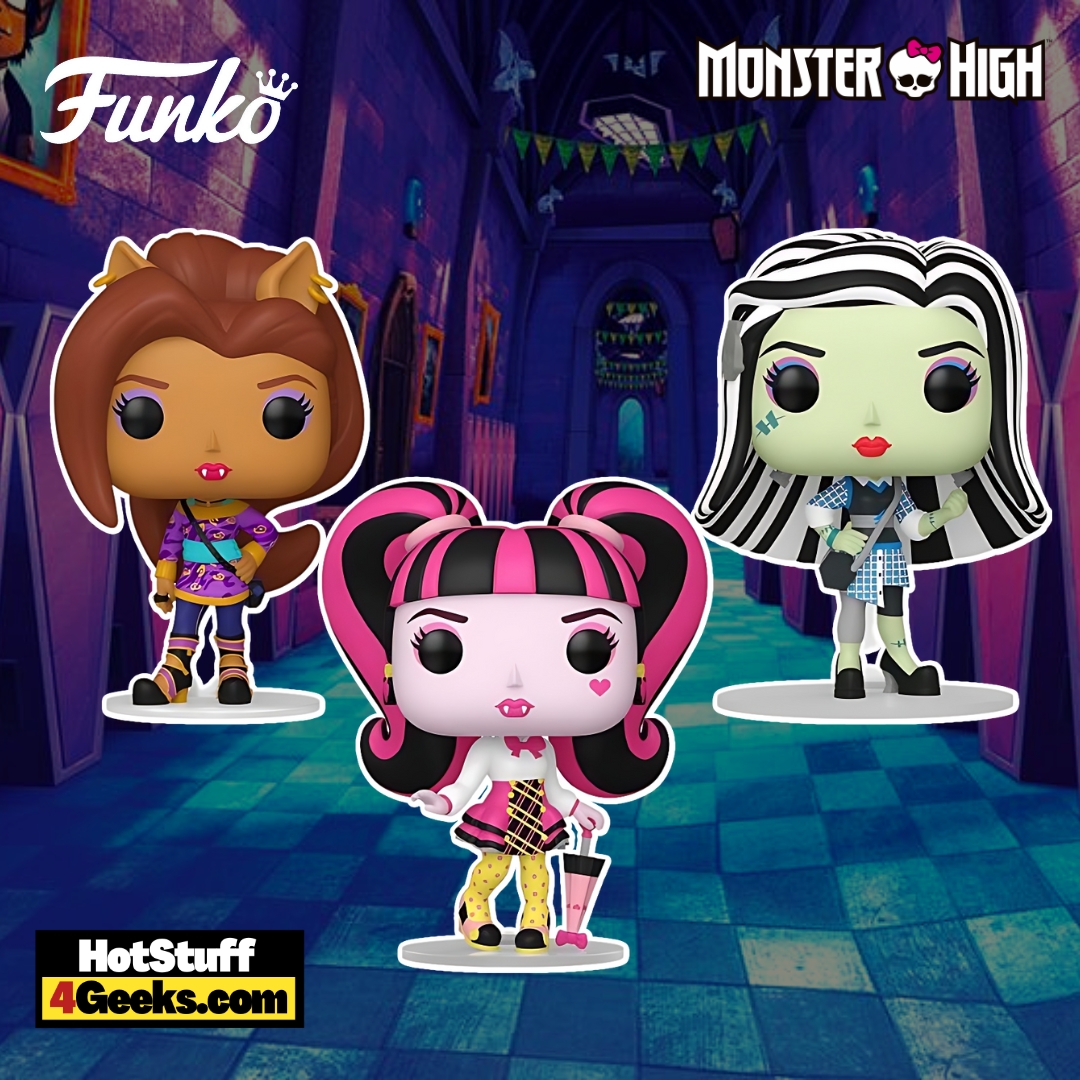 MonsterHigh Mania: Exploring a Decade of Spooky Chic Fashion
If one were to traverse the vast expanse of toy aisles over the past decade, the likelihood of missing the stylish, goth-inspired world of Monster High would be rather slim.
These aren't your run-of-the-mill dolls; Monster High redefines the boundaries, offering a unique blend of edgy fashion with monsters' legacies.
Initiated by Mattel in 2010, Monster High captured the essence of gothic fashion through the lens of a playful toy narrative.
But beyond the flashy looks and iconic packaging, the franchise packed a backstory rich in lore and populated by the offspring of celebrated monsters.
From the vampire-daughter Draculaura, who swoons rather than salivates at the sight of blood, to the fashionable werewolf Clawdeen Wolf, with her passion for runway-ready attire – the characters radiated both individuality and a penchant for the unordinary.
Central to Monster High's charm was the school itself, a place where the progenies of mythical entities came together in harmony.
Unlike other educational institutions in this fantasy realm, Monster High championed inclusivity, welcoming every creature, whether vampires or sea monsters.
The stories of these distinct characters unfolded amidst teen drama and spooky settings.
What made the brand particularly enchanting was its commitment to diversity, not just in terms of its cast of creatures but also in the range of media it spanned.
Animations, TV specials, young adult novels – the Monster High universe expanded rapidly. Its popularity even birthed spin-offs like Ever After High and Enchantimals, though they ventured into different thematic territories.
Of course, the journey wasn't devoid of hiccups. Like any pop culture icon, Monster High had its rise, followed by a dip in popularity around 2016.
The brand's attempt at a facelift didn't find its expected audience, leading to a temporary halt in its trajectory.
However, much like the creatures it portrays, Monster High emerged once more, with a focus on catering to horror and goth film aficionados
. By 2021, new doll lines drawing inspiration from cult classics, coupled with exciting media projects, signaled its roaring comeback.
This transition is noteworthy, especially considering the origins of the franchise.
Spawned from observing young girls' inclination towards goth fashion and drawing inspiration from big names like Tim Burton and Lady Gaga, Monster High always aimed to be avant-garde.
From the dolls' first prototypes, crafted using various Mattel doll parts, to the "Haunt Couture" and "Booriginal Creeproductions" lines, the commitment to innovation remained undeterred.
One can't help but marvel at Monster High's resilience and adaptability.
The brand's oscillation between phases – from prime popularity to a lull and back to prominence – reflects a narrative of evolution.
In the toy universe, Monster High is a testament to the power of distinct storytelling, pioneering design, and the uncanny ability to rise, phoenix-like, even from the most challenging downturns.
As an Amazon Associate I earn from qualifying purchases
Funko Pop! Retro Toys – Monster High Funko Pop| Vinyl Figure (2023 release)
Want more stuff like this?
Get the best viral stories straight into your inbox!
Don't worry, we don't spam