2023 NEW Rollerskating Barbie & Ken 2-Pack Funko Pop!
Dive into the vibrant world of the 80s with a splash of modern cinema! The new Funko Pop! Movies: Barbie Rollerskating (Skating Barbie & Skating Ken) 2-Pack Funko Pop! Vinyl Figure (2023 release) – Hot Topic Exclusive is here to roll right into your collection. Seamlessly blending retro charm with contemporary flair, this duo promises to be the talk of every enthusiast's display. Ready to reminisce and celebrate? Let's skate!
UPDATE: Now available for pre-order! To get your hands on this Pop Vinyl Figure, be sure to check out the links I've provided below – click to jump or scroll to continue reading!
Retro Skates and Neon Dreams: Skating Barbie & Skating Ken Funko Pop!
Have you felt that nostalgia wave crashing over you lately?
Well, brace for impact because Funko Pop! is releasing a 2-Pack Vinyl Figure from their Movies lineup that'll take you right back to the 80s roller rink era!
We're talking about the Barbie Rollerskating duo – Skating Barbie and Skating Ken, inspired by the 2023 cinematic release.
In her neon leotard and electric pink biker shorts, Barbie absolutely shines, capturing Margot Robbie's unforgettable on-screen attire.
Those neon green skates? A cherry on top! Now, let's talk about Ken.
That inline skating outfit is so retro-fabulous.
Sleeveless jacket? Check. Athletic shorts? Oh yes. And the visor? The cherry on his sundae!
It's like Funko took the very essence of the movie's skating moments and crystallized them into these pops.
Get ready to add a dash of neon dreams and roller disco vibes to your collection.
Who knew vinyl could groove this hard?
Rollerskating Barbie & Ken 2-Pack Funko Pop! is coming soon. There's no release date yet, but stay tuned because I'll update more information in the long run. Check the pre-order availability at the links below (click to jump!)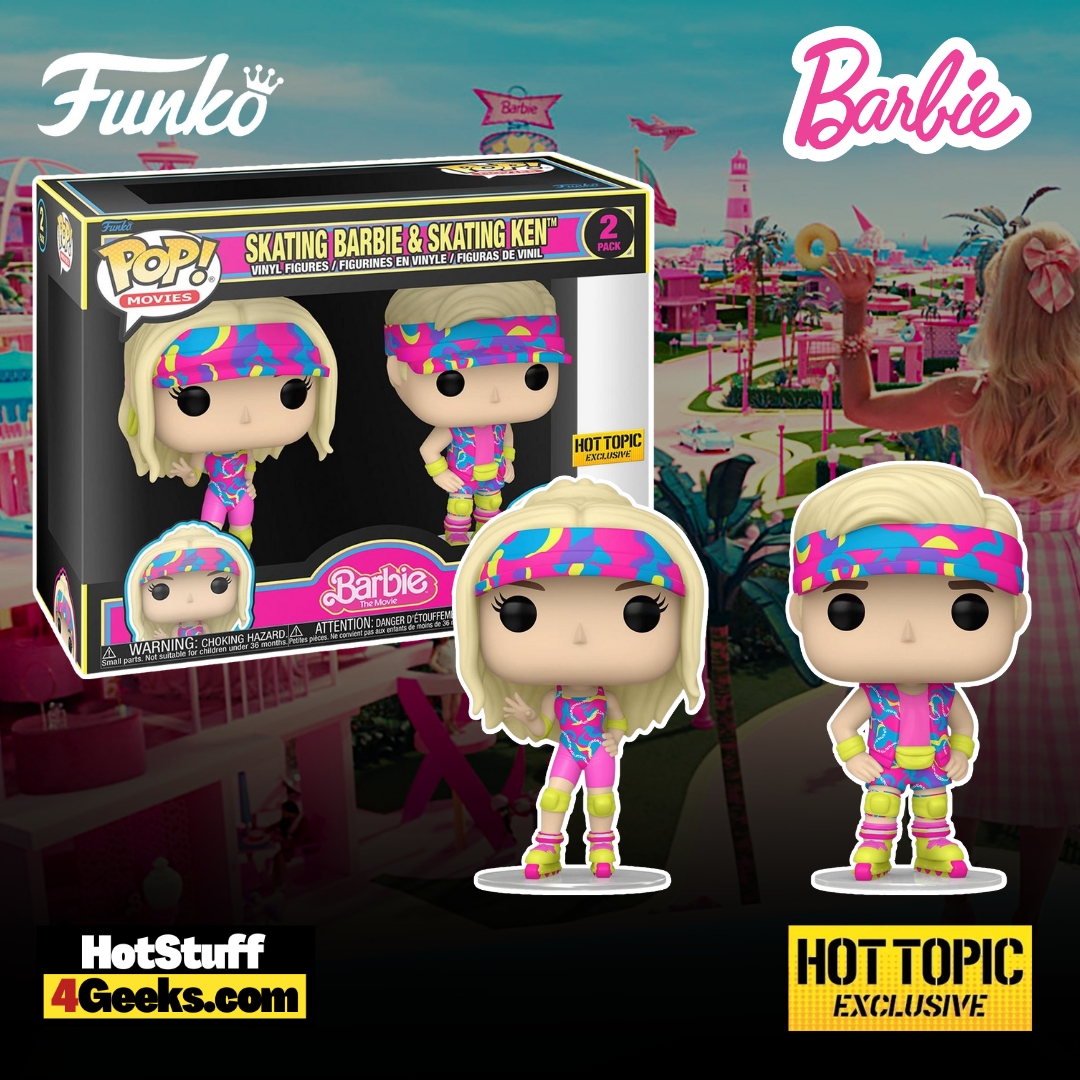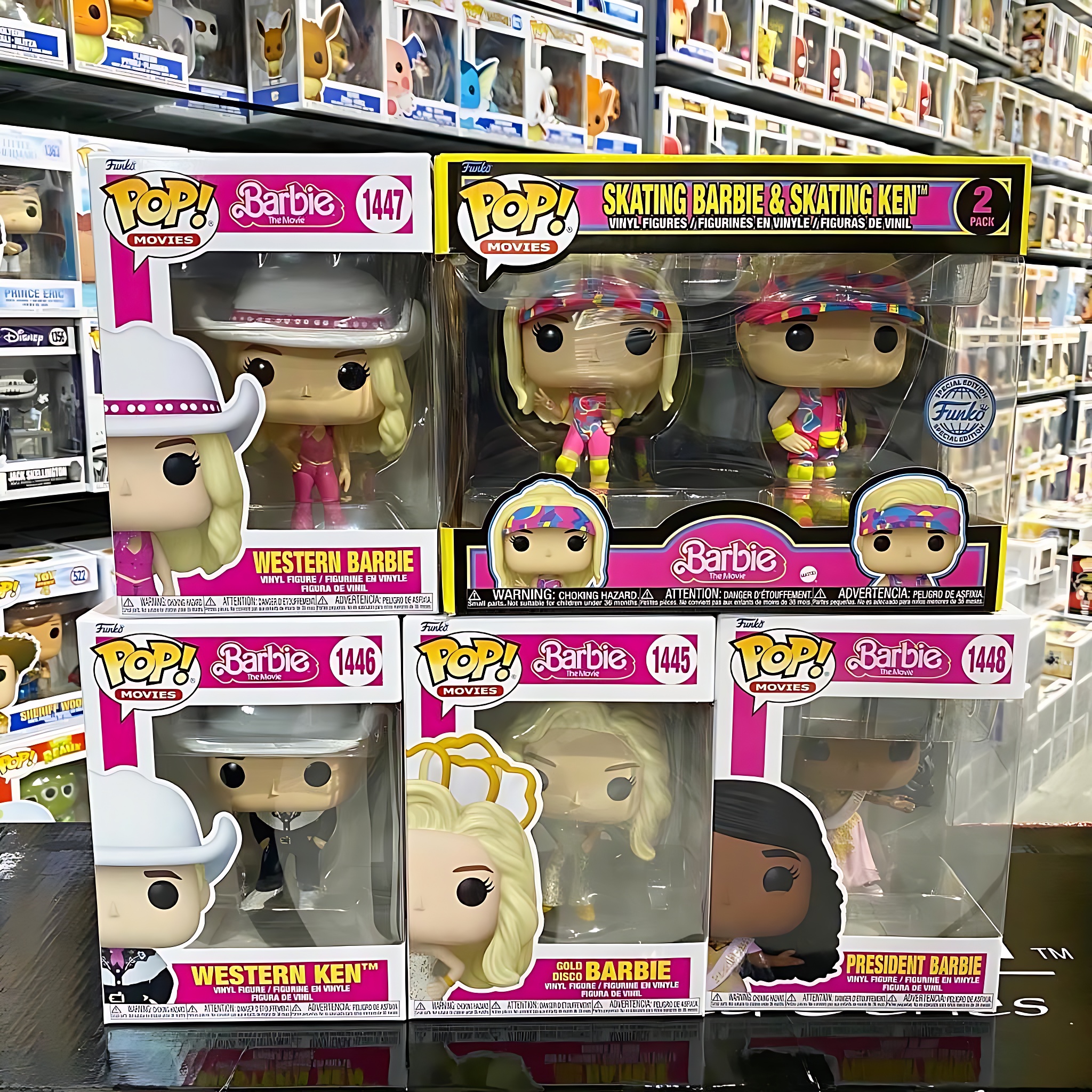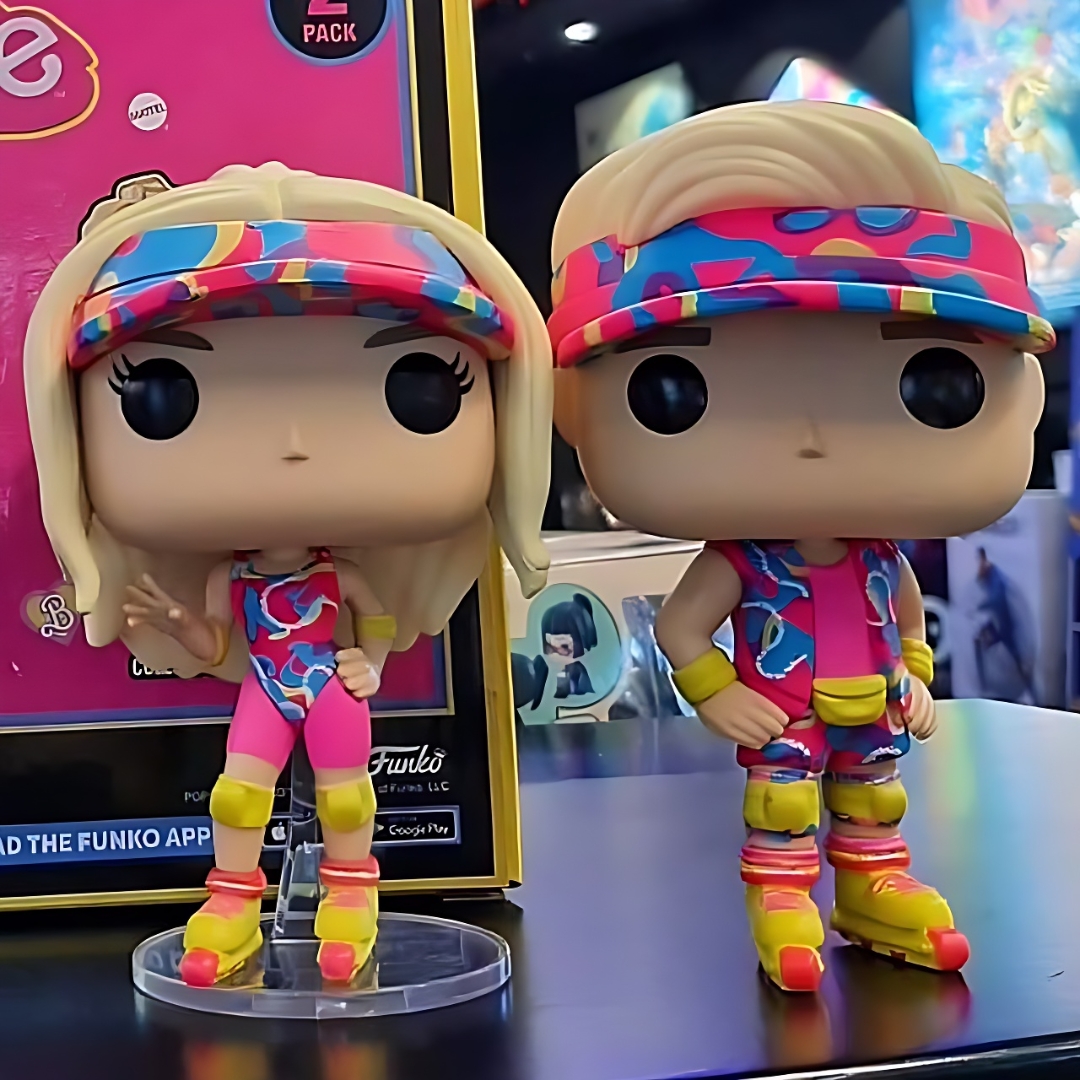 The Barbie Spectacle: A Cinematic Wonder of 2023
Hey, movie enthusiasts! Have you felt that rush of cinematic adrenaline lately?
The kind that lights up your movie-going soul?
Well, if you're scratching your head wondering where to find it, look no further than the aisles of the toy store.
Yep, you read that right! It's time to talk about the movie event of the summer: the 2023 Barbie release.
First off, let's just address the stunner in the room – Margot Robbie.
We've seen her in some critically acclaimed roles before, but who would've thought she'd transform herself so brilliantly into a plastic doll?
And not just any doll, but the iconic Barbie!
She doesn't just wear the doll's iconic looks; she embodies Barbie's spirit while adding layers and layers of character depth.
It's like watching your favorite toy come to life with complexities and emotions.
Pairing Robbie with the ever-so-cool Ryan Gosling, who portrays Ken in the most delightful, head-turning manner, was a stroke of genius.
Think about Gosling, usually our brooding, intense hero, embracing the charismatic charm of Ken, and you realize you're in for a cinematic treat.
That "Big Himbo Kenergy" (yes, that's a thing now) is real and spectacular.
But wait a minute – this isn't just a flick about shiny cars and Malibu mansions.
Greta Gerwig, known for her masterpieces like "Little Women" and "Lady Bird," has shaped this movie into a stunning visual and thematic triumph.
Just when you think you know Barbie's world, Gerwig flips the script and delves deep into themes that resonate with her previous work, making us reflect on familiar stories with fresh eyes.
A special shout-out to the aesthetics of this film!
The dedication to crafting a vibrant, visually-stunning Barbie universe is unparalleled.
From rumors about pink paint shortages (can you even?!) to faithfully recreating iconic Barbie looks spanning decades, this movie is a visual feast.
One of the most compelling layers of this film is its clever satire.
Remember the sassy, fast-paced energy of "The Wolf of Wall Street"?
Imagine that, but sprinkled with Barbie's world.
It critiques and celebrates the Barbie brand in one swoop, making us question what we've always perceived about gender roles and societal expectations.
And to those who might dismiss this as just another toy-based movie – it's time to reassess.
Barbie's cinematic foray isn't just about selling dolls; it's about storytelling at its finest, with a side of meta-jokes and satirical flair.
This isn't a commercial – it's a celebration.
So, if you're seeking a blend of wit, laughter, visuals, and profound themes, the Barbie movie is calling.
It's not just a film; it's a cinematic experience that showcases how creativity can redefine our beloved icons.
Grab that popcorn and get ready for a rollercoaster of emotions, laughter, and a hearty dose of nostalgia.
Barbie isn't playing around in 2023 – she's taking center stage, and it's a sight to behold.
Funko Pop! Movies: Barbie Rollerskating (Skating Barbie & Skating Ken) 2-Pack Funko Pop! Vinyl Figure (2023 release) – Hot Topic Exclusive
Available at:
Starting now, you can receive 10% off in-stock items with my special link at Entertainment Earth!
 Enjoy!
As an Amazon Associate I earn from qualifying purchases
Want more stuff like this?
Get the best viral stories straight into your inbox!
Don't worry, we don't spam