2023 NEW Saint Seya – Saori Kido Diamond Glitter Funko Pop!
Funko Pop! Animation: Saint Seya – Saori Kido Diamond Glitter Funko Pop! Vinyl Figure – AE Exclusive (2023 release)
Available at:
Get ready to add a radiant gem to your collection with the new Funko Pop! Animation: Saint Seiya – Saori Kido Diamond Glitter Funko Pop! Vinyl Figure – AE Exclusive (2023 release). This exclusive vinyl figure isn't merely a collectible; it's a glimmering tribute to Saori Kido, a character whose depth and complexity have captivated Saint Seiya fans for years.
UPDATE: available now at Pop Citi! To get your hands on this Pop Vinyl Figure at its release, be sure to check out the links I've provided below – click to jump or scroll to continue reading!
An Iridescent Marvel: The Saori Kido Diamond Glitter Funko Pop! 2023 AE Exclusive
If you're a Saint Seiya enthusiast with an eye for finer collectibles, prepare to be dazzled!
The 2023 release of the Funko Pop! Animation: Saint Seiya – Saori Kido Diamond Glitter Funko Pop! Vinyl Figure as an AE Exclusive is a feast for the eyes and a treasure for the soul.
But let's not make this all about the shimmer and glitz; Saori Kido deserves the spotlight here.
She's a character of vast emotional complexity, a cocktail of divine and human elements shaken and stirred to the point of being nearly indistinguishable.
Her celestial majesty gets a glittery reincarnation, and in this vinyl avatar, Saori's divine demeanor blends brilliantly with the allure of diamond glitter.
An essential for anyone knee-deep in Saint Seiya lore, this Funko Pop! goes beyond mere aesthetics to encapsulate the enigma that Saori Kido is.
Her character's duality, from affluent heiress to all-powerful Athena, is immortalized in this glittering figurine.
The glint and sparkle mirror Saori's multi-faceted existence as it oscillates between mundane reality and celestial duty.
It's as if the vinyl figure's glitter speaks of her complexity, the flashiness a proxy for her aura of wisdom, and the shimmer an homage to her divine attributes.
Just a glance, and you'll realize how the diamond glitter version elevates Saori from an anime figure to a three-dimensional symbol of an eternally complex narrative.
This Funko Pop! could serve as a meditative talisman, inspiring a deeper dive into the themes of identity, responsibility, and destiny that the character embodies.
A must-have for any true fan!
The AE Exclusive Saori Kido Diamond Glitter Funko Pop! from Saint Seya can be found for pre-order at the links below (click to jump!)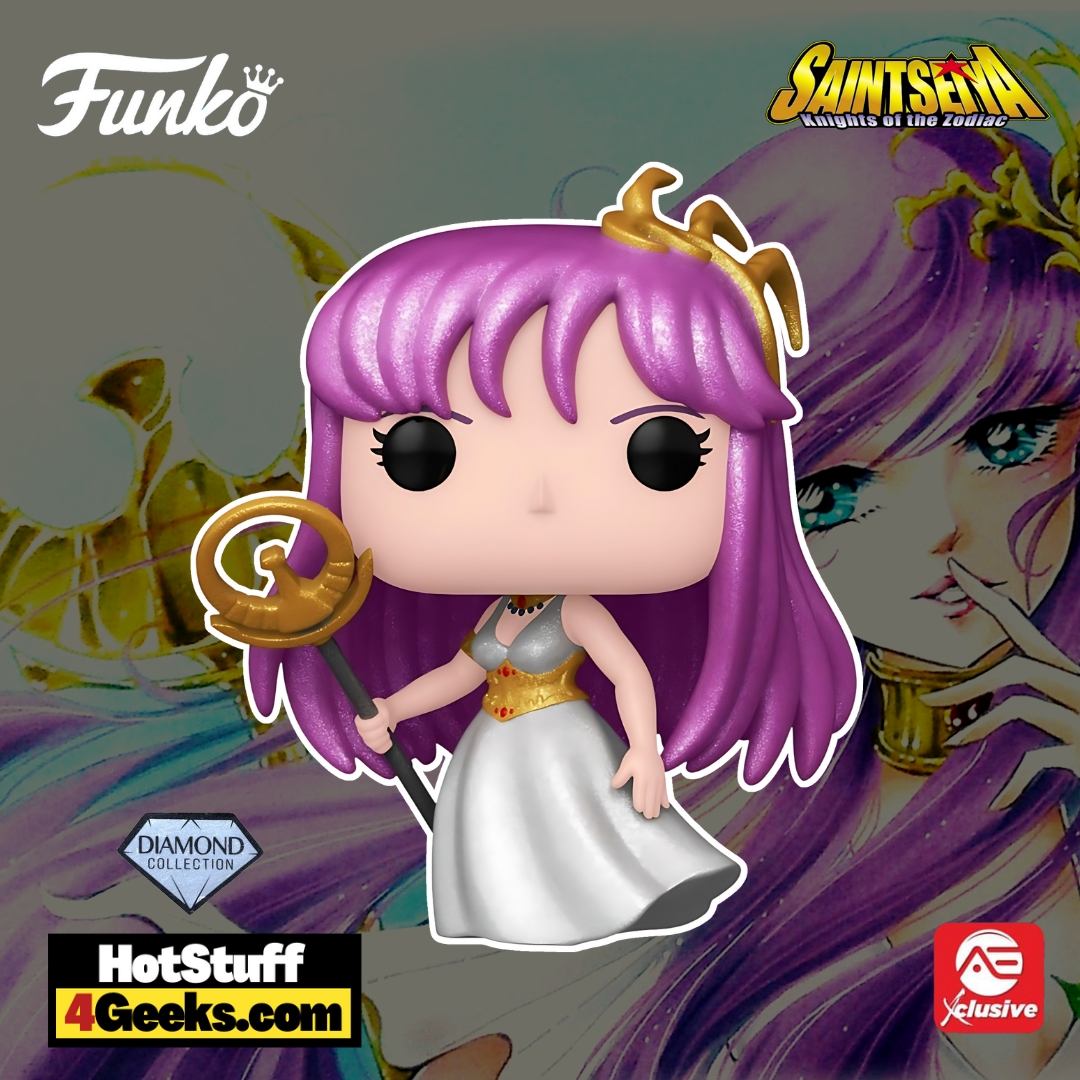 The Enigmatic Saori Kido: Unveiling the Goddess Within
If you're a Saint Seiya fan, the name Saori Kido certainly strikes a chord.
Far from your ordinary anime character, Saori offers layers of complexity, continuously oscillating between her mortal and divine personas.
She's a paradox, encapsulating contrasts that mirror her dual existence as both a business-savvy mortal and the goddess of wisdom, Athena.
From the outside, you might initially write her off as a privileged heiress.
She was raised in affluence as the adopted granddaughter of Mitsumasa Kido, and her early years were marred by a sense of entitlement and a penchant for treating others as subservient.
But look deeper, and you'll find her narrative is a riveting tale of transformation.
When she learns about her celestial origin, Saori undergoes a metamorphosis from a haughty heiress to a guardian goddess responsible for the world's well-being.
What fascinates many is her internal struggle, especially in her younger years.
At times, she fluctuates between an ordinary girl and a divine figure.
This oscillation, especially her struggle with loneliness and the gravity of her mission, makes her character immensely relatable.
She embodies complexities we all experience but is hesitant to acknowledge.
As she grapples with her dual identity, she unveils layers of character development that most anime characters can only dream of attaining.
Visually, Saori is a manifestation of pure beauty.
Whether you consult the manga's reddish-brown or the anime's violet-hued portrayal, her appearance is arresting, to say the least.
In the world of Saint Seiya, her beauty doesn't go unnoticed; it's acknowledged even by deities and mortals alike.
Her abilities transcend aesthetics.
While her prowess as a businesswoman is noteworthy, it's her divine abilities that leave one awestruck.
Armed with the power of Nike and the impenetrable Aegis shield, she takes on cosmic adversaries, wielding immense Cosmo that gives her access to miraculous techniques—from healing auras to teleportation.
She's not just a deity; she's the epitome of compassion, willingly laying down her life for the greater good of humanity.
One of the most intriguing aspects of Saori is her opposition to offensive warfare.
Her philosophy aligns with the art of defense, not conquest.
It's a nuanced stance that aligns well with her divine attributes of wisdom and strategy but also disrupts the conventional archetypes of gods who revel in sheer power and aggression.
Of course, she's not without her contradictions.
She's a deity but deeply human, a leader but also a learner.
In each reincarnation, her mission stays constant: to defeat the forces of evil and protect Earth.
Yet, her resolve faces the trial of isolation, the emotional ups and downs, and the unyielding reality of being a goddess among mortals.
These make Saori Kido a character worth exploring, a celestial paradox that adds depth and dimension to the Saint Seiya universe.
So, if you haven't dived deep into the world of Saint Seiya, it's high time you acquaint yourself with Saori Kido.
She's not just another character; she's a phenomenon that redefines what it means to be both human and divine.
As an Amazon Associate I earn from qualifying purchases
Funko Pop! Animation: Saint Seya – Saori Kido Diamond Glitter Funko Pop! Vinyl Figure – AE Exclusive (2023 release)
Available at:
Want more stuff like this?
Get the best viral stories straight into your inbox!
Don't worry, we don't spam