2023 NEW Seven Deadly Sins: Ban (Diamond Glitter) Funko Pop!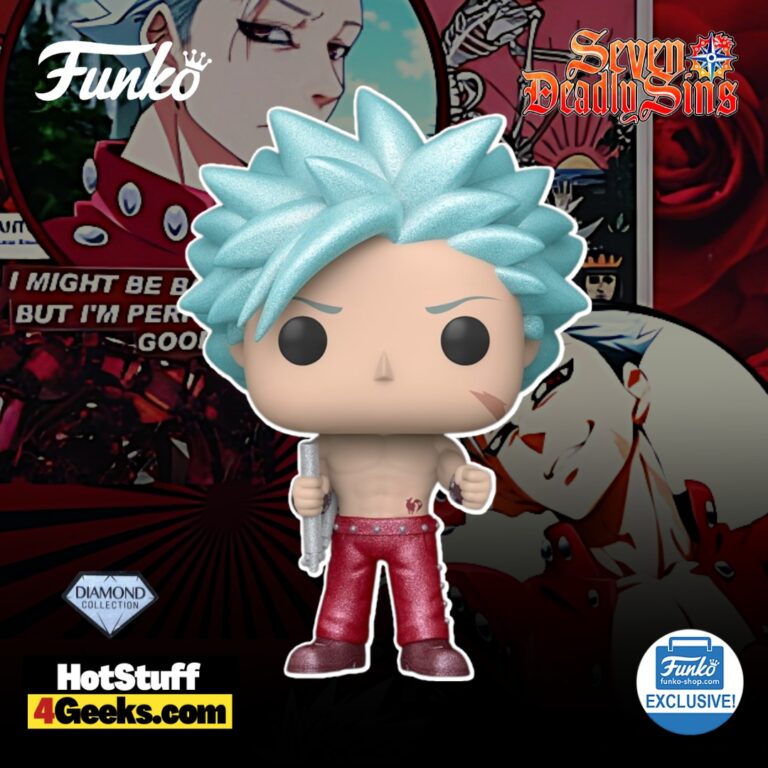 Straight from the mysterious world of "The Seven Deadly Sins" comes an exclusive treat just for you! It's none other than Ban – the Fox's Sin of Greed – now immortalized in the new Funko Pop! Animation: Seven Deadly Sins: Ban (Diamond Glitter) Funko Pop! Vinyl Figure – Funko Shop Exclusive (2023 release)! Ready to capture the charm, mischief, and duality of this enigmatic figure, the newest release from the Funko Shop promises to be a stand-out.
To get your hands on this Pop Vinyl Figure at its release, be sure to check out the links I've provided below – click to jump or scroll to continue reading!
Dive into the realm of "The Seven Deadly Sins" with the latest Funko Shop exclusive.
Introducing the Ban (Diamond Glitter) Funko Pop! Vinyl Figure, capturing the essence of the Fox's Sin of Greed with a mesmerizing shimmer.
Remember Ban's iconic Snatch ability?
The way he could snatch physical attributes or even, on one audacious occasion, organs?
Or his rollercoaster love saga with Elaine, culminating in a poignant sacrifice of his immortality?
This sparkling figurine pays homage to all of that.
With Ban's dazzling history from his early thieving days to his royal transformation, this vinyl figure encapsulates the heart, might, and mischief of our favorite immortal-turned-mortal.
So, if you're yearning for a glint of Ban's complex tale on your shelf, here's your golden (or should I say glittery?) opportunity.
The legend now sparkles, quite literally!
The Funko Shop Exclusive Ban (Diamond Glitter) Funko Pop! can be found for purchase at the links below (click to jump!)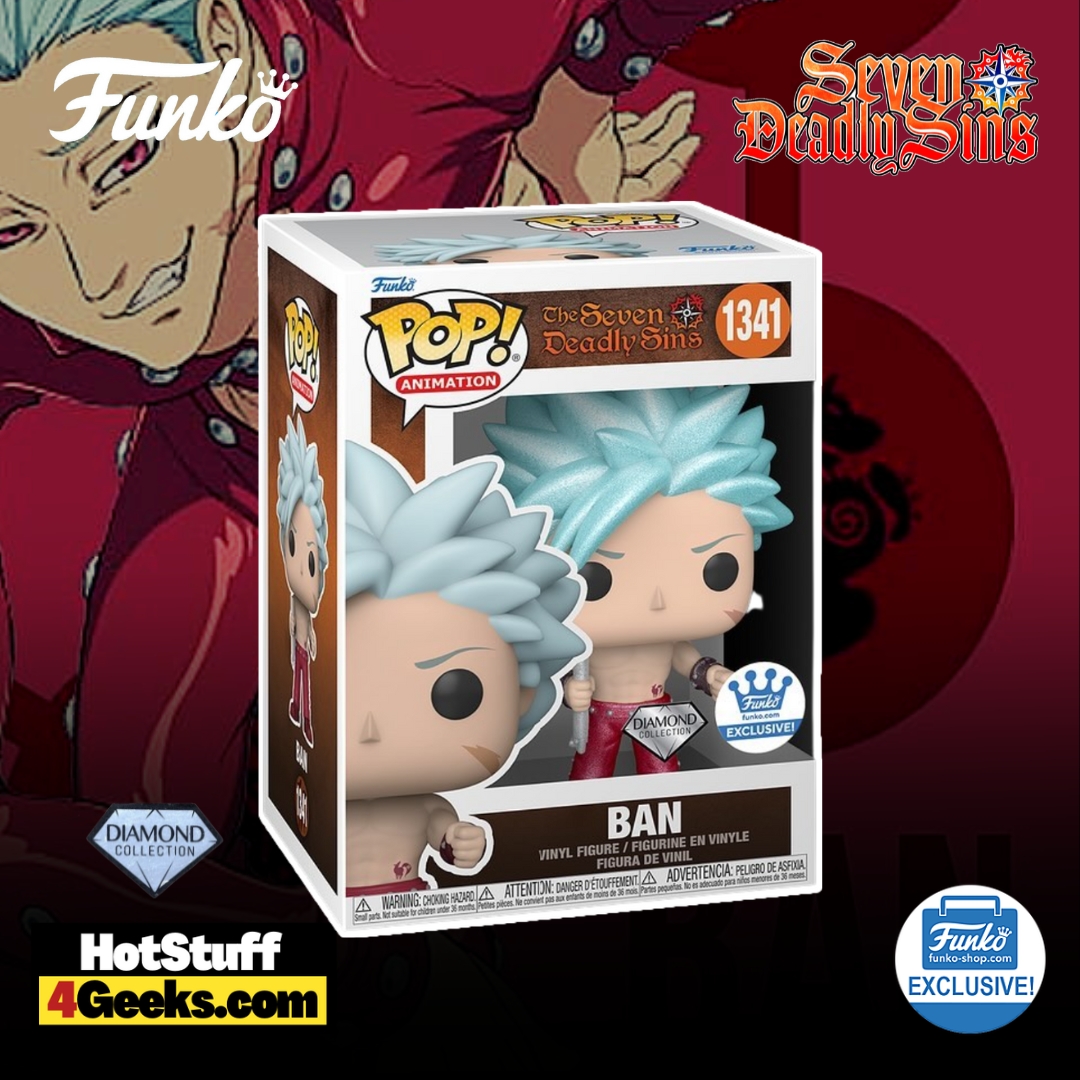 The Enigmatic Allure of Ban: Delving into the Fox's Sin of Greed
Amidst the dynamic cast of "The Seven Deadly Sins", there's one character who has consistently bewildered fans with the mysteries and complexities of his being.
Yes, we're talking about none other than Ban – the ever-charming Fox's Sin of Greed. Let's dive into this captivating enigma that is Ban and unpack some of the quirks that make him truly unique.
Immortality, a Double-edged Sword
The allure of immortality.
Time stretches infinitely ahead, devoid of the fear of mortality.
But with Ban, it's not all rainbows and sunshine.
This very gift from the Fountain of Youth was more a testament to his unwavering love for the guardian, Elaine, than a mere grab for eternal life.
While it granted him a healing factor that would make anyone's jaw drop (think instantaneous repair from catastrophic injuries), it was also a gift he willingly sacrificed.
Why? To resurrect the love of his life, Elaine.
If that isn't an epic love story, I don't know what is!
The Gift of Snatch
Ban doesn't just have your everyday superpowers. Nope, he's in a league of his own.
His ability, appropriately named Snatch, lets him temporarily take physical attributes from others
. But here's the catch: he can't use it to directly harm someone.
However, that doesn't mean he can't be sneaky.
In an unexpected twist, he once used Snatch to, well, snatch someone's organs.
A bit morbid? Maybe. Resourceful? Absolutely.
Plus, Ban's "Gift" technique is the silver lining to Snatch.
With it, he can generously bestow his attributes onto others.
And if being invisible is on your wishlist, Ban might just have cracked the code – by taking away others' very perception of him.
Weapons and Mastery
For Ban, it isn't just about innate abilities. He's got a flair for weapons too, especially his Sacred Weapon Courechouse. It's no ordinary weapon.
This beauty can extend chains, bend at will, and when swung with conviction, can make short work of an army.
Crafted seemingly with Ban in mind, it amplifies his natural prowess and showcases his formidable combat skills.
From Streets to Royalty
Behind those charismatic eyes lies a tale of survival and resilience.
Ban's early life in Ravens was anything but easy. Constantly facing abuse, young Ban turned to thievery to eke out an existence.
But with time and mentorship from Zhivago, he polished his skills to an art form, eventually earning the title of Bandit Ban. Yet, destiny had bigger plans.
From stealing to becoming the King of Benwick alongside Queen Elaine, Ban's journey is nothing short of legendary.
To sum it up, Ban's multifaceted character has layers that intrigue, astound, and touch our hearts.
His resilience, sacrifice, and undying love for Elaine make him a standout figure in the world of "The Seven Deadly Sins."
Dive into his story, and you'll find a blend of myth, romance, and action that's hard to resist!
Funko Pop! Animation: Seven Deadly Sins: Ban (Diamond Glitter) Funko Pop! Vinyl Figure – Funko Shop Exclusive
Available at:
Starting now, you can receive 10% off in-stock items with my special link at Entertainment Earth!
 Enjoy!
As an Amazon Associate I earn from qualifying purchases
Want more stuff like this?
Get the best viral stories straight into your inbox!
Don't worry, we don't spam